Real Honeymoons: Morocco
With the help of a few good friends living in the country's capital of Rabat, Kalyn and Philip traveled to a total of 10 Moroccan cities in 21 days.
by Rachel sylvester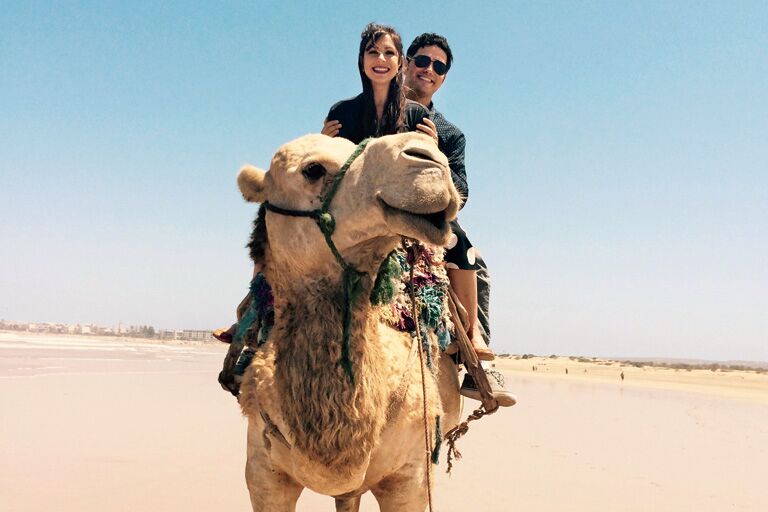 Budget: $20,000
Time of Year: May
Length of Trip: 3 weeks
Travel Time: 9 hours from Miami
"Morocco is absolutely magical, both physically and culturally," Kalyn says of her and Philip's decision to make the nine-hour flight from Miami to Marrakech. After arranging for guides to drive them from city to city, the pair kicked off their honeymoon in Marrakech, a stay that included a day trip to Essaouira, where the pair rode a camel down the beach. "Sort of cheesy, but totally worth it," Kalyn says. From there, they traveled to Ourrzazate, then camped in a traditional Berber tent in Merzouga before moving on to Ifrane. Other visits included a three-day retreat in Fez, where Kalyn and Philip stopped by a hotel on the city's highest hill to drink tea and take in the sunsets. "It was amazing to watch the city turn on at night," Kalyn says. "If you can, have your hotel arrange to set you up with an English-speaking tour guide." Another tip? Don't forget to pack a scarf. "They're great for covering your head when entering a mosque or private home," she says. "Plus, it will protect your face from the sun and sand and come in handy when it gets chilly at night."

Book It
Marrakech: La Mamounia
Ouarzazate: Le Berbere Palace
Merzouga: A Berber tent in the Sahara
Ifrane: Michlifen Ifrane Suites & Spa
Fez: Hotel Sahrai
Tangier: Le Mirage
See more images from their honeymoon below!