24 Mother of the Bride Hairstyles Perfect for the Wedding Day
These styles are sure to make Mom feel beautiful too.
There's nothing quite as special as your daughter's wedding. With such a momentous occasion, you should begin looking for mother-of-the-bride hairstyles to match your stunning gown about four to six months before the big day. Whether you envision a classy updo or soft half-up, half-down curls, there are plenty of stylish options for moms to choose from. Once you've landed a few looks you love, be sure to save the images to your inspiration board to show your wedding hairstylist during your trial run.
Not sure what hairstyle will look best on you? To make your 'do decisions easier, we tapped celebrity hairstylist Jimmy Paul, whose roster includes A-listers like Lana Del Rey, Ashley Graham and Gigi Hadid. Read on for his top mother-of-the-bride hair tips, from figuring out your hair texture to using your dress to determine your style.
Expert Tips on Wedding Hairstyles for the Mother of the Bride
Understand Your Hair Texture
Picking a style that's right for you starts with understanding the thickness and texture of your hair. "You can determine your hair texture by looking at a single strand and comparing it to a piece of thread," says Paul. "Is your hair thicker or thinner than the thread? If thinner, then your texture is fine. If around the same width, you have a medium hair texture. If thicker, then you have a thicker hair texture."
Consider Your Dress Neckline & Style
One thing Paul notes is that your hairstyle will be influenced by your wedding attire. "I advise clients to think about their entire look. Do they want to go along with the aesthetic or theme of the wedding? Do they want to look trendy or classically chic? Then, based on their wedding attire, we create a hairstyle that will highlight their best features and flatter their hair type."
Pay attention to the neckline of your mother of the bride dress as well as any detailed embellishments or lace, because that can affect your chosen hairdo. For example, "if you are wearing a strapless dress with the intent of showing off more skin, then go with an updo that will accentuate that choice," Paul says. If your dress has a high neckline, show it off with a fancy updo. I also take note: can also stun in off-the-shoulder dresses.
At the end of the day, Paul's biggest suggestion is to style your hair in a way that makes you feel confident. "I recommend to clients that they pick a hairstyle that suits their personalities and is going to make them look and feel beautiful." He also recommends staying away from experimentation on your daughter's big day. "Don't try something completely new for the wedding. You want to look like an elevated version of yourself and not feel self-conscious about your new hairstyle."
Schedule a Trial Run
"The mother of the bride should absolutely schedule a hair trial," Paul advises. "The last thing you want to do as the mother of the bride is stress over your appearance the day of, or worse, not be happy with how your hair looks on the big day." Schedule the trial a few months before the wedding, after you've chosen your gown. Come to your trial with a photo of your dress, or better yet, a photo of you in the dress. This will help your stylist tweak the final look." If you aren't into the 'do your stylist creates, it's ok to politely speak up and ask for changes or adjustments. That's what the trial run is for!
Elegant Updos for Mother of the Bride
Updos are a mother-of-the-bride hairstyle favorite for a reason: they're timeless, they frame your face and they work with a wide variety of dress styles. Whether it's a beautiful braided bun, an elegant chignon or an updo with a few wispy tendrils, you really can't go wrong.
1. Elegant Updo With Hair Comb
An updo is always a good idea if you're looking for a classy mother-of-the-bride hairstyle. Elevate your updo by adding hair accessories like a jeweled comb or pins.
2. Rolled Curls
If you're wearing a bold color, it may be best to keep your hair soft and simple. These twists, for instance, easily complement this mother of the bride's pink Korean hanbok.
3. Classic Bun
Like mother, like daughter! This stunning duo chose similar timeless chignons and red lehengas for the big day. "For this hairstyle, wash and dry your hair the day before the wedding, and come to your stylist with one-day-old, washed hair," Paul says. "The additional grit from one day will add nice texture to the strands and modernize a classic look. If needed, your stylist can use OLAPLEX No.4D Clean Volume Detox Dry Shampoo on any spots that need refreshing."
4. Custom Hijab
If you are a Muslim mother of the bride and are wearing a hijab, consider having a custom one made to match your dress. Find a hijab stylist and request your hair be put in an updo and the scarf be tied around it.
5. Simple Updo With Wispy Tendrils
When it comes to updos for the mother of the bride, sometimes less is more. Leave two dainty pieces out for a wispy face-framing effect, as this MOB did.
6. Braided Updo
Need updo inspiration for a rustic outdoor wedding? Try this simple and effortless braided updo out for size.
Classy Mother of the Bride Hairstyles for Short Hair
Whether you're looking to rock a pixie cut or a classy deep side-part, a short hairstyle for mom is sure to beautifully frame her face and features.
1. Short and Textured
Looking to add some edge to your extra short hair? Add a texturizing paste or gel to enhance your natural locks.
2. Natural Style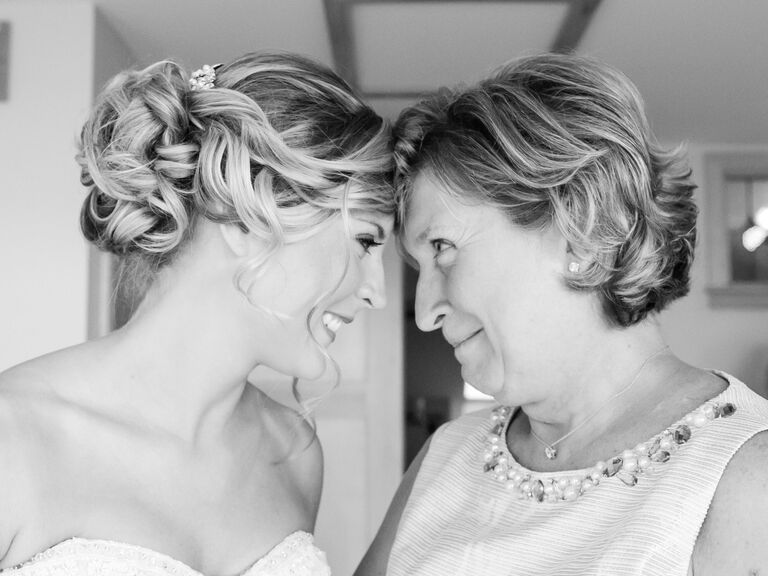 Many moms prefer to keep their hair in its natural style for their daughter's wedding day–and we can see why. We love how this MOB embraces her short waves.
3. Glam Curls
We see you, mama. These curls are glamorous while still being short enough to show off the stunning mother of the bride dress. "Try curling some of the hair away from the face to add movement and ensure that everyone can see your smiling face during the day," Paul says.
4. Straight Side Part
For a straight, minimalist hairstyle, keep your hair long on top and shaved down on the sides. Finish off with a styling cream that will give you shine, and you're good to go.
5. Simple Pixie Cut
The pixie cut is a mother of the bride favorite for a reason, and we adore how this mom styled her locks for a simple, windswept look.
6. Voluminous Blowout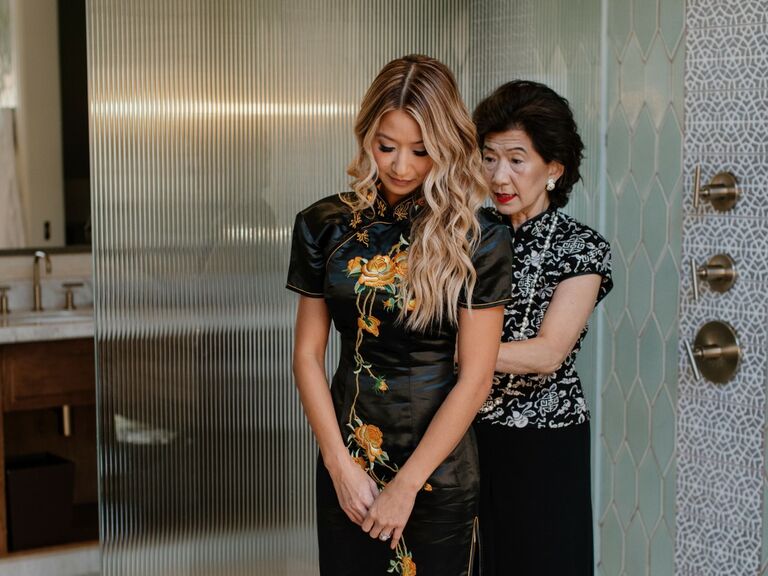 There's nothing quite like a beautiful blowout, even with short hair. Simply use a round brush and blow-dry your hair up and back. Keep it in place and out of your face with a volumizing hairspray.
Beautiful Medium Length Mother of the Bride Hairstyles
Medium length mother-of-the-bride hairstyles can make a big impression. From blunt bobs to simple hair accessories, these are some easily achievable hairstyles that look absolutely breathtaking.
1. Textured Bangs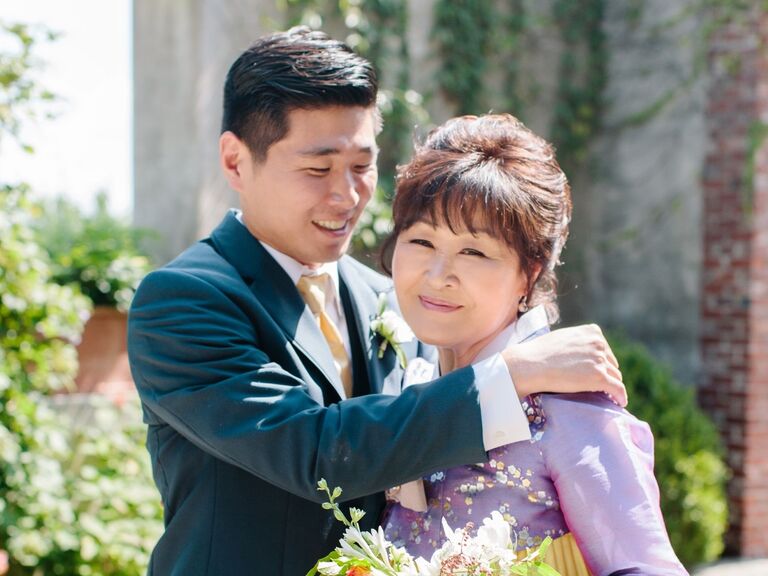 Medium-length hair looks absolutely stunning with textured bangs. This mother of the bride let her bangs frame her face while the rest of her hair was pulled back into a bun. The result: a picture-perfect 'do.
2. Curly Updo
Make your curly updo feel fashion-forward by leaving out a few locks. This lets you show off your natural texture without taking away from your mother of the bride dress.
3. Chin-Length Bob
If your dress has a detailed neckline like this MOB, keep your hair simple with a chin-length bob that shows off those sparkling details.
4. Half-Up Half-Down
We're obsessed with this half-up, half-down mother-of-the-bride hair. Take note of how this mom also combined her front bangs with two wispy tendrils to finish the look.
5. Asymmetrical Bobcut
How classy does this mother-daughter duo look? Mom's straight bob looks oh-so-chic and perfectly frames her beautiful face. For this look, Paul recommends washing and drying your hair the day of the wedding: "Use OLAPLEX No.4 Bond Maintenance Shampoo and OLAPLEX No. 5. Bond Maintenance Conditioner to wash and condition. Apply half a pump of OLAPLEX No.6 Bond Smoother and dry as normal," he says.
6. Half Up With Hairpiece
Half up mother-of-the-bride hair works for both medium and long hair. After having your stylist curl your hair, simply secure some of it back with a jeweled clip for instant glamour.
Romantic Mother of the Bride Hairstyles for Long Hair
Long hair is incredibly versatile for moms—and we have all the hair inspiration to prove it. Browse our favorite styles, from side-swept ponytails to voluminous curls below.
1. Soft Curls
Soft curls are a wedding go-to because they look great with nearly any dress or style. "A great way to ensure your curls look just as good at the end of the festivities as the beginning is to apply OLAPLEX No.9 Bond Protector Nourishing Hair Serum to slightly damp hair," Paul advises. "The serum will help protect the hair from heated styling and add a satin shine and softness to the hair."
2. Straight and Casual
Fancy updos and intricate styles are not for everyone, so don't be afraid to let your long hair fall naturally. Case-in-point: this gorgeous mama helping her daughter get ready for her big day.
3. Top Knot
This beautiful mom's high ballerina bun is proof that an updo can transform any mother of the bride look. We love how it complements her dress's asymmetrical one-shoulder neckline.
4. Low Side Ponytail
We love this side ponytail because it's just the right mix of feminine and elegant. Tuck your bangs behind the ear to keep the hair out of your face while still showing off that gorgeous length.
5. Half Up With Curtain Bangs
"A half-up, half-down hairstyle can work well for a mother of the bride with longer hair," says Paul. "Keep it more current trend-wise by keeping curls a bit looser and messy–this look can become too pageant-queen with perfect, tight barrel curls."
6. Formal Updo
Take advantage of your long length with a smooth, elegant updo. This formal look is ideal for a mother attending a formal garden ceremony or a black-tie affair.