We Got the Scoop on How Rayna Jaymes's Wedding Dress on "Nashville" Was Made!
"Nashville" costume designer Susie DeSanto told us all about how she created a custom wedding gown for Rayna Jaymes.
by Avery Hutchinson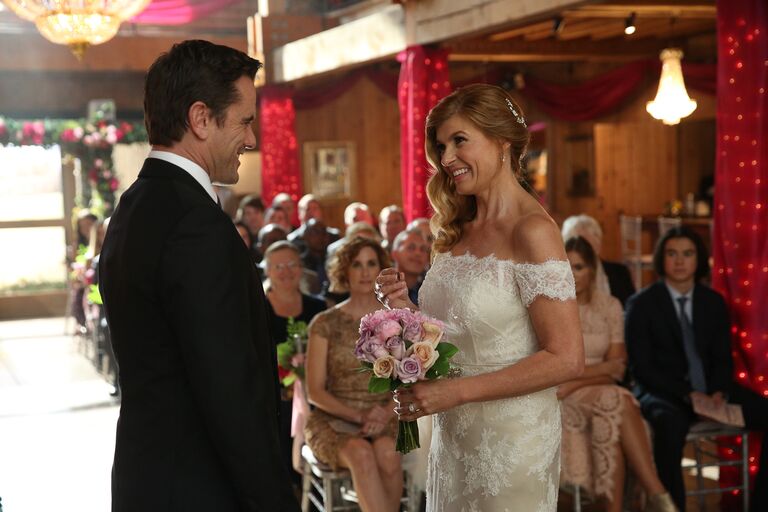 All our television dreams came true last December when Nasvhille's Deacon Claybourne proposed to Rayna Jaymes during the episode titled "We've Got Nothing But Love to Prove." Fortunately for us, we won't have to wait much longer for their much-anticipated wedding, as the two country crooners will say "I do" tomorrow night on the episode appropriately titled "Forever and Always."
In the absence of our weekly indulgence of drama and catchy tunes, we had time to catch up with Nashville's costume designer Susie DeSanto to get the scoop on Rayna Jaymes' wedding dress details. DeSanto knew at the beginning of season four that Rayna and Deacon would be getting married, which gave her ample time to create a stunning custom dress for Connie Britton's character. (No stranger to the realm of on-screen"I dos," DeSanto has also designed custom wedding dresses for Jennifer Garner and Sandra Bullock.) What's the secret to making a wedding dress fit for the silver screen? Staying true to the story you're trying to tell. "I wanted the dress to be elegant, simple and sophisticated. I wanted it to tell the romantic story of Deacon and Rayna's relationship," DeSanto says.

While brainstorming ideas for Rayna's wedding day style, DeSanto wanted to make sure that "honesty and vulnerability" were the main focus of her design.
"I wanted something individual that no one else would have—a dress that was specifically made for Rayna/Connie," she says. DeSanto also knew she wanted the dress to be lace. "I've always been obsessed with lace, and spent time looking through many swatches to find perfect one for Rayna's dress," she says. Her search for the perfect lace paid off, culminating in a perfectly simple lace column dress with a romantic off-the-shoulder neckline. After narrowing down several options, DeSanto and the show's producers settled on the sketch of the dress below.
When it came to accessorizing Rayna's wedding look, DeSanto stuck with elegant earrings and an ethereal headpiece. "When Rayna is on stage we always focus on accessorizing her performance outfits, but for her wedding to Deacon, we wanted to keep it simple," she says. The simplicity of the dress' overall design meant DeSanto had to put a special emphasis on making it fit like a glove. "We work fast in TV production, and the fitting process was key. We relied on a cutter and a fitter and had several fittings with Connie to make sure the gown fit perfectly."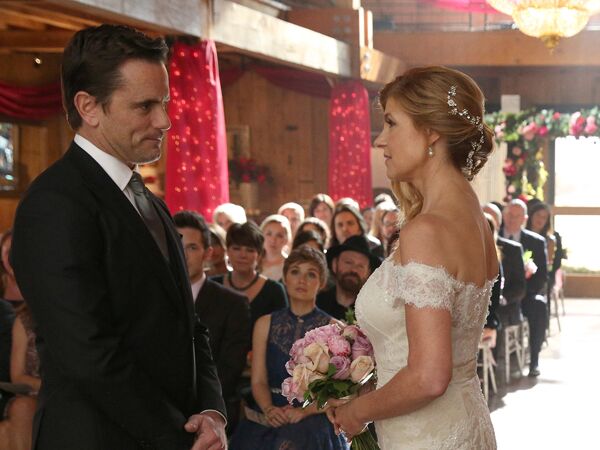 During the filming of Rayna and Deacon's staged nuptials, the cast and crew encountered some very real weather conditions. "It was pouring rain and there was mud everywhere!" DeSanto says. Luckily, the one-of-a-kind gown survived the inclement weather conditions. De Santo's advice for real life brides? "Don't wear your fancy shoes and bring an extra pair to wear outside if you have to deal with bad weather."

Make sure to catch Rayna's custom dress and long awaited nuptials when Nashville returns with "Forever and Always" on March 16 at 10 p.m. EST on ABC.
Also, check out Rayna and Deacon's wedding website on TheKnot.com!