New Rustic Wedding Handbook Hits Stands — Read These Top Tips
by Simone Hill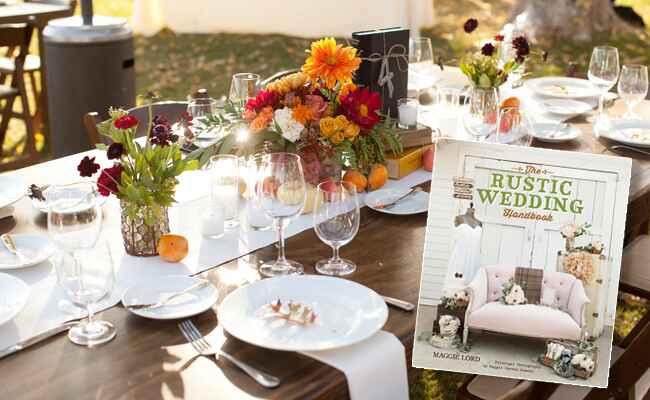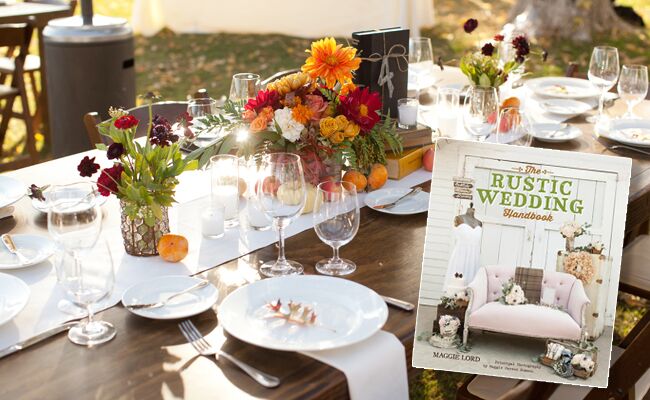 photo by
AppleMoon Photography
Big news for all of you couples planning a rustic wedding: One of our favorite bloggers, Maggie Lord founder of RusticWeddingChic.com just released her third book, called The Rustic Wedding Handbook. The book, which just is jam-packed with tips for a rustic wedding is on sale now. Read on for what inspired Maggie to fall in love with rustic weddings, the trends she's most excited about and tips for shopping for rustic wedding decor!
Why a book entirely devoted to rustic weddings you ask? "The expectations of what a rustic wedding is has changed over the past six or seven years," Maggie explains. "The idea used to scare people because it meant rural or it wasn't going to be elegant or have the traditional wedding elements. People have realized you don't have to sacrifice the elegance of a wedding and you can still have a traditional wedding, but in a rustic setting. With a bit more awareness the expectations have changed."
And more couples are putting their own unique twist on rustic wedding style — like this romantic reception at a converted foundry. "I love that people are choosing to marry a rustic or country wedding in an urban location. We're seeing what a lot of couples are calling rustic industrial or steampunk," says Maggie. "There's a lot of metal, but paired with beautiful greenery and all white flowers. By getting married in old factories, old mills or repurposed buildings couples are having a casual, eco-friendly style and are still able to bring an urban feel to the rustic wedding."
What To Look For When Shopping For Vintage Wedding Details
One of the easiest pieces to buy used for your wedding are books. "Books are great because they add a lot to the decor and they're something you can usually find easily unless it's a rare book and they have great prices," say Maggie. "Fabric is great too. New fabric can be really expensive, but at a flea market you can find a lot of it to use on a lot of different decor." And you can shop flea markets and antique stores for larger items too. "I know a lot of couples like a unique cake display and you might find a dressing table or dresser that you can buy which will serve a specific purpose for your wedding but you can still use it afterwards. If you buy with a double purpose in mind then you won't feel like you're just spending on wedding decor," says Maggie.
What Not To Buy
It's also important to be a savvy shopper when you're looking for decor. "There are a lot of reproductions made to look old and sometimes in specialty stores you'll find a mix of old and new things. So you might be overpaying for new mason jars when you could buy the same thing online yourself for a better price. Avoid anything that looks new because they're marking it up more than they would a vintage item," says Maggie. Frames and mirrors are a hot decor trend right now, but it's not always worth it to splurge on real antiques for your wedding. "Frames and mirrors can be unreliable, the glass falls out or the frames fall apart because they're old and the nails aren't holding up. You'd have a better chance buying them at a craft store and using spray paint to make them look old instead," says Maggie.
Maggie's Top Tips for Antique and Flea Market Shopping
1. Do your research. Find a list online of flea markets and antique stores in your area. Find ones that have good reviews about the quality of their merchandise and their consistency.
2. Bring images with you. When you're speaking to an antique dealer for vintage doors for your ceremony they might not have a clue what you're talking about. It's going to help to communicate your ideas visually.
3. Don't buy the first thing you see. Take one lap around first because there's nothing worse than buyer's remorse. Say you're looking for oversized black chalkboards but you find green first and buy them. If later you find someone selling them in black there's not much you can do.
4. Snap pictures. This will help you keep a running visual list of what you've already purchased. You may not even remember buying something after a while. Taking pictures can also help you make sure your look is cohesive and you're staying in your design theme. When you take a break you can also look at photos of what you've bought to see if you need to fill in any holes.
Want more? Of course you do!
> 8 ways to pull off a rustic wedding
> 5 ways to refine rustic wedding tables