10 Fun Wedding Transportation Ideas
Arrive and depart in style in these modes of transporation on your wedding day.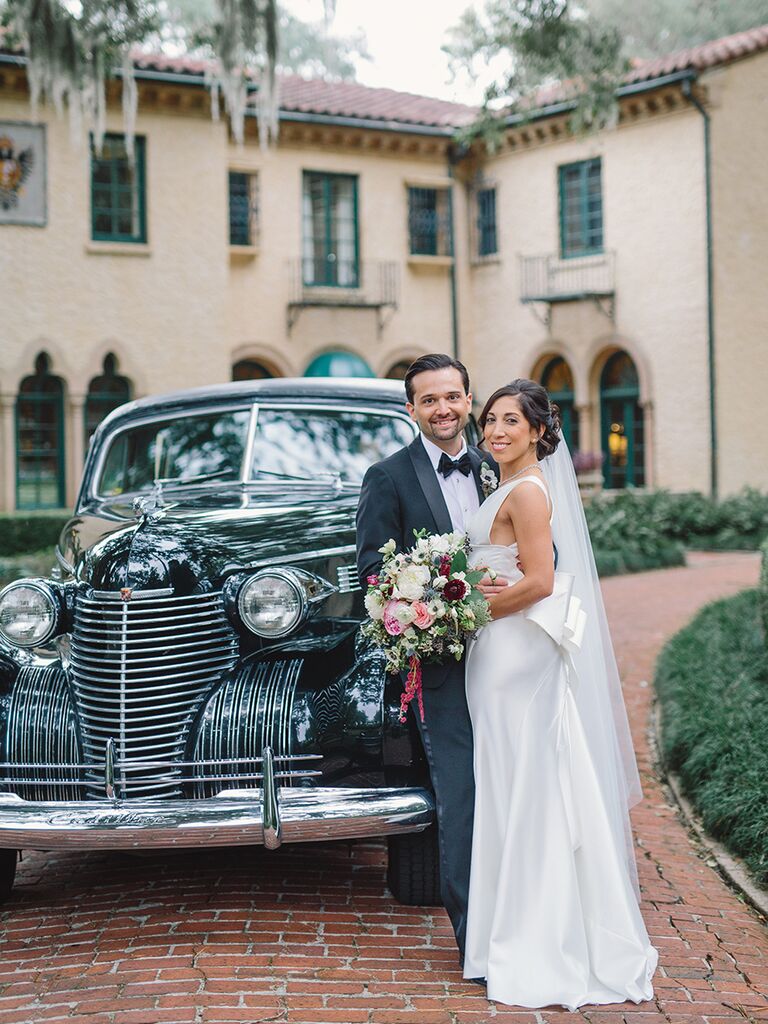 HARWELL PHOTOGRAPHY
You're going to the chapel, but wait—how are you getting there? Will you choose a sleek silver Rolls-Royce, a party bus or a bicycle built for two? Whether you want a unique getaway to express your style, or a fun way to give your wedding party and even your guests a lift too, there are lots of options for your wedding transportation.
1. Sports Cars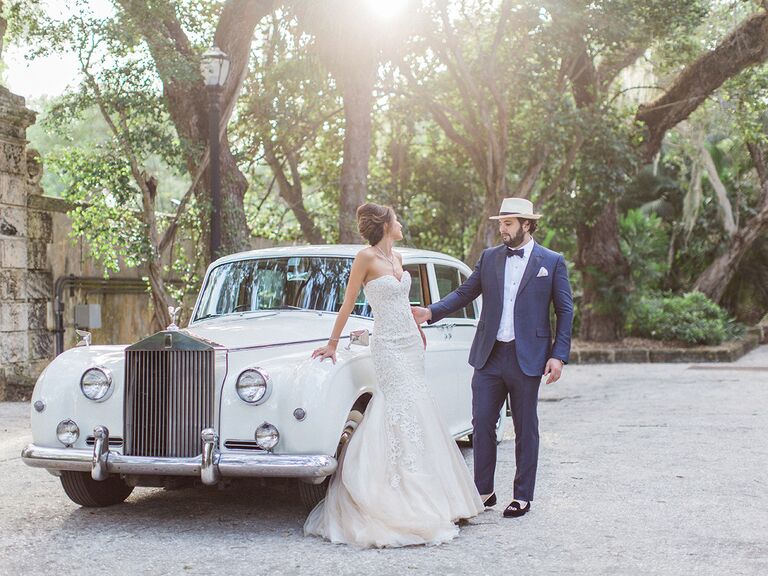 For thrill-seeking couples looking for an edgier ride, two-seater sports cars are an eye-catching way to go. From the Maserati GranSport to the Lamborghini Gallardo, these ultra-exotic specialty vehicles will get you to the party in a flash, and will have you cruising into the twilight at the end of the night. Just rehearse your exit ahead of time—getting in and out of a lowrider gracefully requires some skill, especially in a dress.
2. Water Ways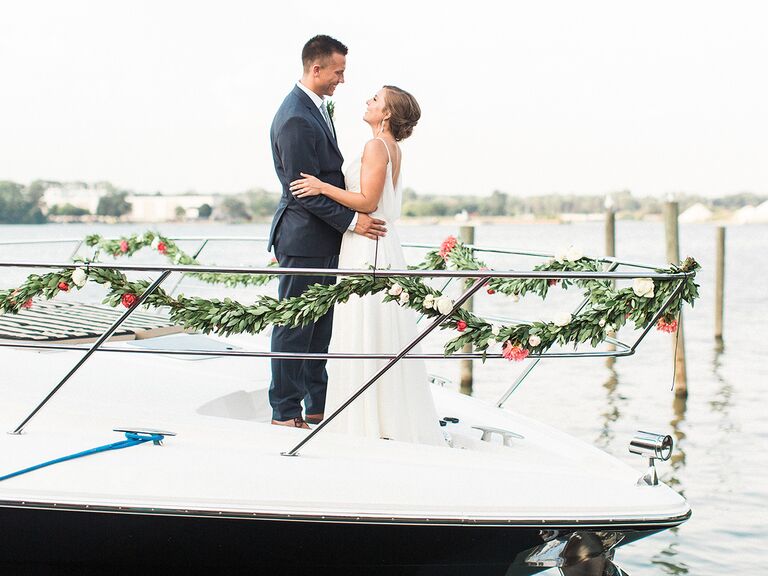 If you're celebrating by a lake or ocean, make a chic escape in a sleek speedboat or yacht while your guests wave you off from the shore. For a more casual affair, couples are having fun with their water-based getaways by rowing off together in charming canoes or even on paddleboards.
3. Vintage Vehicles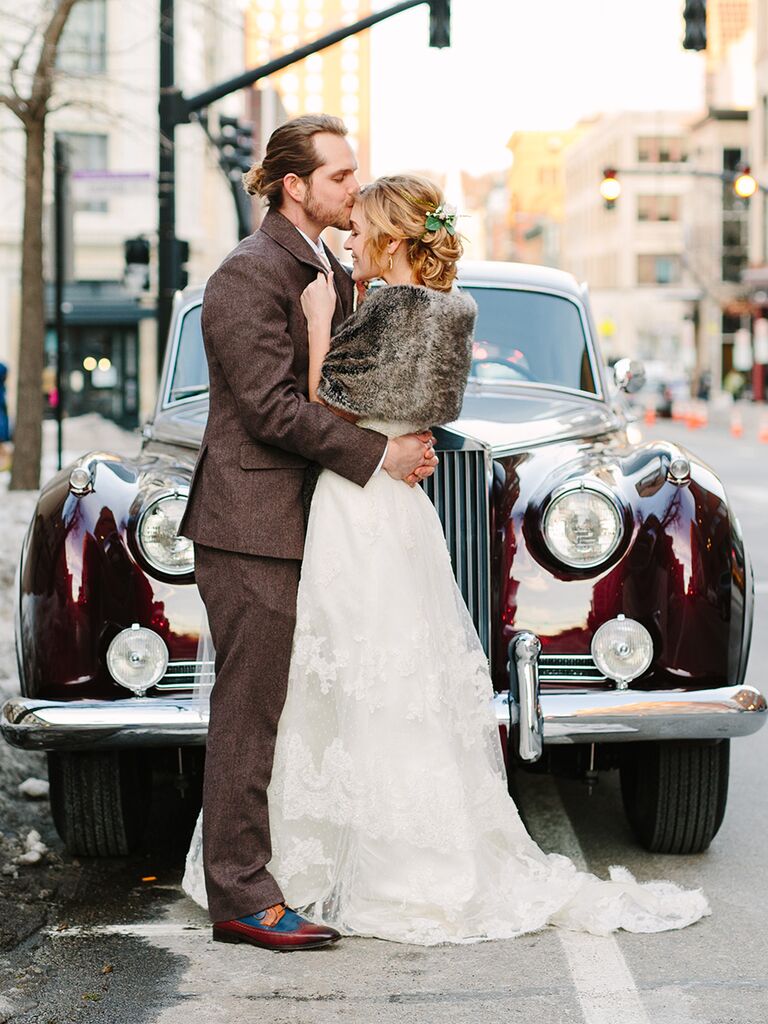 An antique car like a vintage Rolls-Royce is a glam way to get yourselves to the ceremony and reception—and it'll create the perfect backdrop for classic black-and-white photo ops. Some hot models to consider renting: the Chrysler 300, Rolls-Royce Phantom, Rolls-Royce Silver Cloud or Bentley S2. Many couples are also choosing antique cars with a little more character. Imagine the photos of you two riding off in a vintage Volkswagen Beetle or a brightly colored Volkswagen van, or even a weathered antique pickup truck.
4. Two-Wheelers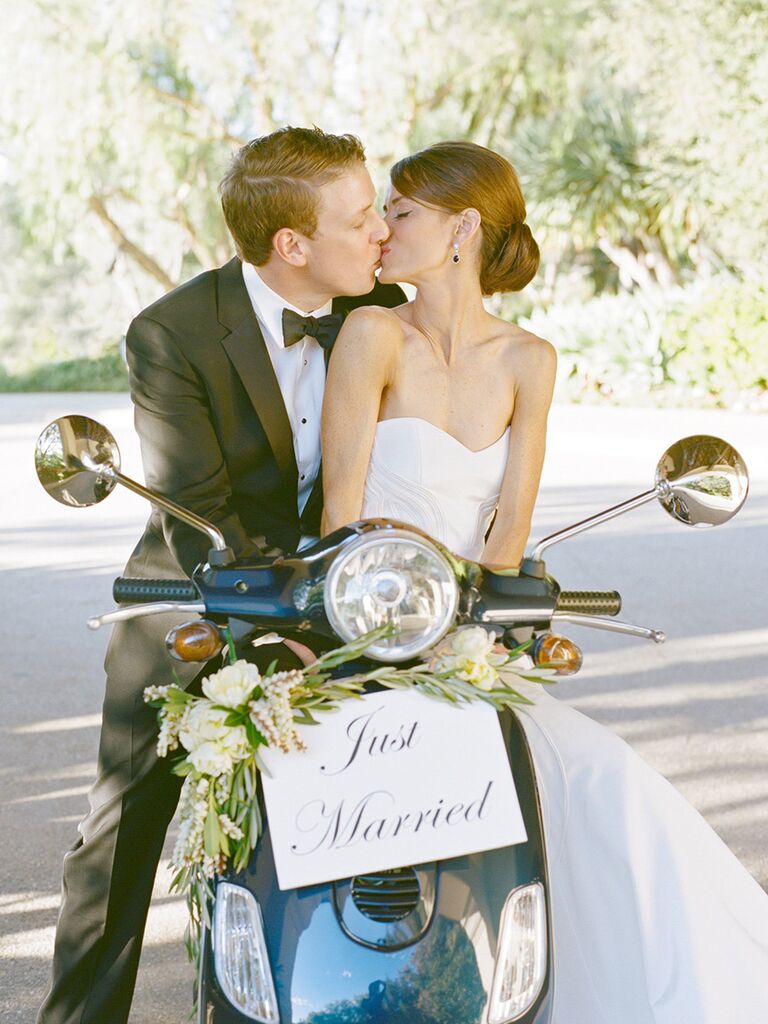 If you're not into the idea of being chauffeured into the sunset, ride away on a motorcycle, Vespa or tandem bike. You'll get frame-worthy photos and a wonderful memory to look back on. Just make sure you practice riding on your vehicle of choice in a dress and heels before your wedding day.
5. Horse-Drawn Carriage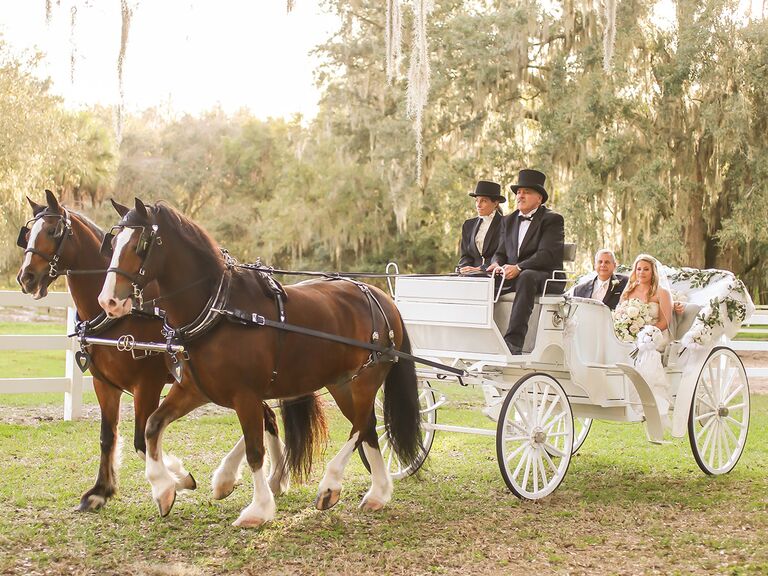 Experience the ultimate storybook ending in a horse-drawn carriage. Buggies can fit between two and six passengers, so you can even bring your wedding party along, or rent a few carriages to lead the entire wedding party on a royal-style procession. For city couples, pedicabs are a playful getaway if you love the idea of a classic horse and buggy but prefer a more modern feel.
6. Airlift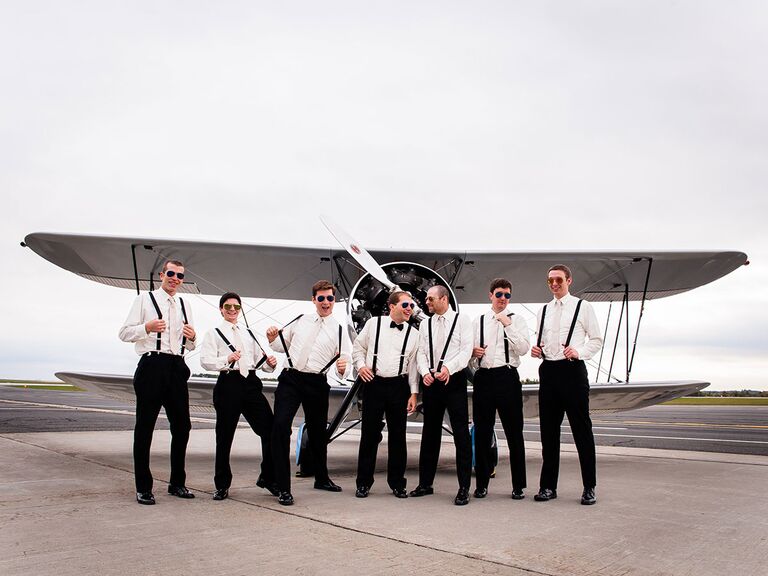 Make a wow-worthy exit (or entrance) in your very own helicopter. A chartered helicopter can typically carry three to six people, in case you want to take your attendants along for the ride. Keep in mind that you need a certain amount of open space to land a helicopter safely, and local air travel laws can apply. Consider your reception location and check for restrictions with the charter company when making your choice.
7. Stretch Limos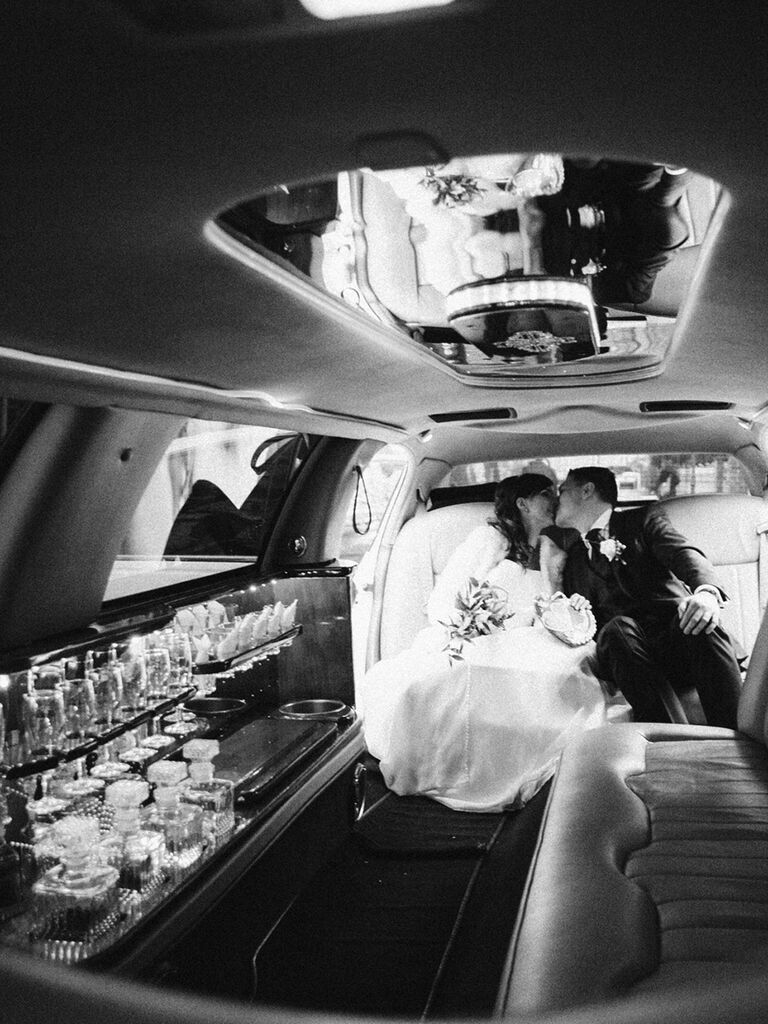 A classic option, the stretch limousine combines formality and function with a sleek design and enough room for your wedding party and parents to feel like VIPs too. (Most stretch limos hold 8 to 10 passengers.) Or hop in a town car, which is basically the sedan version of a limo and seats up to four.
8. SUV Limos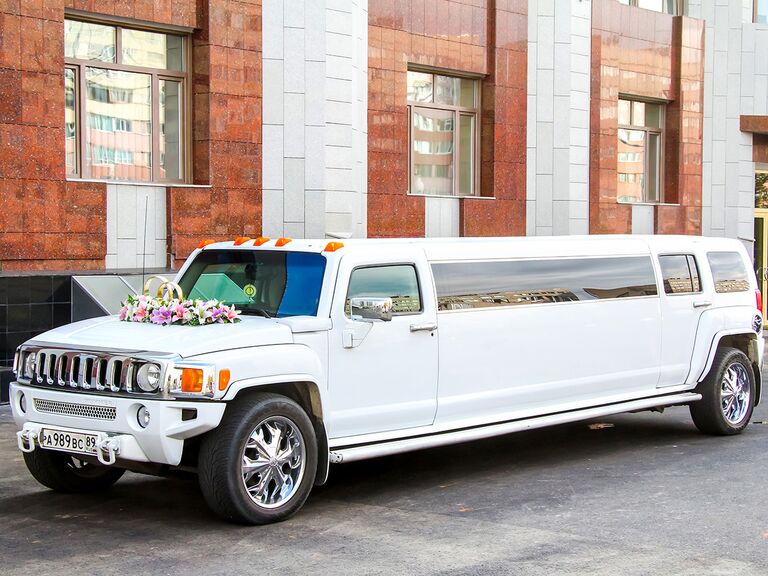 For a limo-like experience with a little more flash, check out a stretch Hummer, Escalade or Navigator. These mega-SUVs come with fiber-optics, disco lights, lasers, mirrored ceilings and top-notch sound systems, and they can fit up to 20 people.
9. Party Buses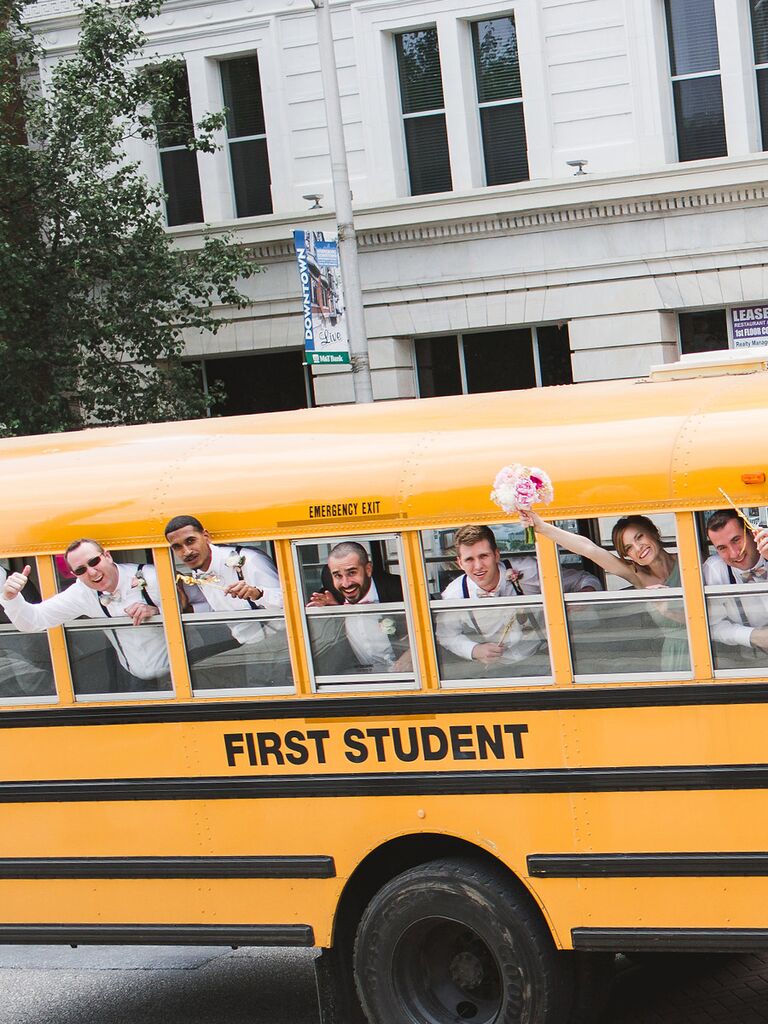 Don't wait until you get to the reception to start celebrating. Invite your guests (usually up to 40 per bus) along for the ride and rent party buses, complete with a bar, lights and music. If you're planning on popping open some drinks, triple-check that the rental company is licensed with the local county.
10. Guest Shuttles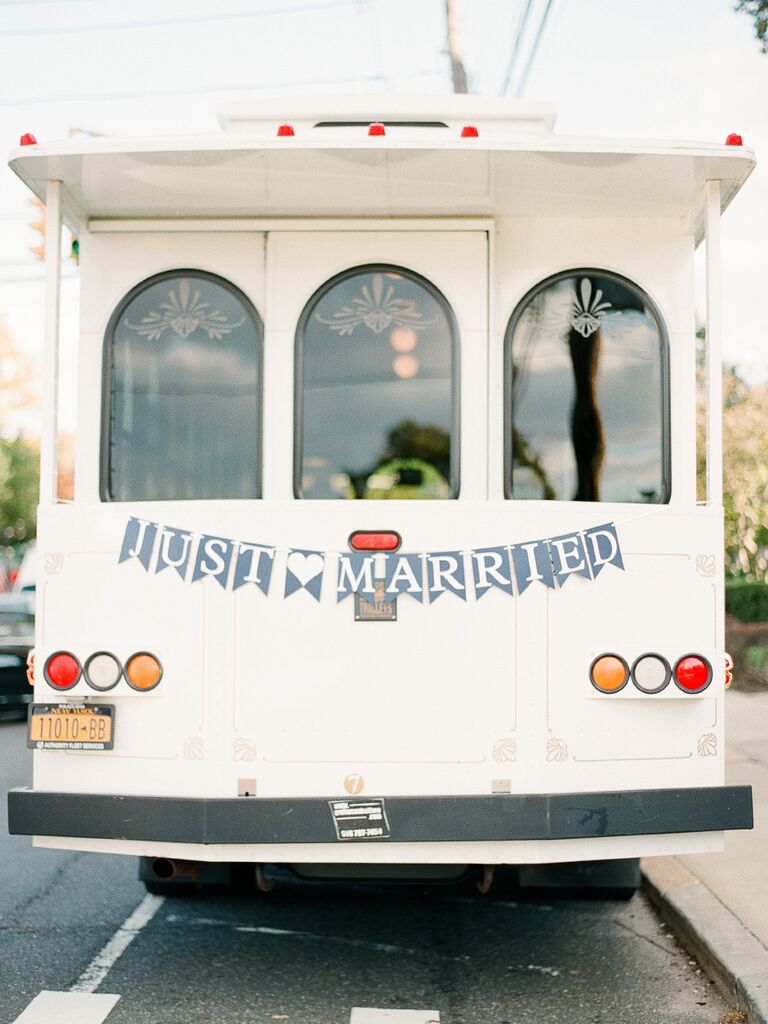 Hire a charter bus or shuttle, which usually holds up to 60 passengers, to take all of your friends and family to and from the wedding. Or, for a blast from the past, a yellow school bus holds 40 to 50 passengers (just make sure it's properly air-conditioned for your guests' comfort.) For more character, vintage trolleys can hold 32 passengers and make great photo backdrops. Just be mindful that trolleys are only built for slow speeds and short distances, so make sure your trip is a brief one across town. For longer routes, channel your inner Brit and rent a double-decker bus for sightseeing if you're getting married in a major metropolitan city.
Twelve wedding transportation mistakes not to make, here.
Top tips for planning your wedding transportation, here.