The Top Wedding Trends of 2022
Value-oriented weddings have arrived.
With all that's transpired in our society since COVID's emergence, couples are now experiencing a great return to their core beliefs as they wedding plan. While 2021 was about intentionality in the midst of chaos and the unknown, the biggest wedding trends of 2022 will be a reflection of couples' values. "They're diving deep into crafting their celebrations to look like them, feel like them, smell like them, and be full of their favorite things and people," reflects Brooklyn-based event planner Jove Meyer of Jove Meyer Events. "Life is not guaranteed and we are all craving human connection, now more than ever. Couples are keenly aware of that and they want to make their weddings even more special than ever before."
"Whether it's a big production with pizzazz and people, or it's a small and intimate wedding, [this time has] freed couples up from specific traditions, guest lists and more," echoes Valorie Darling, a destination wedding photographer based in L.A. "It's allowed them to create something that's entirely their own." From supporting local businesses to hosting multi-generational experiences, couples want their weddings to build up their communities so that they can use this once-in-a-lifetime period to contribute to the construction of a better and brighter future. See The Knot's 2022 wedding trends below.
Relaxed Luxury
The formality of even the most lavish weddings will be slightly pared down in the year ahead. "While the classic black-tie wedding will still be around, we will see more and more of a relaxed vibe coming into play at weddings," muses Amy Shey Jacobs, owner and creative director of Chandelier Events in New York. "Perhaps it's the outdoor influence or the attitude that, 'We're finally here!' My team expects more weddings with a relaxed luxury feel in 2022. This means there's less fuss about the traditions and more fun."
"Couples are leaving behind super formal, black-tie celebrations and exploring cocktail style parties, food truck parties, dance parties, everything outside of the typical wedding box," affirms Meyer. "COVID led many couples to elope or marry at city hall or in their backyards or online and now they just want an epic dance party with friends, so the huge formal and typical weddings are being put aside and raging parties with personal touches are here to stay."
'Otherworldly' Domestic Destinations
More couples are hosting weddings in breathtaking, otherworldly destinations in the US, without having to ask their guests to pack a passport. "People have been discovering beautiful private estates on American soil," notes Annie Lee, principal event planner of Daughter of Design. She also refers to this 2022 wedding trend as "domestic destination events."
Examples include a natural, outdoor wedding held under giant Redwoods off the coast of Big Sur, California, or a Gatsby-worthy, Italian estate-inspired, gilded event in the Art Deco mansions of Long Island, New York. There's the possibility of a sunset, island-inspired microwedding in dreamy Maui or the US Virgin Islands, followed by a lavish anniversary reception at home. "Couples are doing destination events, getting on planes for five hours-plus," Lee says, "but they're opting to keep it on American soil and leaving the passports at home. The US is rich in historic estates and luxury properties. Terrain ranges from mountains, beaches, deserts, forests, big cities and more… 2021 is about discovering domestic destinations."
Modern Etiquette
In recent years, the industry has also witnessed the emergence of modern etiquette. For example, more casual wording on invitations, though still formal and guest-driven in essence. There's also been a shift in normalizing the use of "wedding party" over, say, "bridal party." Terms like "groomsmaid" and "man of honor" have equally become common references in wedding planning vernacular. A more thoughtful, modern etiquette is replacing traditional pomp and circumstance. "It's all about being together in any which way possible," says Jacobs. "And the parties will reflect that."
Multi-Generational and Multi-Day Experiences
Continuing with the theme of putting guests first, some couples are taking the added measure of tailoring multi-generational experiences for their loved ones. Due to events being shifted throughout COVID, some to-be-weds are now hosting multiple events the week of the wedding for different sets of guests. Whether it's a pool party or a Sunday family brunch, there's an event for the grandparents all the way to the nieces and nephews. "Couples are being really intentional about experiences for guests," adds Darling. "There is more of an importance and value being placed on experiences first."
Naturally, these multi-generational experiences are also multi-day affairs. "Many couples are going big, then going home," laughs global event planner and designer Michelle Norwood, who's based in New Orleans. "They're hosting the bridal luncheon, a welcome party, rehearsal dinner, boat outings, afterparties, brunches, and of course, the wedding. All of these events are now part of every wedding weekend we plan and design. Couples are going all in to wow their guests with wedding weekends that rival festivals."
Houston-based event planner Darryl Moore of D'Concierge Weddings says guests appreciate the gesture too, especially when hosting a week-of bach party or bridal shower. "It's so considerate of your guests' time and budget," he notes. "Especially when everything can be the same week so friends and family don't have to fly in multiple times for different events."
Natural and Contemporary Rentals
Rattan elements, macrame tassel chandeliers, wishbone chairs and plush seating in neutrals have created an earthy and comfortable aesthetic at home in 2021, which will be prevalent across 2022 wedding trend aesthetics. "You tend to see rentals follow what happens with traditional interior design," says Lee. "Lately, the industry is expanding to contemporary furniture." This includes cloud couches and other soothing touches and palettes that especially work well in outdoor natural settings.
Welcome to the Countryside
We can thank Bridgerton and the popular internet aesthetic of "cottagecore" for creating an industry-wide movement around cozy garden themes. Beautiful floral decorations and installations against tufted velvet seating, gold embellishments and tailored attire are just a few ways couples are leaning into the garden party theme. "The only cultural exposure any of us got last year was via Netflix," explains Lee, the founder of Plannie. "Who didn't watch Bridgerton? Those were the only balls or parties we 'attended.' It's only natural that all things British Regency and English countryside are influencing our design dreams of today."
To accommodate this outdoor wedding essential, tented weddings with a functional twist will emerge as a 2022 wedding trend. "Raised observation decks are a new addition [to outdoor weddings]," explains Tim Sperry, president of Sperry Tents. "They provide expansive scenic lookouts of your destination geography for guests to enjoy… Plus, it's the perfect cocktail lingering spot for guests."
Fresh Perspectives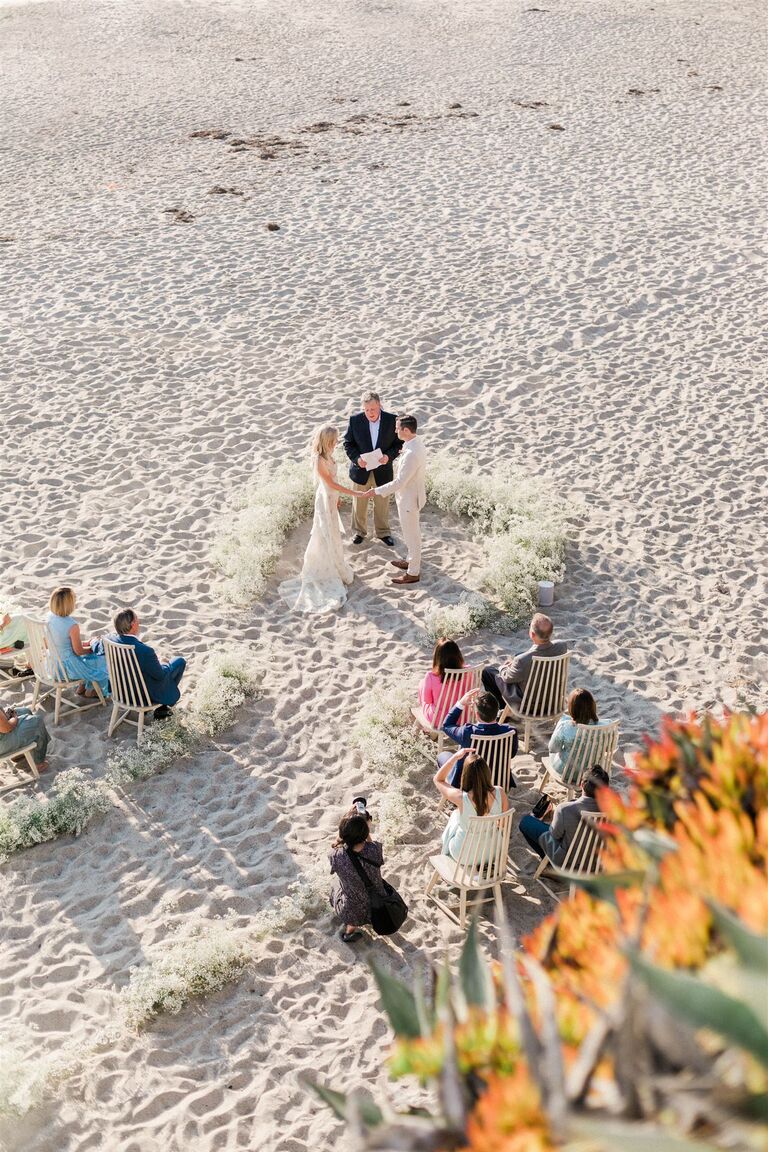 Gray Malin-worthy prints from your wedding reception are the next must-have for 2022 weddings. Couples are finding new heights, angles and fun ways to capture their love story through both the engagement session and wedding day. As weddings are now being designed with unique and thoughtful layouts in natural settings, couples are seeking a variety of ways to capture their efforts—and that includes from above. Aerial photography packages are currently offered among luxury vendors and the demand will only continue to rise in the next year.
Internal Is the New External
With wellness becoming an essential component of our everyday lives, another big 2022 wedding trend is prioritizing self-care. "Weddings are an opportunity to reset," Lee affirms. This may involve wellness practices and appointments that focus on what lies beneath the surface (meeting with a therapist for mental health prioritization, taking supplements, and scheduling procedures like red-light therapy or cryotherapy are just a few examples).
For the actual week of the wedding, some couples are making vitamin-infused IV drips easily accessible for destination guests (especially for those attending multiple events in a weekend). Many are offsetting depletion and dehydration, as well as seeking out personalized skincare and nutrition routines. Preparing for the wedding day isn't solely about what exists externally; in fact, it's about feeling your best and thereby being your best as you enter marriage.
Storytelling Through Individual Servings
Wedding trends of 2021 saw the rise of individual servings, like tiny charcuterie boards, mini wedding cakes and canned cocktails. The biggest direction in 2022 catering trends is the notion of "leveled-up individualized foods," says Jacobs. "Individual servings will remain a mainstay as 2022 weddings and events strive to serve guests safely," she explains. "But watch out for cool new spins on these catering touches: caviar tastings, sushi flights, enhanced serving trays with elegant cloches, branded lucite covers, dessert [platters] … servings for one will have style."
"We're seeing an emergence of thoughtful and unique personal touches added to the overall design to truly celebrate their love story," adds event planner Ashley Tangerini of Mavinhouse Events based in New England. "This includes a menu planned around a couple's favorite foods or a late-night food truck that serves dishes from the first date." Some couples are crafting entire wedding menus around their love story, starting with the wine they enjoyed before their first kiss or the first dish they made together at home.
Weekday Weddings
With a surge in demand for events, many couples have accepted that a Thursday wedding is just as great as a peak Saturday event. In fact, it gives couples an opportunity to extend the wedding experience for loved ones. "Weekday weddings and elopements are definitely the biggest shift I've seen that will be a big part of the future," says destination wedding photographer Stanley Babb, owner of Stanlo Photography. "We are beginning to normalize weekday weddings. I'm seeing that some couples are finding great relief with having epic elopement images and spending substantially less."
Experiential Wedding Registries
Millennials and Gen Z have particularly been vocal about pursuing life's experiences over material goods. With many now purchasing their first home or jet-setting off to a remote Indian Ocean island for a dream honeymoon, the experience and memories are what will create the greatest stories for decades to come. Hence, why, so many couples are normalizing cash funds and requesting gift cards for their wedding registries. Many to-be-weds are even letting loved ones into their life decisions through IVF and first-time home funds. The best part about 2022 is that couples can easily request the KitchenAid Stand Mixer along with their future puppy—sans judgment.
Supporting Local Businesses
The Knot 2022 wedding trends wouldn't be complete without a community-building core value. Many couples are refining their entire wedding planning process to focus on ways they can promote and support local businesses. Among BIPOC couples, many are seeking out vendors who represent their respective communities, orientations and inherent belief systems. The purpose for this is to preserve their culture on what is the most joyful day of their lives; thereby, allowing weddings to be just one avenue for couples to contribute to a brighter tomorrow.