The Top Wedding Trends of 2021
Welcome to the Year of Intentionality.
Every year, The Knot Editors compile a list of wedding trends we forecast for the year ahead. Traditionally, this has encompassed color palettes, cake trends, floral inspiration and the excitement that comes with weddings. Over time, couples have leaned into experiences over aesthetics, creating hyper-personalized affairs and curated guest "moments." The onset of the coronavirus, however, cannot be overlooked as it relates back to weddings in 2021, and from the flames of a pandemic has arisen a need for the nouveau: new wedding trends, new experiences, new design elements, all to capture couples' new beginnings. 
"Weddings aren't stopping," notes New York-based planner Amy Shey Jacobs of Chandelier Events. "And trends are born of necessity. For example: When I got married, save-the-dates weren't a thing. Now, we're seeing the need for change-the-dates too." As couples increasingly marry the necessity with the new, we welcome 2021 wedding trends as it's coupled with the Year of Intentionality. 
The Welcome Box
While it's now standard to have hand sanitizer and social distancing signs available at events, the guest entry touchpoint is another way to make your loved ones feel that they're cared for on your wedding day. "With some weddings being downsized to more intimate numbers, you will see more guest-centered details, starting from welcome to send-off kits," predicts Georgia-based planner Terrica Skaggs of Cocktails & Details. 

Already, couples have started to work with their pros to design welcome boxes, the experiential alternative to the welcome bag. (After all, who doesn't like an unboxing?) The concept behind these boxes is to safely house all event necessities in one place, including personalized hand sanitizers, masks, programs and details, and even take-home favors, allowing guests to experience the warmth of being welcomed into the wedding weekend—a gift for all involved. 
Tents and Twinkly Lights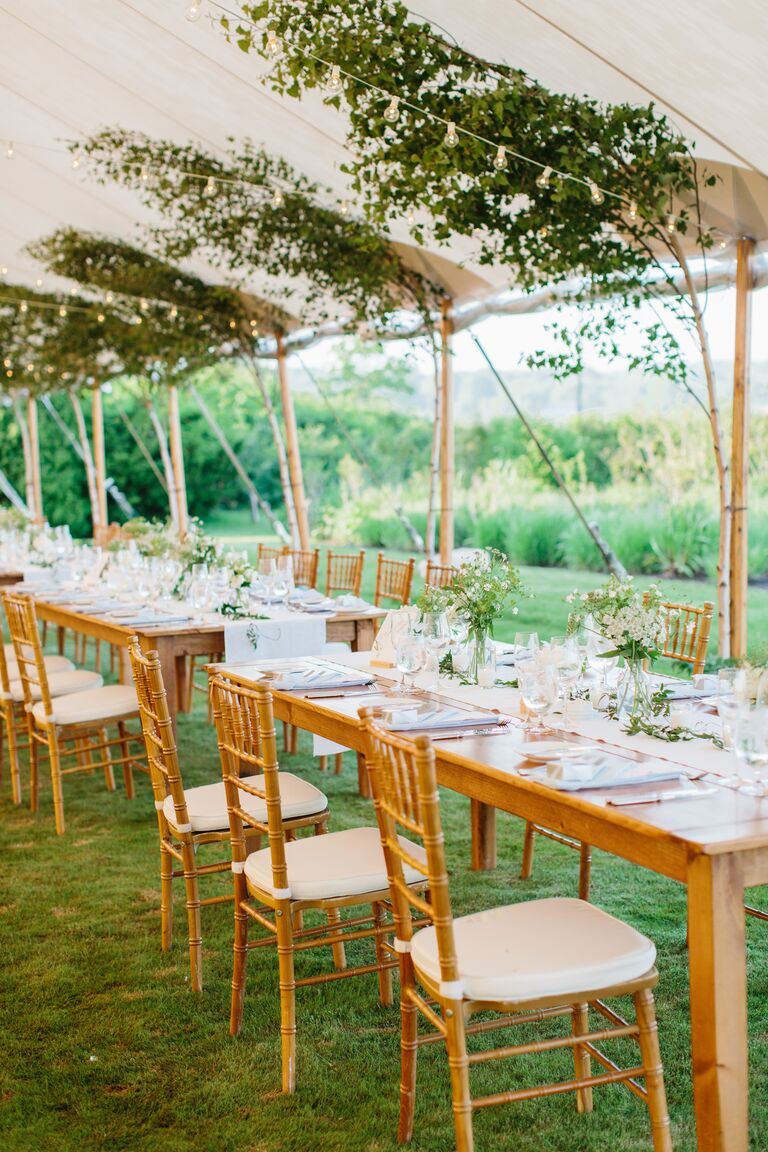 As more outdoor weddings are taking place around the world, there's a surge in interest in wedding tents and mood lighting to bring a romantic and airy ambiance to every occasion. "Couples are leaning into nature and fresh air in ways they did not in the past," notes planner and designer Jove Meyer of his namesake firm. "In 2021 and moving forward, outdoor weddings will be on trend as they're also more safe for guests and vendors. Tented weddings are the new ballroom."

Turn to your planners and venues for options to help with elegant and whimsical tented options, as well potential lighting technicians who can help create the exact ambiance you'd like. In all, the visual enhancement of pulling together drapery from tents with proper lighting provides an altogether different, fairytale-like environment on your wedding day. Let the breeze and the brightness in. 
Mini D'Oeuvres
A charcuterie board for one? Please and thank you. Smaller plates and individualized portions are on the upswing with examples including single-serve grazing boards, mason jars supplemented by dips and dressings and, even, picnic baskets (to stay or to go). Couples are finding safe and sweet ways to celebrate their unions with inventive cocktail hour themes. For example, one planner's cocktail hour for a Southern-themed wedding featured individualized bite-size portions of fried chicken, shrimp and grits and oysters Rockefeller all displayed on a single plate. Guests will be thrilled by its convenience and wowed by the presentation.

Tiny Toasts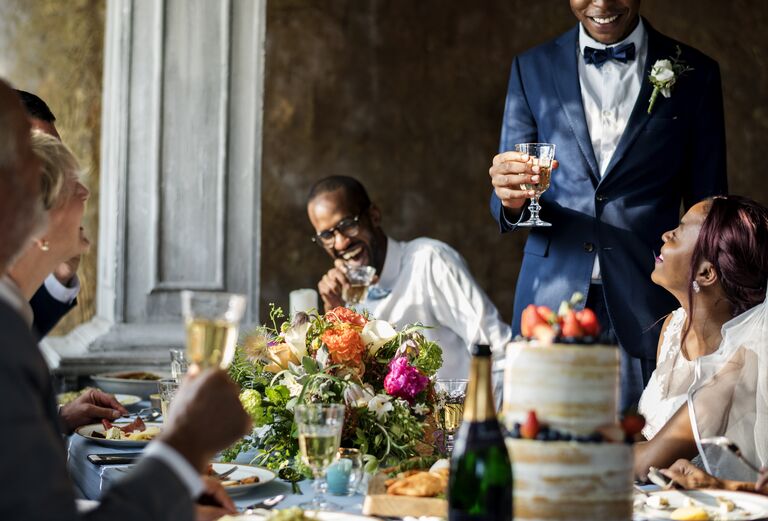 While a good best man and maid of honor toast is much appreciated, weddings will be innately more intimate in 2021, meaning most guests will have a rather close relationship to the couple. Multiple top planners and vendors predict the rise of "tiny toasts" at weddings, where loved ones are asked to share a fond memory of the couple, dinner party style. 

"Speeches have become more casual," notes photographer Yumi Matsuo. "Since it feels more like a dinner party, the formality of speeches and toasts is gone. I had two weddings in a row where every guest had a speech prepared. In reverse, couples are also proposing tiny toasts to their loved ones for making it to their weddings by thanking them throughout the event in small ways. 
Mismatched Seating
You've seen mismatched bridesmaid dresses, but suddenly, coordinators and planners are going crazy for mismatched seating and tables. "This includes how your table is set against unique floor plans," notes Jacobs. "In the same way bridesmaids went from being matchy-matchy to mismatched, wedding tables are now being adjusted." 

In the past, ceremony spaces and reception venues had standardized options for seating (square, rectangular, circular, the options are endless), often without mixing and matching layouts. With unconventional reception designs on the rise, mismatched tables (some for four and others for six) not only safely reflect this time, but they photograph magnificently.
Bistro-Style Entertainment
Relaxed-but-formal environments are conducive to a similar style of entertainment, which planners are now referring to as cafe or bistro-style performances. We forecast an uptick in acoustic performances, dance tributes and a variety of musical options as a 2021 wedding trend. "As a planner being forced to think outside-the-box, it's created a new excitement for ideas," says Jacobs. "We're rife with inspiration."
If you really want to lean into the cafe aesthetic at your reception, consider hiring an acoustic group or have your DJ play coffee shop songs during a "coffee hour," and completing the concept with baristas serving lattes—with alcohol or simple decaf. 
Living Room Decor
Cozy throws, plush pillows and couches, microfiber that translates magnificently to the outdoors. The outdoor lounge lives on in 2021, but the furnishings are no longer about the antique aesthetic as much as it's a cozy farmhouse rendition of a living room plucked straight from Magnolia to an airy field. 

"Creating a comfortable, safe environment from the start is absolutely essential, and the right design can do that," says New Orleans-based planner Michelle Norwood of her eponymous firm. "Choose comfortable chairs and lounge-seating furnishings for comfort and warmth. Guests will likely find themselves seated for longer, so choose pieces that are not only beautiful but plush." 
Finally, make the living room come out from the grounds of your chosen outdoor destination. "Incorporating greenery and other natural elements into the design can also help to make guests feel at home," concludes Norwood. "It's for once they've found a spot to sit and enjoy the party."

Visual Planning
Technology has evolved wedding experiences through the years, and in 2021, now the wedding planning process will particularly be impacted. The rise of virtual invitations, Zoom weddings and the use of updated communications via wedding websites (pssst: you can build yours and send out invitations all in one place on The Knot) is resulting in new technology for visual planning experiences. 

"Look to AR and technology to play a big role in not just how you plan, but your guest experience and the wedding day," notes Annie Lee, planner and innovator behind international event firm Daughter of Design. "Everything from trying on dresses virtually to AR wedding invitations that give tours, and even glimpses into the wedding location… Plus, photos with guests who cannot be there or with the couple at the wedding—AR is going to be a great inclusion."
Single-Tier and Mini Cakes
Couples are certainly getting spicy with the sweet tradition of wedding cakes. In 2021, we forecast cakes will grow smaller in size, but more dynamic in detail. "Long gone are the days where only large cakes make an impact," says Dallas-based planner Ashley Mason of Saunter Weddings. "A well-designed smaller cake can have a major wow factor. Whether it's an intricate pattern inspired by the detail on your gown or vibrant flowers that play with your color palette. We've seen a trio of single tier cakes on display as another blossoming trend. You can take elements from the wedding design to mix and match the styles of the tiers for a cohesive look."

"I recently suggested mini cakes to my clients and they fell head over heels with the idea," Norwood adds. "To up the ante on the cake display, we custom designed half marble, half wooden coasters for guests. Each coaster was engraved with the couple's initials, and when guests were served their mini cakes, they also received their surprise wedding favors. It was such a fun way for guests to 'eat' their way to the wedding favor."
Weekday Weddings
For years, The Knot has seen an uptick in weekday wedding celebrations—according to the most recent The Knot Real Weddings Study, weddings outside of Saturdays already accounted for one in three nuptials—and it's a trend that will certainly rise in 2021. "I see and hope to see more wedding celebrations during the week from Monday through Thursday," says Houston-based planner Darryl Wilson of D'Concierge Events. "I've had couples save over tens of thousands of dollars moving from a Saturday to a Monday wedding as minimums shift and more negotiations are made possible for weekday celebrations."
For couples who are currently weighing this option, Moore says there's a likelihood that your ideal venue, though originally out of budget, is within reach. "You may have had your heart set on a particular venue or vendors whose prices on weekends are beyond your budget," he explains. "Considering a weekday could make this vendor a possibility. And know: your family and friends will and should support you no matter what day you choose."
Brunch Weddings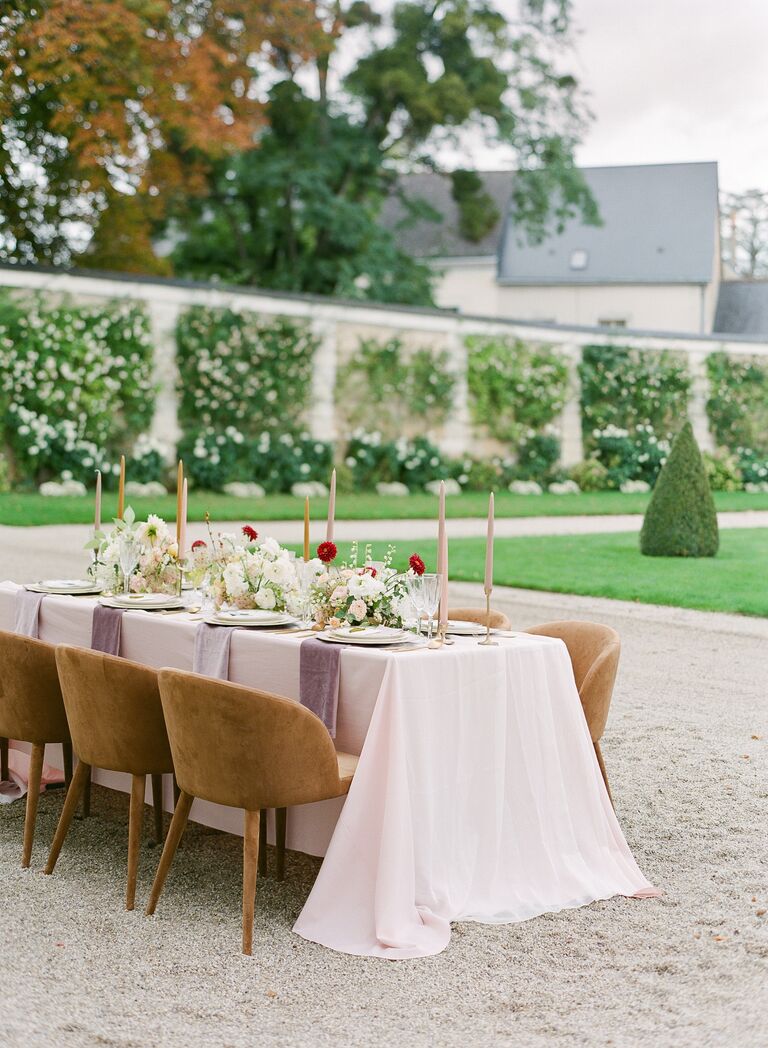 Grab your mimosas and Bloody Marys, because the brunch wedding is a hot commodity in 2021. As more weddings are held outdoors, couples are taking advantage of daylight and sun-kissed experiences, including lush garden brunch parties and mouthwatering brunch boxes under airy tents. The best part for guests is having the option to continue the party through the day, or retiring home after an eventful celebration for a delightful, late afternoon nap. 

Custom Cocktails To-Go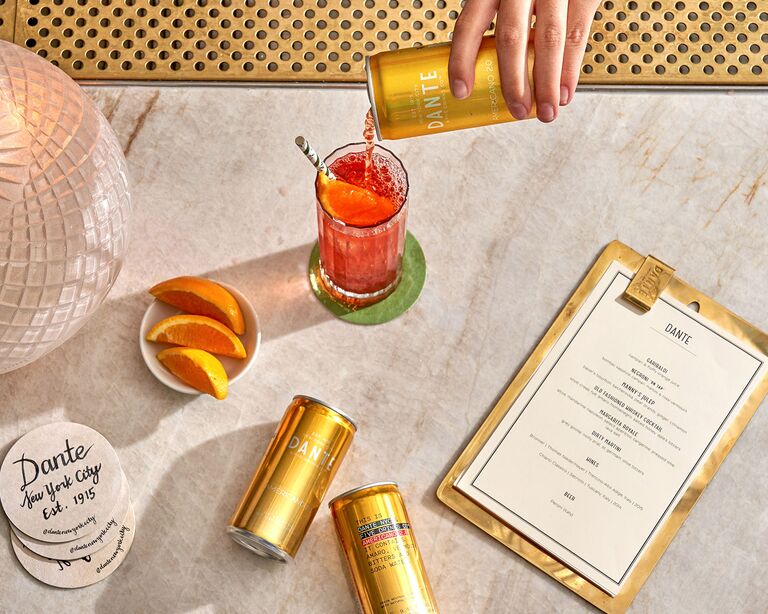 Limiting wait time is one benefit to this 2021 wedding trend. Your guests will be thrilled to grab a canned Moscow Mule or a mouthwatering, pre-made cocktail at your event. As pre-packaged beverage options are becoming more sophisticated, couples will create dedicated grab-and-go libation stations for guests in 2021. Ask your caterers about ways to supplement your custom, ready-to-drink cocktails, whether it includes a unique display of fresh mint leaves, citrus slices and even custom coasters to help your guests enjoy their to-go drinks. 

Colors With a Breath of Fresh Flair
Just as the '90s is suddenly trending in fashion, fresh color palettes and prints are surging in popularity at weddings. In 2021, we forecast even more couples will infuse fresh, nature-driven hues and unexpected palettes into their wedding decor. 
"Color is the new white," says Meyer. "Couples are leaning into bold, colorful weddings and shying away from whites and creams. More and more couples are pushing the typical ideas of wedding decor and moving in the direction of fun, bright and happy; they're incorporating all sorts of colors in their stationery, decor and foods."

Activities With a Breath of Fresh Air
S'mores under the stars, the sea breeze filtering through the first course, as well as on-site concierges to help with exploration activities are just a few benefits to choosing an outdoor wedding weekend. Ceremonies, cocktail hour and receptions (even welcome events) are all being held outdoors through the weekend, and we predict a curation in weekend itineraries to help guests take advantage of nature's splendor. 

"The microwedding is more agile," Lee says. "Couples are having, in particular, ceremonies at unique places that traditionally could not host a larger crowd or event. Take advantage of the smaller guest list and consider scenic and beautiful locations that were out of the question for 100 guests, but are now perfect for your party of 10."
A Focus on Florals
A 2021 floral trend to arise is a pure focus on voluminous floral arrangements that are equal parts breathtaking and sentimental. "Part of the 2021 wedding trends is going really deep on the details," explains Jacobs. "People will go bigger in smaller ways." Such a statement most certainly applies to floral arrangements. 
"The literal meaning of the word modern is 'of the moment,'" says florist and restaurateur Charles Masson of The Lowell. "A wedding is magical when all of the components are in perfect harmony with one another, but you don't achieve that harmony by fabricating it. Meaning, the flowers you display should have a direct correlation to the food you have prepared and to the music you play. Seasonality is so important in this regard." When you pay attention to the details of the season, explains Masson, the flavors and colors correlate and are showcased through food and flowers—regardless of the wedding theme. 
Finally, couples will put more thoughtfulness into the "why" behind the florals they're selecting. In fact, it's a subtle-but-romantic touch to their love stories. "Sentimentality is far more important within the framework of what is the most beautiful flower and/or flavor of the moment," says Masson. "When you add that sense of personal touch, it all makes sense. It's all about sensibility—it shouldn't be orchestrated." 
Sentimental Tabletops
Custom linens, along with thoughtful touches per table, like thank you notes to guests, are continuing to flourish well into 2021. "Tabletop details will become more intimate, personal and elaborate," speculates Skaggs. "As well as food service and entertainment."

"This girl loves a seated dinner," Norwood adds. "I just love the fabulousness of it all. And since we have to space guests out for a wedding, that lends itself to new table designs that look more like styled shoots than packed reception tables of the past. Think: stunning details like luxe linens, crystal glassware, layered china and lots of candles."
Vendor Curation
Across the board, there's an uptick in intentionality when it comes to purchasing power, and this certainly applies to the wedding planning process. "Diversity is sexy," says Meyer, a wedding industry advocate for diversity. "Couples are being much more mindful in who they hire. In fact, they're seeking out diverse vendors, including BIPOC, female and LGBTQ+ business owners."

Allyship has increasingly entered the picture for couples as they seek meetings with vendors, and this trend is here to stay. "In 2021, it is not just about a vendor's product," notes Meyer. "It's about what they stand for. Couples are seeking out vendors who stand up for social justice and make beautiful work." 
For that very reason, The Knot Marketplace has created "Support Diversity" filters to help couples further refine their search, specifically for vendors who identify within an underrepresented group. The options include Asian-owned, Black-owned, Hispanic or LatinX-owned, LGBTQ+-owned, Native American-owned, veteran-owned and women-owned businesses.
The Big Reveal
Couples are now waiting to share their first photos with an editorialized "moment" across social media. Suddenly, more couples are searching for "epic" announcement photos or unique aerial shots with their guests. The concept is to go big or go home. 

"The microwedding trend persists and though, as a result, the guest count has reduced, the couple's desire for epic photos of the day has increased," explains Meyer. "I've been working with clients to create very styled shoots for their weddings, making the wedding day feel like part editorial shoot. Clients are spending more on a photographer and fashion than they would have in the past."
Coordinated Guest Dress Codes
As an extension to the trend of epic imagery is a new type of dress code: casual-but-coordinated. "Goodbye Black-Tie," says Meyer. "Couples are leaning into more approachable, fun-forward celebrations and saying goodbye to stuffy tuxedos and gowns. They're embracing formalwear, in place of 'fancy'-wear!"
The shift to microweddings also allows for more control over the entire aesthetic, even as it pertains to guests. Increasingly, Lee says, couples are viewing guest attire as part of their decor. "The wedding day is part of a 'photo shoot,' so they communicate with guests to coordinate color palettes and style," she muses. 
Humor… Lots of It
What can you do but laugh? Change-the-dates or unsave-the-dates are on the rise, and couple's are finding the humor through this tumultuous and uncertain time. By leveraging their wedding websites (we suggest the FAQ page for general updates), all infused with anecdotes and small moments of laughter, couples are finding light through emotional times. 

Finally to all guests of 2021, expect to hear this classic first dance song quite often in the year ahead: "At Last" by Etta James.
The Nanomoon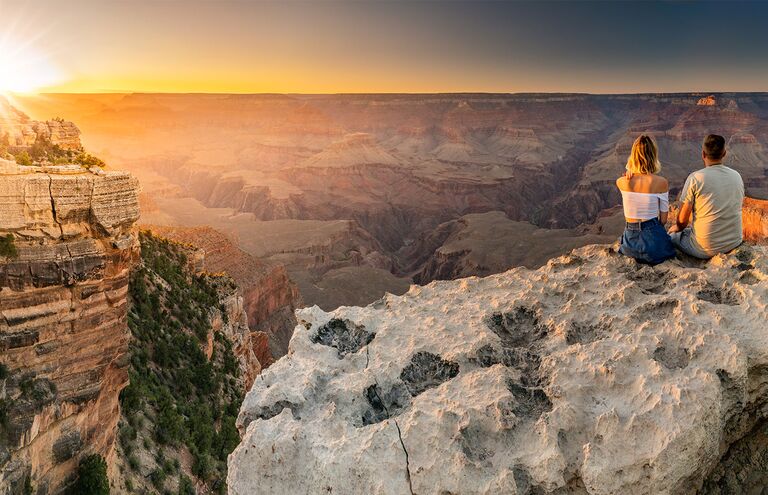 With restrictions on travel to far-flung, dream honeymoon destinations, couples are making the most of their time and new marriages by enjoying their local regions with a "nanomoon." Local exploration is on the rise among newlyweds, whether it be a short trip to a local wine country or an extended road trip to a nature-driven destination near a U.S. National Park. While minimoons have already solidified itself in previous years as a honeymoon trend, nanomoons are ideal for newlyweds in 2021—especially because a "massivemoon" will eventually coexist with it. 

Something Spontaneous
In total, 2021 wedding trends—reflective of more intimate affairs—are all about going deep on the details and accompanying experiences. Why not include an element of surprise or spontaneity? Whether it's having a mentalist perform or asking a celeb to sing your first dance song over Zoom, the options to delight your guests are endless. 

"When you have a smaller wedding, you're reducing the way you would a sauce. It becomes tastier," says Masson. "When you reduce the guests you have, you can afford to enjoy more and focus on the smaller details… by incorporating components of couples' personalities that might be completely untraditional, but in the same vein seen and enjoyed as spontaneous. Guests love spontaneity. With smaller weddings, you take the time to actually figure out what you want and with less production. You're able to create something so incredibly delicious that's effortless and magical for everyone involved."