If You're Obsessed With 'The New York Times' Marriage Announcements, You Need to See These Stats
Sapio, a dating app, combed through every New York Times wedding announcement from January 4, 2015, to July 3, 2016—and this is what they found.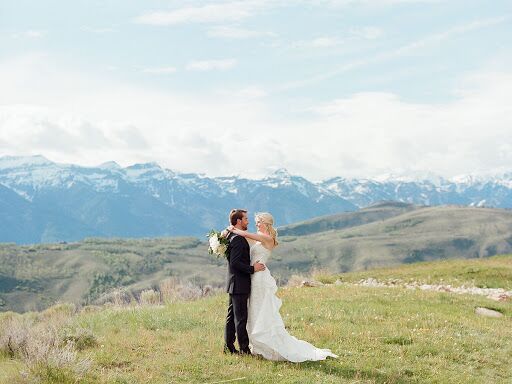 Carrie Patterson Photography
If you love to pore over the marriage and wedding announcements in The New York Times every Sunday, you're definitely not alone. Its wedding section is considered one of the most—if not the most—elite wedding sections in the US, so being featured can definitely feel like the icing on the wedding cake. But what commonalities do all of those couples have in common? Sapio, a dating app, analyzed every New York Times wedding announcement from January 4, 2015, to July 3, 2016—almost 2,000 announcements!—to see what the common threads were in several different categories. Read on to see who's saying "I do" in the iconic city.
Who are the bride and groom?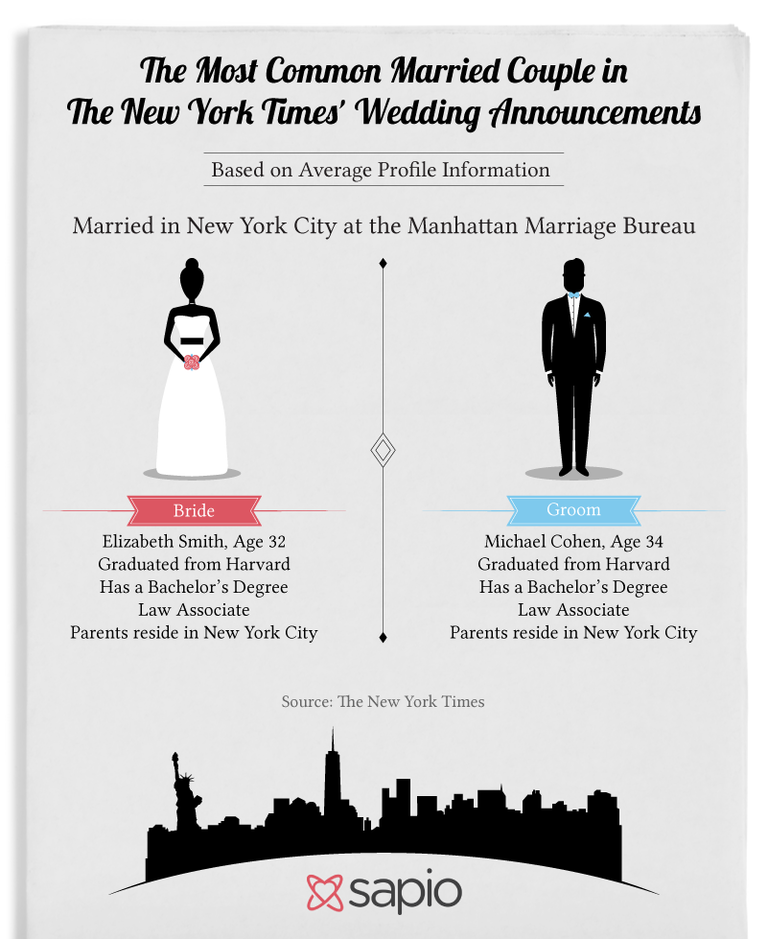 While every New York wedding is unique, a lot of similarities exist between the brides and grooms. Based on what we found in The New York Times's wedding announcements, the typical bride and groom are both in their 30s, have graduated from Harvard with at least a bachelor's degree, and are currently associates at a law firm. They also have parents residing in New York City. The most common name for brides is Elizabeth Smith, while the most common name for grooms is Michael Cohen. Perhaps to stay close to home, they decided to marry at the Manhattan Marriage Bureau.
What's in a name?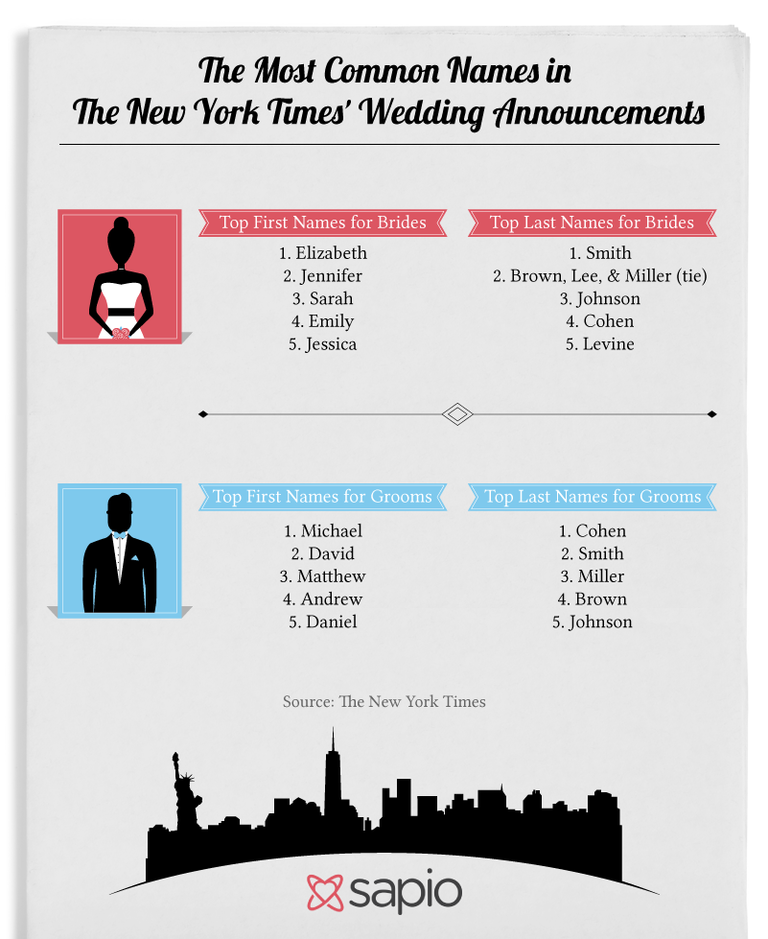 Of the top first and last names of brides and grooms featured in The New York Times, Elizabeth/Michael and Smith/Cohen appeared the most. Other popular first names include Jennifer, David, Sarah and Matthew. Regarding last names, Smith and Johnson were among the most common for both brides and grooms. However, when it came to brides, Brown, Lee, and Miller made slightly more appearances in the paper.
Where'd they go to college?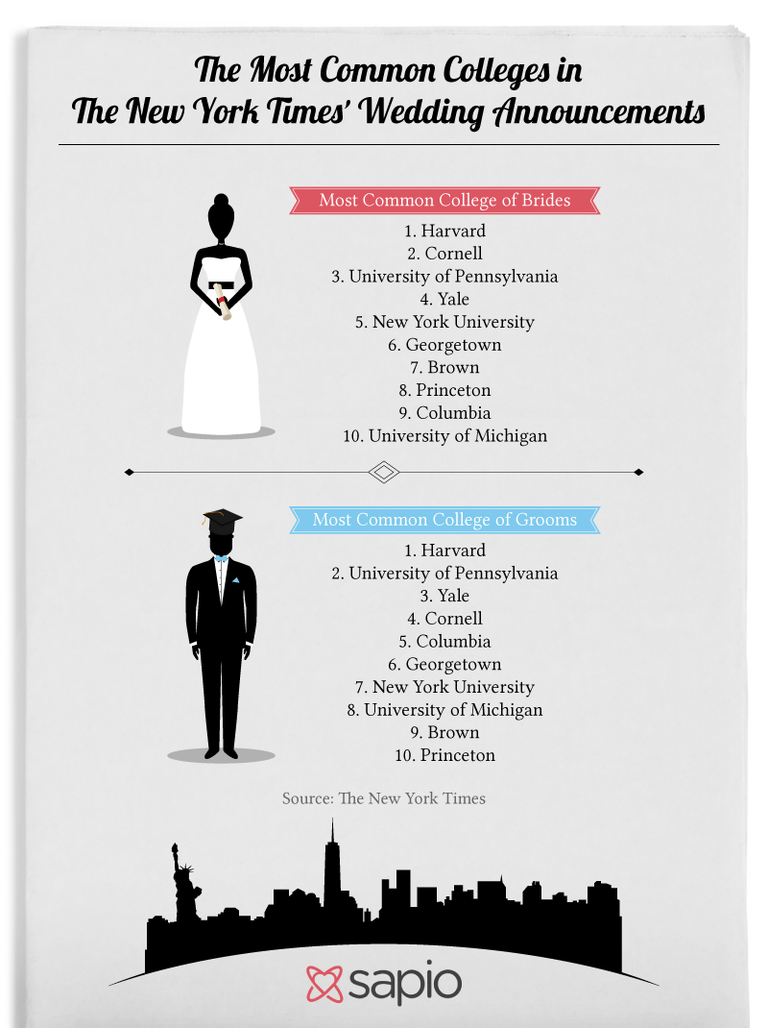 Looking at the most common colleges that the featured brides and grooms attended, Harvard came in at No. 1 for both parties. Furthermore, while brides were more likely to attend Cornell, more grooms received degrees from the University of Pennsylvania. Yale came in fourth for the brides, but third for the grooms, but New York University was a more popular choice for women than for men. The University of Michigan and University of Pennsylvania were the only public colleges to make the top 10 for both brides and grooms.
Where do their parents live?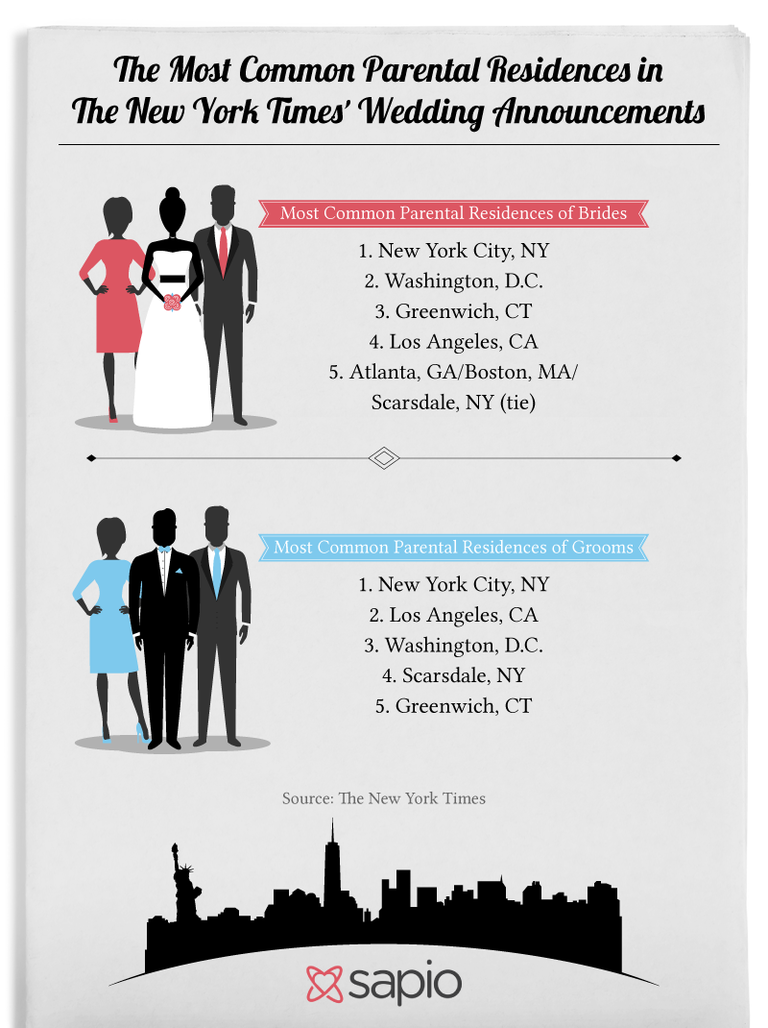 After combing the wedding announcements in The New York Times, the most common parental residences for both the bride and groom turned out to be New York City. But whereas the brides' parents were more likely to hail from Washington, DC, the grooms' parents came from a much farther distance: Los Angeles. The parents of both brides and grooms also came from Greenwich, CT. However, the brides' list included Atlanta and Boston in addition to Scarsdale, NY.
How old are the bride and groom?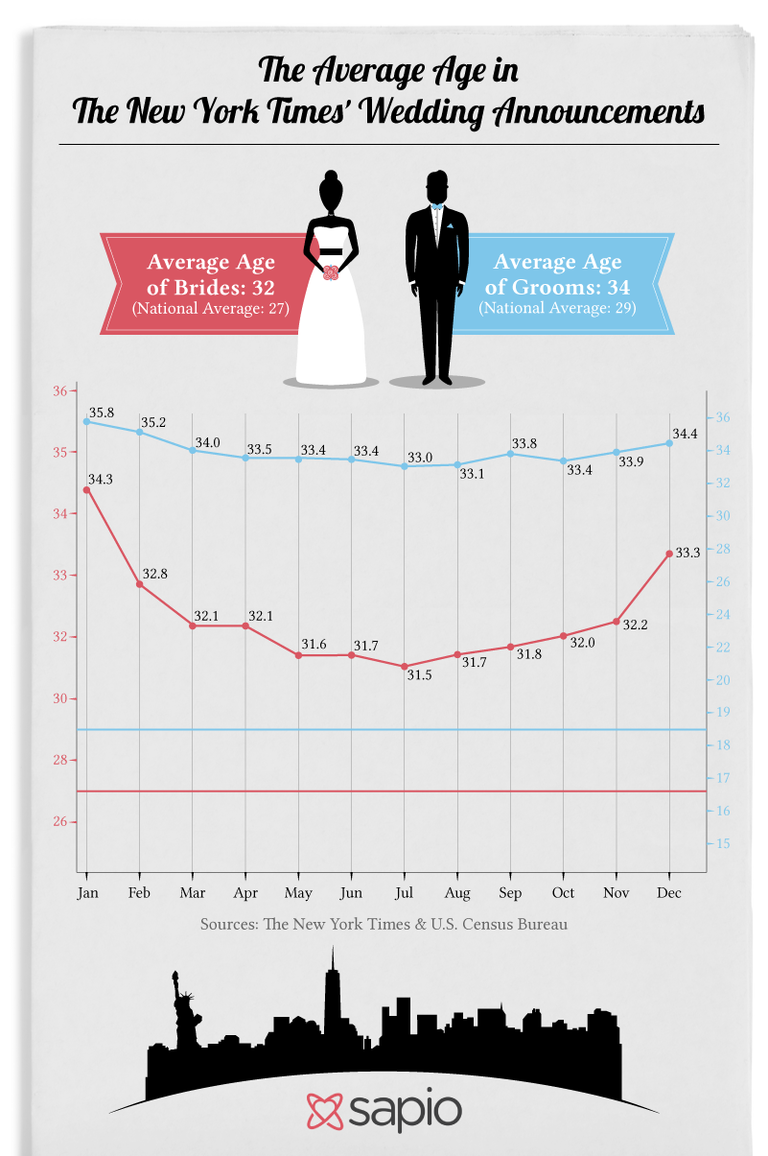 Millennials are getting married later in life than their parents and grandparents—and those featured in The New York Times are no exception. Based on the announcements, the average age of brides was 32, while the average age of grooms was 34. Comparatively, the national average is around 27 for women and 29 for men. The average Manhattan wedding cost is certainly not cheap—so could it be that couples are choosing to save up money before having their dream wedding? Even more interesting: The youngest women in the data set got married in the summer. In January, the average age of brides was 34. In July, the age decreased to approximately 31.5.
What do they do for a living?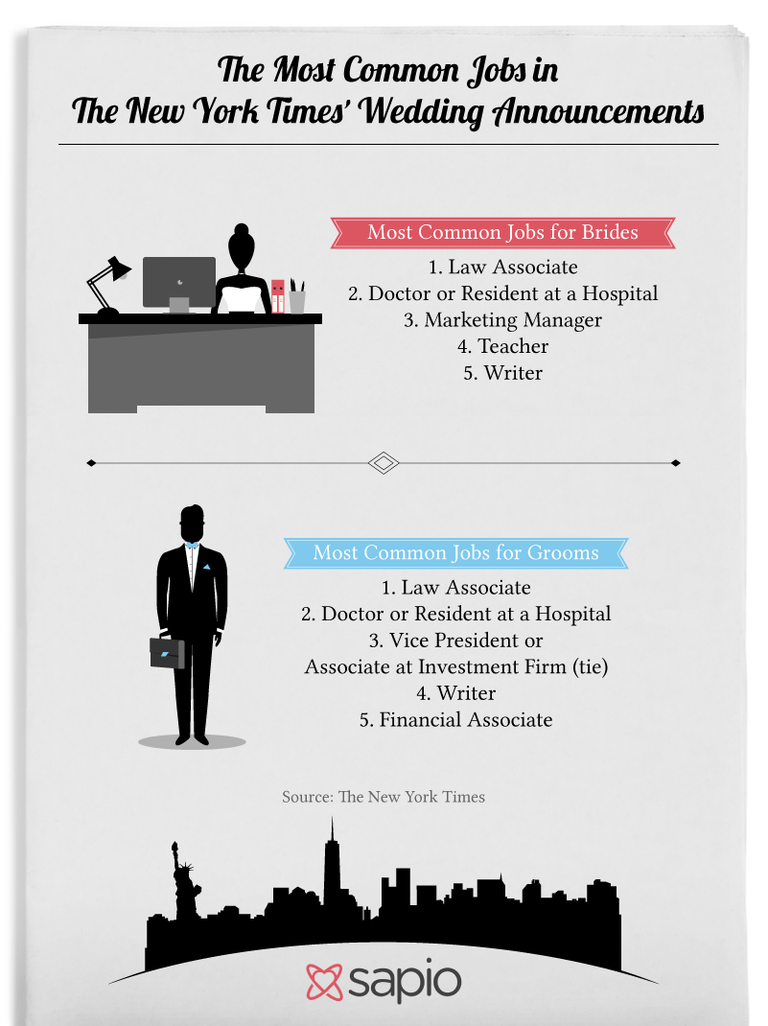 A New York wedding can get pretty pricey—so how do brides and grooms pay for them? The most common job overall was law associate. However, doctors or residents at a hospital followed closely. Many brides were also marketing managers, while many grooms were vice presidents or associates at an investment firm. Additionally, being a teacher came in fourth on the brides' list. The grooms were more inclined to dabble in finances, but both parties included writers.
Where did they marry?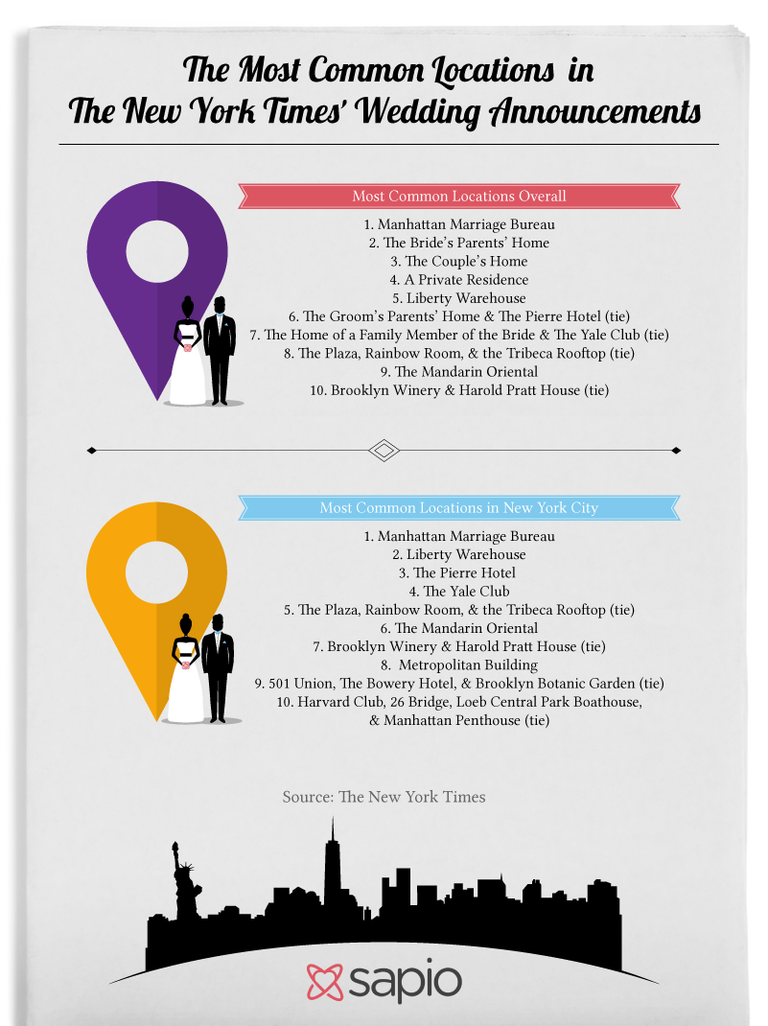 Looking at the most common locations overall and the most common locations in New York City, the Manhattan Marriage Bureau topped both lists. Brides and grooms are also choosing to have simpler weddings: at the brides' parents' home, their own home and at a private residence. Still, some forgo the intimate history found in a personal residence and instead opt for the historic charm of The Liberty Warehouse. In New York City, the Pierre Hotel and Yale Club are also some of the most popular wedding venues.
And if you're still looking for your partner, download Sapio to experience mobile dating as you've never experienced it before.