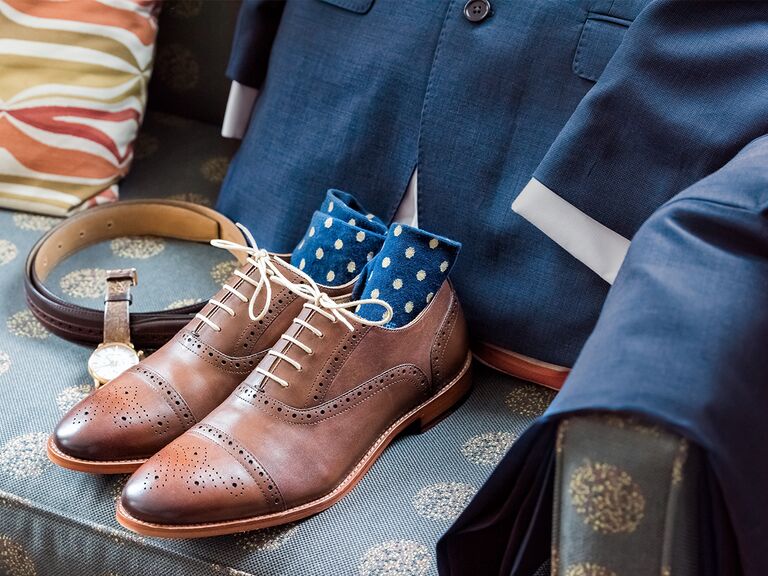 Guys, listen up: The key to choosing a suit so versatile it'll become a closet mainstay comes down to weight. Get yourself one in midweight wool, and you can wear it year-round (think of it as the Goldilocks of suit materials). It's even more adaptable in a blue or navy hue, which will look just as at home at a backyard wedding as it would in a more formal setting—with the right styling touches, of course. The cut and style you choose is up to you, but I recommend a slim fit for maximum staying power. Read on for my tips on how to make the same suit work for you whatever the wedding (or weddings) you have coming up.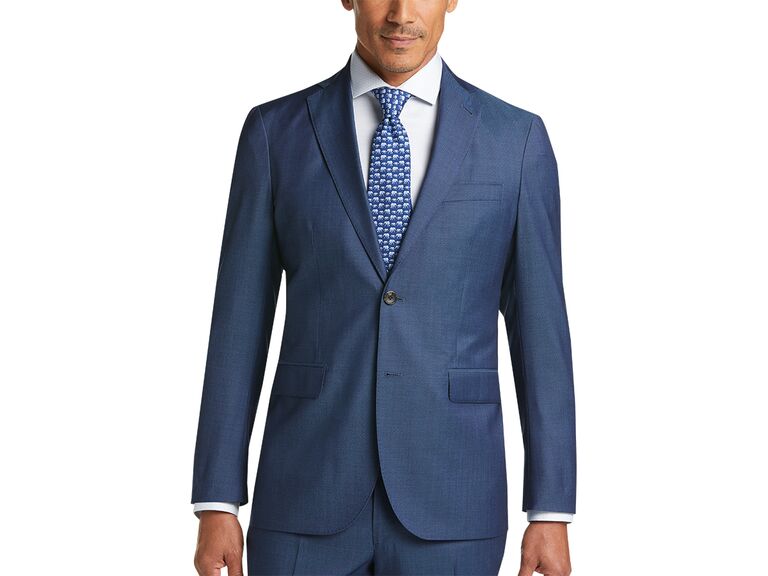 My Pick: Strong Suit blue extreme slim-fit suit, MensWearhouse.com

Look #1: The Casual Outdoor Wedding


A blue suit is classic and timeless, and with just a few tweaks can work really well for an informal wedding. For a more laid-back look, wear the suit jacket and pants, but ditch the dress shirt and formal shoes. Instead, try a simple white tee and some white canvas sneakers. And because a wedding—no matter how casual—is still a special event, adding a pocket square is a good way to recognize that without killing the casual vibe the way a tie might.
Look #2: The Cozy Winter Wedding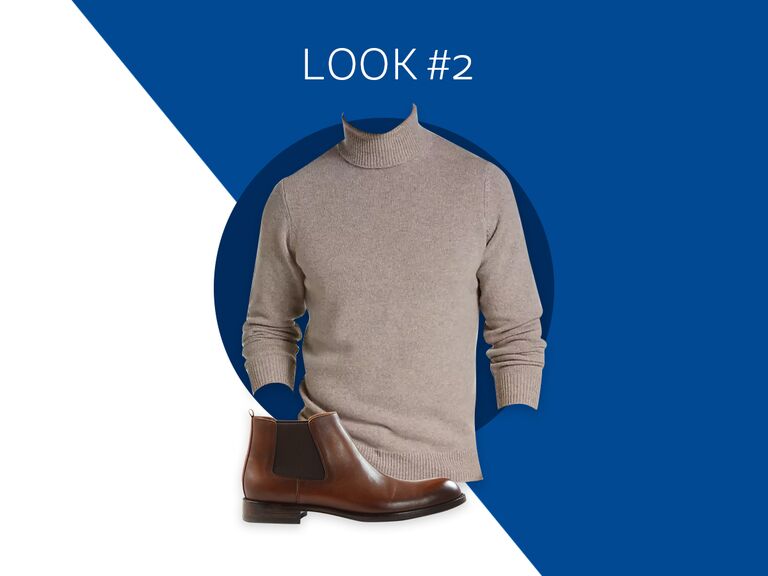 If you have a cold-weather wedding to attend, consider pairing this suit with knitwear instead of a traditional dress shirt. One of the best things about a blue suit is that it works with lots of colors and just one small change, such as wearing a sweater under the jacket, will make it look completely different—meaning you don't have to feel bad showing up in the same suit to multiple weddings. As for what knitwear to choose, I'd go with a turtleneck in a warm caramel, cool gray or even burnt orange for an effortless and sophisticated look (not to mention you'll also be really comfortable). Plus, a turtleneck goes well with Chelsea-style boots, which you might want to wear if you're up against bad winter weather.
Look #3: The Classic Semiformal Wedding

As long as there are weddings, chances are you're going to be invited to your share of traditional ones, and that midweight blue wool suit is perfect for them too. With the right accessories, it's easy to match the formality level of the occasion. I recommend a vest in a tonal blue or perhaps a contrasting gray, along with a crisp white pocket square. In keeping with tradition, I'd wear a white shirt and navy necktie, although you could swap that for a bow tie depending on the exact type of wedding.    
Will Taylor is the founder of the blog Bright Bazaar. Read some of his takes on wedding style here and here, and get more advice for the guys with Groom Style from The Knot and Men's Wearhouse.