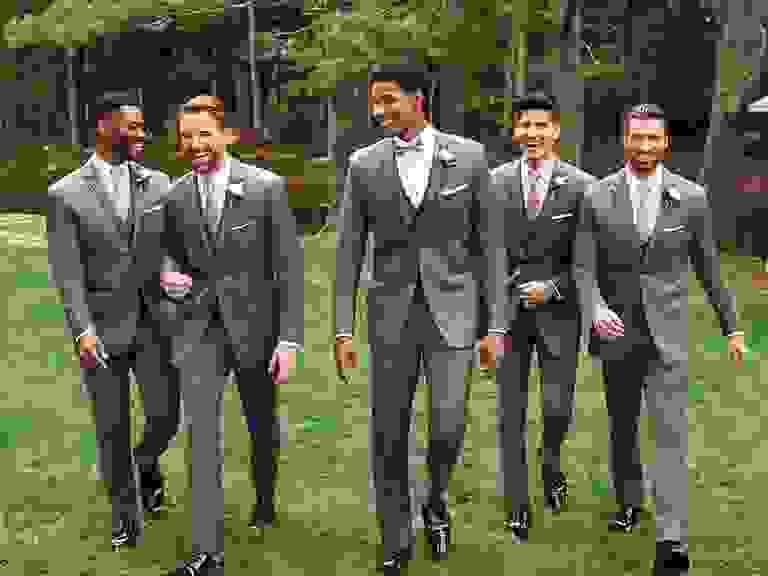 These days, there's almost nothing we don't do online: Pay bills? Check. Find the love of your life? Yep. Buy clothing? Obviously. But what about wedding clothing? If that seems like it's taking things just a bit too far, think again—especially if you're renting a suit or tuxedo. Thanks to state-of-the-art sizing algorithms and other cool technology that takes the guesswork out of getting the look and fit you want, the online rental experience has never been better. Men's Wearhouse in particular has a top-notch online process that's flexible and designed to deal with whatever uncertainties life may throw your way. Need a little more convincing? Read on for more info and helpful tips to keep in mind.
Look for Quality You Can Trust
We know, the last thing you want is to end up wearing something you don't feel great in the day of your wedding. That's why it's extra important to look for quality materials and brands you know and trust. At Men's Wearhouse, you'll find a variety of suits and tuxes from the best designers, like Vera Wang, Calvin Klein and Joseph Abboud. The fabric depends on the exact style you choose, but many are made with top-of-the-line lightweight wool that not only looks great but breathes well (yes, please). You can also rest assured that every order is dry-cleaned—using an environmentally-friendly cleaning process!—and checked for quality before it's shipped to you.
Build Your Look, Your Way
Renting a tux or suit online doesn't have to mean looking like, well, everyone else who rents a suit online. Yes, you can choose from pre-styled packages if that's more in your comfort zone. But if you want plenty of flexibility to customize your look (which we wholeheartedly endorse!), you can do that too. At Men's Wearhouse you can search by suit or tux color and fit, and then edit the rental package to change or add accessories or remove ones you don't need—meaning you can skip the shoes, switch up the pattern and style of a tie, or choose an unexpected shirt color. Many of their suits and tuxes also have a cool virtual "Try It On" feature: Upload a full-body shot of the groom to see what the style would look like, or choose to see it on one of a few different models.

Measure Up
Typically you'd need to take several measurements at home—overarm, torso, waist and inseam—to ensure you get the right fit without actually trying on your suit or tux. No measuring tape? No problem, if you use the slick Fit Evaluator tool from Men's Wearhouse. All you have to do is answer a few basic questions and their algorithm quickly calculates your precision sizing. (You can also drop in to one of their brick-and-mortar stores to get professionally measured in person if you'd like—find your local store here.) Bonus: Men's Wearhouse is size-inclusive, and can suit up everyone from the littlest kids to a size 70 long jacket and 70-inch waist.

Keep It Convenient—For Everyone
It used to be that attendants would make a day of it and go shopping for their outfits together. But with wedding parties often spread across the country—not to mention current health concerns—that kind of in-person experience isn't always practical. And that puts more pressure on you (sorry!) to make sure everyone knows what to buy or rent, and when to do it. If the best man is dependable, ask him to set up biweekly check-ins with the rest of the group to keep them on track. Or take advantage of online platforms that do the work for you. Once you create an account at Men's Wearhouse, you can use the wedding-party management tool to assign looks to each groomsman and invite them to add their measurements, and then keep tabs on their progress and send reminders if needed. You can even pick which attendants to pay for—you know, if you're feeling generous. Either way though, when you rent together, you'll score discounts or a free rental for the groom.

Time It Right
If you can, give yourself plenty of time to order your suit or tux—after all, you'll want to coordinate your look with your partner, and then allow enough time for your wedding party to place their own orders. Men's Wearhouse recommends ordering rentals three or four months in advance to ensure your favorite style is available. (That said, if you're not that much of a planner, or you unexpectedly need to shift your wedding date, they can accommodate orders on a much quicker timeline.) Otherwise, expect your suit to show up at your door the week of your event. Try it on right away—on the off chance something doesn't fit right or you need to make an adjustment, they'll get you a replacement ASAP. Then, after you get hitched, just drop off your look at a local store or pop it in the mail (prepaid postage included!) the next business day. Bonus: You get to keep the socks and pocket square.

Find Your Look
Ready to get started? Check out some of our favorite rental suit and tux ensembles below, or head over to Men's Wearhouse to browse more styles.

BLACK by Vera Wang black notch lapel tux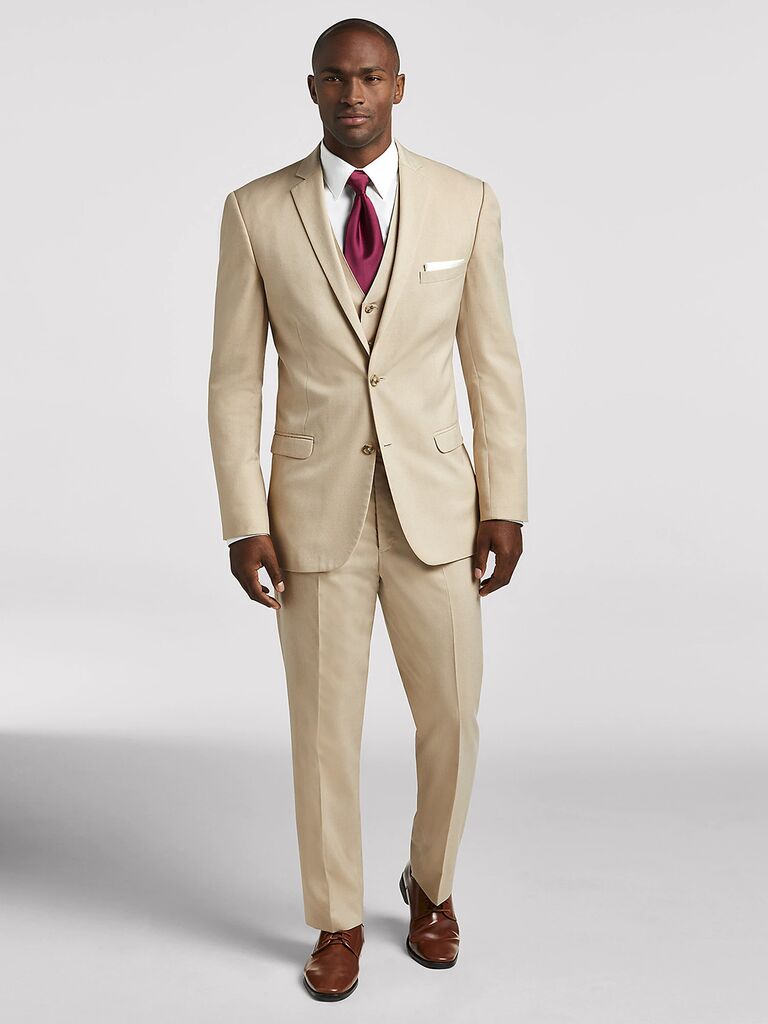 Pronto Uomo tan notch lapel suit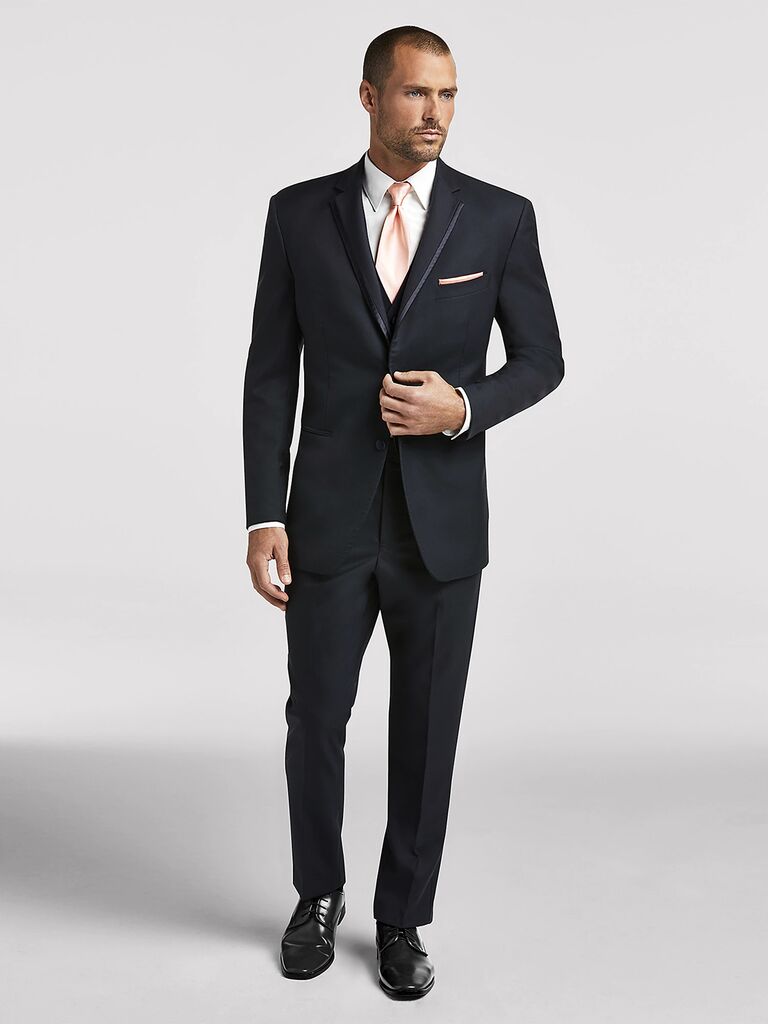 Joseph Abboud navy satin edged notch lapel tux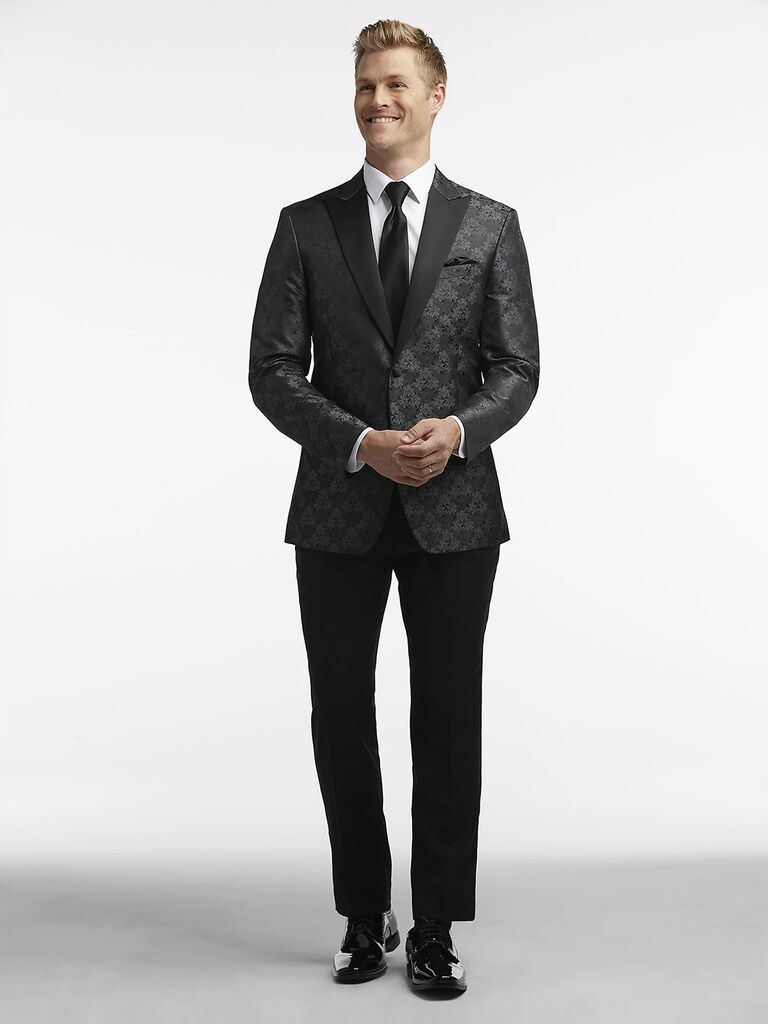 Egara charcoal gray jacquard dinner jacket tux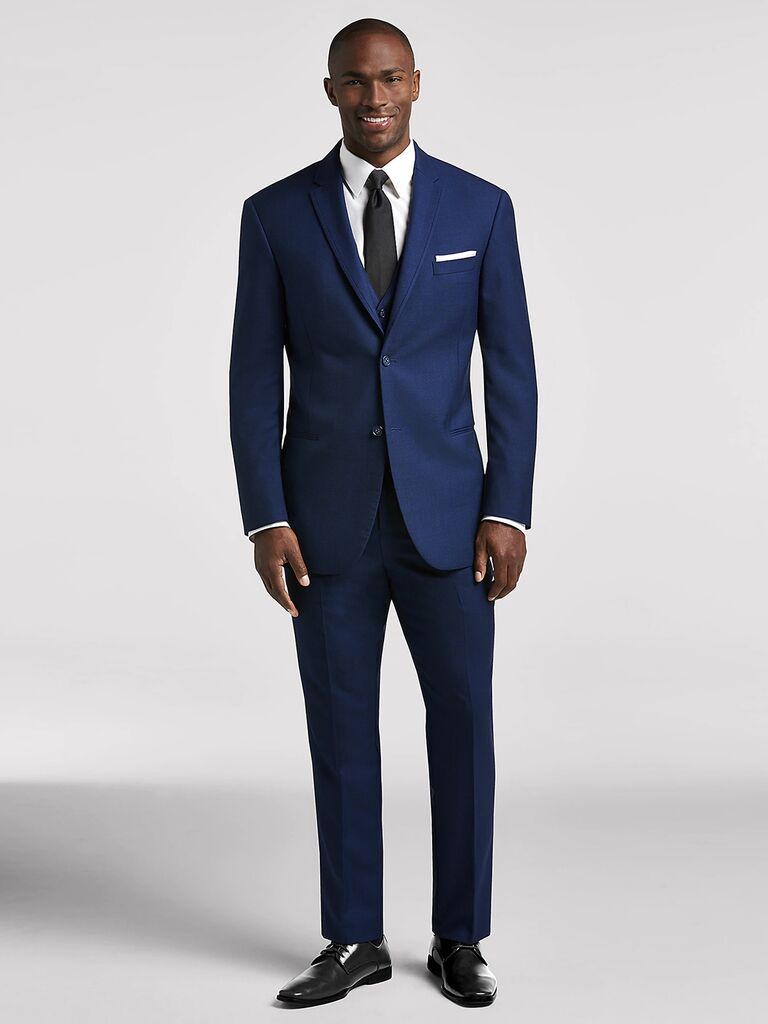 Calvin Klein blue suit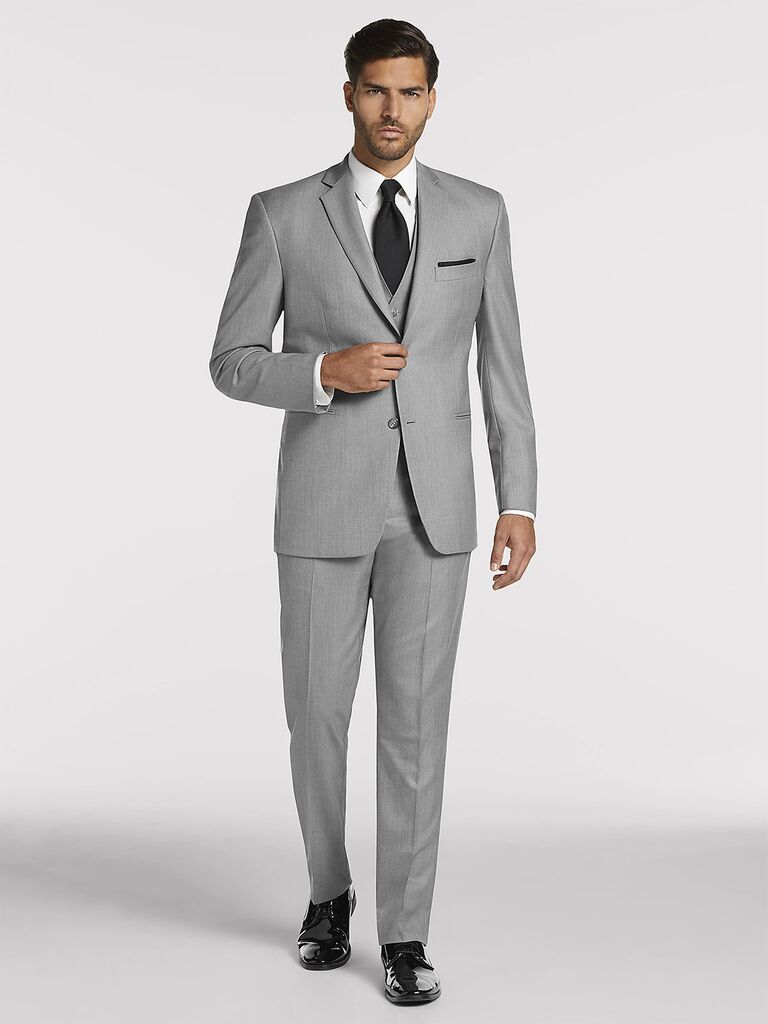 Pronto Uomo gray notch lapel suit