15 Gorgeous Lighting Ideas for Outdoor Weddings
From beach lanterns to string lights, find the right way to light your outdoor reception, here.
The right lighting can set the perfect mood for your wedding. An elegant chandelier over the dance floor will make your reception space feel like a royal ballroom, and a few strings of lights can turn a barn into an elegant, rustic reception space. But your lighting doesn't have to stay inside. Take your celebration outdoors: Hang chandeliers from oak trees, drape lights over your ceremony arbor or string Edison bulbs above your reception tables. Whatever you choose, light the way to a beautiful celebration with any one of these outdoor lighting options.
1. Beachside Lights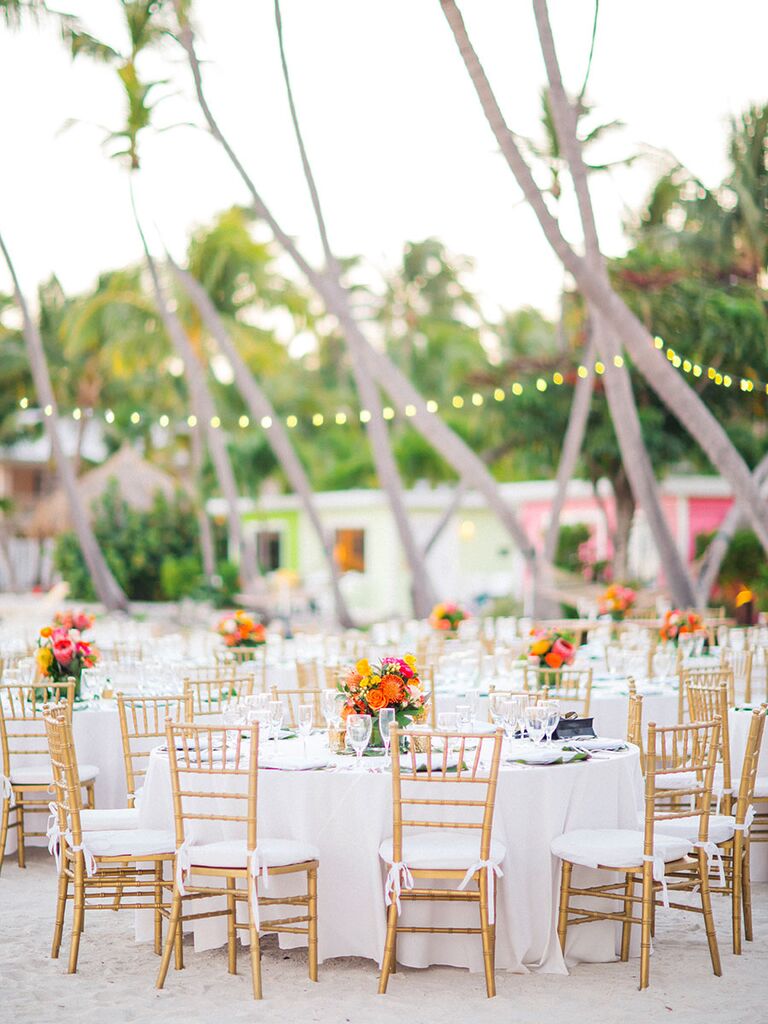 Simple market lights will look beautiful draped across tropical tree limbs at your beachside reception.
From: A Barefoot Beachside Wedding at La Siesta Resort & Marina in Islamorada, Florida
2. Gold Chandeliers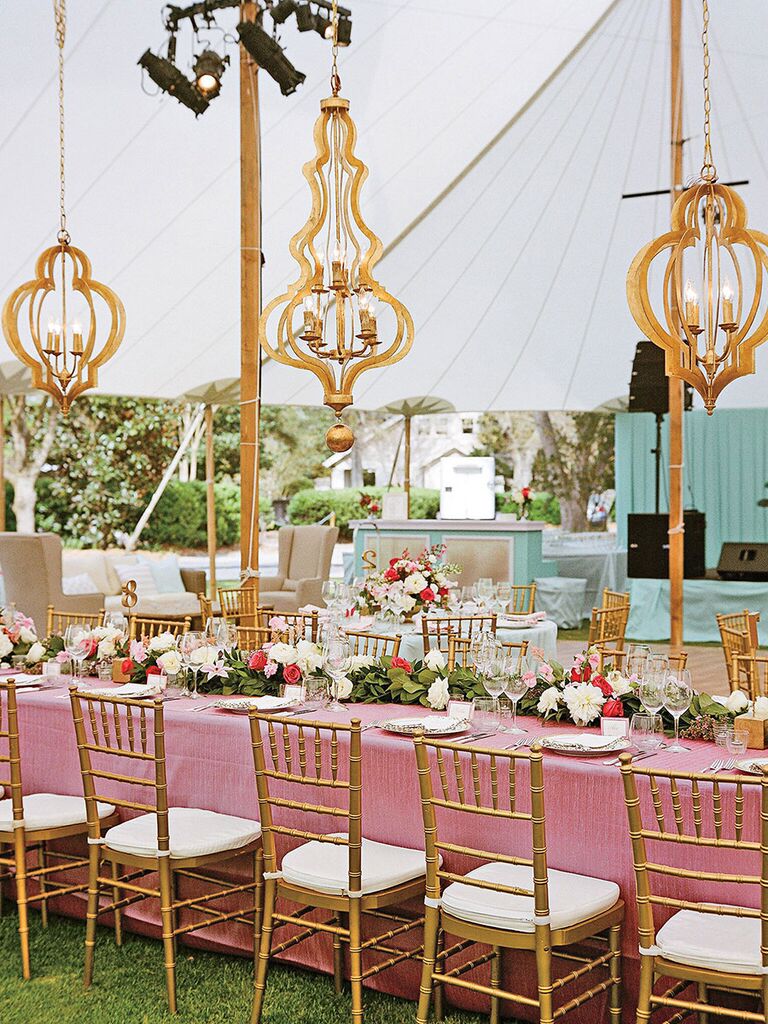 Hang ornate gold chandeliers above banquet tables to give your outdoor tent the Midas touch.
From: A Modern Romance Wedding in Charleston, South Carolina
3. A Low Arbor With String Lights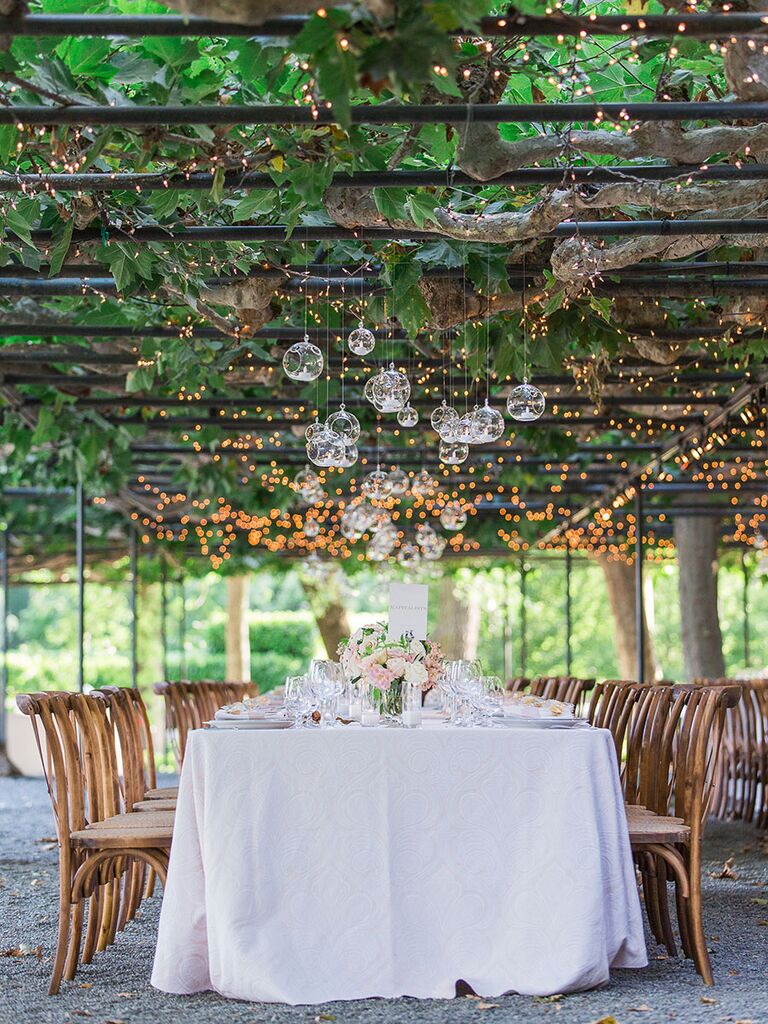 Seat your guests beneath a woodland-inspired arbor with lots of greenery. Weave twinkling lights between the leaves and branches for captivating reception décor.
From: An Elegant, Multicultural Wedding at Beaulieu Garden in Rutherford, California
4. Steel Lanterns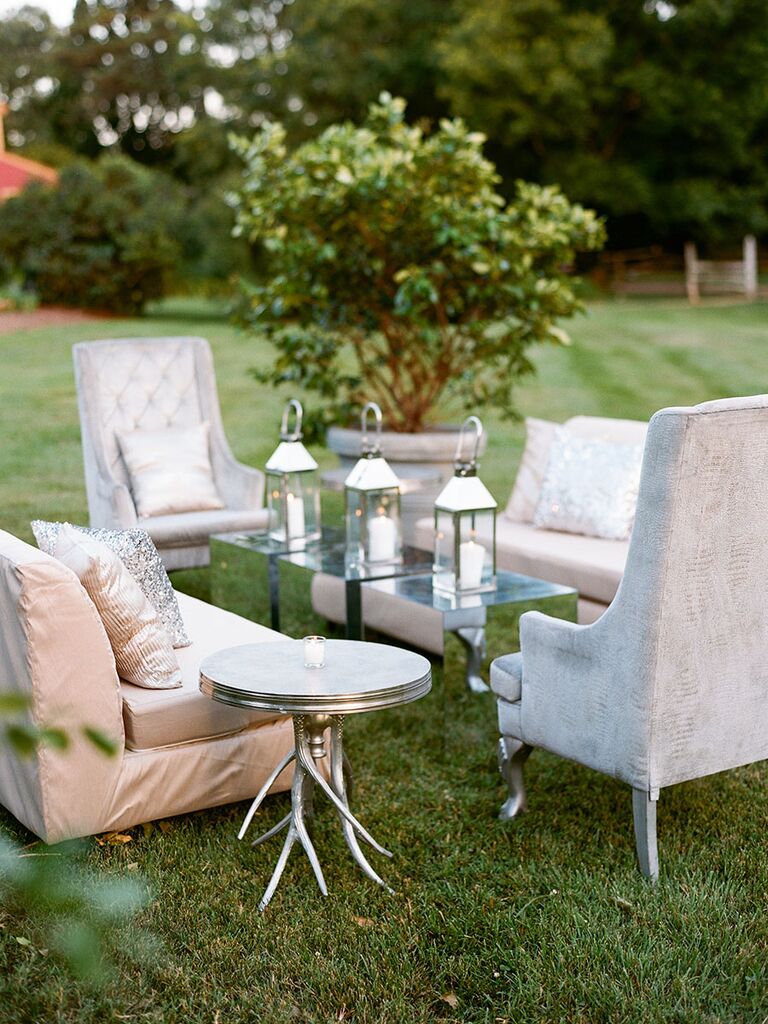 Chic lanterns instantly upgrade an outdoor seating area while providing an intimate glow.
From: An Elegant, Outdoor Wedding at Barnsley Resort in Adairsville, Georgia
5. Chandelier in the Trees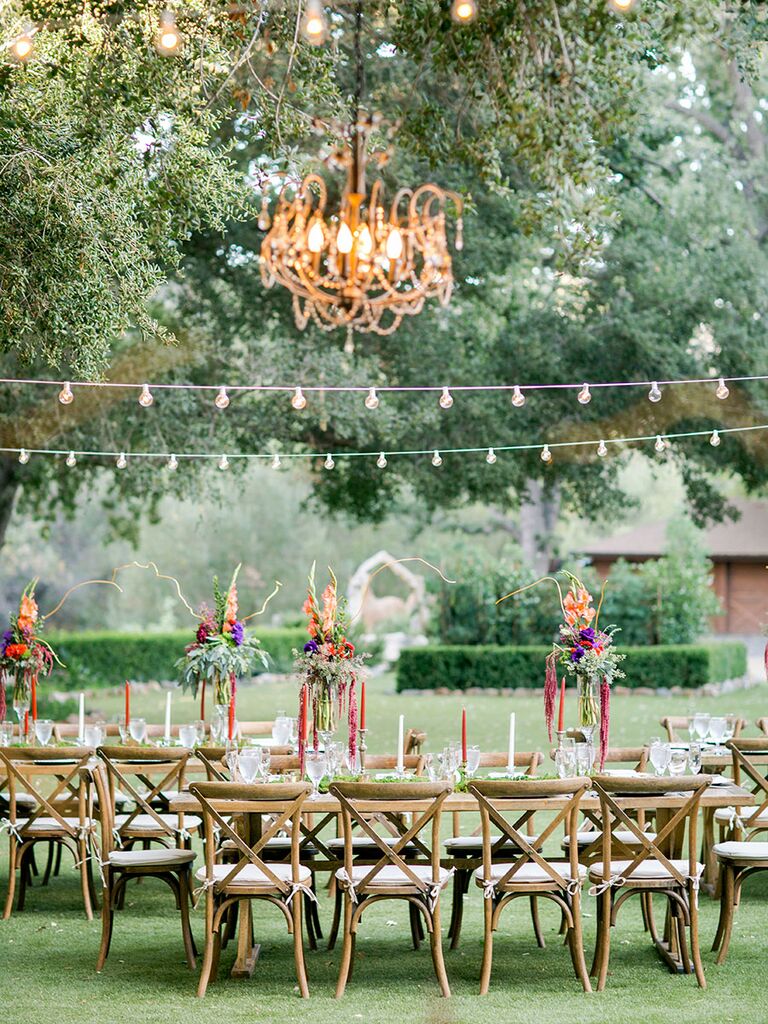 A glitzy chandelier will adds whimsy and glamour to an outdoor reception. Hang the chandelier from a large tree branch to take advantage of natural setting.
From: A Glamorous, Colorful Wedding at Oak Canyon Ranch in Cornell, California
6. A Fire Pit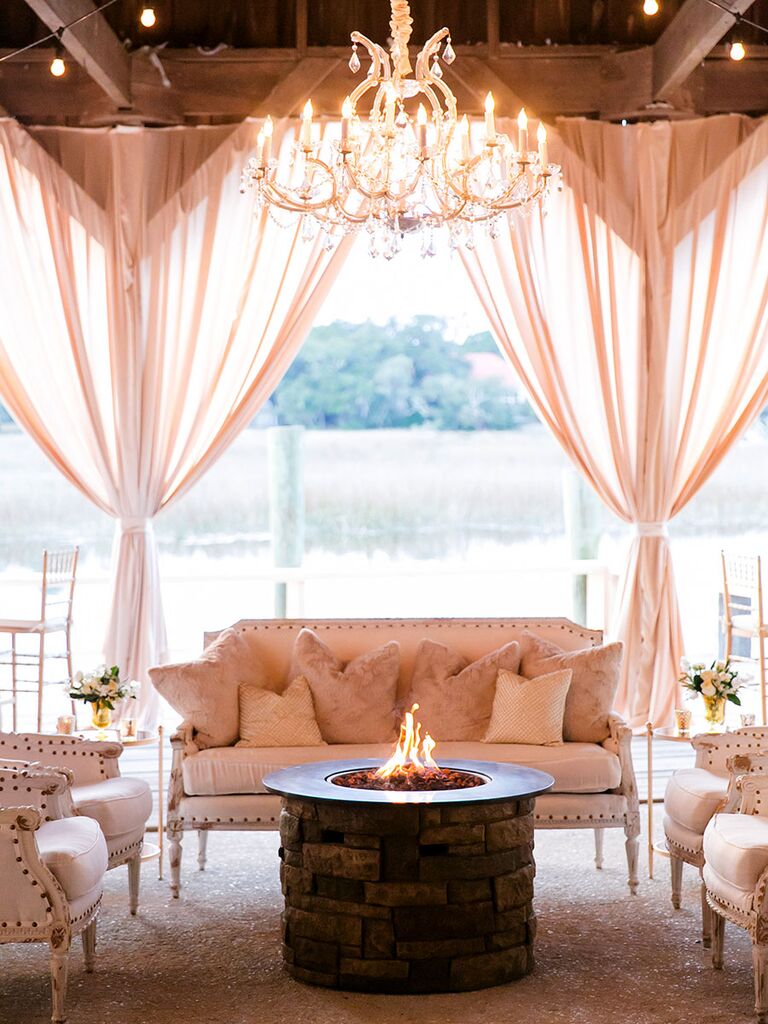 A cozy fire pit will set the tone for a relaxing evening and give your guests a homey place to sit and chat.
From: A Glamorous Winter Wedding in Charleston, South Carolina
7. Limb Lighting
If your reception area has a canopy of trees with long, low-reaching limbs (like oak trees), use them to your advantage by dangling clusters of lights from the branches.
From: An Elegant Black-and-White Garden Wedding at Calamigos Ranch in Malibu, California
8. Geometric Glow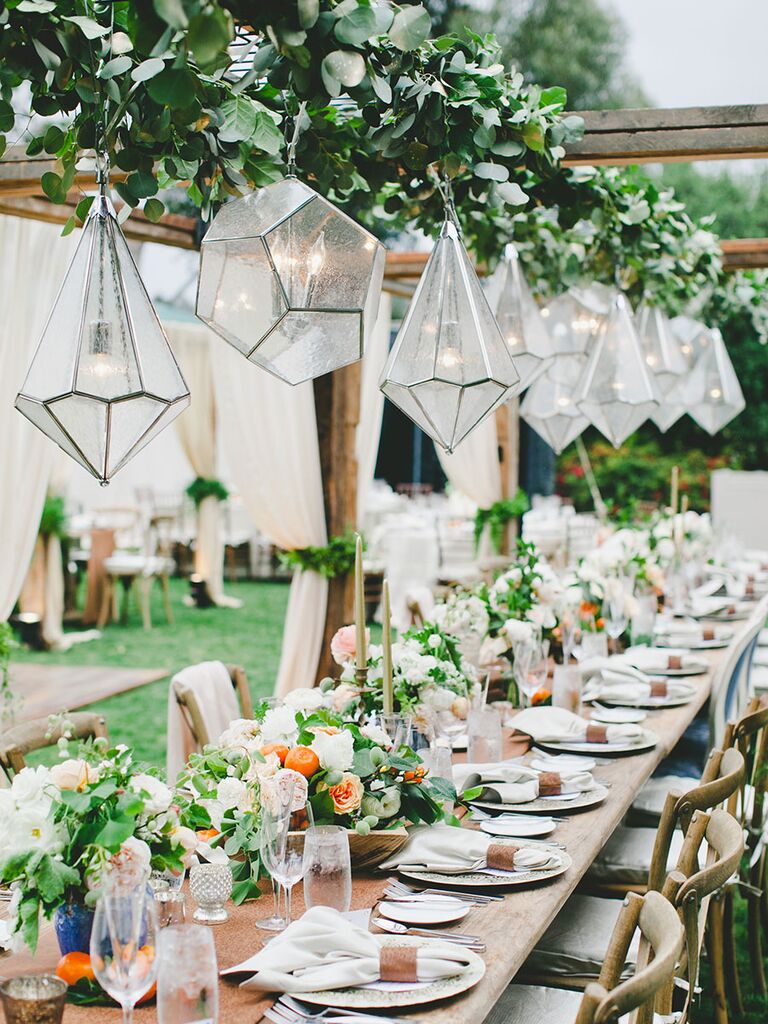 Hang chic, architectural chandeliers along banquet tables to add light and cozy ambiance.
From: A Rustic, Citrus-Inspired Garden Wedding at Rancho Valencia in Rancho Santa Fe, California
9. Lanterns on Vines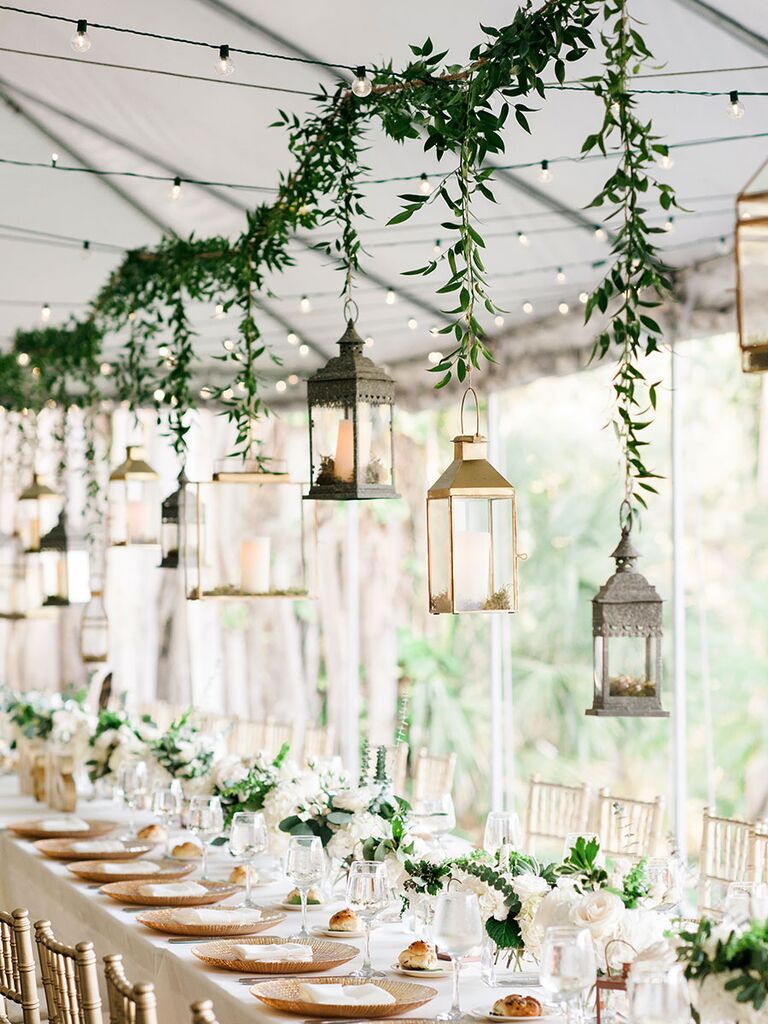 Incorporate an array of lanterns in different metals and designs for your rustic reception. Wrap the lanterns in verdant garlands and hang them over your tables.
From: A Whimsical Spring Wedding at Bonnet House Museum and Gardens in Fort Lauderdale, Florida
10. Tented Lights
String market lights from the top of a pole to create a charming and impressive tent-shaped light display.
From: A Formal, DIY Woodland Wedding With a Bohemian Spin at a Private Residence in Sebastopol, California
11. Edison Lightbulbs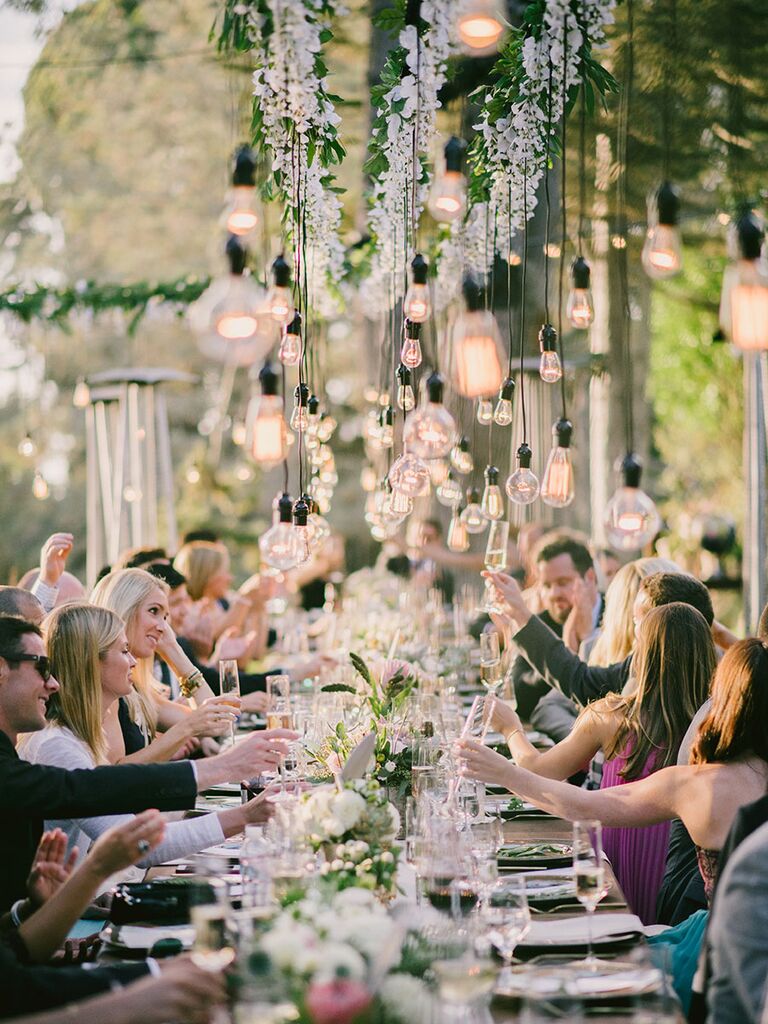 Chasing daylight at an evening reception? Hang industrial-chic bulbs along your tables for a beautiful visual that your guests will love—especially when they can still see their entreés after the sun sets.
From: An Elegant, Rustic Wedding at the Paion Estate in Big Sur, California
12. Rustic Candlelight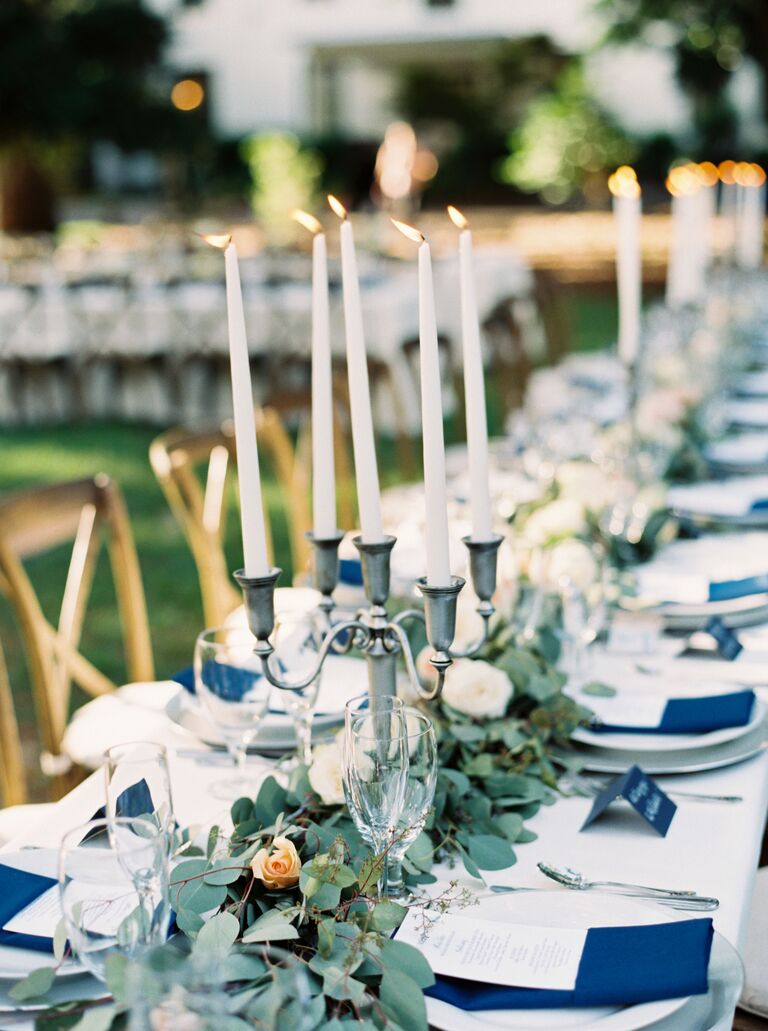 Bring romantic candlelight to your tables with tall silver candelabras holding with classic white tapers. Incorporate lots of greenery and fresh florals for elegant centerpieces.
From: A Southern, Garden-Style Wedding at Southwood House and Cottages in Tallahassee, Florida
13. Lanterns on Limbs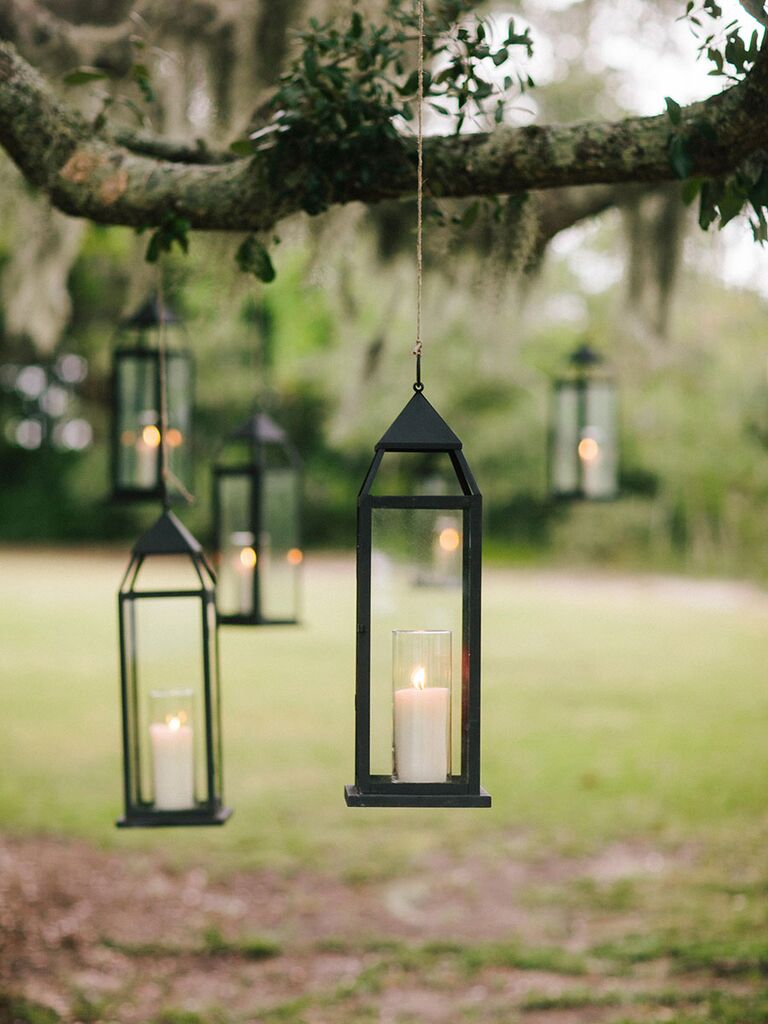 Hang lanterns from low limbs for an alternative ceremony backdrop or cocktail hour setting that's cozy, unexpected and just a touch magical.
From: A Romantic Garden-Inspired Wedding at Bald Head Island Club in Bald Head Island, North Carolina
14. Vintage Lamps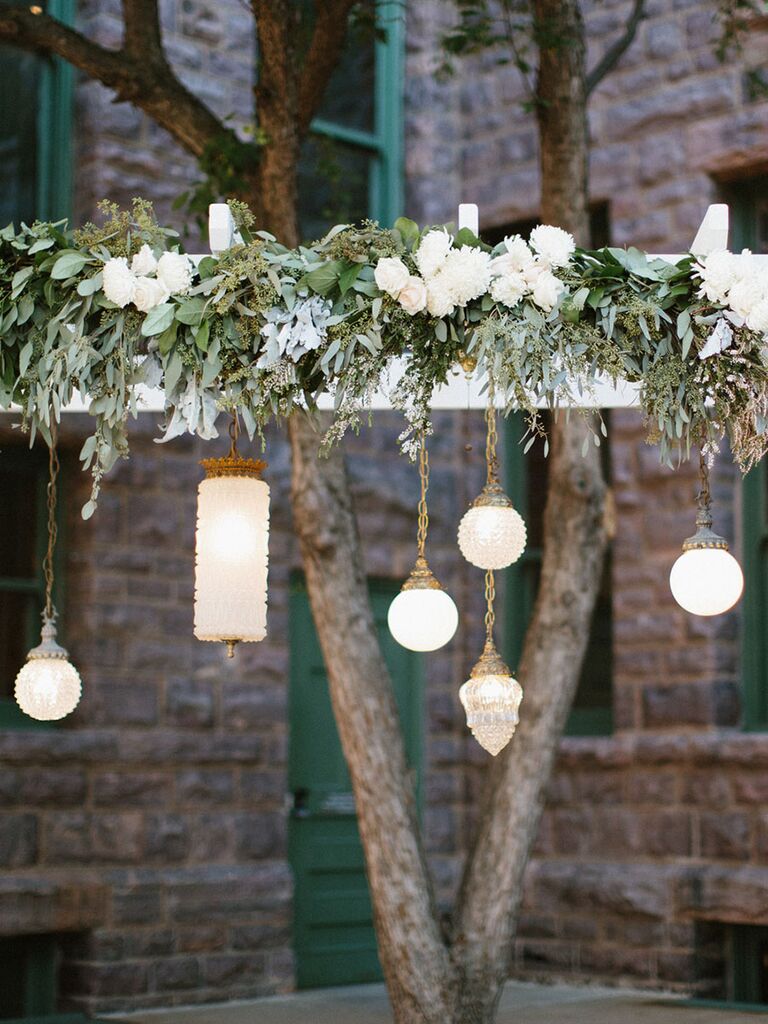 Vintage glass lamps will offer a soft glow during your outdoor ceremony. Hang them from a homemade arbor and decorate with delicate blooms and lots of greenery.
From: A Vintage Wedding at the Old Courthouse Museum in Sioux Falls, South Dakota
15. Lanterns on the Beach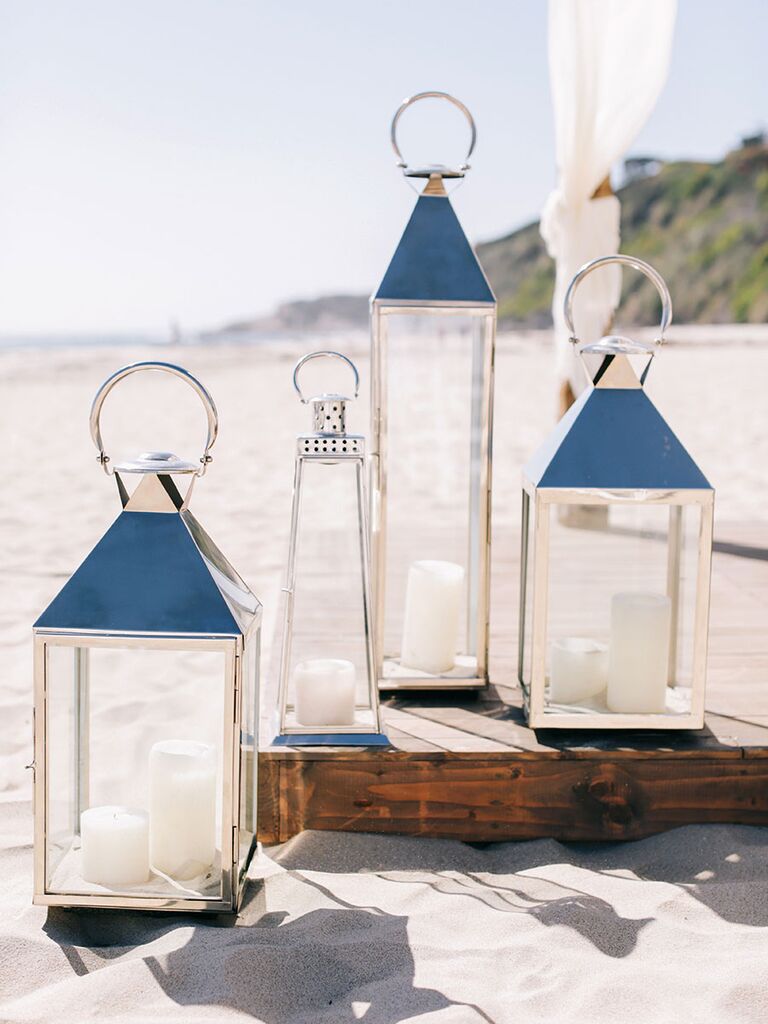 A set of simple lanterns will look breathtaking at your sunset wedding on the beach.
From: A Rustic, Elegant Beach Wedding at Monarch Bay Club in Dana Point, California