7 Outrageous Items People Have Actually Registered For (Scan It Saturdays)
by Jamie Miles
A KitchenAid, new dinnerware and a fresh set of sheets generally top one's wedding registry. But those are just the things people need. What about the things people just genuinely want like a big screen TV or a surfboard? We did a call out on Facebook to see what crazy items Knotties were registering for and picked some of our favorites. Check 'em out and tell us below what wacky items you've requested!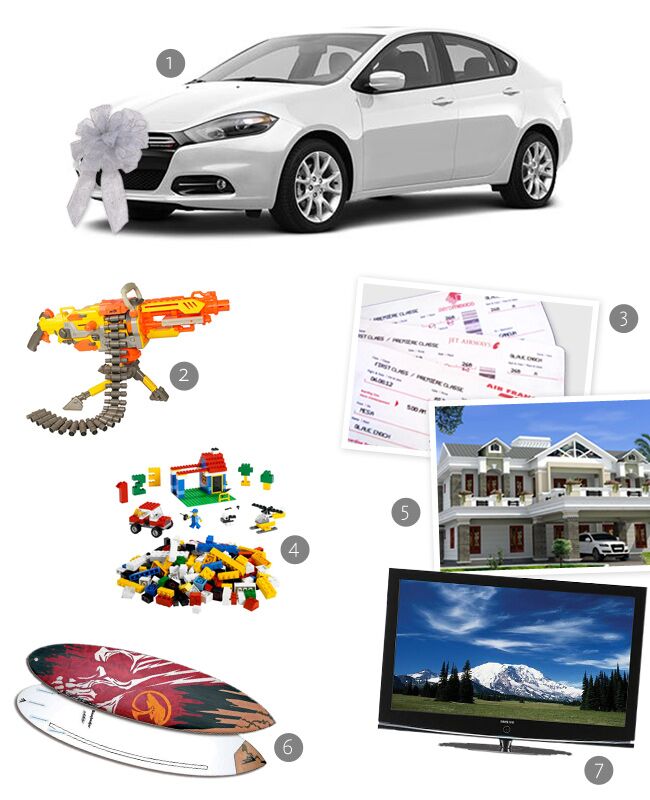 1. A Car
Yes, it IS possible to register for a car believe it or not. Friends and family can sponsor specific car parts so you get the car of your dreams. One Facebook fan said they asked for an Aston Marton! (Now that's a stretch!)
2. Nerf Guns
Multiple people told us they asked for "his and hers Nerf guns…" "The big ones!"
3. A Honeymoon
There are a few sites like Honeyfund that allow you to register for a honeymoon fund to get you plane tickets and hotel accommodations for your dream destination. This is for the couples that would rather get an experience than an item. "We registered for our honeymoon so we could go diving with Great White sharks in South Africa," Melissa commented on Facebook.
4. Lego Sets
Toys aren't just for kids. Turns out a few of our Knotties registered for these super fun Lego building kits and got what they wished for! "We registered for several Lego sets. We were 29 at the time. We got about half of them. They are displayed on shelves in our living room," Meghan commented.
5. Your Dream Home
Sounds crazy, right? But we have heard of people registering for homes! HatchMyHouse.com lets friends and family chip in to help you fund a move.
6. A Surfboard
One Knottie asked for a surfboard to enable her hobby. Now that's something you may even be able to use on your honeymoon.
7. A Big Screen TV
This is more common than you'd think. One Knottie, Anna, was hesitant to ask for what she really wanted, but we've heard of it scanned! She wrote, "I want to put a 75″ TV on our registry, but my fiance won't let me. He thinks people would laugh!"
Have you registered for anything crazy? Tell us below or tweet us @theknot!
> Registry Must-Haves for Honeymooners.
> Registry Essentials for Every Dessert Lover.