Pantone Forecasts Trending Colors for Spring 2017 from NYFW
Yellow's making a big comeback. Who would've thought?
by Andrea Fowler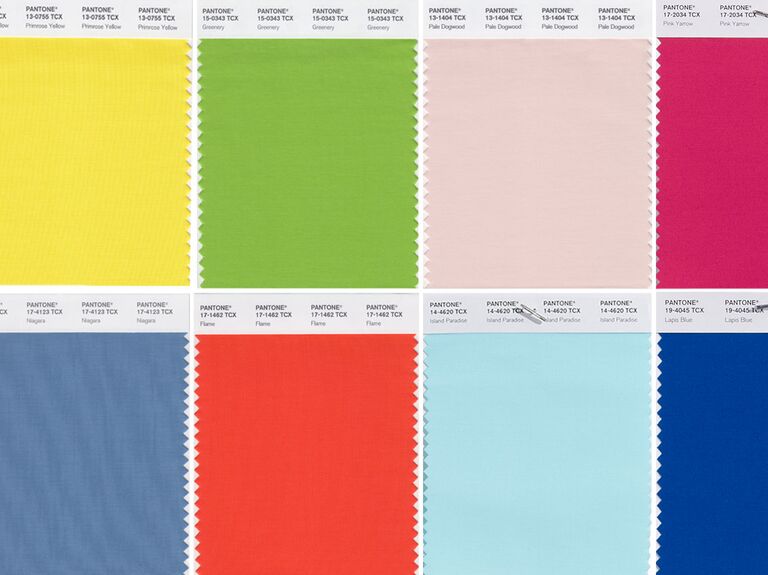 With New York Fashion Week comes a slew of new trends, hot palettes and bold accessories. It's like a glimpse into the future through a fashion lens. Since NYFW wrapped, Pantone Color Institute, our favorite global authority on all things color, has released a very official report (as official as a color report can be) on which hues will be dominating spring 2017. The colors that rule the runway often seep into home décor trends, so you can expect to see these hues everywhere from registries to bridesmaid dresses and themed color palettes.
Pantone picked out the top 10 leading colors from the runway and gave a psychological description for each one, describing how the color affects us, from evoking emotions of comfort to feeling closer to nature.
From the 10 colors, we're seeing a nod to the previously announced color of 2016, serenity and rose quartz. Five of the 10 colors are shades of blue or pink. In addition, there's a pop of red, a bright yellow and green hues.
"Reminiscent of the hues that surround us in nature, our Spring 2017 Fashion Color Report evokes a spectrum of emotion and feeling," said Leatrice Eiseman, executive director of the Pantone Color Institute. "From the warmth of sunny days (PANTONE 13-0755 Primrose Yellow) to the invigorating feeling of breathing fresh mountain air (PANTONE 18-0107 Kale) and the desire to escape to pristine waters (PANTONE 14-4620 Island Paradise), designers applied color in playful yet thoughtful and precise combinations to fully capture the promises, hope and transformation that we yearn for each spring."
Without further adieu, we give you the hues that will dictate your wardrobe, along with the spring wedding season color combos: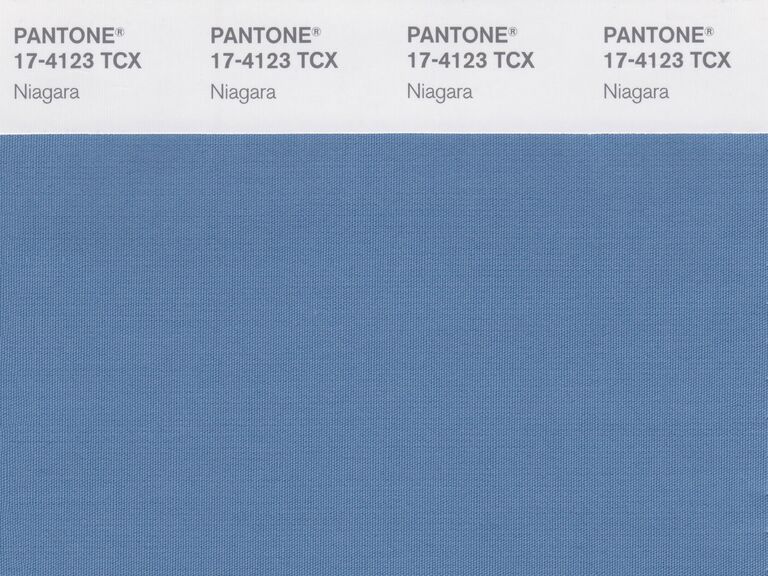 PANTONE 17-4123 Niagara: "Comfortable and dependable, Niagara leads the PANTONE Fashion Color Report as the most prevalent color for Spring 2017. Niagara is a classic denim-like blue that speaks to our desire for ease and relaxation."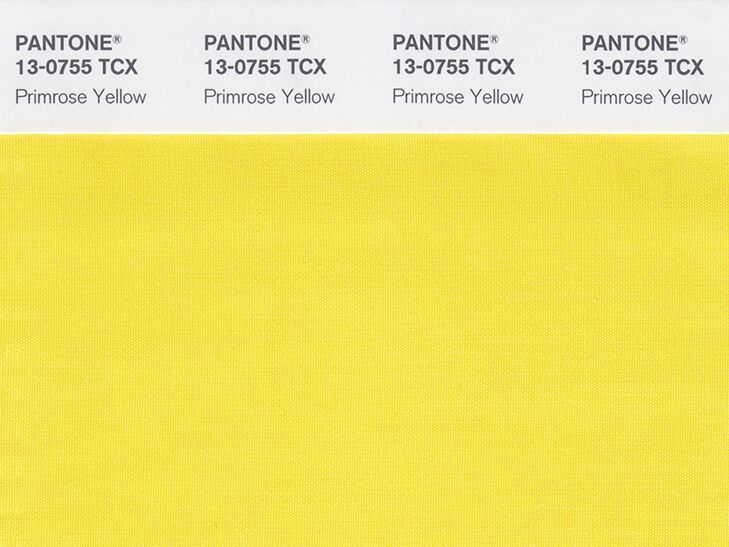 PANTONE 13-0755 Primrose Yellow: "By contrast, Primrose Yellow sparkles with heat and vitality. Inviting us into its instant warmth, this joyful yellow shade takes us to a destination marked by enthusiasm, good cheer and sunny days."
PANTONE 19-4045 Lapis Blue: "Conveying even more energy is Lapis Blue. Strong and confident, this intense blue shade imbued with an inner radiance."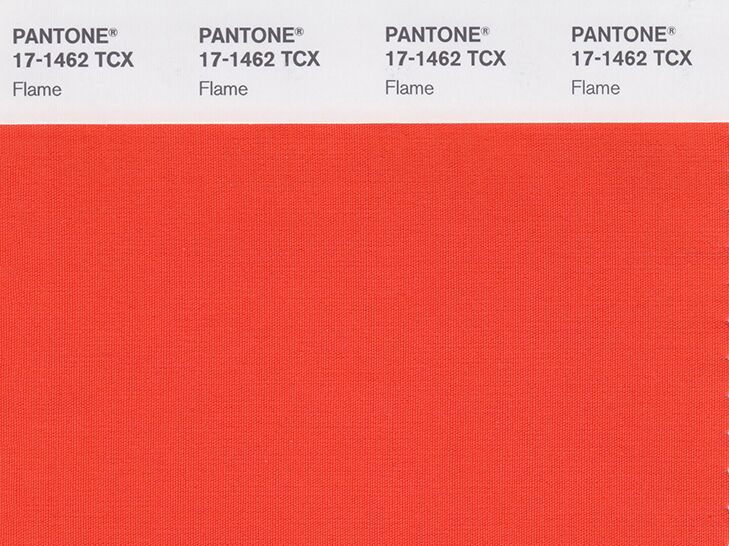 PANTONE 17-1462 Flame: "A red-based orange, Flame, is gregarious and fun loving. Flamboyant and vivacious, this wonderfully theatrical shade adds fiery heat to the Spring 2017 palette."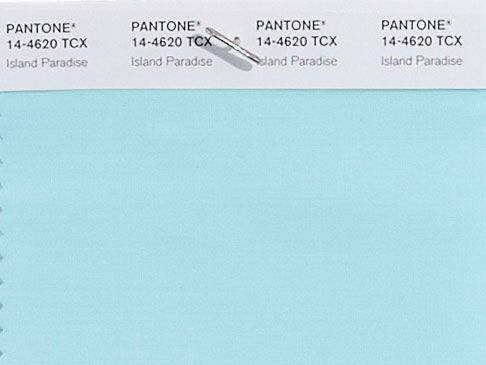 PANTONE 14-4620 Island Paradise: "Island Paradise is a refreshing aqua that calls to mind a change of scenery. A cool blue green shade that speaks to our dream of the great escape, Island Paradise is emblematic of tropical settings and our desire to unwind."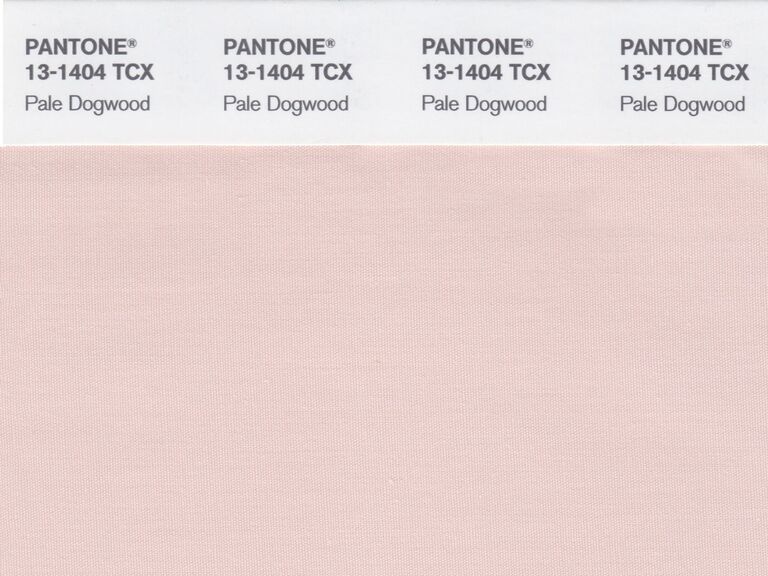 PANTONE 13-1404 Pale Dogwood: "Continuing the tranquil mood, Pale Dogwood is a quiet and peaceful pink shade that engenders an aura of innocence and purity. The unobtrusive Pale Dogwood is a subtle pink whose soft touch infuses a healthy glow."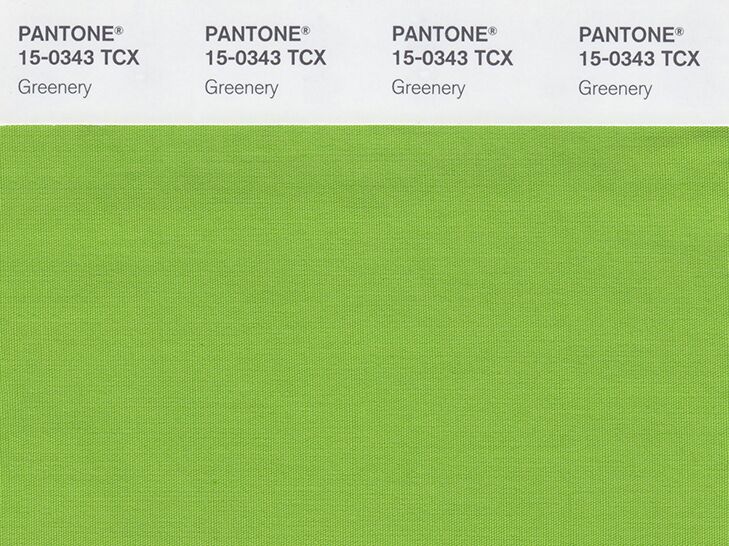 PANTONE 15-0343 Greenery: "Bringing forth a refreshing take, Greenery is a tangy yellow-green that speaks to our need to explore, experiment and reinvent. Illustrative of flourishing foliage, the fertile attributes of Greenery signals one to take a deep breath, oxygenate and reinvigorate."
PANTONE 17-2034 Pink Yarrow: "Tropical and festive, Pink Yarrow is a whimsical, unignorable hue that tempts and tantalizes. Bold, attention getting and tempestuous, the lively Pink Yarrow is a captivating and stimulating color that lifts spirits and gets the adrenaline going."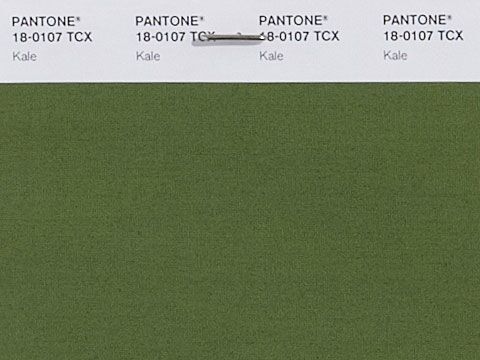 PANTONE 18-0107 Kale: "Evocative of the great outdoors and a healthy lifestyle, Kale is another foliage-based green that conjures up our desire to connect to nature, similar to the more vivacious Greenery. And, just as we see in nature, this lush and fertile natural green shade provides the perfect complementary background to the more vibrant tones in the palette."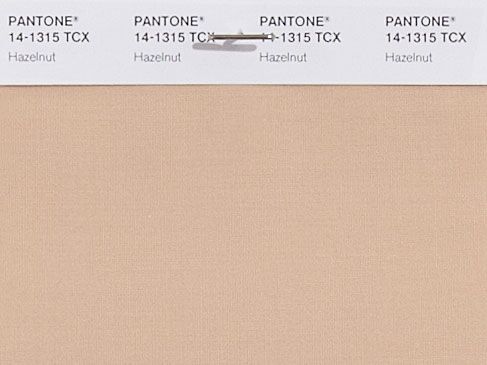 PANTONE 14-1315 Hazelnut: "Rounding out the Spring 2017 colors, is Hazelnut, a key neutral for spring. This shade brings to mind a natural earthiness. Unpretentious and with an inherent warmth, Hazelnut is a transitional color that effortlessly connects the seasons."