Get A Personal Stylist For Your Wedding…For Free!
by Abby Gardner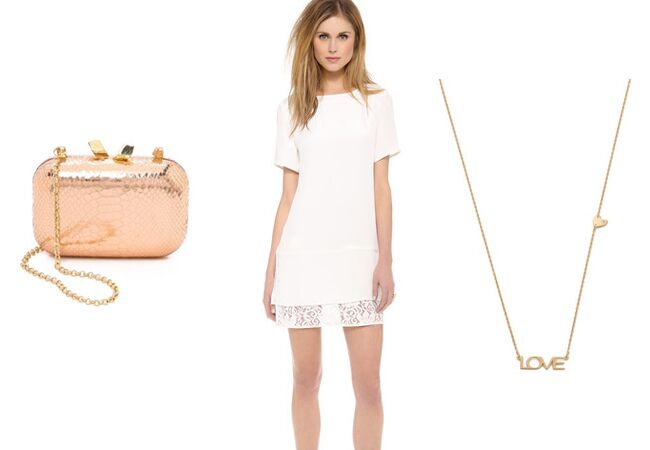 When we first learned about the personal styling website Keaton Row, we were instantly obsessed. We've always been jealous of celebrities and their personal stylists but who of us regular folk can afford one?
Enter Keaton Row. Here's the deal: you sign up on the site, take a style quiz and then get matched up with your own personal stylist FOR FREE. No, seriously. Actually, you'll be matched up with three stylists and you can figure out who you work best with.
Your stylist then puts together lookbooks for you based on your needs and you can talk to him/her over email or even Skype! The only money you spend is on actually buying clothing—and the stylists get a commission from that. (Plus they're partnered with great shopping sites like Nordstrom, ASOS, Shopbop, and Les Nouvelles though there is one-stop shopping on the Keaton Row site.)
And these aren't just randoms calling themselves "stylists" but real deal fashion industry people who have built careers styling editorially and in Hollywood. It's pretty brilliant and a perfect idea when you're getting ready for your wedding.
According to Keaton Row co-founder Cheryl Han, they get a lot of requests from wedding guests looking to put together outfits for the weekend's events. But they're also working directly with a lot of the brides. "Most brides come to us with the dress but need help putting all the details and finishing touches on her look," says Cheryl. "Her stylist will pull together all the accessories, shoes and bags that fit her exact wedding and dress aesthetic. Some of our most popular wedding accessory brands are: Juliet & Company, DANNIJO, and Jennifer Zeuner."
Another popular bride request is for styling of all the events surrounding her wedding from the engagement party to the honeymoon. They even put together a sample "lookbook" just for us so you can get an idea of the services they offer.
We love a running fashion theme through every event leading up to your wedding. It's so similar to what many stars do during an awards season run. And we're definitely getting a stylist when we get an invite to another wedding!
Want more wedding fashion advice?
> Wedding Coverups To Buy Right Now!