Getting Personal With Men's Wearhouse
Chief creative director of Men's Wearhouse, Joseph Abboud, gave us the scoop on personalizing groomsmen looks.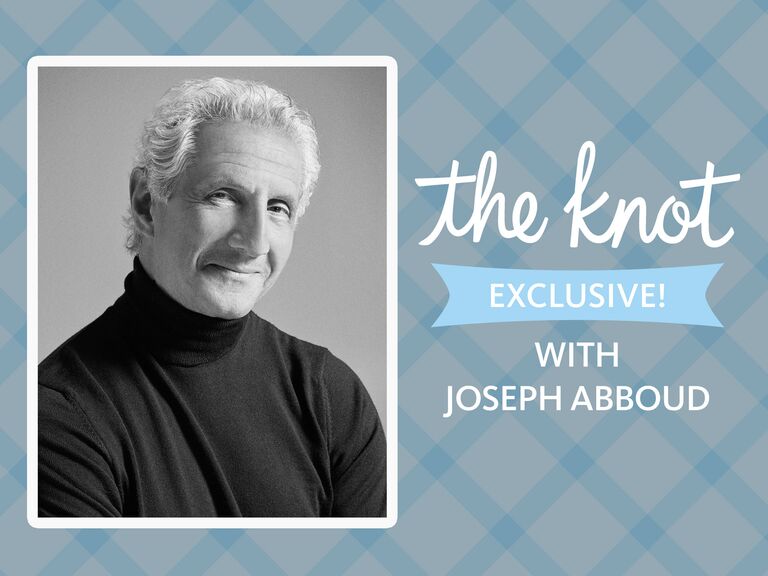 What are some ways I can allow my groomsmen to show off their personal style at my wedding? 
Have them all wear different boutonnieres. They could be different shades of the same flower, or you could have them don different types of flowers for a mismatched effect. Neckwear is another easy and inexpensive way to mix up your wedding party style. For example, if you're wearing a black bow tie or necktie, let your groomsmen wear a range of other colors or patterns you've already preapproved. Accessories in general lend themselves to individuality, so don't be afraid to let your groomsmen choose their own socks, cuff links or pocket squares. Just keep in mind it's important to set some guidelines before your groomsmen pick their accessories (think: preapproved colors or prints) so the end result looks cohesive. You don't want any surprises on your wedding day.
I'm planning a black tie wedding where all the groomsmen will be wearing black tuxedos. How can they personalize their looks without compromising the formality of the event?
This could be tricky because you can very easily make a tuxedo look less formal with the wrong accessories. If you want to add a fun pop of color, consider having your guys wear vests in subtle prints like paisley, pinstripes or small polka dots. Their vests will be mostly hidden, so mixing prints or colors won't feel too outlandish. If you're looking for something more low-key, try solid color vests in varying shades of one color, like blue or gray.
What's a stylish way for my best man stand out from the rest of my groomsmen?
There should be a pecking order of style when it comes to your wedding. Your look should set the tone for everyone else's outfits. For example, if you opt for an ivory dinner jacket, your best man could wear a black tuxedo with an ivory vest, while the rest of your groomsmen sport matching black tuxedos. That way, everyone looks like they're part of the same wedding party, but you can clearly tell who's the best man. For a more subtle nod to your best man, have him wear a pocket square or gift him with a one-of-a-kind jacket with custom print lining.  
We're having a casual wedding and letting the groomsmen choose their own looks. How do I make sure everyone still looks cohesive?
If you're relying on your groomsmen to make their own fashion choices for your wedding, set some parameters from the get-go. Even if you let your groomsmen choose their own suits and accessories, you should always be part of their decision. If your nuptials are more casual, opt for mismatched suits in a coordinating color scheme. A preapproved color palette will ensure everyone looks like they belong in the same wedding party.