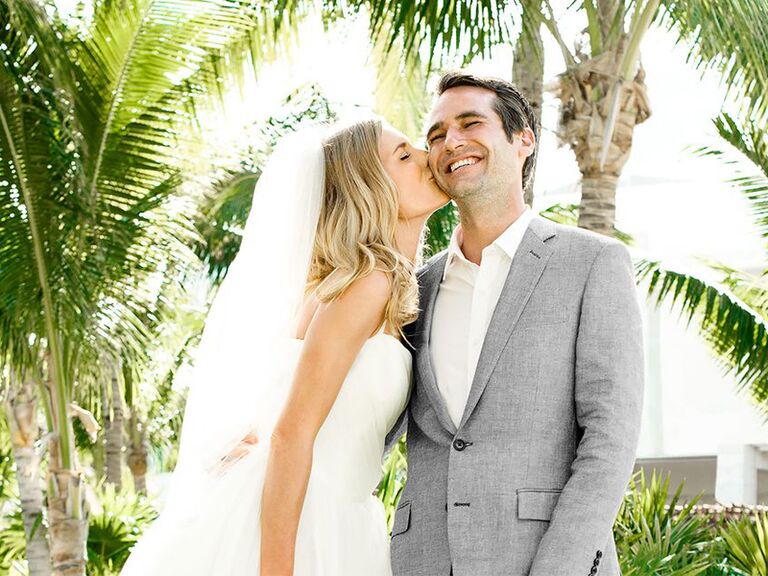 Courtesy of Excellence Resorts
First things first: Having a destination wedding at an all-inclusive resort does not automatically equal a cookie-cutter wedding. It's true that by purchasing a wedding package, you can delegate most (or all) of the legwork to a planner hundreds of miles away who can pick out everything from the flowers to the DJ—and for some couples, it's the perfect no-fuss solution. While those celebrations are sure to be lovely, they may not be the right choice if you're looking to weave your own personal story, preferences, quirks and humor into your nuptials. 
To those couples, we say: You're in luck, because these days there's almost no end to the amount of ways you can add a little something of yourself to a destination wedding. "As the wedding industry has grown, so have the options we can offer couples who want to marry here," says Mayla Romero, the groups and weddings operations manager for Excellence Resorts. The luxury all-inclusive hotels offer top-notch service and unique properties on some of the best (and most secluded) Caribbean beaches in Mexico, the Dominican Republic and Jamaica, making them unforgettable wedding locations. We asked Romero to share some ideas for making your mark.
1. Ask for what you really want.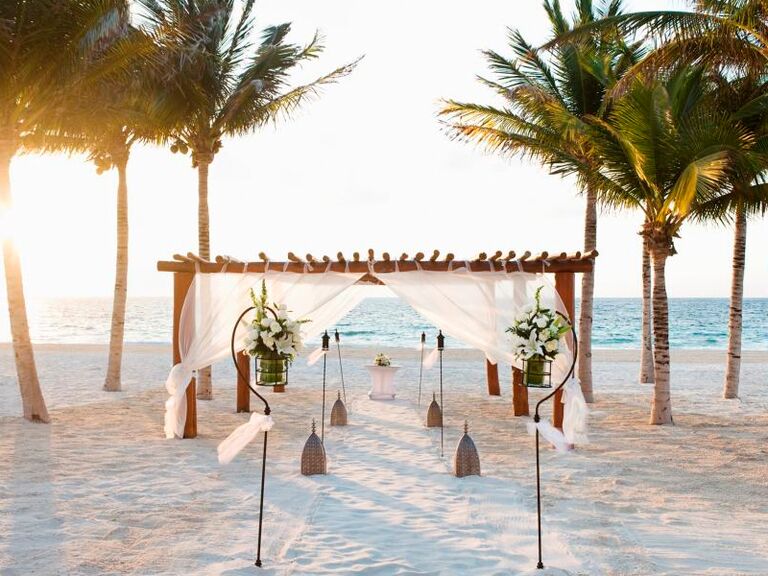 Just as you'd look at an event space in your hometown as a blank canvas ripe for coloring in the details, the same is true of a hotel wedding in a far-off place. If you're really in love with the idea of a burgundy-and-blush scheme, for example, ask your coordinator what she's able to get in your palette. The local vendors Excellence works with are experts in the area and can help you get the look you want within your budget. "We have access to a lot of options," Romero says. "And if they don't have something on hand, they're always willing to innovate."

Signature drink: At Excellence's two Mexican properties, Riviera Cancun and Playa Mujeres, couples often go for customized margaritas named for them (with signage to match). "And bartenders can add coloring to the drinks to coordinate with your palette," Romero says.
Extra décor items: Romero recalls the time a bride shared an inspirational photo of decorations suspended from palm trees on a beach: "We didn't have the same trees here, but we set up poles and draped them the same way to achieve the same look."
Monogrammed everything: At any of Excellence's properties, couples can opt to have their initials and wedding date on customized signage, like the ceremony welcome sign, menus, cocktail napkins and the dance floor. Romero's team can even replicate the font they used in their invitations, so the overall look is seamless.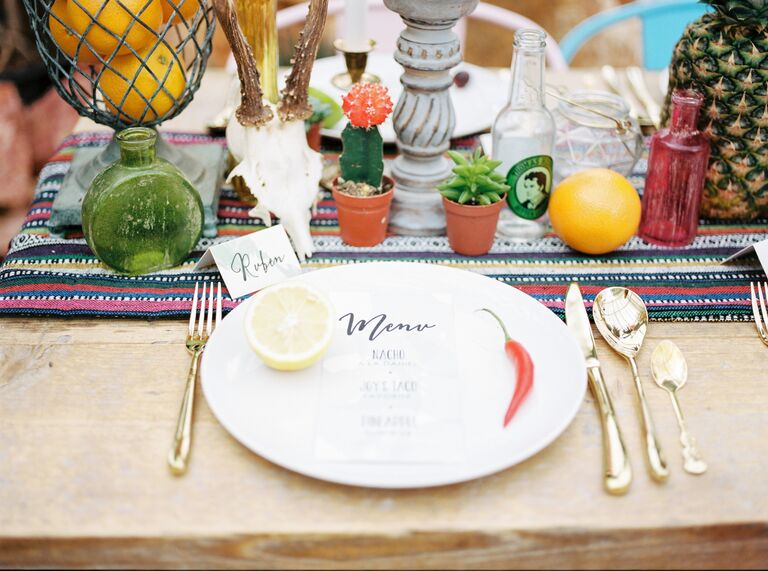 2. Bring in what you can (or go local).
A high-end resort like Excellence tends to boast a wealth of décor options—think chandeliers, paper lanterns, string lights, and lounge areas complete with ottomans and plush pillows—that go beyond your standard "Floral Package A" versus "Floral Package B." But if that's not enough, you can always bring additional items with you, which Romero's team is happy to accommodate.
Mementos: One thing a resort can't re-create? Your personal photos, trinkets and heirlooms. But these are some of the very things that make a wedding unique to the couple. To that end, Romero has seen brides and grooms supply in-memoriam photos for a display, or in the case of one jet-setting couple, postcards from their travels to use as table numbers. (Just be sure to pack any can't-lose-this stuff in your carry-on bag.)
DIY touches: Small items, like handmade paper flowers—which one of Romero's brides brought to pin onto dinner napkins—or a couple's crossword puzzle at each place setting will set your reception apart.
Favors: Suitcase already too stuffed? Build in the time to pick up unique items once you arrive. If you're marrying at one of Excellence's properties, Romero will be all too happy to assist you. "In Mexico, for example, we have a lot of handcrafts. So a couple can buy small items, like pretty boxes or baskets, from local artisans to give out as favors."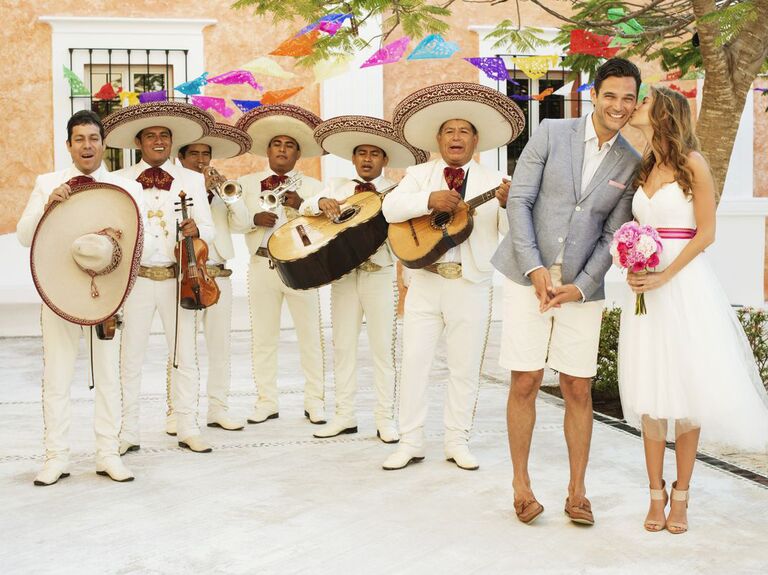 3. Treat your guests to a customized experience too.
Unless you're eloping, your guests' enjoyment shouldn't be an afterthought. While you don't want to plan out every hour of their day—this is their vacation too, after all—you can certainly provide a few tailored activities and creature comforts.
Warm welcomes: Welcome bags filled with the weekend's itinerary, maps, snacks and fun local curios are a nice touch for your guests to receive at check-in. (Want to outsource that? The Excellence Resorts wedding planning team can scour local markets for unique cultural items and put together bags for you.) And after a long day of traveling, is there anyone who wouldn't appreciate a refreshing cocktail upon arrival? For an extra fee, the resort can coordinate a meet-and-greet for two hours where you and your nearest and dearest can catch up over an open bar.
Entertainment: Fireworks, traditional musicians, cigar rollers, and even artists on hand to sketch mini portraits of guests—all can be arranged at an Excellence Resort, both for the wedding itself as well as events like the rehearsal dinner and farewell brunch.
Activities: Your wedding is more than just one day, so you'll want to plan activities throughout the weekend to entertain your guests and show them the unique offerings available in the area. Consider arranging a theme night at the resort, like a tequila tasting complete with a mariachi band. "We also will offer wine tastings for the group, or help organize a day at the spa for the girls," Romero says. And if you want to head off-site to go boating, hiking or take a local tour, Excellence Resorts will coordinate excursions on your behalf. "Whatever it is," adds Romero, "we can do it for you."
Learn more about planning your dream destination wedding at Excellence Resorts.