35 of Our Favorite Wedding Photo Booth Ideas You Need to See
Memorialize your epic event with the help of these ideas.
While your wedding photographer will capture all the moments of your big day, it can be nice to have a way for guests to snap a few of their own in-the-moment memories. This is where wedding photo booth ideas come into play. Wedding receptions often double as reunions for friends and having an on-site activity that'll help attendees commemorate the day with keepsake photo strips is always a great idea. When it comes to designing or renting a photo booth that fits within the design of your wedding, the options are nearly limitless. To help you wade through the plethora of cool wedding photo booth ideas out there, we've gathered some of the best below to inspire you as you plan.
In this article:
Wedding Photo Booth Tips
Before you find inspiration from all the wedding photo booth ideas below, you need to know how to successfully pull off your own photo booth. Check out these expert tips so you capture your special day the right way.
Allow ample space in the floor plan.
Because of the large footprint that photo booths require, don't wait until the last minute of wedding planning to figure out how you'll work the wedding photography setup into your layout. "Photo booths are a great opportunity to capture some fun moments at your reception. Of course, they can serve as your party favors too, which is always a perk! They do, however, take up a good deal of space," notes Laura Maddox, planning expert and owner of Magnolia Celebrates, with over 15 years of experience in the hospitality industry.
Include festive props.
Beyond the actual setup, it's a great idea to include some creative props that guests can pose with that goes with the photo booth wedding design. "Bringing props that speak to the couple is always fun," says Nora Sheils, wedding planner expert and co-founder of Rock Paper Coin and founder of Bridal Bliss. "Items like paraphernalia from your alma mater(s), childhood favorites, destinations you've traveled to together or something significant to where you were engaged are great ways to personalize the event."
Take your guest list demographics into account.
Wedding reception photo booths are a great addition where some older guests are in attendance. While many people are dancing, it's nice to have an alternative form of entertainment for those who don't want to break it down on the dance floor with your wedding party. Sheils explains, "Additional entertainment at a wedding reception is always a plus. Those who aren't drinkers or dancers always appreciate another activity to participate in."
Keep your wedding photographer and photo booth vendor separate.
Even though it's possible to find a wedding photographer who offers a photo booth add-on, it's best to find a company specializing in photo booths. Jamie Chang, owner and destination wedding planner at Mango Muse Events with over 14 years of experience planning weddings, explains why. "A photographer can do a photo booth, but that's not their focus. Choosing a photo booth company means they're good at photo booths specifically. And because of that, they'll also have more options and customizations they'll be able to do to make your photo booth fun and unique." This is the best way to ensure your photographer's attention is 100% on snapping beautiful pictures of the night.
Think outside the box.
Beyond standard photo booths that create a strip of photos, unique high-quality photo booth concepts, like gif and video booths, have become a hit wedding photography trend in recent years. If pricing permits, Maddox encourages to-be-weds to find a "360-degree booth. These are a fun new option that captures your guests from every angle. It will be a new and upscale experience for your guests. These also often take up a great deal of space, so make sure you've planned an area according to the contract's required footprint." (Get inspired by more alternative photo booth ideas here.)
Find all the vendors you need
Meet every kind of expert from photographers to photo booth rentals.
Wedding Photo Booth Backdrop Ideas
Made popular by celebrity red carpets, the step-and-repeat is a backdrop that guests step up to, pose for their paparazzi pic and then move along so the process can be repeated by all in attendance. Not only do these red carpet mainstays work for the Hollywood elite, but they're also a great idea for a reception photo op that allows guests to easily snap pics on their phones in addition to whatever setup the photo booth rental company has provided.
1. Quilt-Inspired Wedding Photo Booth Backdrop
At this chic outdoor wedding, the couple's dramatic photo booth backdrop was a raspberry-hued quilt. The pattern even matched the adornments on their wedding cake.
2. Minimalist Gray Photo Booth Backdrop
A backdrop doesn't have to be over-the-top––it simply needs to create a uniform setting in front of which guests can capture photos. We love the hushed tones of the backdrop next to the vibrant orange flower arrangement because it gives cool contrast for pictures.
3. Pink Photo Booth Backdrop Inspired by Duck Hunting
The options are limitless when it comes to designing a backdrop. Look towards your hobbies for inspiration. This couple paid homage to a love of duck hunting on their special day.
4. Iridescent Photo Booth Backdrop
Talk about drama! If your wedding is funky and modern, an iridescent photo booth area could be a fun way to create unique photos.
5. Colorful Balloon Photo Booth Backdrop
Balloons are great for DIY couples; they create ample drama, plus a balloon backdrop is fairly simple to construct. We love this photo booth wedding design because you can have fun making a balloon wall out of a variety of sizes, colors and patterns.
6. Minimalist Terracotta-Hued Wedding Decor
Creating an eye-catching backdrop is a significant undertaking. Consider having it as the altar backdrop during the ceremony before moving it to the reception area to become a photo booth, as this Austin, Texas, couple did.
7. Creative Wedding Greenery Wall With Custom Neon Sign
Greenery is a great addition to a photo booth wall because it is durable and will last all evening long. We love that the couple added a custom neon sign, of their married name, to the wedding photo booth backdrop.
8. Boho Wedding Decor Wall With Dried Greenery and Leaves
At this San Juan Capistrano, California wedding, the couple had dried foliage incorporated in their backdrop. This a good option for couples who are planning a wedding with a neutral color scheme.
9. Flower Wall for Selfie Station
An iPad and ring light made it possible for guests to snap their own selfies in front of this paper flower wall. Feel free to ask your wedding designer to replicate this wedding photo booth idea with your favorite blooms.
10. Dramatic Flower Wall for Wedding Reception Photo Booth
Wallpaper, especially temporary ones, can be used to create fun patterned backdrops for photo booths. From florals to your wedding monogram, the options are endless.
11. Abstract Hanging Neon Photo Booth Backdrop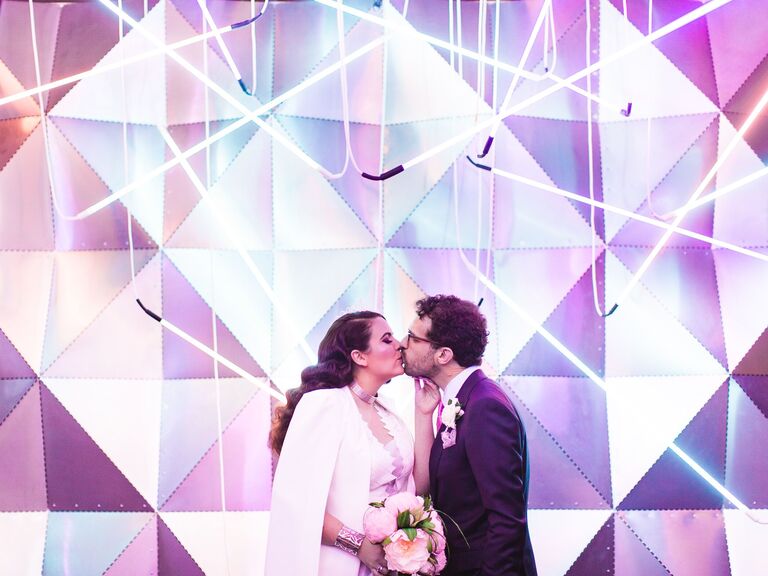 Take the custom neon sign trend and flip it on its head by hanging neon lights as your photo booth backdrop. Don't be afraid to have fun with your color choices.
Wedding Photo Booth Props Ideas
Beyond epic backdrops, fun props that pay homage to your interests and inside jokes shared among guests are a must-have for a memorable wedding reception photo booth setup. Props and items used at a wedding or bridal shower or birthday party can be repurposed as photo booth props.
12. Wig Station Photo Booth Props
The happy couple threw an eclectic disco-inspired wedding that had a wig wall for guests to use before snapping pictures in the photo booth. Colorful wigs are always a great and easy way for guests to play dress up and have fun.
13. Masquerade Mask Props for Photo Booth
To honor their New Orleans wedding location, the newlyweds had numerous masquerade masks for guests to wear during photos. You can steal this wedding photo booth idea if you're also having a New Orleans wedding or just use masks as unique props.
14. Cat Cutout for Couple's Special Day
This couple celebrated their feline friend with an oversized cutout to pose with. Get inspired by even more ideas for honoring your pets at your wedding here.
15. Oversized Yellow "Yay" Sign at Cocktail Hour
Oversized letters that can stand on their own make a fun and interactive option for guests to pose alongside. The grooms wanted to incorporate their wedding hashtag, #YayMikeandClay, into their photo booth area in a big way, and we think they achieved that.
16. Retro Velvet Sofa and Greenery Wall
Including seating in your photo booth setup will allow guests to capture Vanity Fair-inspired posed portraits. It makes your wedding photo booth more accessible to all your guests.
17. Hats and Robes for "Harry Potter"-Themed Photo Booth
Look at your hobbies and interests when selecting props. This couple leaned into their love of wizardry and included Hogwarts-ready attire in their booth. Get inspired by even more "Harry Potter" wedding ideas here.
18. Wedding Guests With Cat Cutouts in Photo Booth
Unfortunately, sometimes your furry best friends can't attend the wedding in real life. Consider ordering giant cutouts of the critters to ensure they're close at heart throughout the event.
19. Rainbow Hat and Boas as Photo Booth Props
This wedding photo booth prop idea is anything but dull. Attendees donned boas and hats in prismatic rainbow shades during this wedding reception.
20. Couple With Cutouts of Baby Pictures
This duo paid homage to their younger selves with baby pictures cut out and attached to large popsicle sticks. This idea combines nostalgia and silliness in the sweetest way.
Photo Booth Sign Ideas
To ensure guests are aware of your creative wedding photo booth and partake in the activity, making adequate signage to alert them of the booth's presence is key. As with all your day-of stationery, from ceremony programs to escort card displays, this is a great place to reinforce your event's aesthetic by infusing the day's color palette and motifs into the stationery design.
The Knot Expert Tip: Include your wedding hashtag somewhere in your signage so you'll be able to see any additional snaps captured by wedding guests and shared on social media.
21. Chalkboard Sign Outside Van Wedding Photo Booth
A eucalyptus garland and chalkboard sign decked out this vintage blue bus photo booth. Our favorite part is the sign above the small table letting guests know to leave their drinks behind while in the van taking photos which ensures guests don't cause any spills while having fun.
22. Illustrated Succulent Sign for an Outdoor Wedding
A succulent illustration made this photo booth sign fit in with the celebration's natural aesthetic. A simple and to-the-point wedding sign always works.
23. Vintage Photo Booth Sign
To match the vintage camera, this couple asked for an old movie or 1930s-style font for their wedding photo booth sign. Many of the props went with the theme as well.
Unique Wedding Photo Booth Ideas
Don't let your wedding photo booth fade into the background. Take your wedding photo booth to the next level by using one of these unique ideas below.
24. Polaroid Cameras for a Creative Wedding Photo Booth
Make sure to have plenty of extra Polaroid film near the photo booth area so guests can snap multiple photos. Then you'll be able to keep some while attendees take other snaps home as party favors.
25. Pink VW Bus Wedding Photo Booth With Neon Sign
For this Austin, Texas wedding , the pale pink color of the van and comfortable seating caught guests' eyes. But the neon sign ensured guests were drawn to the photo booth even after the sun went down.
26. Comic Book-Themed Photo Booth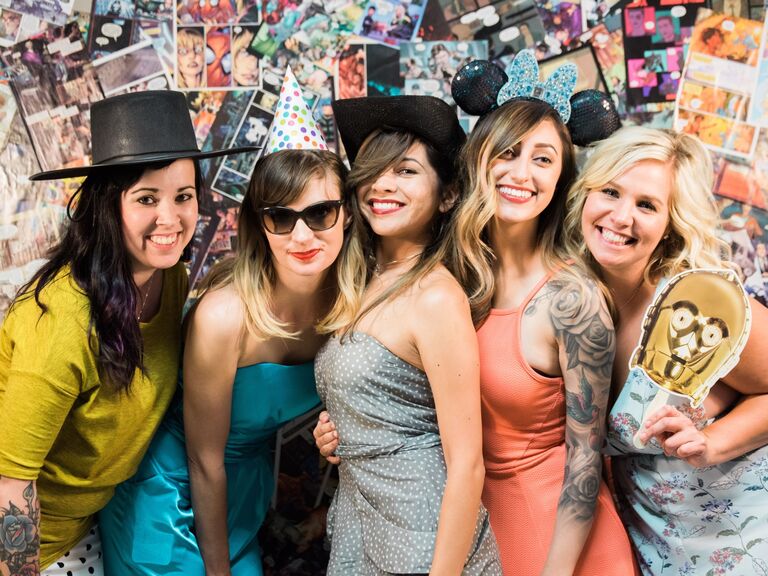 The happy couple loved comic books and video games, so they decided to have their wedding theme centered around that passion. The photo booth backdrop, bridal bouquet and wedding cake are just some ways they spotlighted their theme.
27. North Pole-Inspired Wedding Photo Booth
Welcome your guests to your winter wonderland wedding with the big man himself, Santa Claus. We guarantee guests of all ages will enjoy this Christmas-themed wedding photo booth idea.
Fun Wedding Photo Booth Ideas
There's no reason you shouldn't go all out with making your wedding photo booth as fun as humanely possible. These four ideas are guaranteed to make anyone have a memorable experience.
28. Space-Themed Wedding Photo Booth
Instead of having your typical wedding photo booth, this couple had an edible doughnut wall with over 500 doughnuts spelling out their initials. Next to it was a table full of "Star Wars" gear, which connected to their space wedding theme.
29. Picture Frame Cutout Photo Booth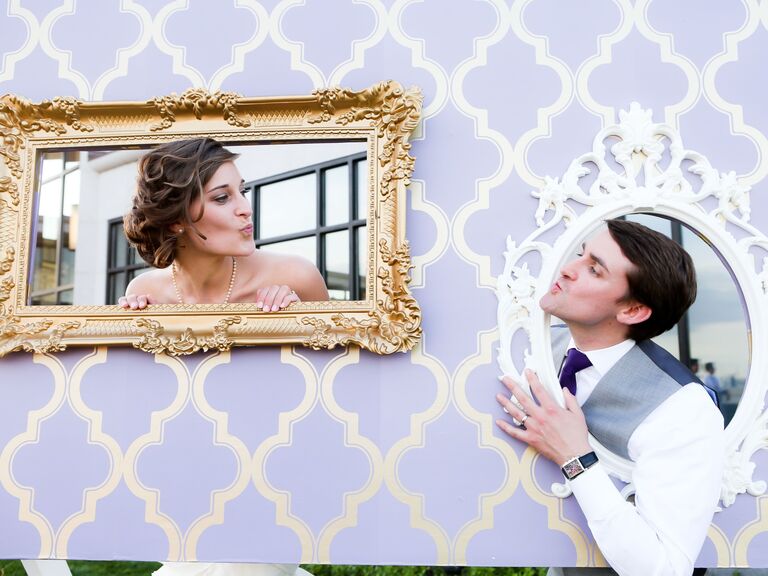 This wedding photo booth frame idea is a classic everyone loves. As a sweet prewedding bonding activity, the happy couple made this backdrop themselves.
30. Personalized Wedding Photo Booth
At this barn wedding, the couple has numerous pictures of them and their loved ones scattered around the venues for a more intimate feel. To make it even more special, the bride's brother painted this cutout of the newlyweds and their dog, which makes it a very personal indoor photo booth idea for a wedding.
31. Art Sculpture Photo Booth
Take advantage of your wedding venue, and its surroundings as this couple did. The Denver Art Museum's outdoor sculptures provided an unconventional and cool backdrop for the couple's wedding.
Rustic Wedding Photo Booth Ideas
For couples planning a rustic wedding, we have some wedding reception photo booth ideas for you too. And yes, there's wood involved.
32. Silver Camper Photo Booth
A bus isn't the only option for a vehicular photo booth. This couple had a camper converted into a photo booth at their wedding in California.
33. Rustic Tent Photo Booth
We love when couples highlight the environment their wedding's in. This outdoor wedding photo booth idea involved a tent and plenty of camp-inspired props.
34. Lemonade Stand Wedding Photo Booth
This rustic lemonade stand was the perfect addition to the couple's backyard wedding. Consider providing lots of lemon-themed photo booth items like lemon-shaped sunglasses and citrus stickers that say punny phrases like "lemon introduce myself."
35. Wooden Wall Photo Booth
This wall was built by loved ones for the newlyweds' wedding reception photo booth backdrop. The couple's favorite quotes are handwritten on each panel.