Our 27 Favorite Wedding Photo Booth Ideas
Memorialize your epic event with the help of these ideas.
While your wedding photographer will capture all the moments of your wedding day, it can be nice to have a photo booth at the reception to give guests a chance to snap a few of their own in-the-moment memories. Wedding receptions often double as reunions for friends and having an on-site activity that'll help attendees commemorate the day with keepsake photo strips is always a great idea. When it comes to designing or renting a photo booth that fits within the design of your big day, the options are nearly limitless. To help you wade through the plethora of wedding photo booth ideas out there, we've gathered some of the best (and our very favorite) ideas below to inspire you as you plan.
In This Story:
Wedding Photo Booth Top Tips
Allow Ample Space in the Floor Plan
Because of the large footprint that photo booths require, don't wait until the last minute of wedding planning to figure out how you'll work the wedding photography setup into your layout. "Photo booths are a great opportunity to capture some fun moments at your reception. Of course, they can serve as your party favors too, which is always a perk! They do, however, take up a good deal of space," notes Laura Maddox, owner of Magnolia Celebrates.
Include Festive Props
Beyond the actual photo booth setup, it's a great idea to include some creative props that guests can pose with. "Bringing props that speak to the couple is always fun," says Nora Sheils, co-founder of Rock Paper Coin and founder of Bridal Bliss. "Items like paraphernalia from your alma mater(s), childhood favorites, destinations you've traveled to together, or something significant to where you were engaged are a great way to personalize the event!"
Take Your Guest List Demographics Into Account
Photo booths are a great addition to a wedding reception where some older guests are in attendance. While many people are dancing, it's nice to have an alternative form of entertainment for those who don't want to break it down on the dance floor with your wedding party. Sheils explains that "additional entertainment at a wedding reception is always a plus! Those that are not drinkers or dancers always appreciate another activity to participate in."
Think Outside the Box
Beyond standard photo booths that create a strip of photos, unique high-quality photo booth concepts, like gif and video booths, have hit the scene in recent years. If pricing permits, Maddox encourages to-be-weds to find a "360-degree booth. These are such a fun new option that captures your guests from every angle. It will be a new and upscale experience for your guests! These also often take up a good deal of space, so make sure you've planned an area according to the contract's required footprint." Get inspired by more alternative photo booth ideas here.
Best Wedding Photo Booth Backdrops
Made popular by celebrity red carpets, the step-and-repeat is a backdrop that guests are meant to step up to, pose for their paparazzi pic and then move along so the process can be repeated by all in attendance. Not only do these red carpet mainstays work for the Hollywood elite, but they're also a great idea for a reception photo op that allows guests to easily snap pics on their phones in addition to whatever setup the photo booth rental company has provided.
1. Quilt-Inspired Wedding Photo Booth Backdrop
This couple's dramatic backdrop was made up of a raspberry-hued quilt.
2. Minimalist Gray Photo Booth Backdrop
A backdrop doesn't have to be over-the-top, it simply needs to create a uniform setting in front of which guests can capture photos.
3. Pink Photo Booth Backdrop Inspired by Duck Hunting
The options are limitless when it comes to designing a backdrop. Looking at your hobbies, this couple paid homage to a love of duck hunting, is a great way to find inspiration.
4. Iridescent Photo Booth Backdrop
Talk about drama! If your wedding is funky and modern, an iridescent look could be a fun way to create unique photos.
5. Colorful Balloon Photo Booth Backdrop
Balloons are great for DIY couples; they create ample drama but a balloon backdrop is fairly simple to construct.
6. Minimalist Terracotta-Hued Wedding Decor
Since creating an eye-catching backdrop is a significant undertaking, consider having it serve as the altar backdrop during the ceremony before becoming a photo booth, as this Austin, Texas, couple did.
7. Creative Wedding Greenery Wall With Custom Neon Sign
Greenery is a great addition to a photo booth wall because it is durable and will last all evening long.
8. Boho Wedding Decor Wall With Dried Greenery and Leaves
For this big day south of Los Angeles in San Juan Capistrano, California, the couple had dried foliage incorporated in their backdrop.
9. Flower Wall for Selfie Station
An iPad and ring light made it possible for guests to snap their own selfies in front of this paper flower wall.
10. Dramatic Flower Wall for Reception Photo Booth
Wallpaper, especially temporary wallpaper options, can be used to create fun patterned backdrops for photo booths.
Photo Booth Props for Your Wedding
Beyond epic backdrops, fun props that pay homage to your interests and inside jokes shared among guests are a must-have for a memorable wedding reception photo booth setup. Oftentimes, props and items used at a wedding or bridal shower or even from a birthday party can be repurposed as photo booth props. However, if you're having a hard time tracking down great props, shop some of our favorite photo booth props here.
11. Giant Beach Ball for DIY Wedding Photo Booth Experience
Having a waterfront wedding celebration? A giant beach ball is a must.
12. Oversized Yellow "Yay" Sign at Cocktail Hour
Oversized letters that can stand on their own make a fun and interactive option for guests to pose alongside.
13. Retro Velvet Sofa and Greenery Wall
Including seating in your photo booth setup will allow for guests to capture Vanity Fair-inspired posed portraits.
14. Hats and Robes for Harry Potter-Themed Photo Booth
Look at your hobbies and interests when selecting props. This couple leaned into their love of wizardry and included Hogwarts-ready attire in their booth. Get inspired by even more Harry Potter wedding ideas here.
15. Wedding Guests With Cat Cutouts in Photo Booth
Even if your furry friends can't attend the wedding in real life, giant cutouts of the critters will ensure they're close at heart throughout the event.
16. Rainbow Hat and Boas as Photo Booth Props
Attendees donned boas and hats in prismatic rainbow shades during this wedding reception.
17. Cat Cutout for Couple's Special Day
This couple celebrated their feline friend with an oversized cutout to pose with. Get inspired by even more ideas for honoring your pets at your wedding here.
18. Couple With Cutouts of Baby Pictures
This due paid homage to their younger selves with baby pictures cut out and attached to popsicle sticks.
Polaroid Photo Booths
Not only are step-and-repeat-style photo booths a way to have fun by creating a statement-making decor installation, they are also super versatile. Consider using the display as an altar backdrop for your wedding ceremony before repurposing it as your own photo booth station at the reception.
19. Polaroid Photo Booth and Guest Book
Since Polaroid images develop so quickly they're a great option for a guest book and photo booth. Find even more wedding guest book ideas here.
20. Polaroid Cameras for DIY Photo Booth
Make sure to have plenty of extra Polaroid film on hand at the reception so guests can snap multiple photos. That way you'll be able to keep some while attendees can take other snaps home as party favors.
Vintage Van Wedding Photo Booth Ideas
One potential drawback of photo booths is that it can sometimes be hard to find an optimal place to set up a space to snap pics. However, the rise in popularity of vintage buses and vans that have been converted into photo booth rentals solves that very problem. Hire a mobile photo booth company to drive up to your reception, capture memories and then seamlessly drive away when it's time to wrap up.
21. Pink VW Bus Photo Booth With Neon Sign
For this wedding in Austin, Texas, a neon sign ensured guests were drawn to the photo booth even after the sun went down.
22. Van Photo Booth With Boho Macrame Decorations
It's important to decorate both the inside and outside of a van photo booth. Decorations on the inside will make your pictures pop while outdoor decorations will entice guests to come over to the setup.
23. Chalkboard Sign Outside Van Photo Booth
Eucalyptus garland and DIY chalkboard signs decked out this vintage blue bus photo booth.
24. Vintage Van Photo Booth at Rustic Wedding
It's easy to see why so many to-be-weds opt for vintage bus and van photo booths—they're simply adorable.
25. Boho Camper Photo Booth
A bus isn't the only option for a vehicular photo booth. This couple had a camper converted into a photo booth at their wedding in California.
Photo Booth Signage
In order to make sure guests are aware of your reception photo booth and partake in the activity, adequate signage alerting them to the booth's presence is key. As with all your day-of stationery, from ceremony programs to escort card displays, this is a great place to reinforce your event's aesthetic by infusing the day's color palette and motifs into the stationery design. Pro tip: Include your wedding hashtag somewhere in your signage so you'll be able to see any additional snaps captured by wedding guests and shared on social media.
26. Illustrated Succulent Sign for Rustic Wedding
A succulent illustration ensured this photo booth sign fit with the celebration's overall aesthetic.
27. Pink Sign at Reception With Modern Wedding Theme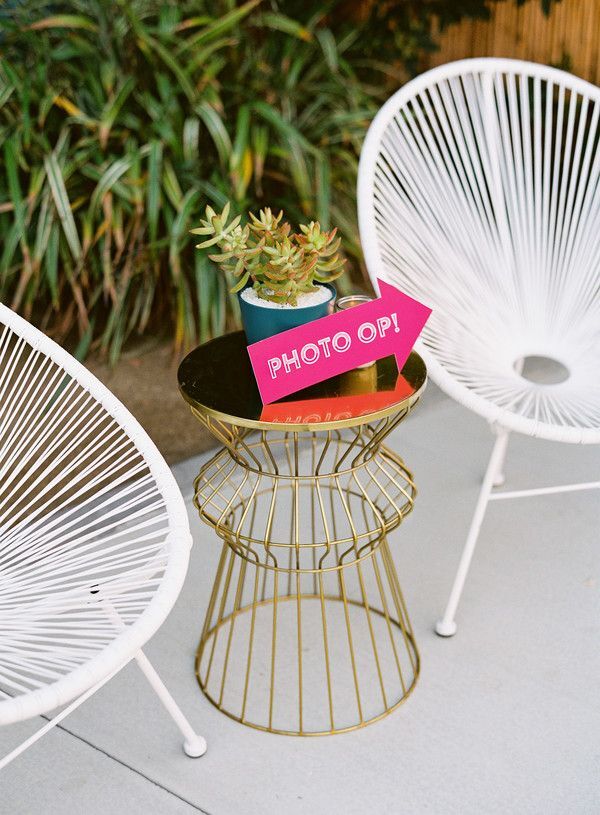 A fun die-cut pink acrylic arrow directed guests at this wedding to the photo booth.