Get Married in This Pizzeria on Pi Day!
For some couples, their favorite pizzeria could also double as their wedding venue on Pi Day.
by Brittany Fuller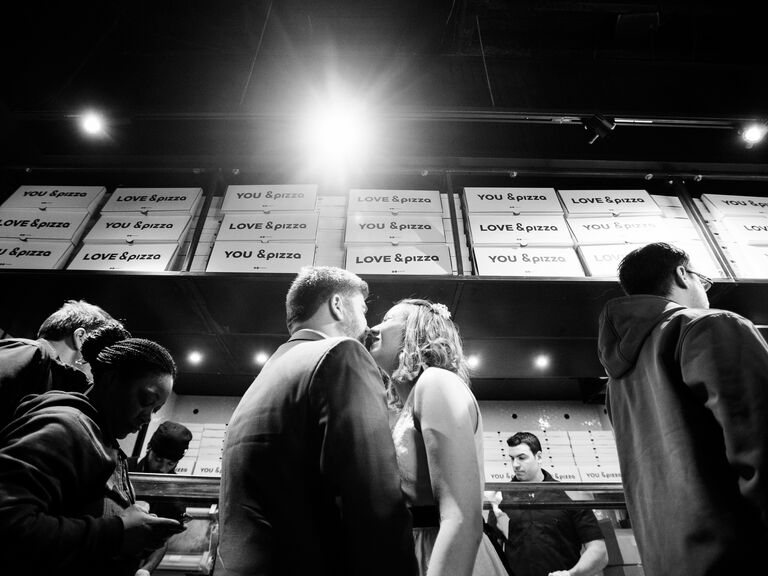 Looking for a creative, memorable and cheesy way to tie the knot ? Look no further than &pizza in Washington, DC, this Pi Day, March 14.
Located at the soon-to-open Columbia Heights shop at 1375 Kenyon Street, couples can marry Vegas-style at the DC favorite pizzeria at a pop-up wedding chapel open from 9:00 a.m. to 8:00 p.m. Last year, a pizza-loving bride and groom decided to get married underneath one of the brand's signature ampersands, which is the inspiration for the event.
This year, &pizza will offer complimentary weddings including everything from flowers to music and an onsite marriage officiant. The ultimate pizza lovers wedding will also include a special wedding menu (pizza, of course!), in the company's 2,400 square feet location. Some key features of the space include the brand's signature ampersands, the black-and-white color palette and an indoor and outdoor seating area for 70.
So far, 15 couples have signed up for the event. Weddings and vow renewals can be reserved in advance by emailing [email protected] Limited walk-in weddings will also be available until the shop closes.