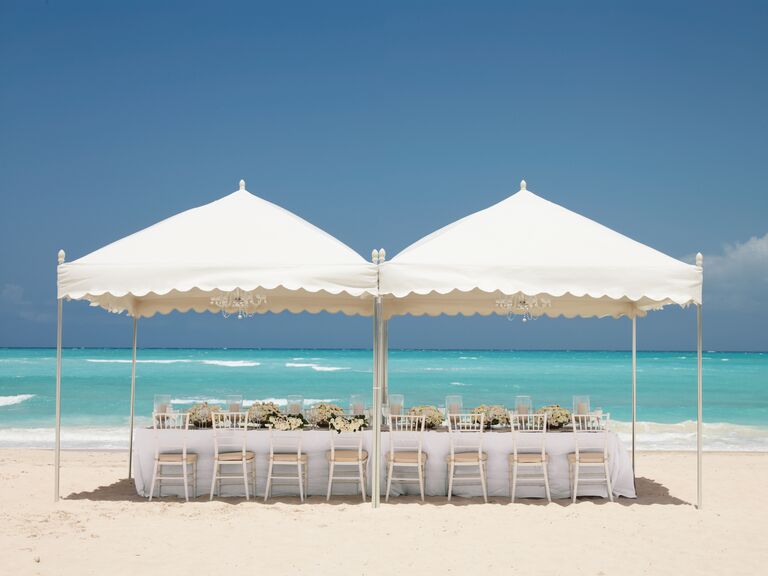 Lots of couples decide to take their vows far from home—24 percent, according to The Knot 2014 Real Weddings study. Thinking of skipping town for your own nuptials? Read on for top tips that'll help you plan an uber-romantic destination wedding.
1. Decide on Your Destination
You've chosen to venture away from home for your wedding, but where should you go? Whether you opt for a tropical getaway or a snowy wonderland, consider visiting your locale before the big day. That way you can finalize the special details in person—not to mention squeeze in a romantic weekend. "It's always a good idea, because you can see and experience first-hand the specific details that are an important part of your wedding day," says Marsha-Ann Brown, Director of Romance for Sandals Resorts, which offers a two-night "Test Drive Your WeddingMoon" package.
2. Consider the Weather

A little rain is one thing, but make sure you're aware of bigger weather events that could affect your celebration. Even though there's warm weather year-round in destinations like the Caribbean, December through April boasts the most days of sunshine. But keep in mind that you might score a better deal in the off-season and still end up with an absolutely gorgeous day. "During the fall, our resorts offer the best promotions for weddings and groups, which may include higher upgrades and free rooms," Brown says. You might also want to consider purchasing travel insurance, so you're protected no matter what Mother Nature throws at you.
3. Prep the Paperwork
If you're getting hitched outside of the US, check the legal requirements for marriage—stat. After all, you want to know up front if your dream locale requires a 40-day residency before you can say "I do." Doing a little due diligence to ensure your union is legal and recognized when you get home? Totally worth it. If you're looking to make the process even more effortless, Sandals can help with that too. A document specialist will do all of the legwork for you and even assist with the marriage license application—a pretty sweet complimentary perk.
4. Set the Guest List
Especially when there's major travel involved, you should give friends and family a slightly longer than normal heads up—typically six to eight months. Send out those save-the-dates early, so they'll have plenty of notice to ask for time off and to book travel. Bonus tip: Schedule your own arrival for a few days ahead of your guests, so you two can enjoy some extra romantic alone time soaking in the sun, hitting the spa or just cozying up in your suite.
5. Find an In-the-Know Wedding Planner
When you pick a far-flung destination, a pro with lots of local knowledge is key to help you navigate the planning process, especially for foreign weddings. If you pick Sandals Resorts, which specializes in full-service weddings, you'll have a built-in team of planners—and get to skip the stress of managing multiple vendors. Regular sessions with a pre-travel wedding planner will help you settle on the details of your wedding, and, once booked, you'll be in touch with your personal resort wedding planner and dedicated team that'll pull it all off. Best of all? It's at no additional cost to you.
6. Pick Your Venue
Once you've decided on your destination, it's time to lock down the space for your ceremony and reception. Even on a tropical island, there's no requirement that you have to get married barefoot on the beach—you'll typically find plenty of options that suit your style, from lush gardens to glamorous ballrooms and even offshore islands.
7. Bring on the Romance
A destination wedding is practically the epitome of romance, but that doesn't mean there isn't room for more! Other scenic details and special touches can only add to the intimacy of the event. Whatever your vision is—a ceremony timed for sunset, a reception under the stars, local flowers lining the aisle, candlelit dinner on the beach, couples' spa treatments—Sandals wedding planners can help you make it a reality.

The Knot and Sandals present Destination Dream, a sponsored series featuring tips for planning the ultimate romantic proposal and destination wedding. To learn more about how Sandals Resorts can help, visit Sandals.com.