Planks to Flatten Your Abs! #FitnessFriday
by Jennifer Bernard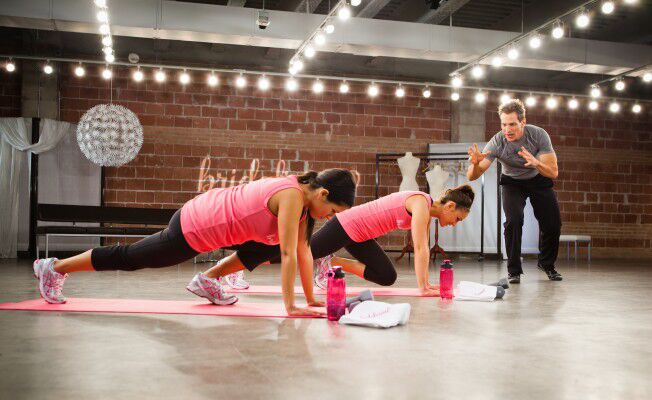 This week's #FitnessFriday is about flattening your abs and strengthening your core. Don't worry — our fitness expert and founder of Bridalicious Bootcamp, Doug Rice is back this week to help.
This week's question comes from bride-to-be Iris:
Doug, suggests an "up-down plank" to help flatten your abs. Follow the instructions below and watch the video for more exercises that will also help trim your waist line.
What You'll Need
You don't need any equipment — just a mat or a soft, carpeted area and your own body weight!
How To Do It
Lie on your stomach with your legs straight, feet together and forearms on the ground underneath your chest. Clench your fists.
Draw in your belly button and squeeze your booty muscles.
Lift your body off the floor and form straight line from head to toe, keeping your forearms on the ground.
Lift your right forearm off the ground and into a push-up position with your hand on the ground and your arm extended; follow by doing the same on the left side. Then return your right forearm to the ground; follow with the left forearm.
Keep straightening your arms and immediately returning to your elbows one side at a time in an up-and-down movement.
Continue as rapidly as possible for 20 seconds. Rest for 10 seconds and then repeat for a total of eight times.
Don't forget to tweet your questions at @theknot and @bridalicious using the hashtag #FitnessFriday to have a chance to have your questions featured next week!
> What's up with Bridalicious Bootcamp? Read about it here
> Buy the Bridalicious Bootcamp DVD

> Start the 14-day Sweet & Sexy Slim Down February challenge