How to Pull Off a Playful Watercolor Wedding Palette
Love color but don't want your wedding to look like a kid's bash? There are brilliant new ways to make it work for your wedding.
Philip Ficks
A color palette of watercolor greens, oranges and blues is toward the top of our unexpected (but fun!) wedding colors list. Not only is the color palette unexpected, but this styled shoot has design surprises weaved throughout the ceremony and reception decor that make for seriously unique wedding inspiration—like hexagonal-shaped wedding invitations, customized place mats and a hand-painted cake. It might seem a little daunting to pull off, but we've got seven style tips that make it totally do-able.
Playfully Shaped Stationery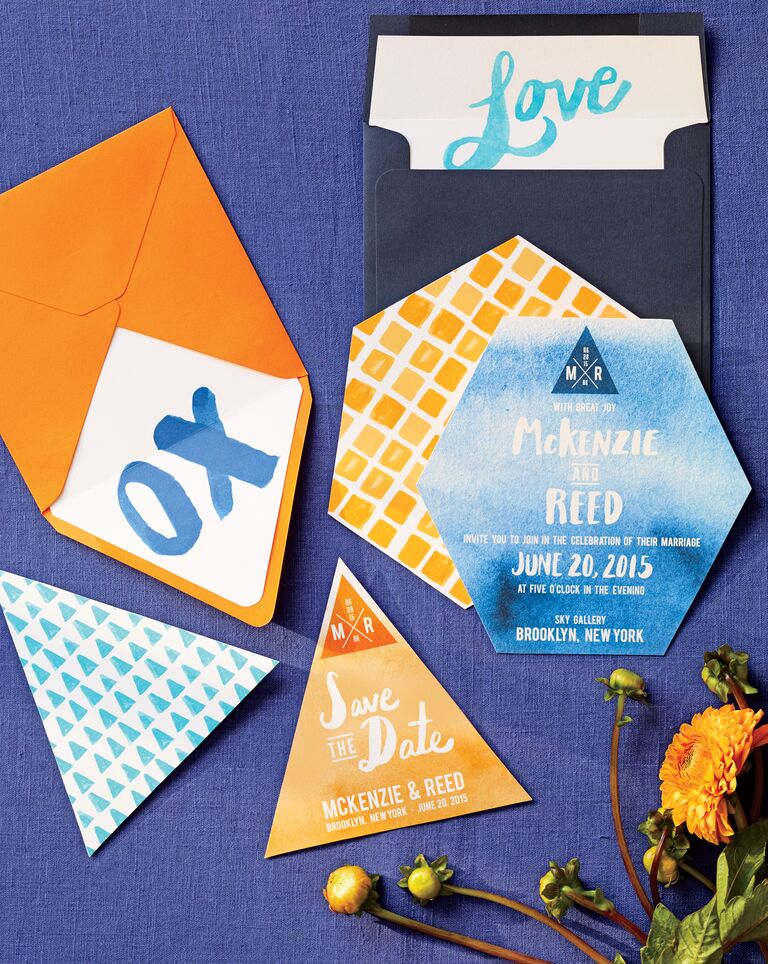 "Let your personality shine in your paper," Meyer says. Play with color, shapes and fonts to create something that also reflects your wedding style. A logo and watercolor envelope liners will make your correspondence totally bespoke.
Swiss Cottage Designs stationery, SwissCottageDesigns.com
Customized Wedding Wear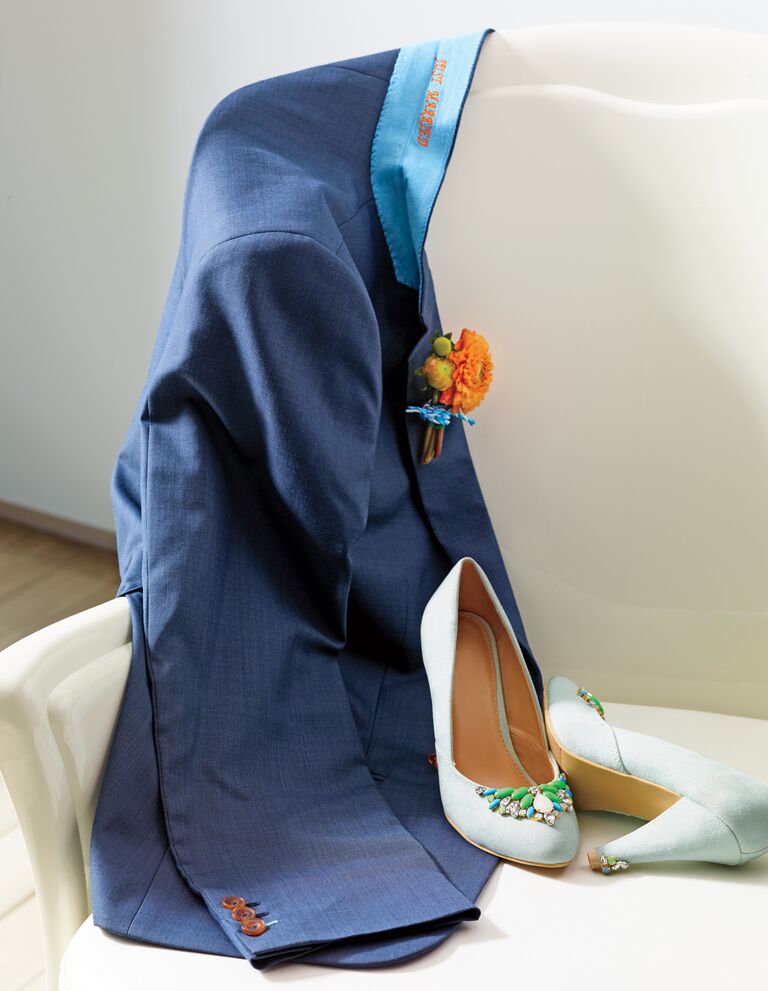 Make your wedding attire uniquely yours with personal touches, like crystal-embellished heels or custom jacket embroidery. "The devil is in the details–small additions go a long way," notes Meyer.
A Suit That Fits custom suit, ASuitThatFits.com; Hushed Commotion hand-decorated shoes, HushedCommotion.com
Lyrical Wedding Programs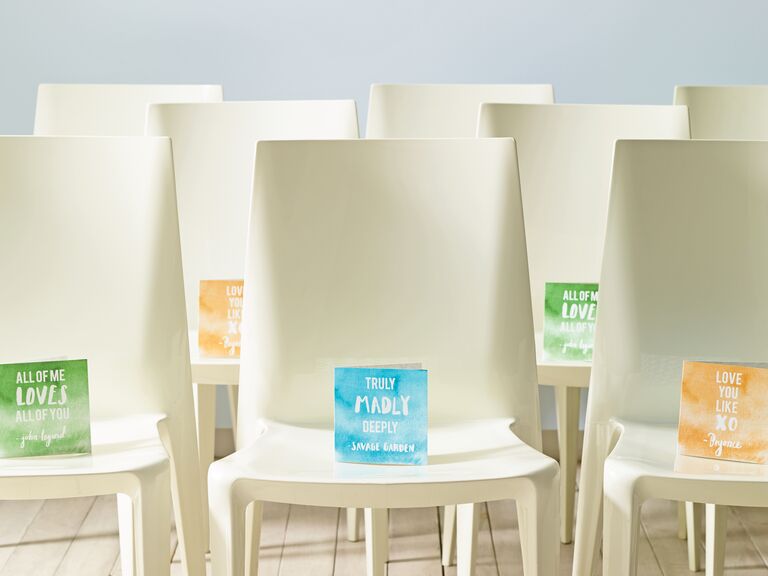 "Many couples have songs that mean something to them and their love story, so why not incorporate them into the wedding?" Meyer says. Start by personalizing your ceremony programs with your favorite lyrics.
Swiss Cottage Designs programs, SwissCottageDesigns.com; Taylor Creative Inc. furniture rentals, TaylorCreativeInc.com
An Alternative Guest Book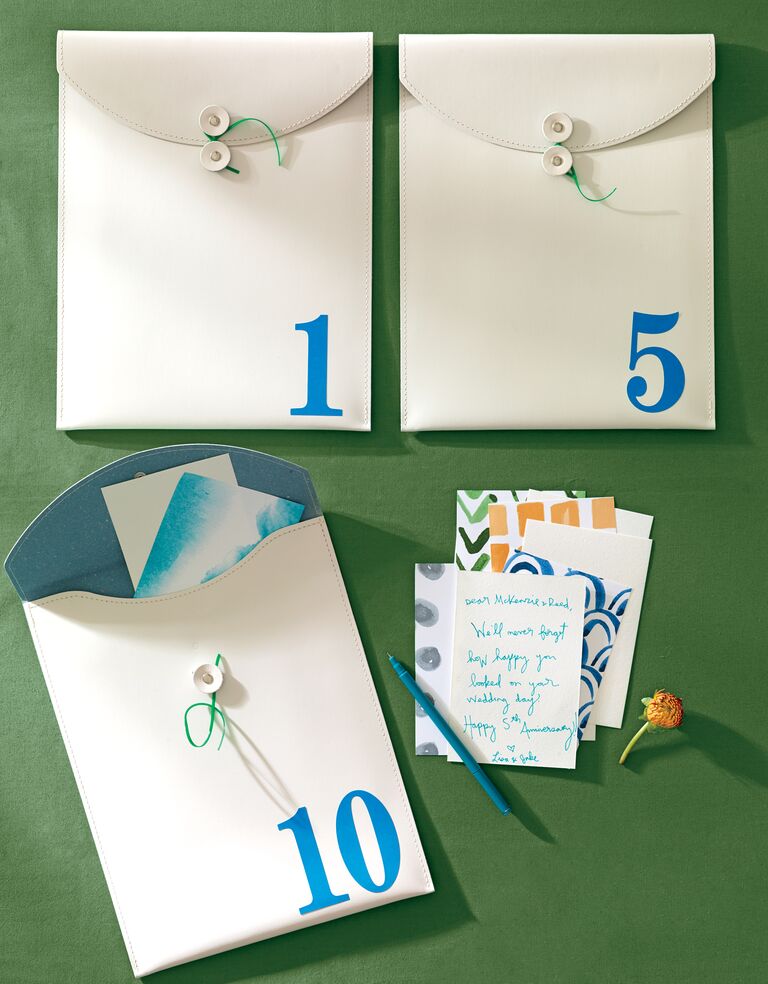 Try this twist on the traditional guest book: Ask friends and family to write you letters that you'll open on your first, fifth and tenth anniversaries. "The beauty of a guest book is you can remember those who came to the wedding and the great times that were had—and this takes it to a whole new level," Meyer says.
Customized Place Settings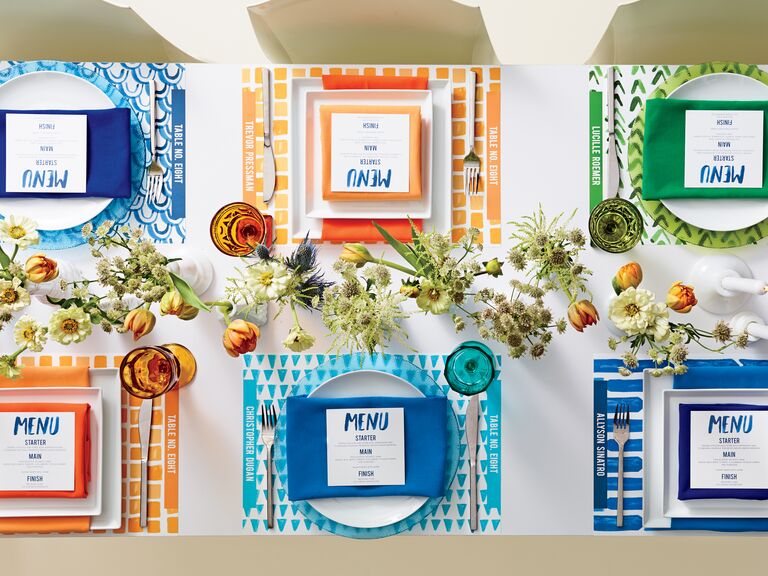 A new spin on the place card—personalized place mats! Have guests' names and table numbers printed directly onto place mats, adding color and personality to your table (without sacrificing flower and decor space). "You could even incorporate a crossword puzzle under the plate or fun facts about the couple," says Jove Meyer of Jove Meyer Events.
Lindsay Rae Design flowers, LindsayRaeDesign.com; Little Vintage Rentals vintage glassware, LittleVintageRentals.com; Broadway Party Rentals linens and china, BroadwayPartyRentals.com; Jove Meyer Events event design, JoveMeyerEvents.com
Hand-Painted Cake Details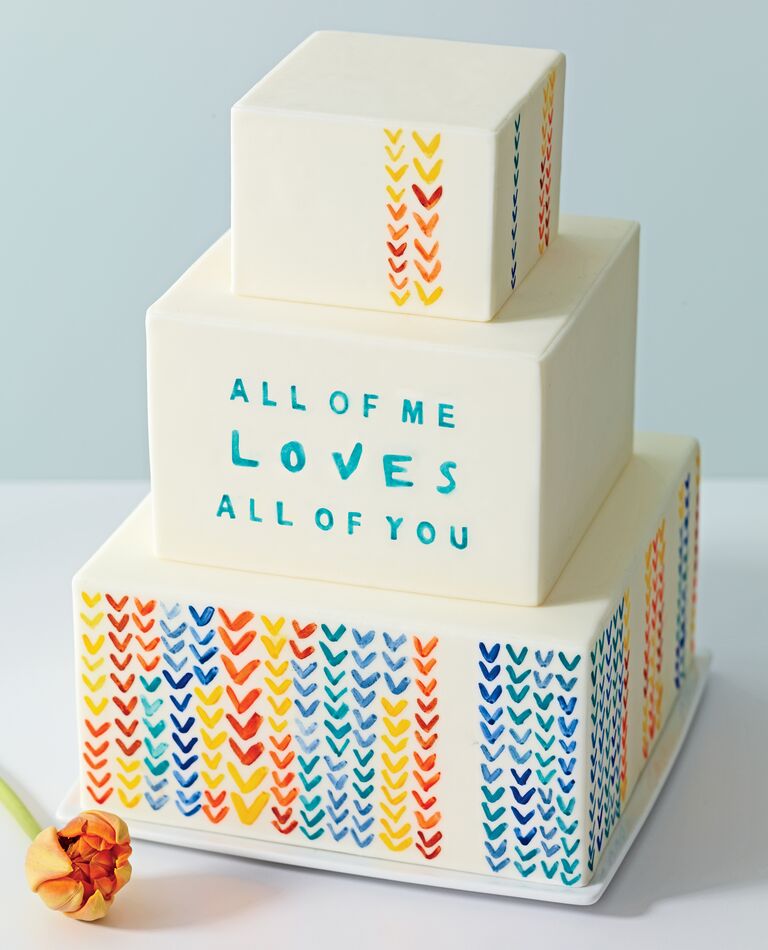 Let your cake's design reflect the colors and style of the day. An all-white confection is the perfect canvas for a hand-painted pattern and a simple verse. "Song lyrics can be a simple-yet-powerful way to communicate emotions," Meyer says. "Seeing them written evokes different feelings and memories that guests can relate to as well."
Lael Cakes cake, LaelCakes.com
Charitable Wedding Favor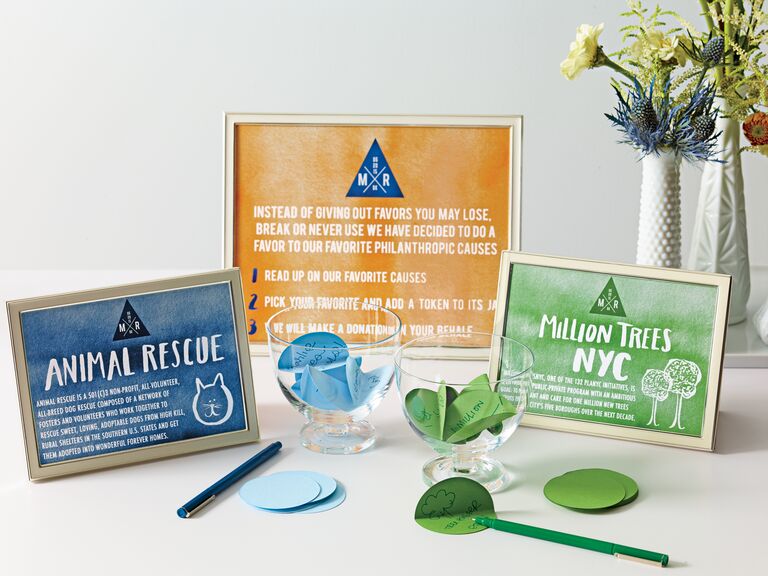 On a day when you're showered with so much love (not to mention gifts), why not share the goodwill by donating to your favorite charity in lieu of favors? Make the cause personal and get your guests involved. "Each half of the couple can designate a favorite charity and have guests 'vote' for which one they'd like your donation to go to," Meyer says. "It's fun, interactive and meaningful."