See Pnina Tornai Wedding Dresses From Bridal Fashion Week
Here's the designer's latest collection to hit the bridal runways.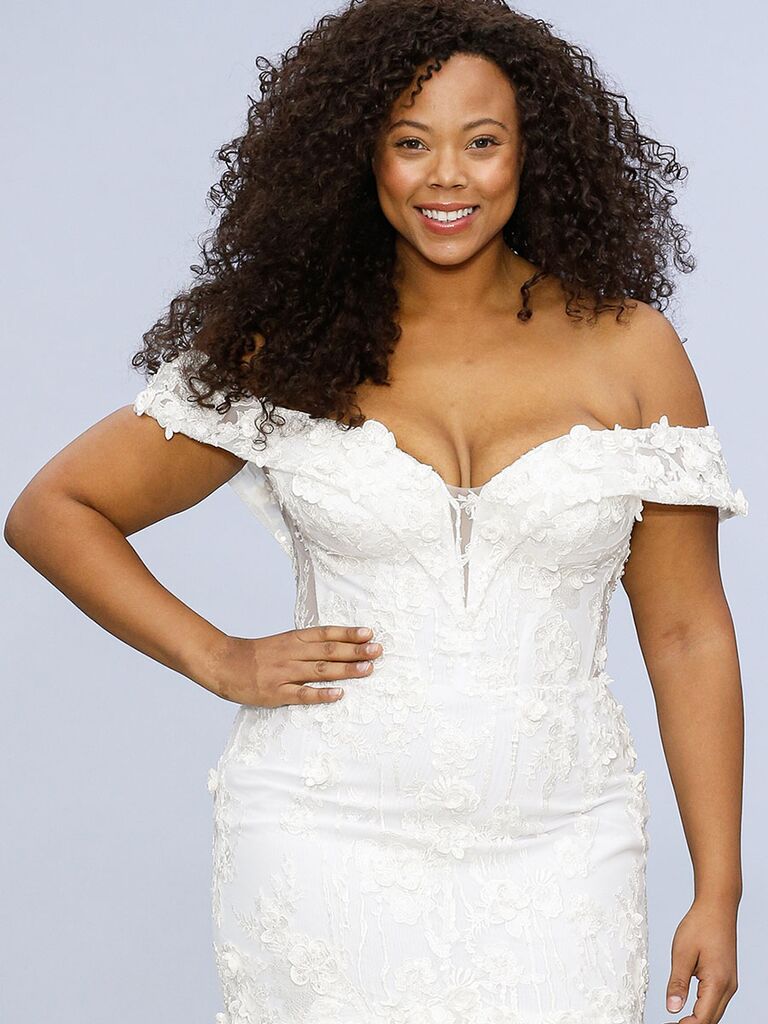 As all Say Yes to the Dress fans know, a Pnina Tornai wedding dress isn't for the simple and understated bride. Tornai is a master bridal designer who brings over-the-top creations to brides looking for some serious glamour. The global designer first shot to fame in the United States thanks to the TV show set at Kleinfeld Bridal, where countless brides-to-be have been featured swooning over her luxe bridal gowns and their intricate details.
So is Pnina Tornai exclusive to Kleinfield? The answer is yes. The Pnina Tornai wedding dress collection brings women who are searching for a couture gown from across the country to New York City for the handmade Pnina Tornai wedding gown of their dreams. The next question you probably have about this divine collection is concerning price. How much does a Pnina Tornai wedding dress cost? At Kleinfeld, Pnina Tornai dresses usually range between $2,400 and $5,000.
Ready for the ultimate bridal inspiration? Check out our guide to some of our favorite Pnina wedding dresses of all time.
The Latest Pnina Tornai's Wedding Dresses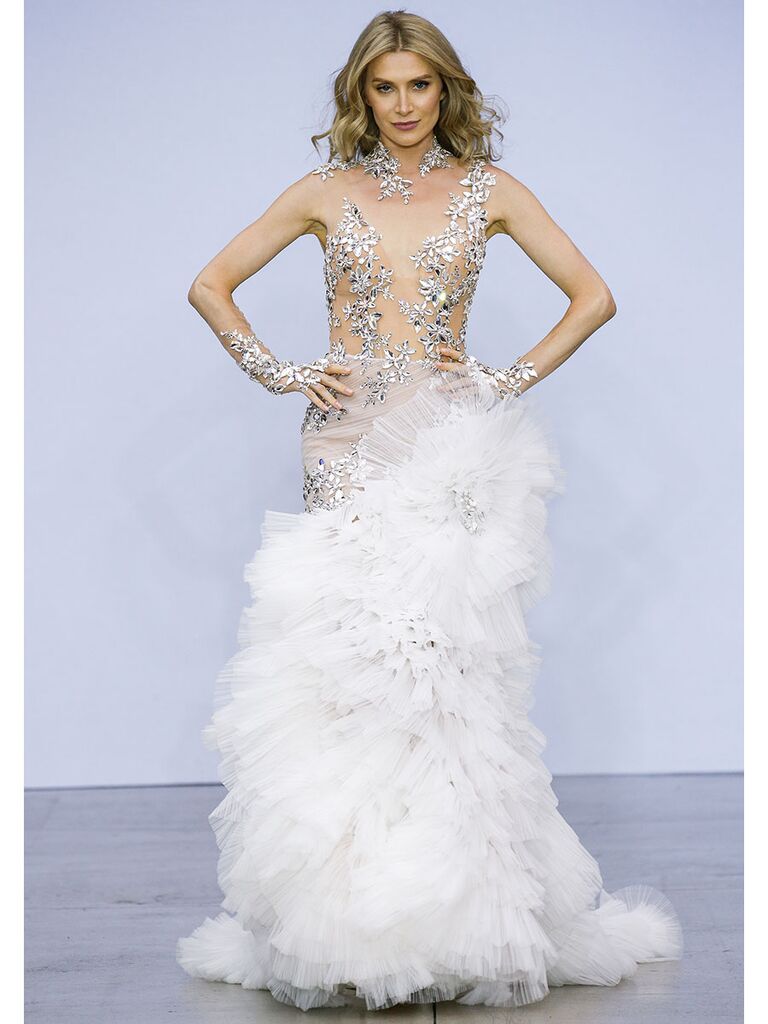 1. Sheer Tulle Mermaid Glam
Style 4820; sheer, nude-illusion mermaid dress with tulle skirt and sheer bodice with crystal detailing. Just imagine what this fabulous Pnina Tornai dress looks like on the dance floor.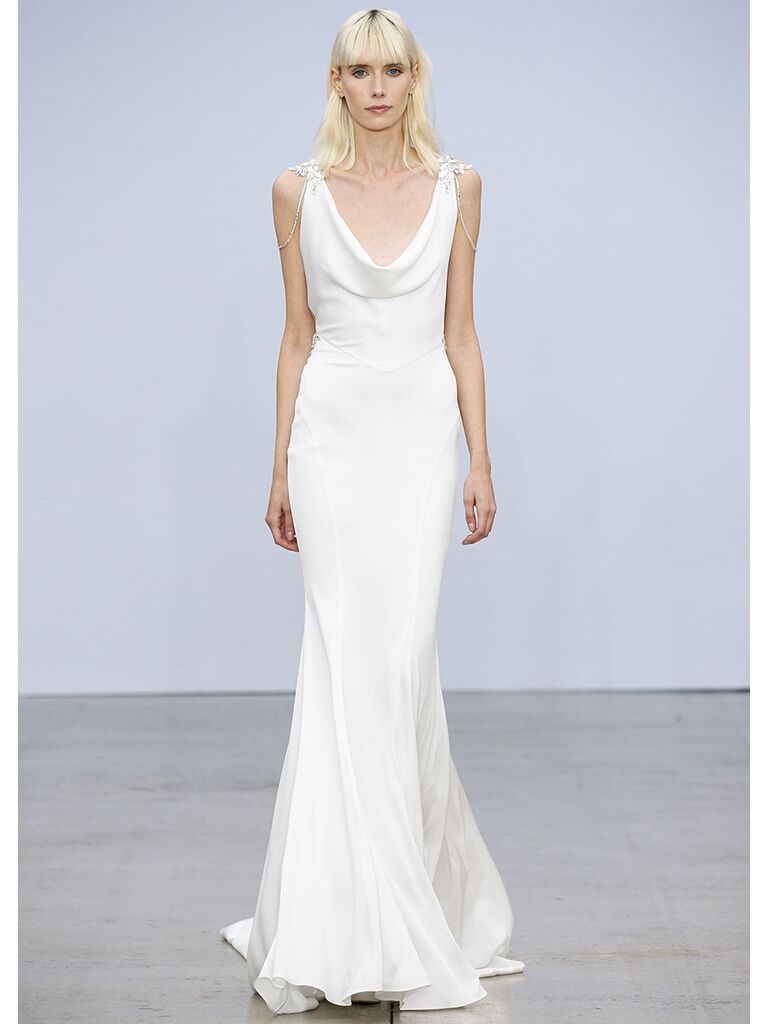 2. Classic Cowl Slip
Style 4790; satin crepe sheath with cowl neckline, crystal straps, and plunging neckline. Simple, yet striking, his dress exudes elegance and class.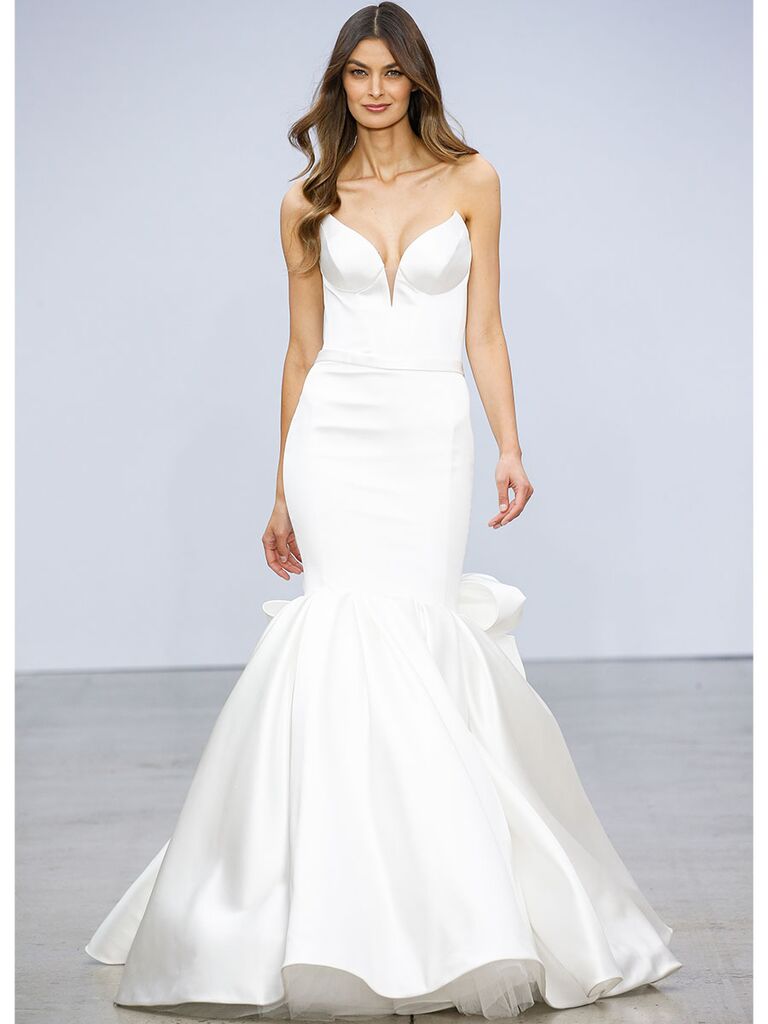 3. Strapless Mermaid Flair
Style 4789; strapless satin mermaid gown with cat-eye cups, pleated skirt, and satin bow. The unique neckline and dazzling bow in the back give this Pnina wedding dress dramatic appeal.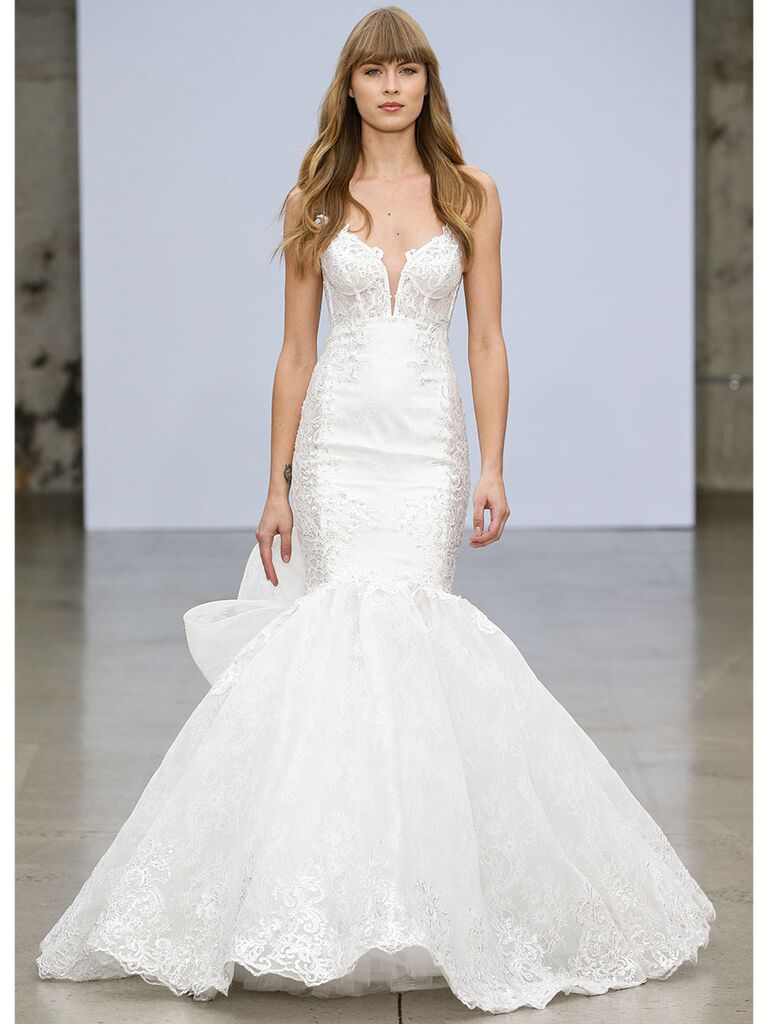 4. A Vision in Lace
Style 4796; strapless lace mermaid gown with silver sequin applique, sheer lace side panels, and sheer lace bow. The silver details bring this dress up a notch.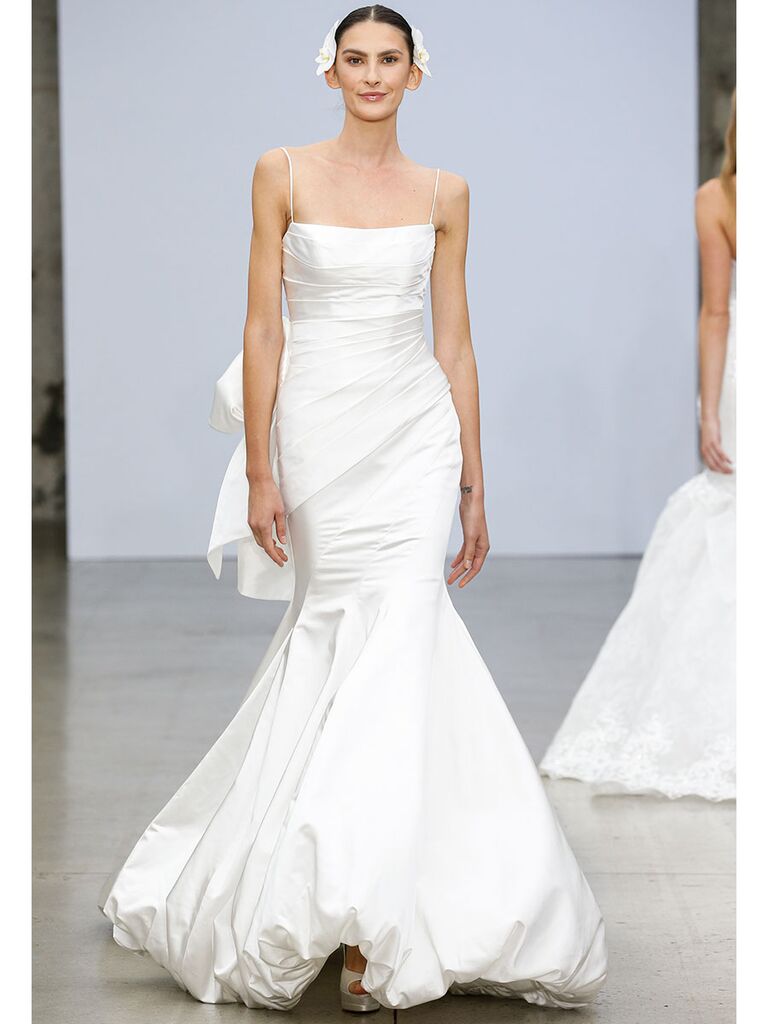 5. Flirty Bubble Hem
Style 4797; satin fit-and-flare gown with bubble hem, draped bodice, and skinny straps. The unique trim sets this dress apart from the rest.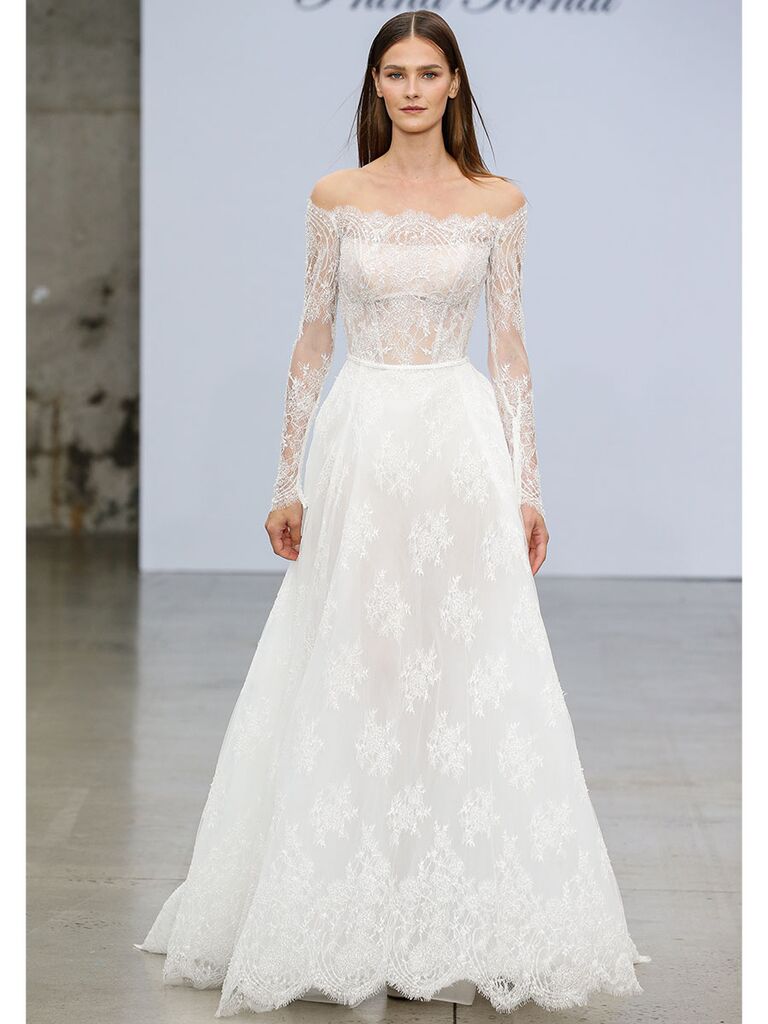 6. Long-Sleeve Wonder
Style 4812; a-line organic floral lace gown with v-illusion neckline and long applique sleeves. This Pnina Tornai dress is as whimsical as it gets.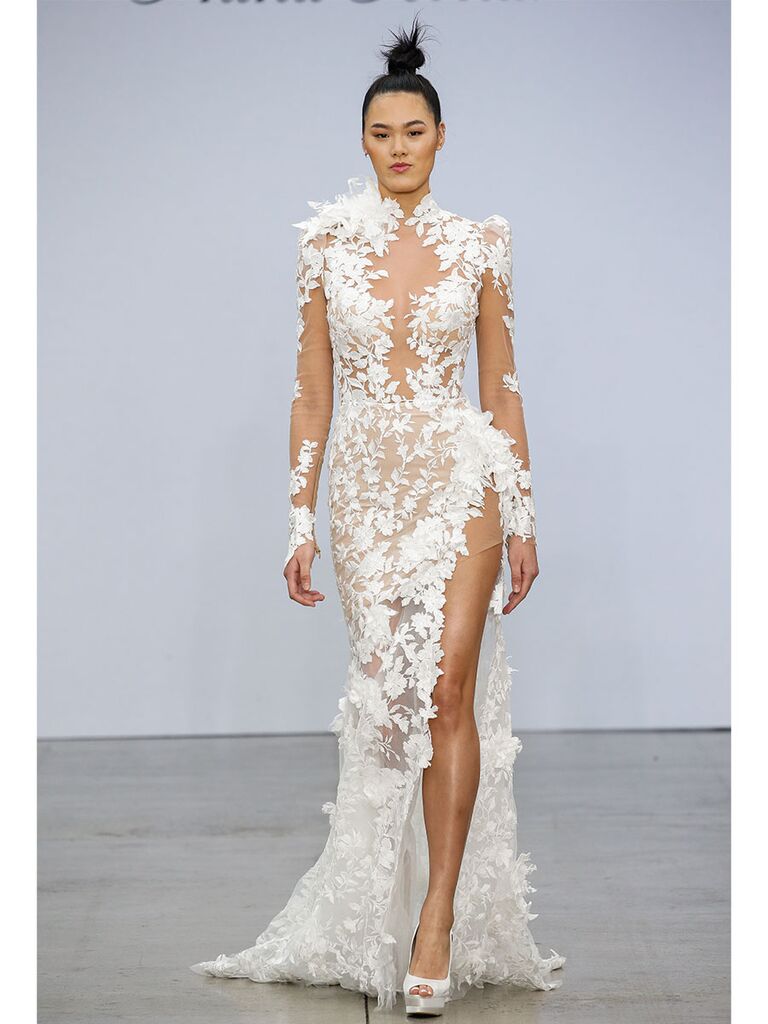 7. Flower Power
Style 4801; long-sleeve sheer lace gown with side slit, high illusion neckline, and 3D floral clusters. This dazzling, head-turning number will ensure all eyes are on you.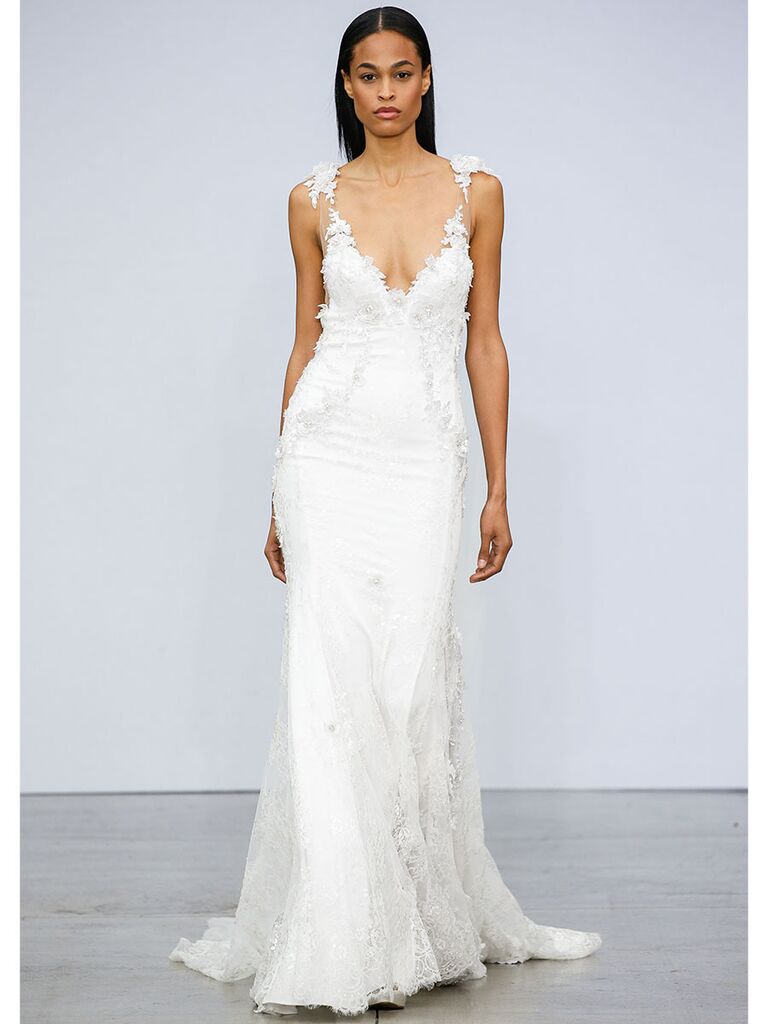 8. Floral Accents
Style 4791; lace sheath dress with dimensional silver sequin floral applique and detachable tulle cape. The dainty floral accents make this Pnina wedding dress a favorite in our book.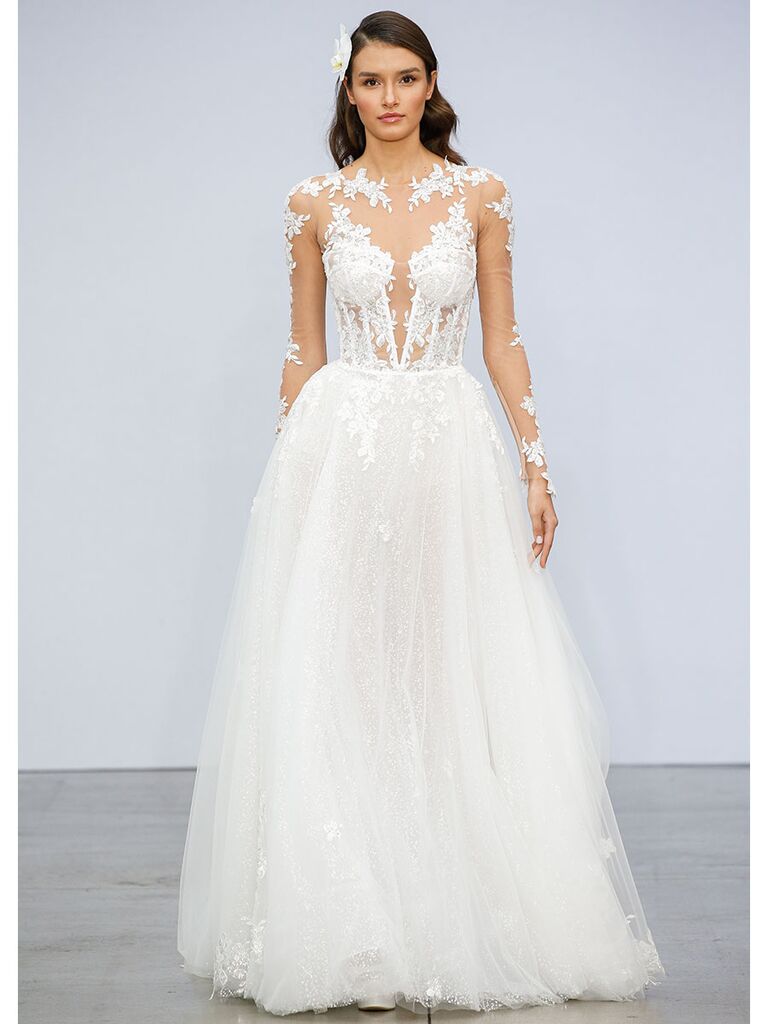 9. Flowery Illusion
Style 4814; sheer corseted gown with tulle skirt, interior bodysuit, illusion long sleeves, and sequined floral applique. This dreamy Pnina wedding dress is fit for a fairytale wedding.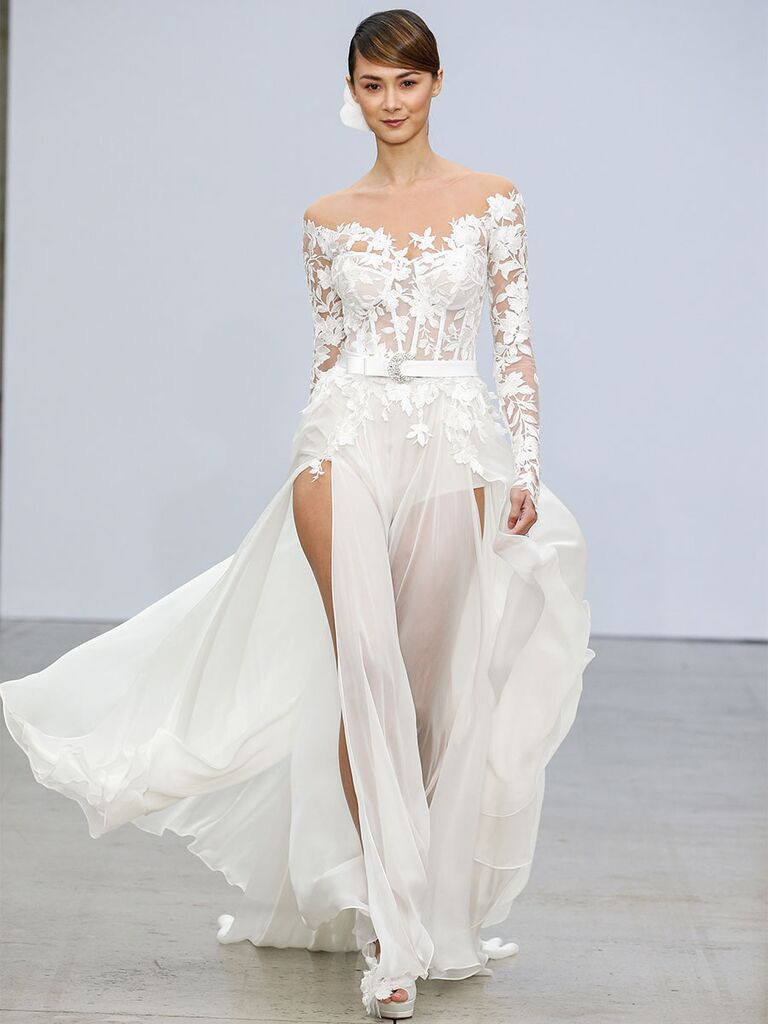 10. Dramatic Bodysuit
Style 4815; sheer beaded lace gown with interior bodysuit, illusion off-the-shoulder long sleeves, and crystal belt. This show-stopper is definitely one of a kind.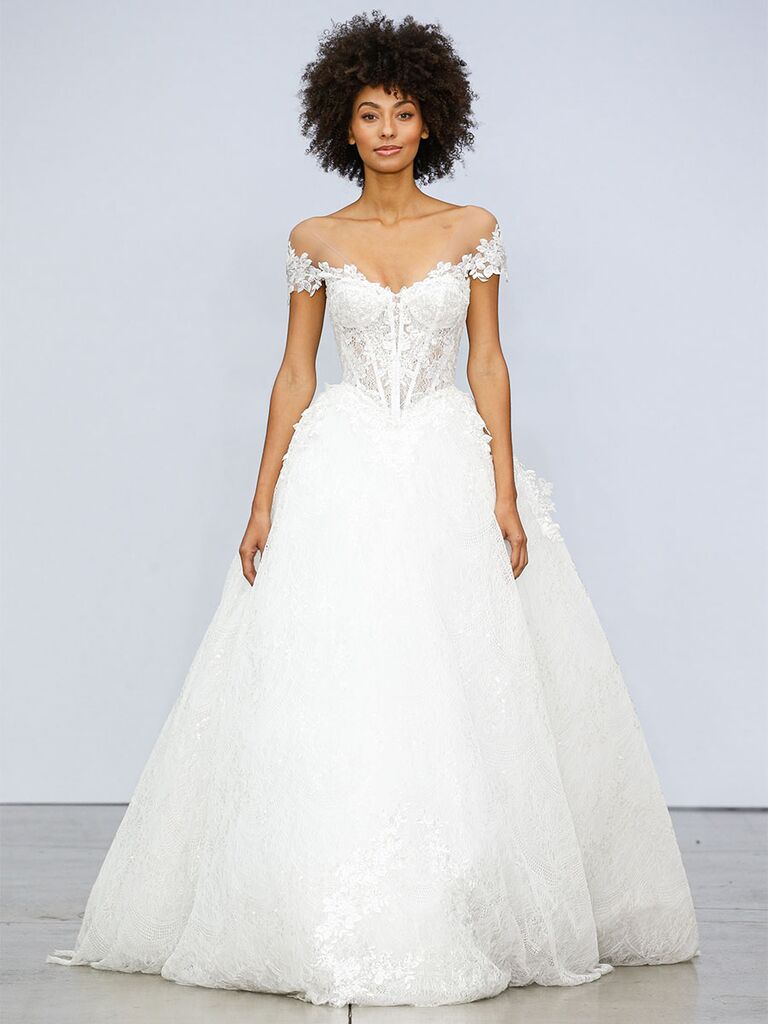 11. Beautiful Ball Gown
Style 4800; lace ball gown with sheer bodice embellished with sequin floral applique, off-the-shoulder illusion straps and Basque waistline. Dainty and lovely, you can picture a princess wearing this dress.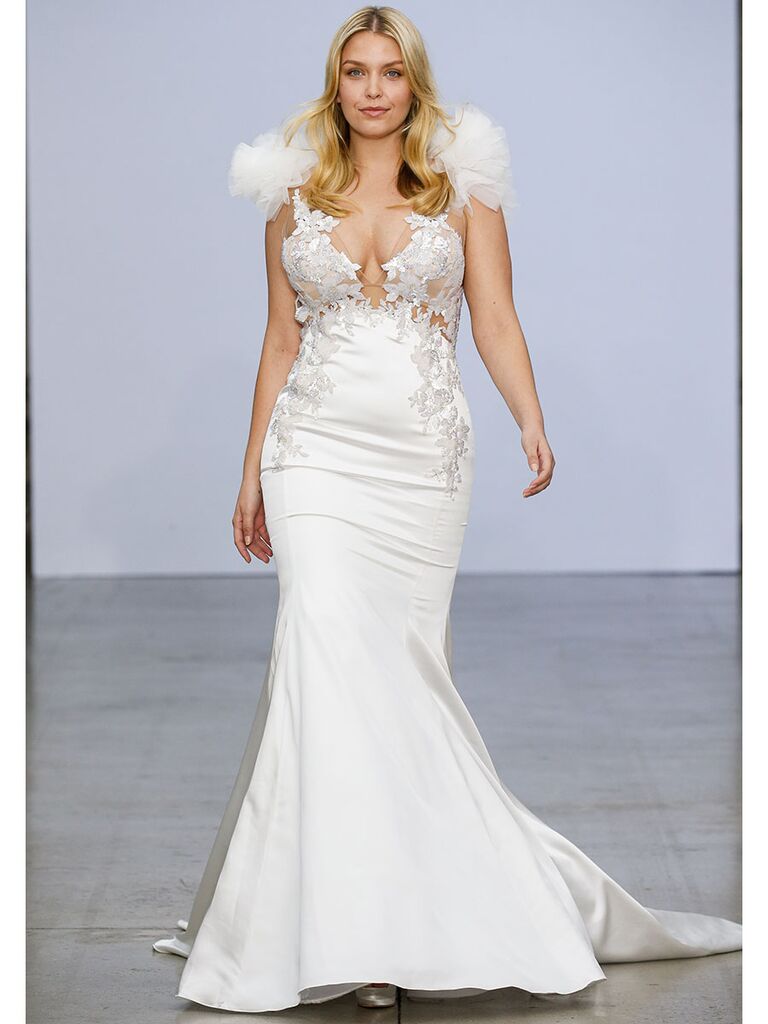 12. Floral Appeal
Style 4823; satin fit-and-flare gown with plunging v-neck and 3D floral detailing. The flirty neckline really brings this dress up a notch.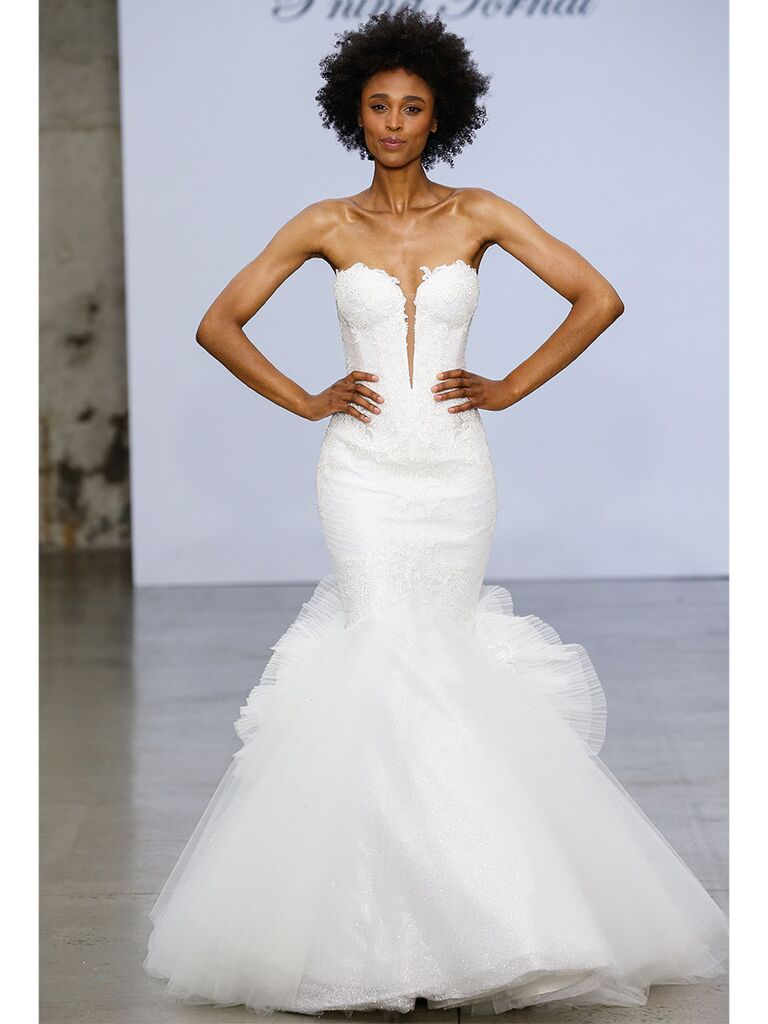 13. Plunging Mermaid
Style 4821; strapless mermaid gown with tulle plisse over glitter underlayer. A little plunge goes a long way.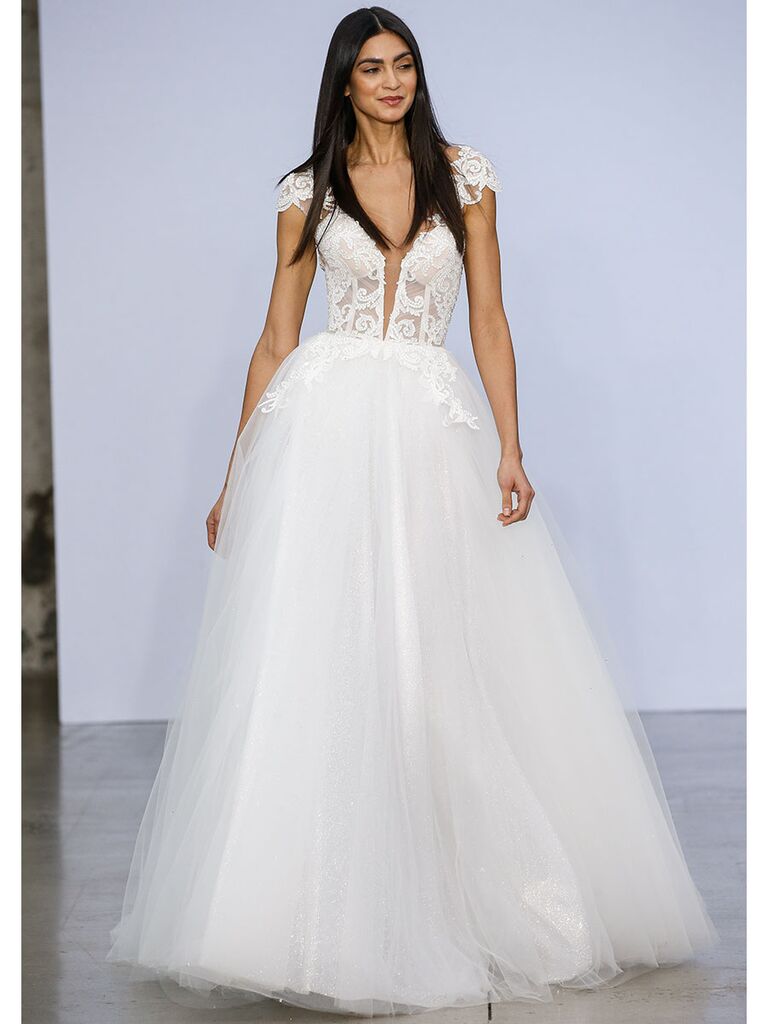 14. Sleeved Ball Gown
Style 4818; cap-sleeve ball gown with clear crystal applique bodice and tulle skirt with glitter underlayer. This gown will surely sparkle and dazzle.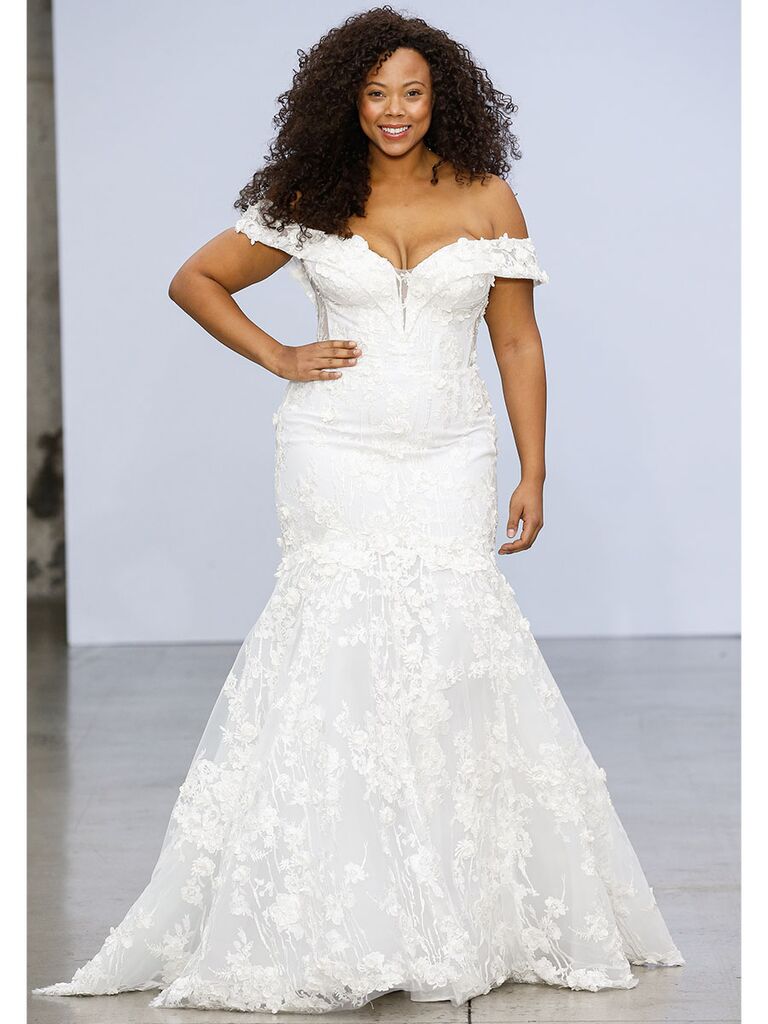 15. Flirty Mermaid
Style 4824; lace fit-and-flare gown with 3D flowers and sheer corseted bodice. The flowery details on this Pnina wedding dress are absolutely enchanting.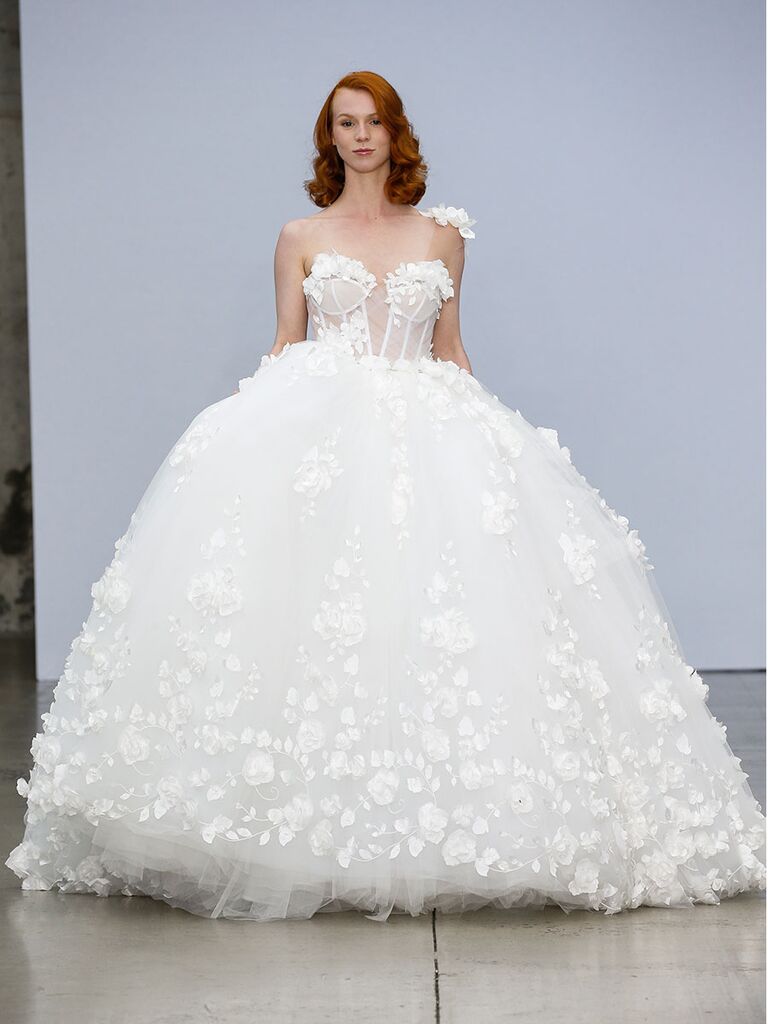 16. One-Shouldered Ball Gown
Style 4793; tulle ball gown with sheer corseted bodice and embellished with 3D flowers. This one-shouldered look is a knock-out.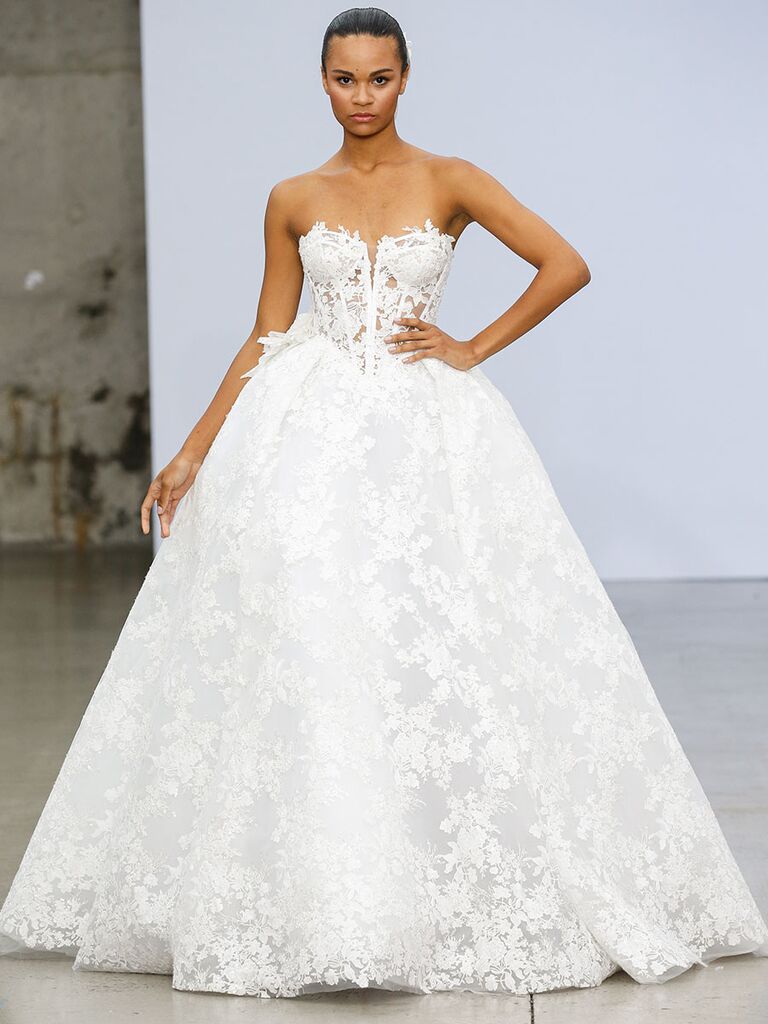 17. Flowers and Lace
Style 4808; strapless sequined lace ball gown with sheer bodice and 3D flowers at waistline. Is there anything lovelier than a flower and lace combo?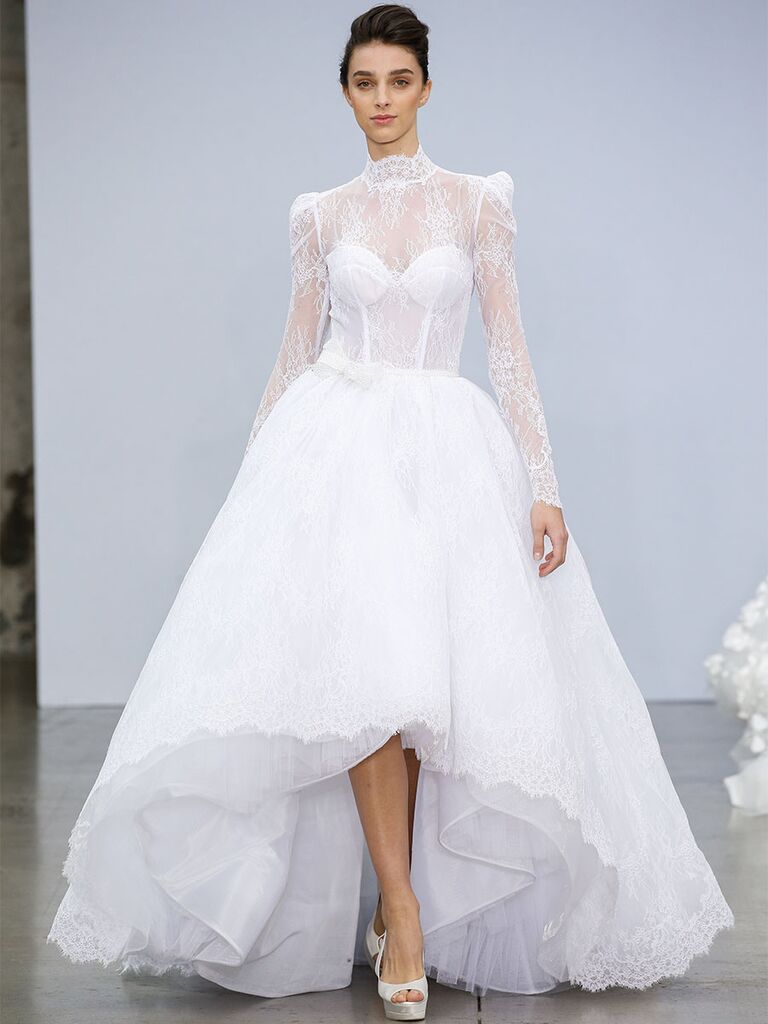 18. High-Class Features
Style 4825; lace high-low ball gown with sheer, high-neck bodice and long sleeves. The delicate lace is charming on this Pnina Tornai dress.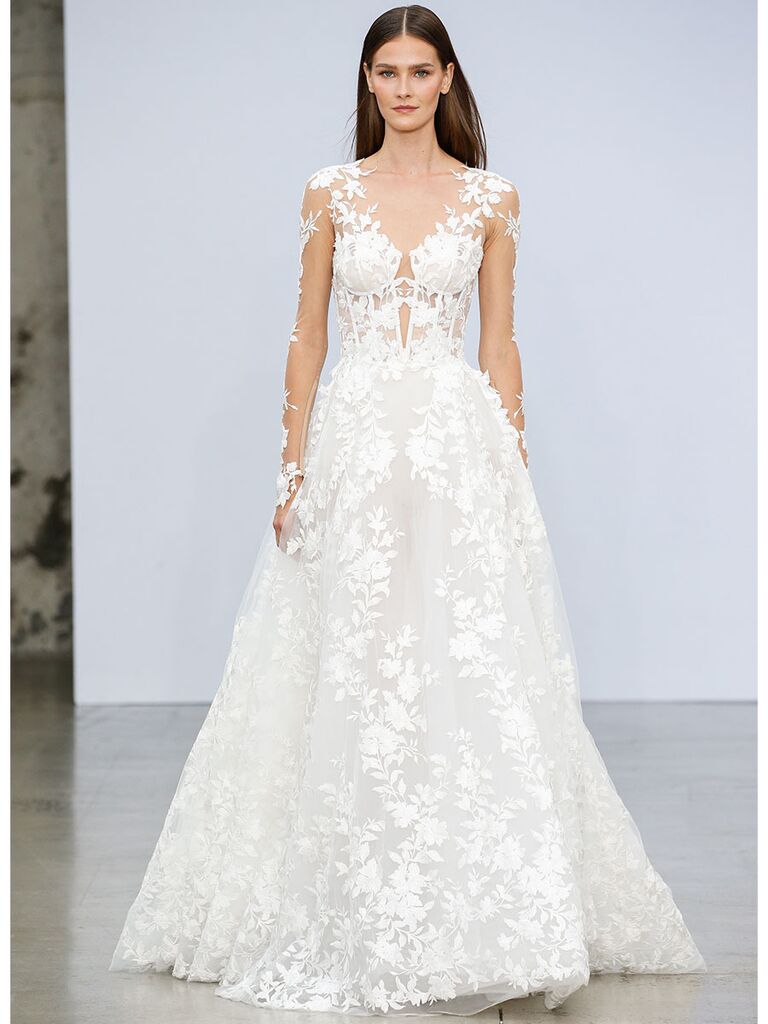 19. Dainty and Delicate
Style 4826; sheer lace a-line dress with chiffon skirt, interior bodysuit, and illusion off-the-shoulder long sleeves. The illusion sleeves are easily our favorite part.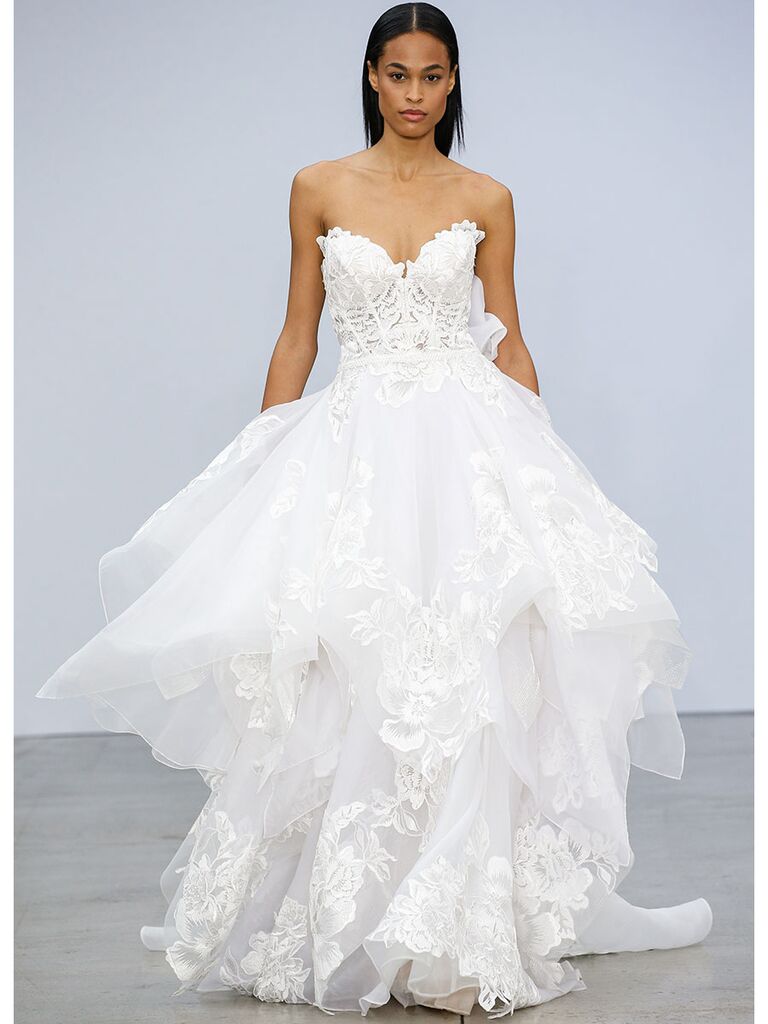 20. Fit and Flair
Style 4810; strapless dress with lace bodice and handkerchief skirt. Just imagine taking a twirl in this lovely dress.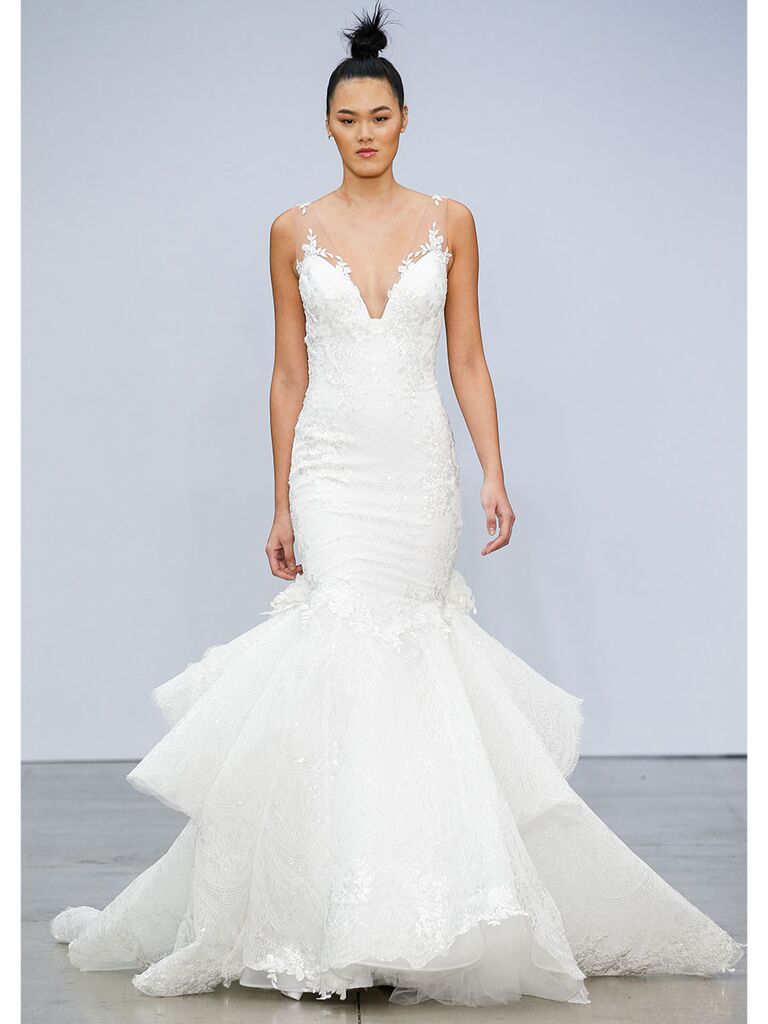 21. Show-Stopping Mermaid
Style 4792; sequined lace mermaid gown with deep-v neckline, floral applique, illusion straps, and plunging back. The bottom layers are divine on this Pnina Tornai dress.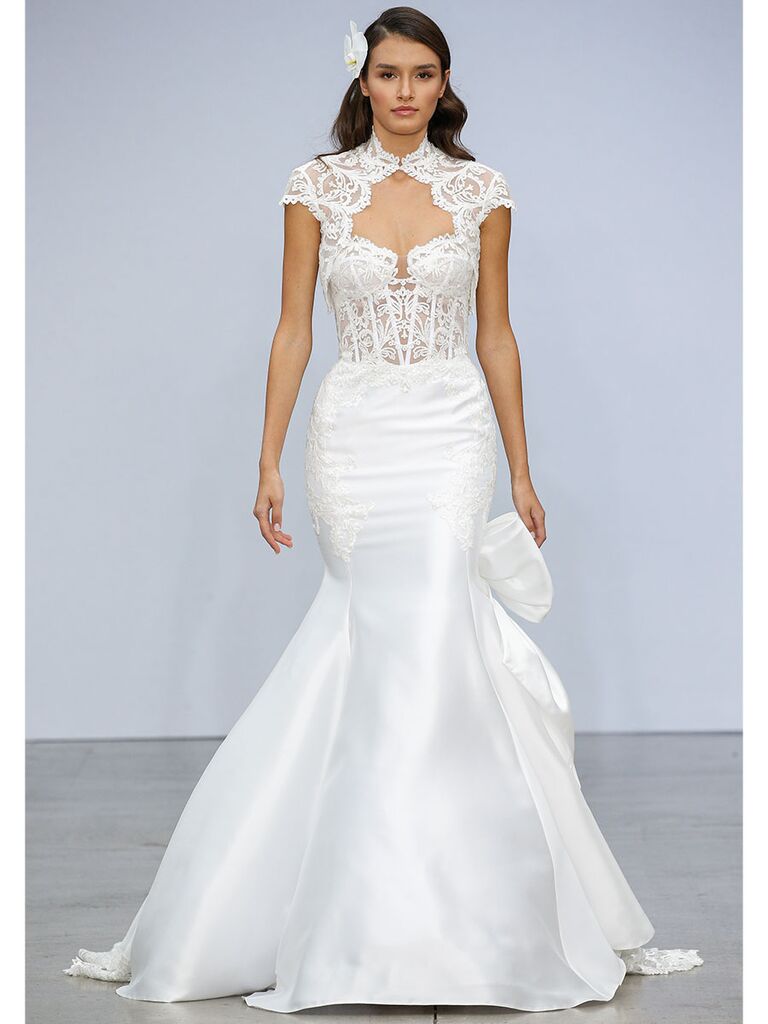 22. Traditional with a Twist
Style 4811; strapless satin mermaid gown with sheer sequin embroidered lace bodice and laced open back detail. The unique neckline is what makes this Pnina wedding dress shine.
23. Elegant Embroidery
Style 4802; satin crepe sheath with cowl neckline, plunging back and large floral appliques. This amazing number is a triple threat.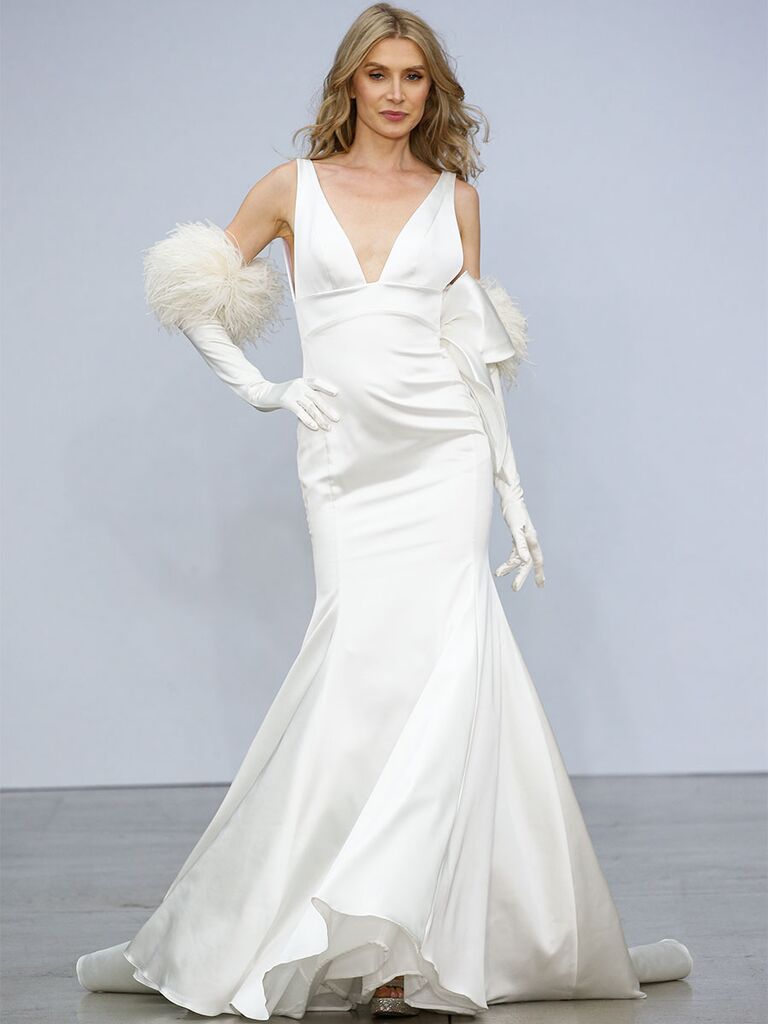 24. Darling Accessories
Style 4804; satin sheath gown with v-neckline, plunging asymmetrical back, and large satin bow. The feathery gloves only add to this fabulous Pnina wedding dress.
25. Simple, Yet Stunning
Style 4816; strapless satin ball gown with rounded neckline, large satin back bow, and crystal butterflies. There's something so lovely about a satin A-line number.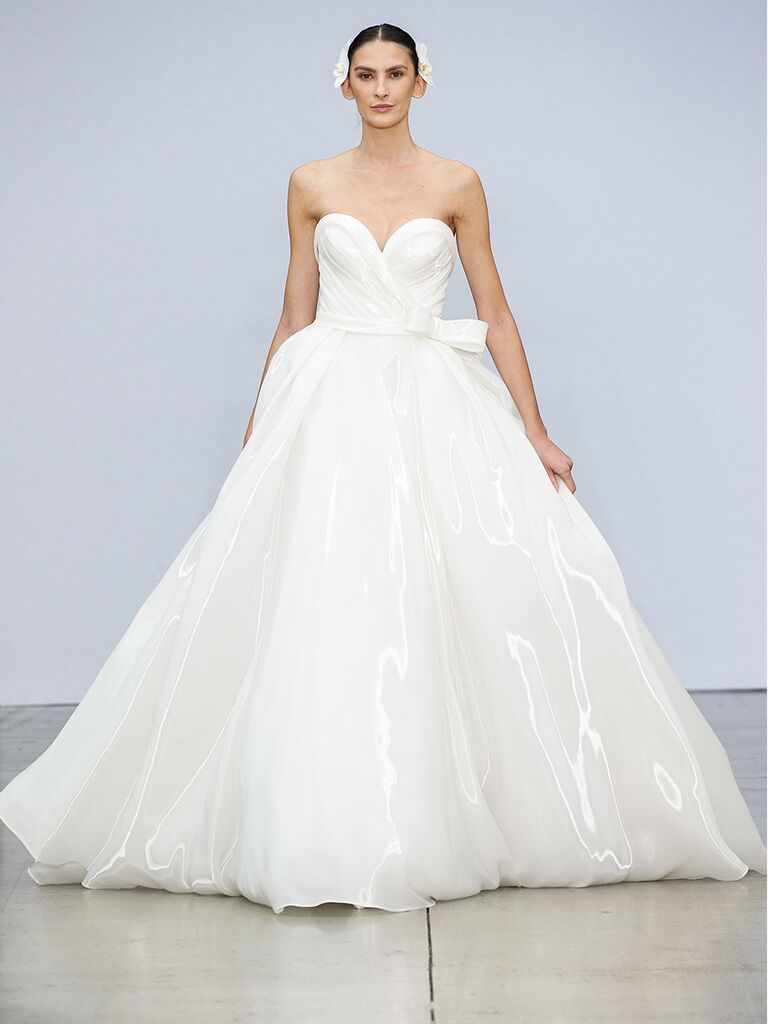 26. Sweetest Sweetheart
Style 4795; strapless, sweetheart neckline ball gown with draped bodice. There's nothing sweeter than a sweetheart ball gown.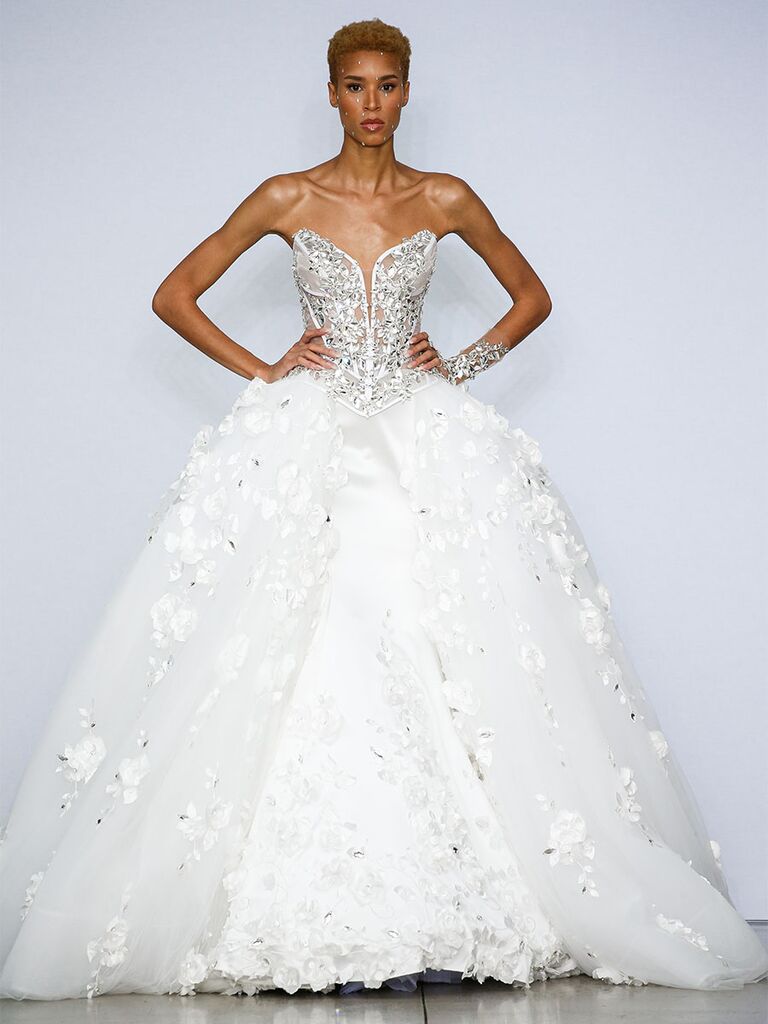 27. All in the Details
Style 4805; satin mermaid gown with crystal-covered strapless corset and detachable overskirt with 3D flowers. The dramatic corset is what really makes this a dress a stunner.
Pnina Tornai's General Style
A Pnina Tornai wedding gown transforms brides into a sophisticated princess with her signature corset design. In order to achieve the perfect look, she draws inspiration from the construction of ancient corsets and adds a modern touch. The final bridal creations mix clean lines and elaborate embellishments enhanced by her form-fitting bodice. With luxe fabrics imported from Europe, Pnina Tornai bridal gowns range from crystal encrusted ball gowns to sultry sheaths that take things to the next level.
Pnina Tornai History
Before becoming a top bridal designer for Kleinfeld and TLC reality TV star, Pnina Tornai was born in Israel. Although she started sketching from a young age, Tornai's original aspirations were to become an actress and she moved to Paris to enroll in acting school. From there, she met her husband and it was while designing her own gown for their Parisian wedding that Tornai first realized her passion. After giving birth to her son, the new family of three moved back to Israel and Tornai opened her first evening wear boutique. In 1992 Tornai transitioned to bridal gowns and more than a decade later, she brought her gowns to Kleinfeld where they wowed brides. She quickly became a top seller with her own boutique within the covered retailer.
Pnina Tornai draws inspiration from her Moroccan mother and Egyptian father as well as her personal travels. This enthusiasm for life and different cultures is reflected in the elaborate work within each Pnina Tornai gown. Dreams also play a major role in Pnina Tornai's 2020 collection designs while she strives to help each bride find their inner princess.
Pnina Tornai Collection History
According to Kleinfeld, many credit Tornai as the designer who created "the modern wedding dress." In an interview with Kleinfeld, Tornai said,"This style of dress came to me in a dream when I first realized that I was meant to design wedding gowns. I vividly saw dresses falling from the sky in my dream, and I saw the beautiful beadwork and the corset bodices and recognized that this was something special that nobody had done before." Since then, her style has continued to evolve with luxe materials and daring silhouettes that flatter a woman's body with an exquisite bodice.
Other Pnina Tornai Labels
In addition to her couture bridal gown line, Pnina Tornai now offers options for brides on a budget. Pnina Tornai's LOVE label is Kleinfeld's first diffusion collection that offers Pnina Tornai wedding dresses at a lower price point. "After getting so much love from my brides and brides-to-be around the world that wish they could be a Pnina Bride, I've decided to make their dream come true by creating a stunning affordable collection," Tornai said.
Pnina Tornai lovers can also be a Pnina bride from head-to-toe with her lines of shoes, accessories, and fragrances. She also creates equally stunning evening wear for special occasions beyond weddings.
Pnina Tornai Fun Facts
Although brides know her by Pnina, that's not her real name. Tornai's birth name is actually Pearl, which is Pnina in hebrew and quickly became her nickname. And before becoming renowned international designer that she is today, Tornai served in Israel's mandatory military service after high school. Fashion also isn't her only passion: she's a gourmet cook and loves gardening.
But the most surprising fun fact of all is that Kleinfeld originally rejected her designs, reportedly feeling that her gowns were too sexy.
Pnina Tornai Previous Wedding Dress Collections
Pnina Tornai Spring 2020 Collection
See every dress from Pnina Tornai's Spring 2020 line below.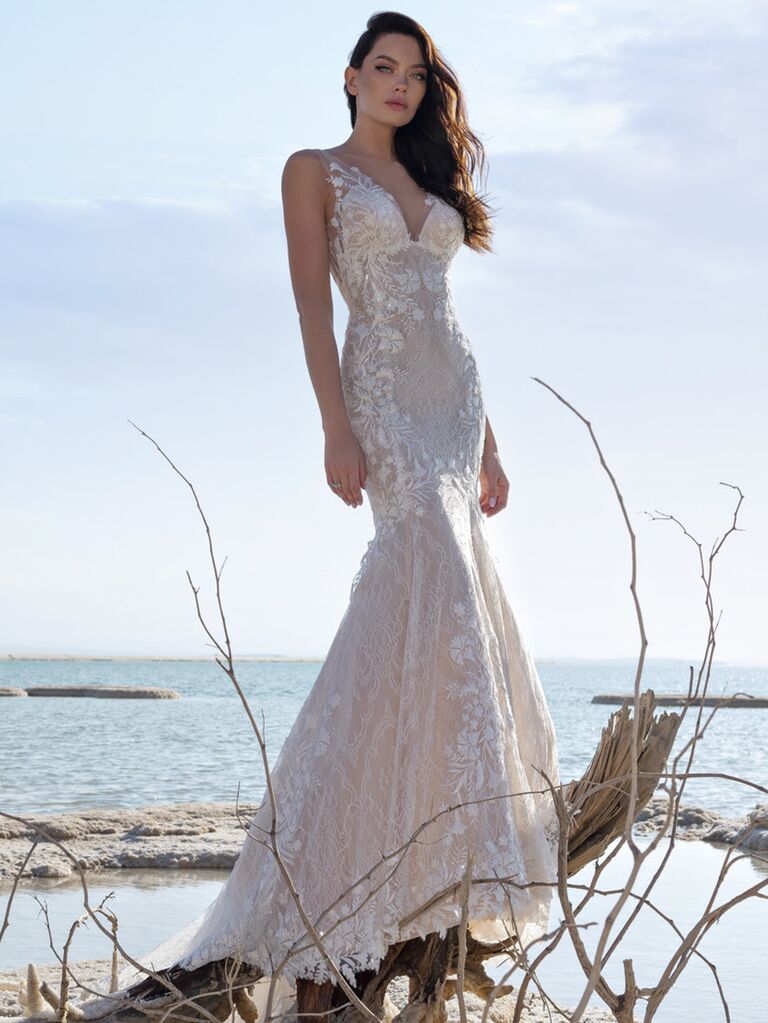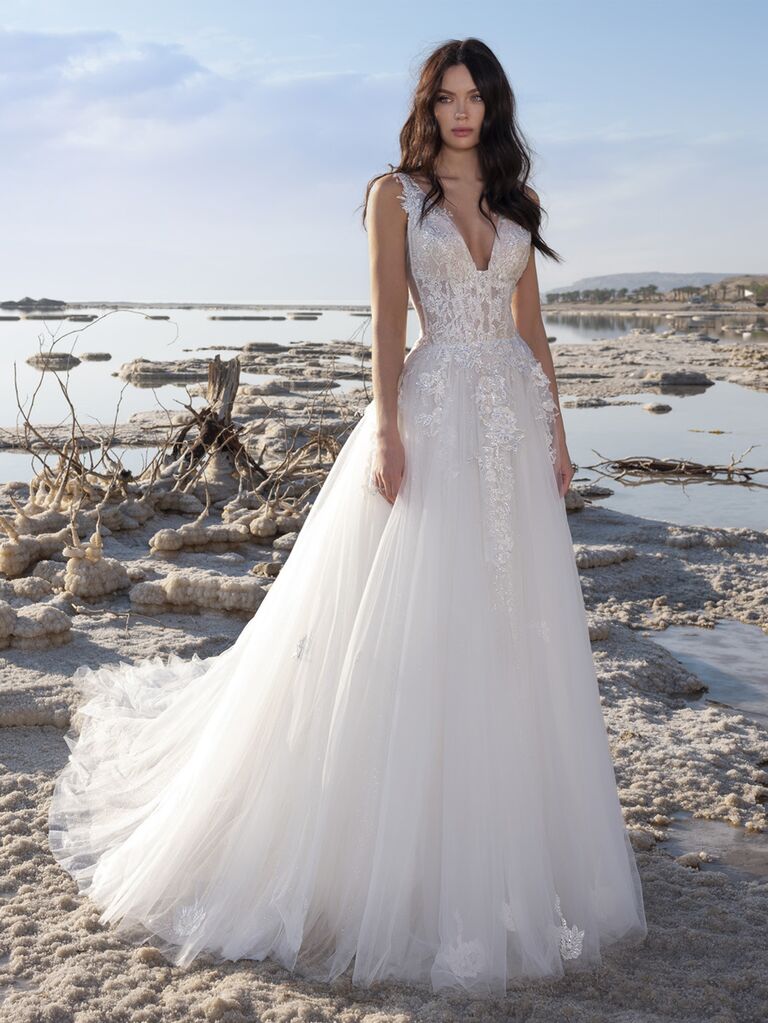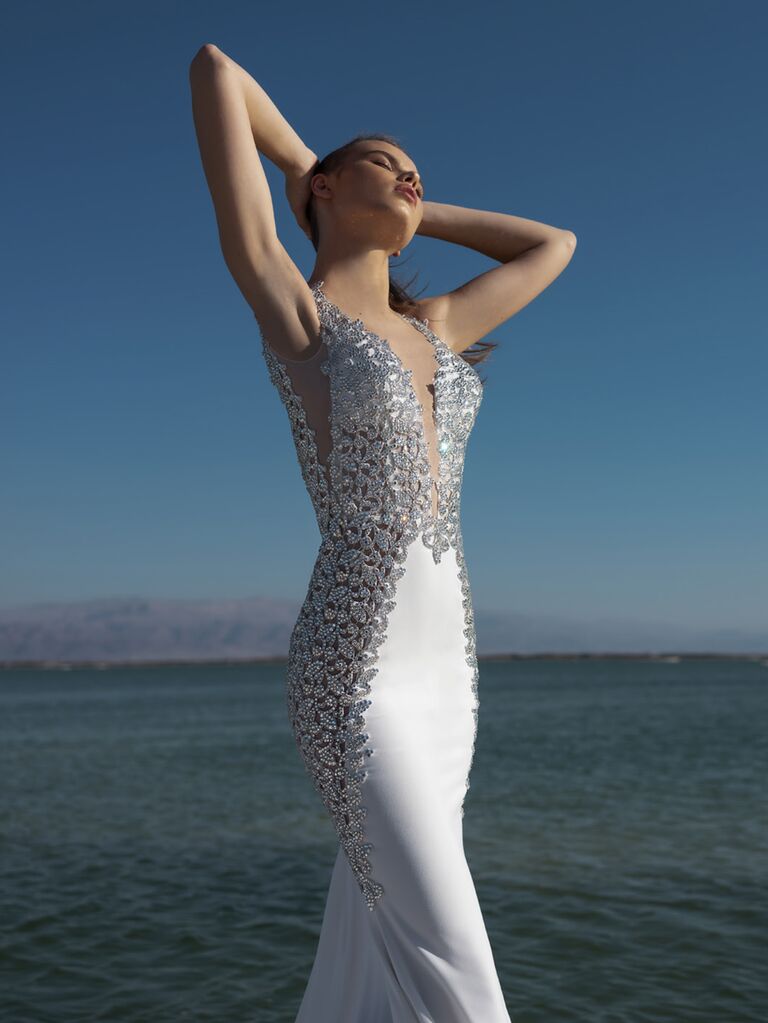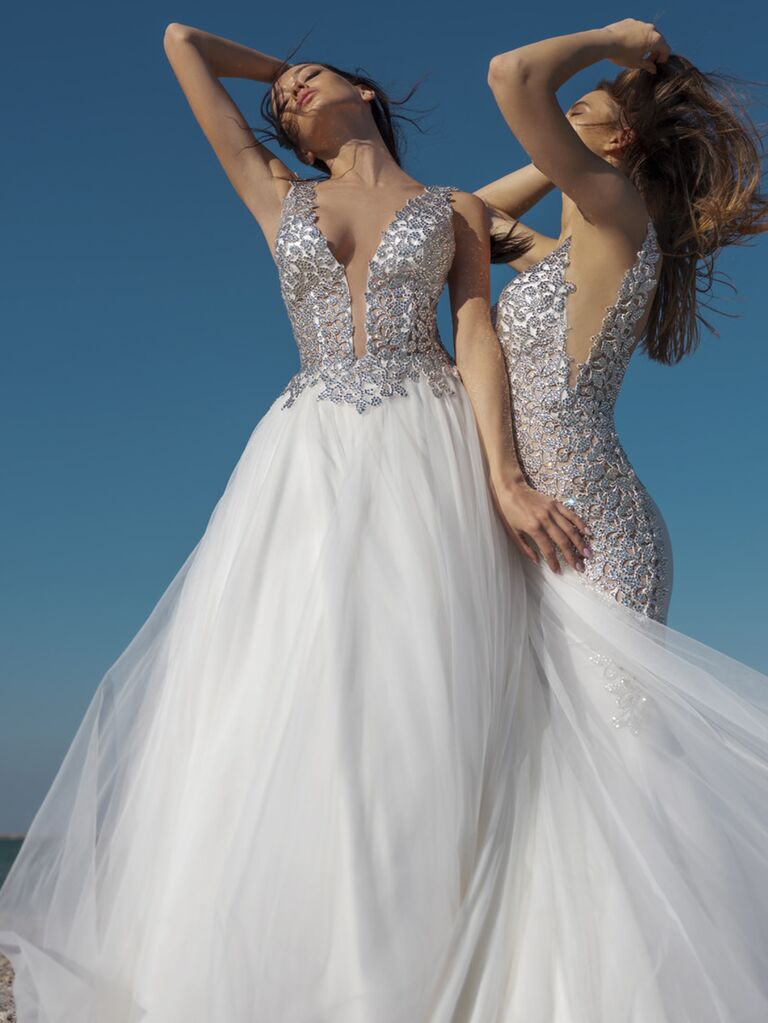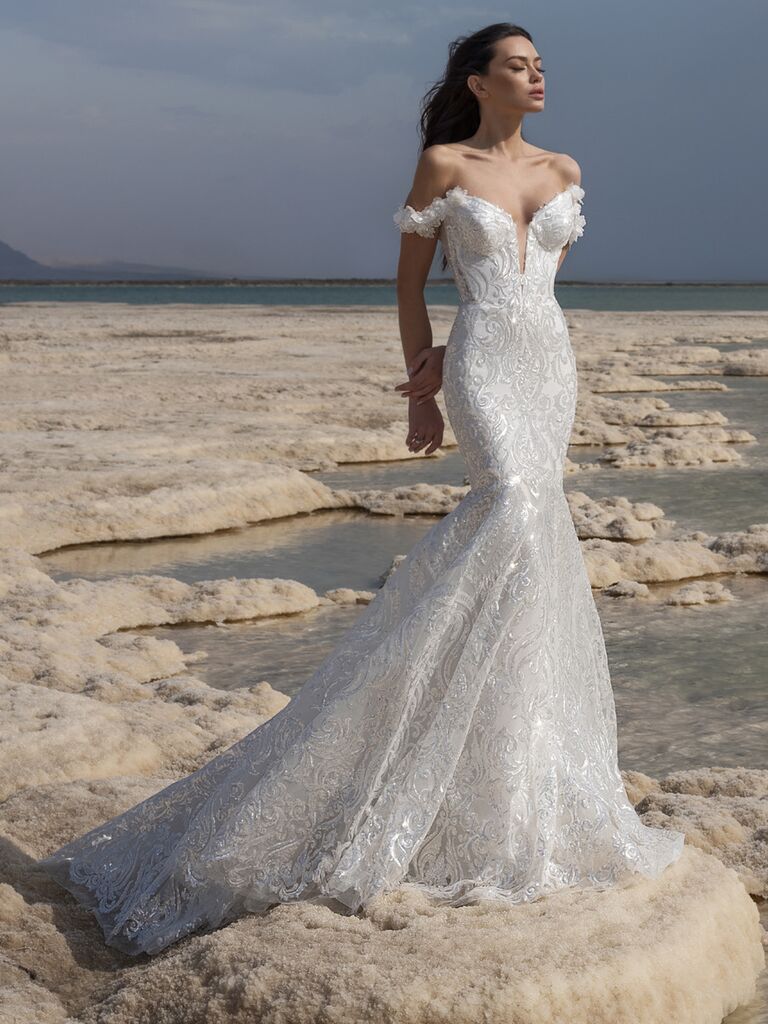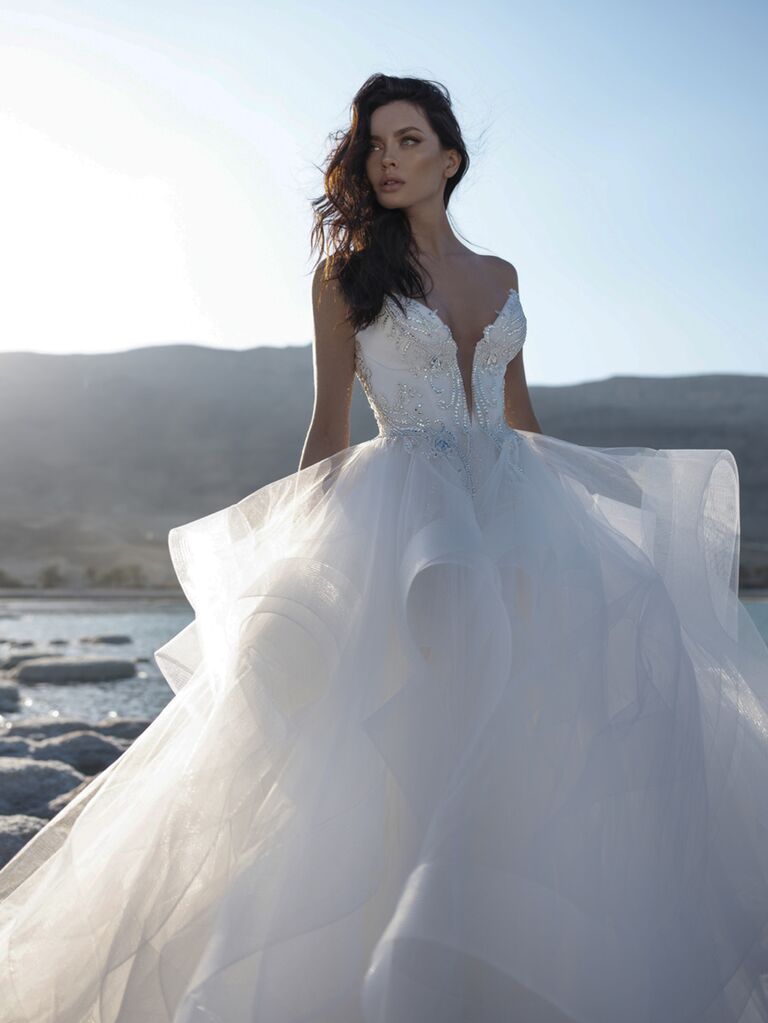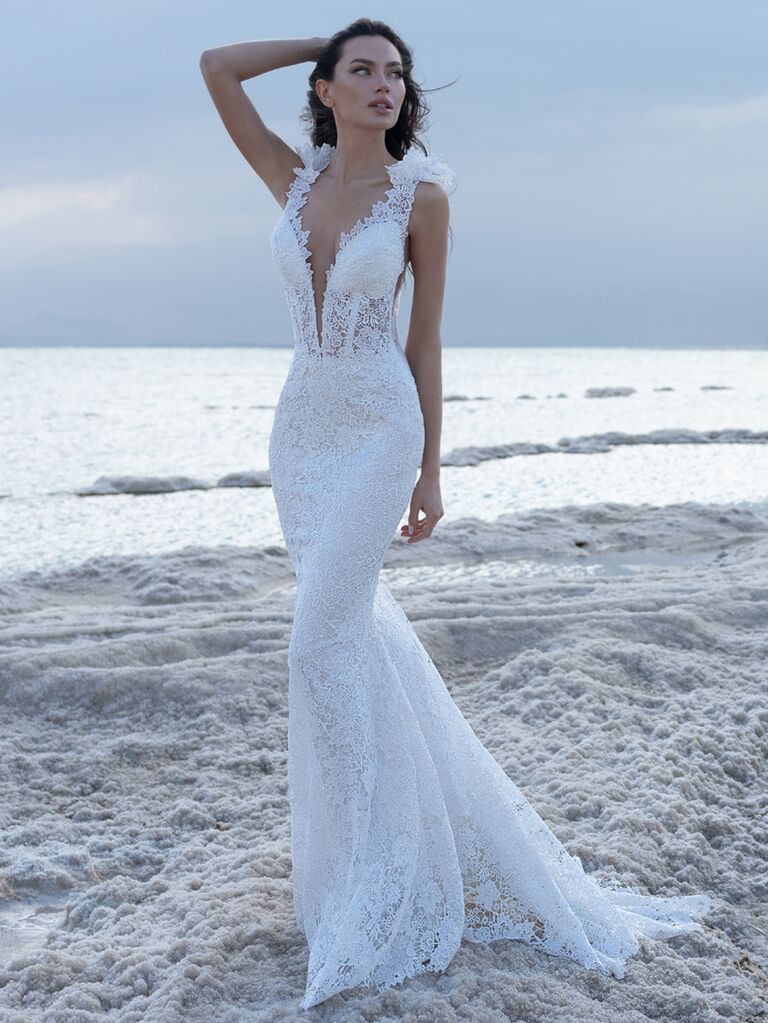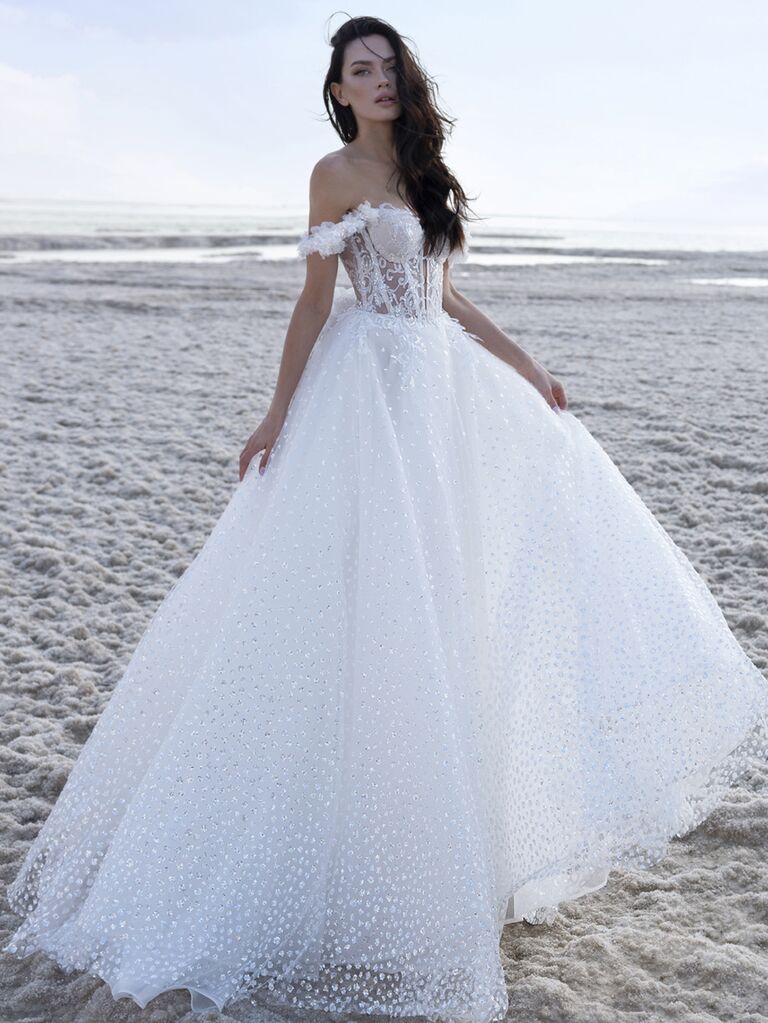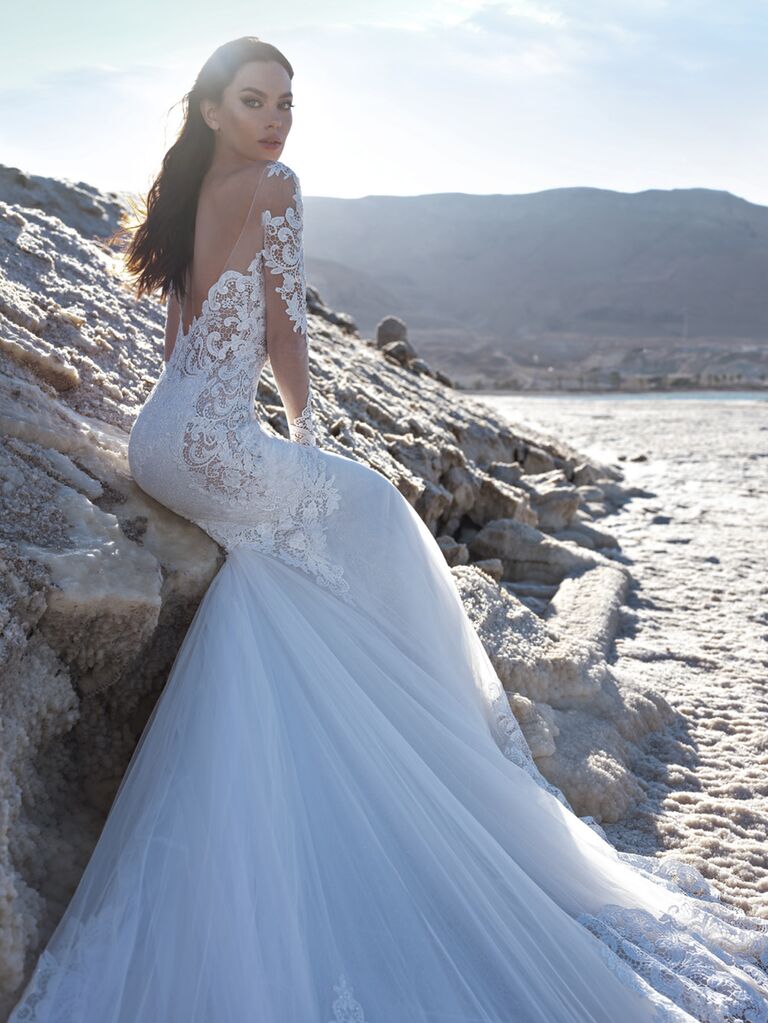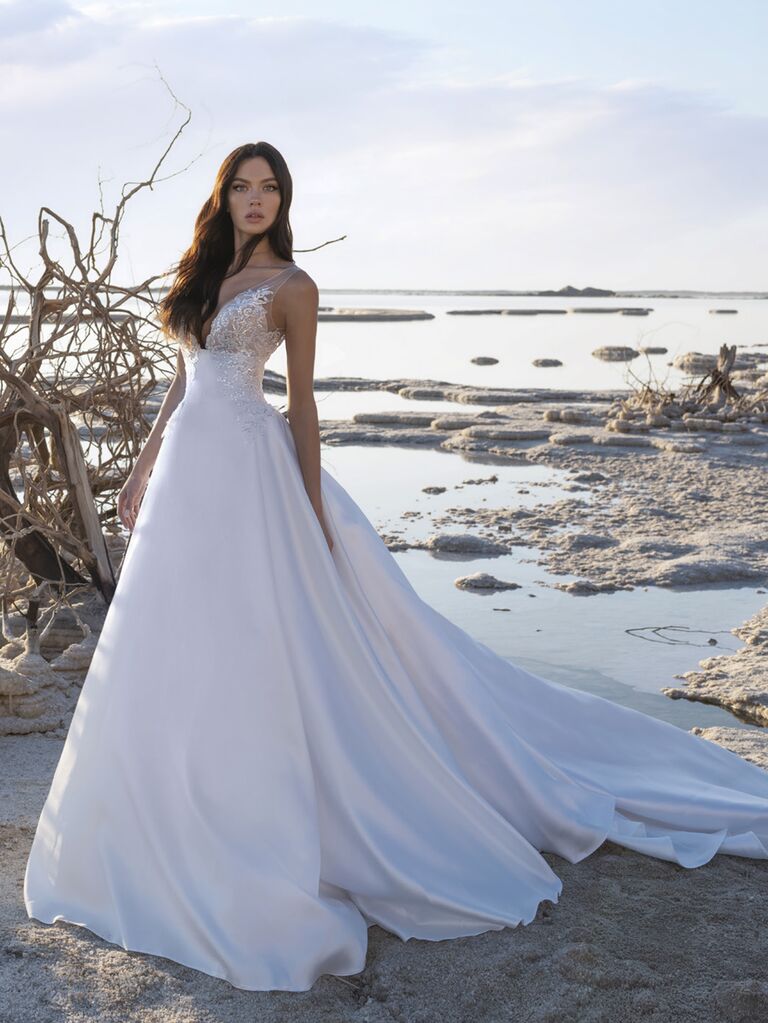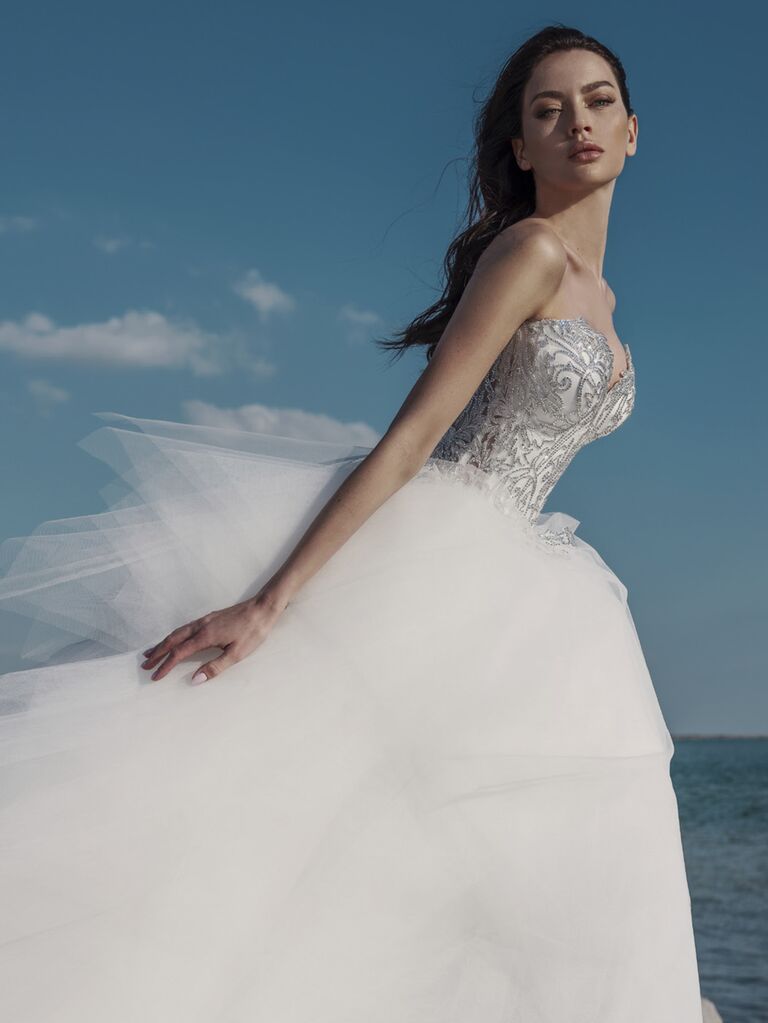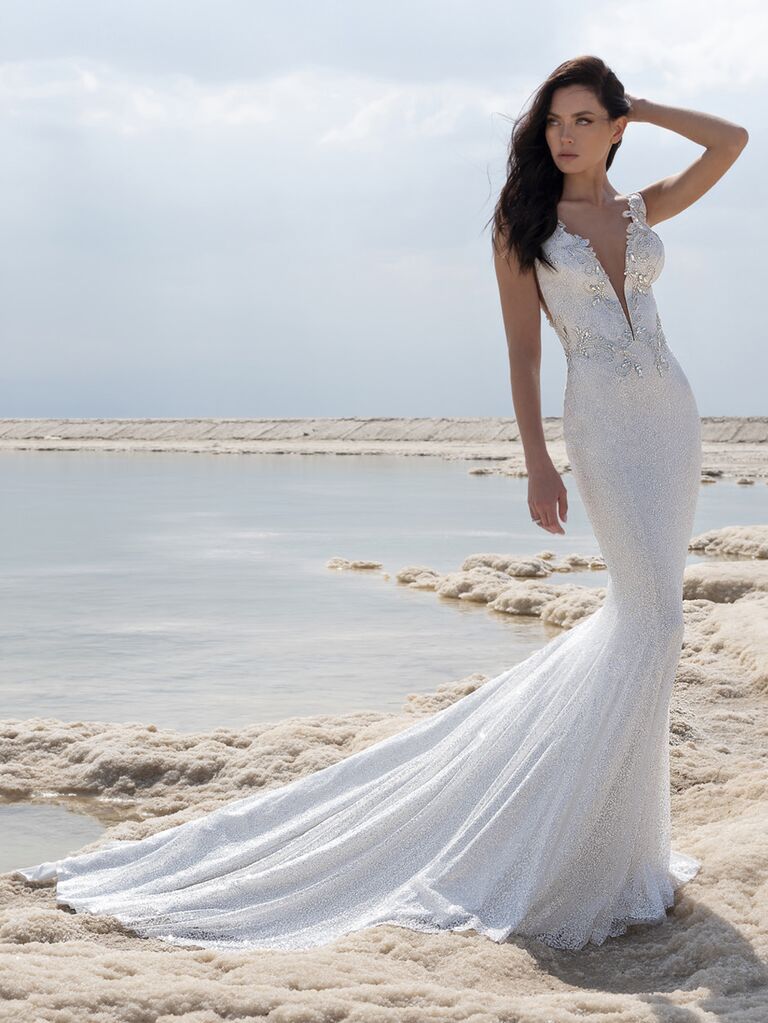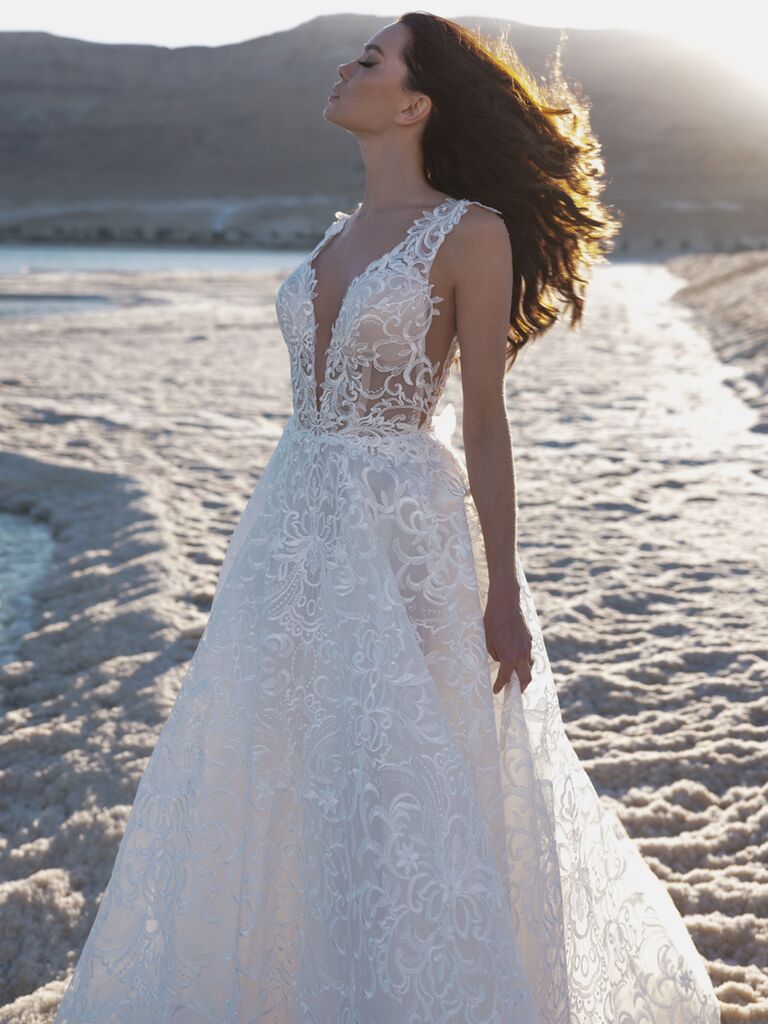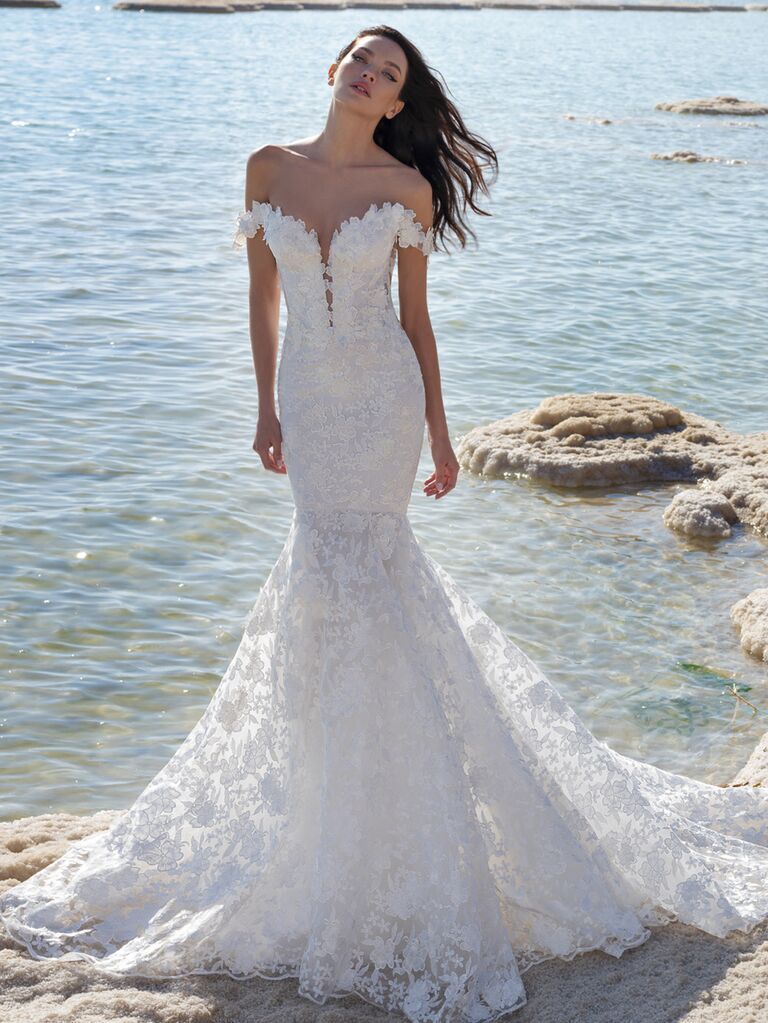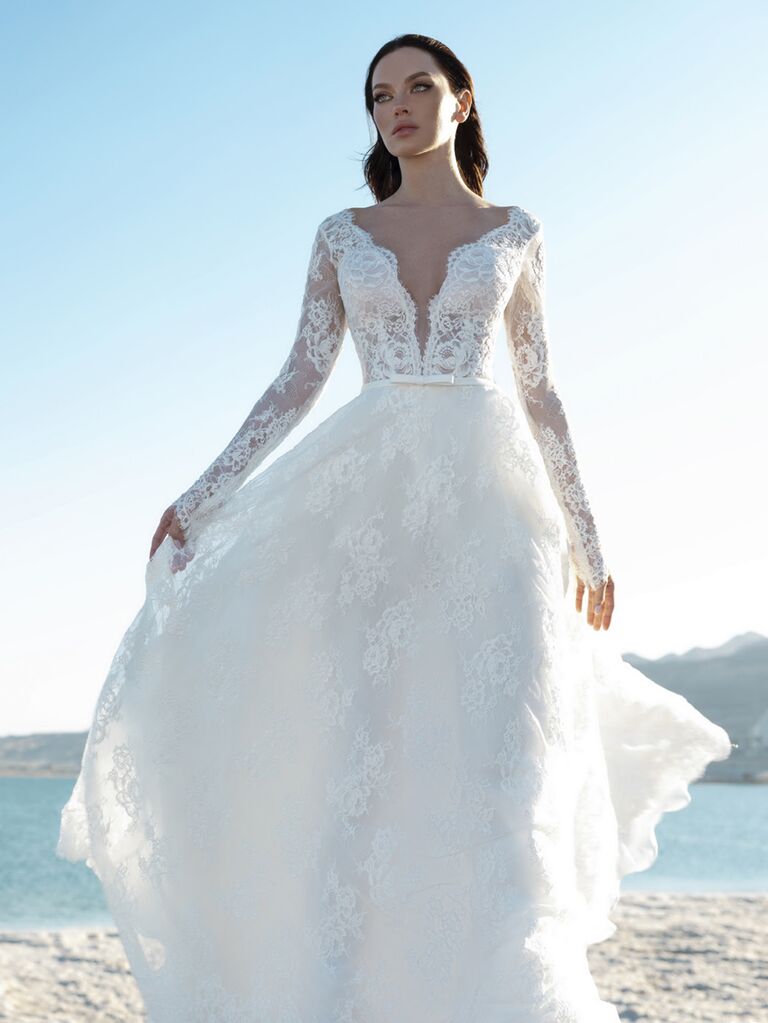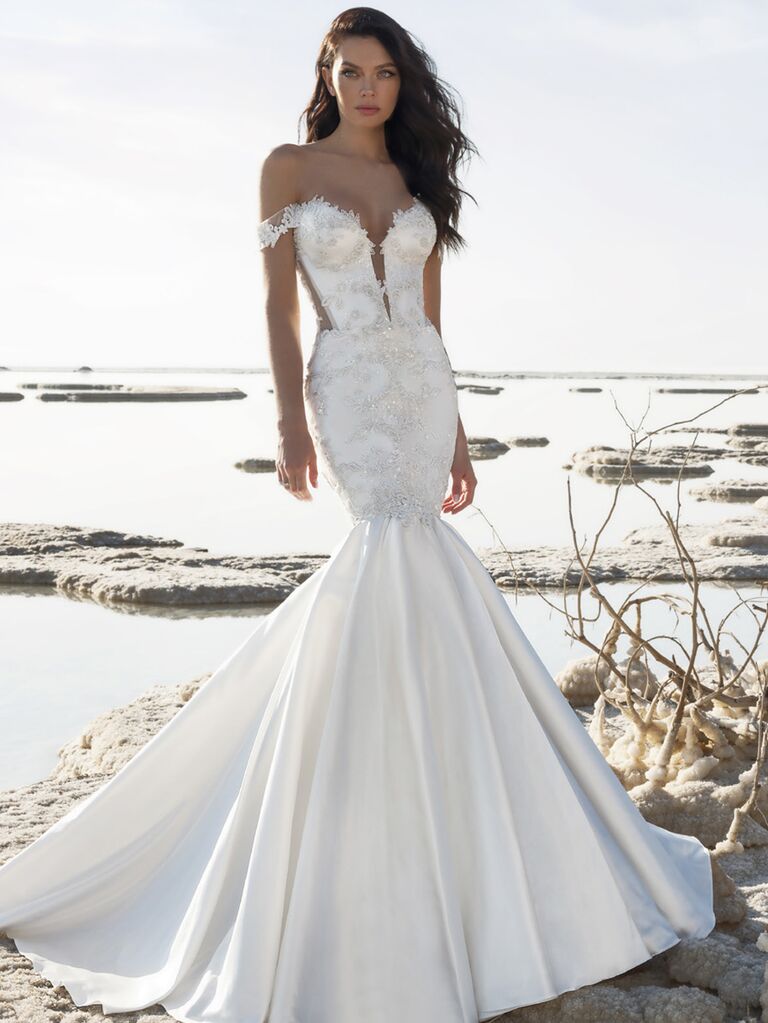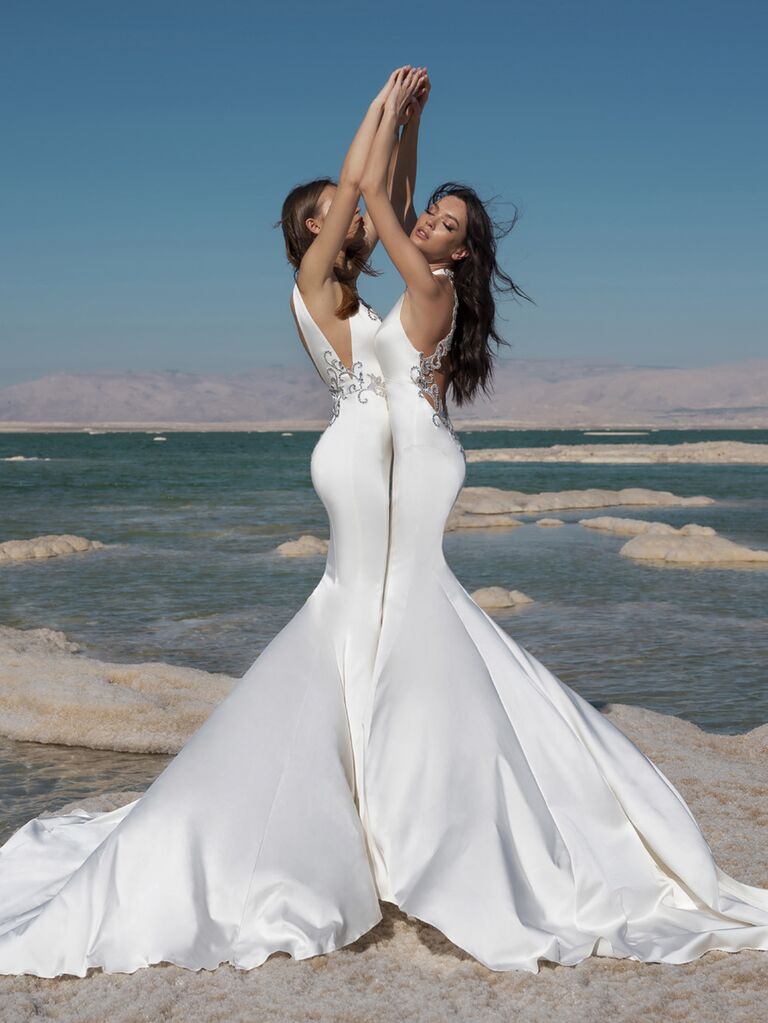 To check out all the Bridal Fashion Week galleries, plus wedding dress advice and more, go to TheKnot.com/bridal-fashion-week.