I'm Concerned About Variants and My Wedding. Now What?
Here's what to know about Omicron or any unwelcome variant while planning.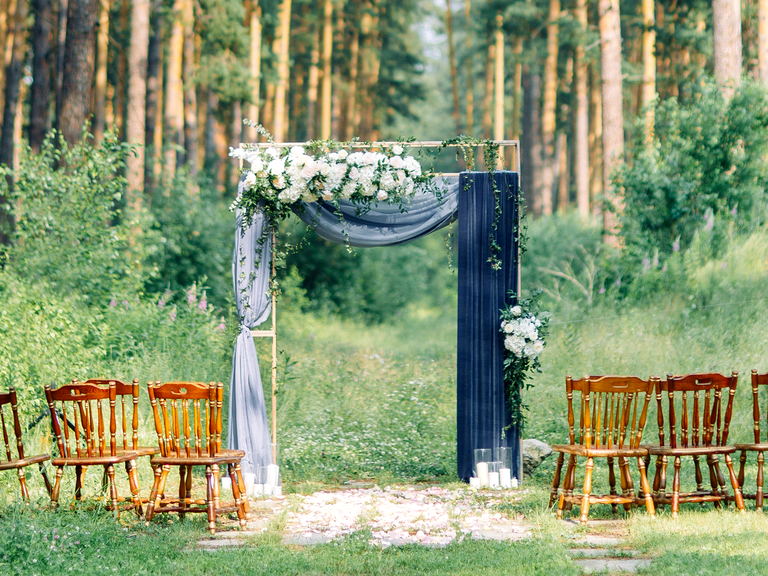 Pavel Vozmischev / Shutterstock
It's a big year for weddings. While 2022 is expected to be busier than ever, questions have been raised around an unexpected guest. The Omicron variant (a more transmissible version of COVID that entered the US during the holidays) caused a steep jump in cases this winter. It also followed the presence of the Delta variant, which caused rippling unease and mounting positivity rates nationwide in 2021.
While some have expressed concern around their upcoming weddings and how to proactively prepare for various outcomes, our data reflects that weddings are moving ahead completely. According to The Knot 2021 Real Weddings Study, the majority of couples scheduled to marry in 2022 are confident their nuptials will take place—98% of surveyed to-be-weds, in fact.
Still, some couples remain cautious as the country continues to work towards herd immunity. About 5% of respondents said they're significantly more concerned about Omicron's potential impact on their wedding. If that's you, we address some of your concerns and tell you what to do.
Check for Updates From Your County
As with group gathering guidelines and mask mandates throughout COVID, each county will provide instructions for how to address possible cases in your local region or where your wedding is held. We suggest checking the county website for more details and keeping in touch with your venue or planner, as they're both on top of ever-changing ordinances too.
Be Diligent In Tracking Vaccinations Among Guests
Couples marrying in 2022 have taken the added step of tracking vaccinations among their guests. According to the study, 30% of all couples are now requiring guests to be vaccinated, up from 17% in 2021. By doing so, both to-be-weds and pros are able to plan ceremony and reception layouts accordingly; In extreme instances, such diligence may save someone's life.
Track COVID Tests
Even if you're fully vaccinated, some couples and venues are now requiring all guests and vendors test negative for COVID before entering into a ceremony or reception. About 16% of all respondents reported they are requiring a negative COVID test to attend their wedding. With mass-produced rapid tests that are reliable and speedy with results, you may be able to still safely throw your wedding without concerns about the Omicron variant.
Communicate With Your Guests
Here to stay from COVID is the Wedding Website FAQ page, a one-stop resource for any wedding-related questions that couples can standardize for their loved ones. Evolving concerns about the virus prompted the rise of this section on a couple's website, and it continues to serve as a resource to those who may otherwise be texting you with a flurry of questions.
We highly encourage couples to still provide answers to guests' biggest concerns, especially possible inquiries about health and safety measures. About 83% of all 2022 couples are still implementing health and safety measures into their weddings. The FAQ page is also a place to house potential "wedding day rules" for guests. Prepare something with your pros that'll assuage and address guests' concerns.
Be Flexible
About half of all weddings from 2020 were postponed through 2022. It's the busiest wedding year ever and while many couples have dreamt then mourned, then dreamt again for this day to arrive, incremental changes might be required. This could include a slight difference in your ceremony setting or a bigger dance floor. Maybe it's time to once again bring out the wedding masks, a relic and take-home favor from 2020. Whatever the scenario, you'll do yourself a favor by being flexible and readying yourself for any pivots necessary. Omicron doesn't mean your wedding won't happen. Again, most couples reported they're confident in moving forward with the wedding this year.
Discuss a Backup Plan With Your Planner or Venue
If the Omicron variant or any variant is an alarming threat to your local community, it's very important you keep in touch with your wedding planner or your event coordinator at your venue. These pros will offer ways to mitigate risk (primarily, measures that helped couples and the wedding industry safely throw events since 2020).
Examples include moving an indoor ceremony outdoors for increased natural airflow and adjusting seating layouts at the reception to socially distanced arrangements. It could also involve consideration for requiring COVID testing or requesting vaccination status to keep the day as safe as possible. The party will go on regardless, especially when you're adequately prepared for any celebration to come.
Additional Postponement and Planning Tips
One significant consequence of the coronavirus pandemic was the mass postponement of millions of weddings. Some to-be-weds dealt with double-if-not-triple postponements, while many repositioned their weddings into minimonies, microweddings and more. "COVID will forever be a part of us and how we move forward with events," says wedding planner Michelle Norwood. "Know that if you're getting married with us, we're working relentlessly to ensure you have the wedding of your dreams. It will still be beautifully executed, while your guests and all vendors remain safe."
"I would still suggest being careful… especially if you can afford to invest in rapid COVID tests for guests and staff," says event planner Stefanie Cove. "I also think guests may still be concerned to fly or gather in large groups. Hosts should do everything they can to provide a safe environment. This includes making hand sanitizer available, adding extra space between tables, and choosing a venue that is spacious with fresh airflow."
"Stay in constant conversations with your wedding team, invited family and friends," says Ashley Mason of Saunter Weddings. "The best way to do that is by updating your wedding website and direct communication if needed. Remember: we are all in the same boat, especially your vendors."