Prettiest Thing in Our Office This Week: A Charming Invitation Suite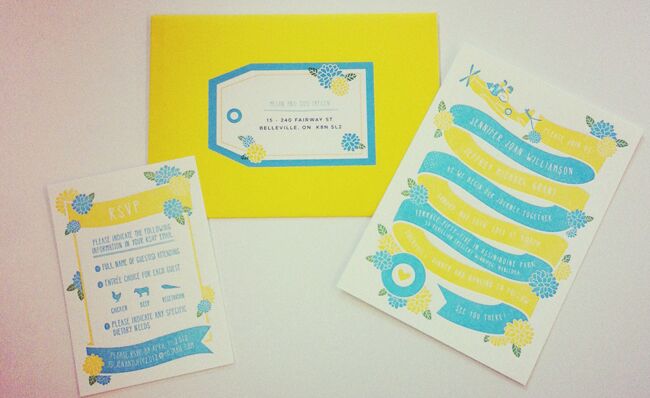 Gorgeous fashion accessories, flower arrangements, wedding cakes and stationery cross our desks every day here in our New York City office. In "Prettiest Thing in Our Office This Week," we'll take you behind the scenes and show you our favorite item each Friday.
And the "Prettiest Thing" goes to…this whimsical yellow and blue, letterpress invitation suite by One Plus One. There are too many fun details to count — just to name a few, we love the chicken, beef and vegetarian icons on the RSVP card, the luggage tag address label on the envelope, and the incredibly cute illustration of the couple in an airplane on the invitation card itself. These would be the perfect preview to a cheerful garden wedding — I can already picture myself sipping lemonade under an umbrella at the cocktail hour.
> See 150+ other pretty invitations
> 7 hottest invitation trends for 2012