27 Pretty Ways to Wrap Your Bouquet
Put the finishing touch on your wedding flowers with one of these stunning bouquet wrap ideas.
Once you've chosen your wedding flowers, you'll need to start thinking about how to wrap your flower bouquet to keep the stems tidy and comfortable to hold. Your wedding bouquet wrap is an integral part of your bridal bouquet design—a piece of wedding bouquet ribbon, fabric, twine or lace along with other details adds that essential finishing touch.
Your bouquet wrap can be sentimental (like integrating your grandmother's handkerchief), a fun way to drive home your wedding colors and wedding theme, or even just a pretty way to dress up your bouquet. Take inspiration from some of our favorite bouquet wrap ideas and talk to your florist about the best option for your bouquet shape and bridal ensemble.
1. Oversized Satin Bow Bouquet Wrap
For a luxurious look and an additional detail at the base of the flowers, use extra-wide silky ribbon to make a big bow with wide tails.
2. Extra Long Wedding Bouquet Ribbon
If you have a large bouquet and a long sleek skirt on your wedding dress, ask your florist to use extra-long wedding bouquet ribbon to have an additional flowy detail as part of your bridal ensemble.
3. Two Widths of Bouquet Ribbon
While we're on the topic of ribbon dimensions, here's an interesting idea. Use two different widths and colors of ribbon to create contrast and add interest to your bouquet wrap.
4. Velvet Bouquet Ribbon
When we think about wedding bouquet ribbon, we typically think of satin. However, lengths of velvet ribbon add texture to a bouquet—rich hues are perfect for a fall or winter wedding and pastel tones look gorgeous for spring and summer.
5. Sheer Bouquet Ribbon
On the other end of the spectrum is a sheer wedding bouquet ribbon for a soft flowy look. Also stunning!
6. Two Wedding Bouquet Ribbon Fabrics
Can't decide on one type of ribbon? Use two different materials to wrap your wedding bouquet for a beautiful effect. For example, the soft texture of velvet ribbon complements the smoother feel of silk or satin.
7. Wedding Party Bouquet Wraps
Another thing to consider when choosing your wedding bouquet ribbon is what you'll use to wrap your bridesmaid bouquets. We love this combination with the maids' bouquets tied with ribbon in the same hue as their dresses and the bride's bouquet tied in a complementary and striking deep red.
8. Rainbow of Ribbons
For a same-sex wedding, here's a colorful rainbow-theme idea. The groom carried a bouquet wrapped in a long length of ivory fabric. The wedding party carried bouquets designed with a rainbow spectrum of ribbon colors—one shade for each bouquet.
9. Pearl Bouquet Wrap
For a vintage vibe, wrap some strings of pearls around your bouquet wrap along with creating a pearl detail with the pins that hold the wrap in place.
11. Decorative Brooch
A decorative brooch (perhaps 'something borrowed') adds an interesting element to your wedding bouquet wrap.
12. Bouquet Wrap with Contrasting Pins
Your florist will need to use pins to keep your bouquet wrap in place. Choose a contrasting color to the fabric to create a button-style detail.
13. Fabric Bouquet Wrap Design
A graphic fabric pattern and a poof of fabric at the base of the flowers add a dramatic design element to a peony bouquet.
14. Feathery Fern Embellishment
Here's another interesting embellishment to introduce into your bouquet design. A fringe of faux fern or feathers in a distinctive color cradles the flowers.
15. Ombre Bouquet Wrap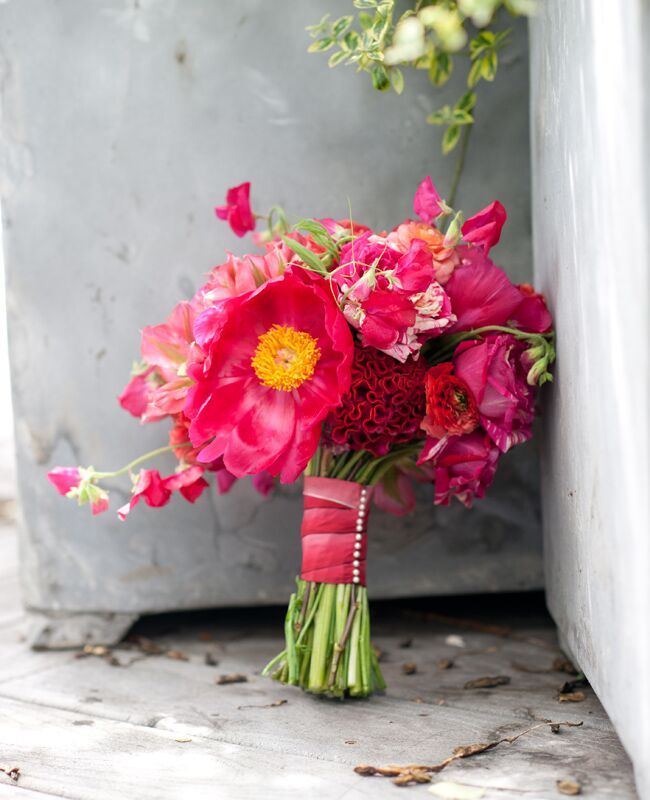 If you're using wedding flowers in shades of the same color, an ombre bouquet wrap emphasizes this floral design.
16. Braided Ribbon Bridal Bouquet Handle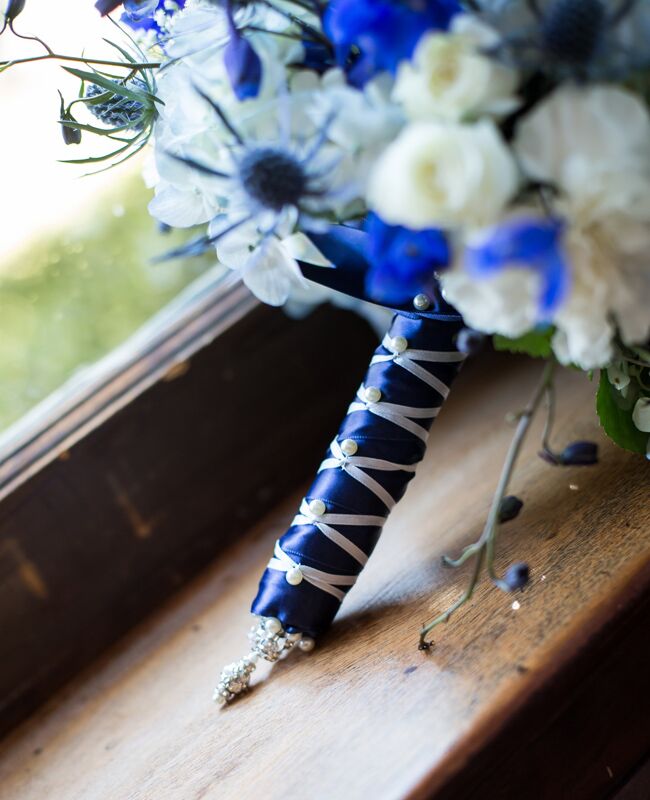 If you like the look of a more classic bridal bouquet handle, take inspiration from this braided design with a jewel accent on the end.
17. Bridal Lace Bouquet Wrap
Another classic idea is to use a piece of bridal lace for your wedding bouquet wrap. Choose lace that matches your dress or veil (Tip: ask your bridal salon or seamstress to give you a piece). Or, if you're going for a gown without lace, this could be a nice lacy detail to add to your ensemble.
18. Embossed Leather Bridal Bouquet Handle
Prefer leather to lace? How about embossing your monogram onto a piece of leather for a one-of-a-kind bridal bouquet handle—perfect for a ranch wedding. Coordinate the design with a pair of cowboy boots and you've got a unique and stylish ensemble.
19. Embroidered Monogram Bouquet Wrap
For a sweet and sentimental touch (and your 'something old'), use the monogram detail from your grandmother's handkerchief to decorate your stems.
20. Photos of Loved Ones
A tried and true way to honor loved ones that have passed away is to integrate their photos into your bouquet wrap so they are with you in memory as you walk down the aisle.
21. Family Heirloom Accent
Another way to honor someone near and dear to your heart is to attach one of their personal items. In this instance, the bride added her late father's watch to have him by her side.
22. Macrame Bouquet Holder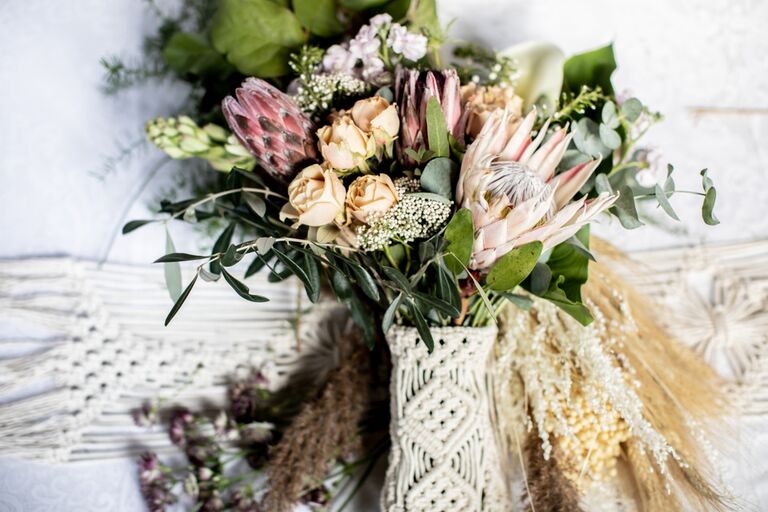 Planning a bohemian wedding? Include a macrame bouquet holder as part of your bouquet design for a boho-chic bridal ensemble.
23. Full-Length Wedding Bouquet Wrap
Usually, the lower part of the flower stems are left unwrapped so you can put your bouquet in a vase of water to keep it fresh. If you're using artificial flowers, or dried flowers, or you simply like the look of completely covered stems, ask your florist whether this will work with your flower selection and bouquet design.
24. Metallic Bouquet Wrap
Add some shimmer to your bouquet with a shiny metallic bouquet wrap.
25. Lace and Locket Bouquet Wrap
A band of lace with an embellishment like a locket with a secret photo or message inside, adds a personal touch to your bouquet.
26. Lace Ribbon and Key
An old-fashioned key is also a sweet detail to add to your bouquet wrap.
27. Gingham Bouquet Wrap
Here's an easy DIY bouquet wrap that's perfect for a casual backyard wedding or garden wedding. Wrap a handpicked bouquet of flowers with a length of gingham fabric for a simple yet charming look.