Ready for the World Cup? This Groom Sure Is! (Watch)
by Ivy Jacobson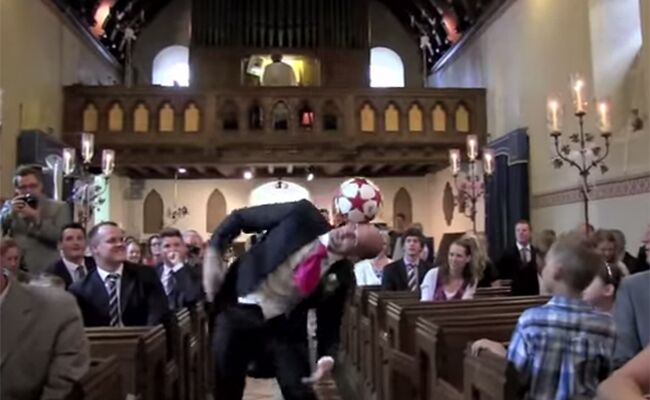 The World Cup tends to bring out the soccer madness in everyone, especially Daniel Cutting. To say that Daniel (a professional freestyle footballer and five-time Guinness World Record holder) is skilled in doing cool tricks with a soccer ball is an understatement.
He decided to take his entertainment factor to the next level and try out some juggling while walking down the aisle on his wedding day.
Daniel wed his wife, Kelly, in East Cowes on the Isle of Wight (the largest island in England) where guests got to see more than they bargained for at the ceremony.
"Most people were surprised by me freestyling down the aisle," Daniel told Sorted. "Judging by a few of the reactions in the video I think some people were a little confused by it too! Only two or three people knew I was going to do it, including Kelly, and it was quite a last minute decision! We both wanted to make the wedding unique and special in our own way and having personal touches like this one made the day even more memorable! The day was amazing, and everything went perfectly."
Watch the video here:
Want more? Right here!
> Bill Murray gave this bachelor party some awesome advice
> 7 awesome groomsmen gift ideas