Melissa and Sky's Real Registry
by Jayme Klock
Melissa and Sky had one goal when creating their registry: load up on the basics. "Everything we had was a hodgepodge of mismatched items. We needed to start from the beginning!" Melissa says.
The Couple: Melissa and Sky Sims
The Wedding: April 28 in Bridgewater, NJ
Where They Registered: Kohl's
Melissa & Sky's Top Registry Picks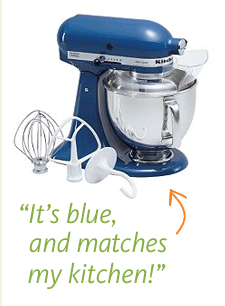 1. KitchenAid Mixer -- The fact that the mixer is available in a wide array of colors makes it both a valuable cook's tool and a complement to pretty much any decor. "The blue matches my kitchen!" Melissa says.
2. Waring Pro Juicer -- "It's fun to make up new juicing combinations!"
3. Wine Enthusiast Wine Glasses -- "Everyone needs these for entertaining," Melissa says. The glasses come in different sizes and styles, depending on the type of wine being served.
4. Cuisinart Pro Classic Food Processor -- "This makes cooking so much easier."
5. Fiestaware -- These standard place settings also come with fun serveware, like chip and dip platters and water pitchers. "We didn't stick with one color -- we got a variety so it feels really festive even when it's just the two of us."
6. Picture Frames -- "We had tons of photos we knew we'd want to frame from the wedding." Melissa's favorite is one that frames childhood photos alongside her and Sky's wedding photo.
Gift They Wish They'd Registered For
Melissa and Sky say a grill is one item they should've added to their wish list. "We have a really old grill from the early '90s," Melissa says. "It's scary to light! We have tons of people over in the summer and we always barbecue. Everyone is in agreement that we need a new one."