Diana and Eric's Real Registry
by Jayme Klock
Diana and Eric's wedding registry is all about starting anew. Since they've lived together for two years, they've acquired all the standard hand-me-down items from family and friends. "I thought this would be a great opportunity to return the favor, donate the items to my cousins, and register for a fresh start," Diana says. "We're focusing on loading up on the basics."
The Couple: Diana DeCicco and Eric Melton
Their Wedding: July 3 in Downers Grove, IL
Where They Registered: Kohl's
Diana and Eric's Top Registry Wishes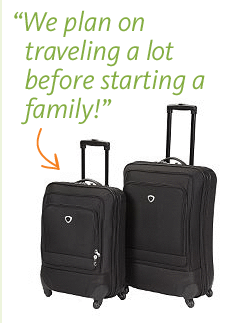 1. George Foreman 360 Grill -- "Eric loves it because it's easy to use, easy to clean, and capable of cooking a variety of his favorite foods," Diana says.
2. International Traveler Ion Wheeled Upright -- "We plan on traveling a lot before starting a family!"
3. Hamilton Beach Convection and Rotisserie Oven -- "Another favorite of Eric's, perfect for making a quick, hot sandwich on the go before heading to grad school!"
4. Forum Accents Stainless Steel Ice Bucket -- "We have the martini glasses and the shaker; we're just missing the ice!"
5. Eureka Capture Bagless Upright Vacuum -- "It's bagless and very eco-friendly!"
6. Rowenta Advancer Iron -- "This iron is advanced, efficient, and sure to last. It also has an auto shut-off feature (that comes in awfully handy when we're too busy planning weddings to think about anything else!)."
7. Chaps Claremont Solid White Towels -- These are extra-thick and super-soft. "White towels go with just about everything!"
8. Luigi Bormioli 4-in-1 Cake Plate -- A footed cake plate, a dome-covered plate, a divided serving tray, and a punch bowl all in one! "I like the versatility of this elegant-looking plate," Diana says.
9. Margaritaville 32-oz. Frozen Concoction Margarita Maker -- "It's great for entertaining and relaxing on a warm summer day!"
10. Gift Cards -- As opposed to cash, gift cards help you stay focused on buying the things you really need. "We'll use these toward items missed on our registry."