Jeannette & Dan's Real Registry
by the knot
Jeannette and Dan's wedding registry was all about picking practical items to use for one of their biggest passions: entertaining. "Our registry reflects our lifestyle and our love of having friends and family come over," Jeannette says. "We wanted our registry to feel like it belonged to us rather than a checklist of things that we were 'supposed' to have." The couple was also especially sensitive to their guests' budgets and selected registry items in a wide range of prices.
The Couple: Jeannette La-Thompsen and Dan Thompsen
Their Wedding: March 28 in Bellevue, WA
Where They Registered: Crate and Barrel
Jeannette & Dan's Top Registry Picks







1. Vino Wineglasses and Carafe -- "Dan and I love to collect and drink wine, and we thought that these glasses were so fun because they were little tumblers," Jeannette says. "Also, they reminded us of ones that we drank out of at a restaurant in Madrid."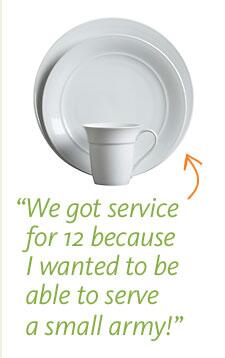 2. Entree Dinnerware -- "We knew that we wanted to get white, classic, everyday dishes along with fun linens to dress up the table," Jeannette says. "We got service for 12 because I wanted to be able to serve a small army!"
3. Strand Flatware -- "This flatware is balanced perfectly and fits in your hand so well," Jeannette says. "It's heavy (but not too heavy), with a basic and classic pattern."
4. Galerie Spirits Cabinet -- "I was amazed at how much this cabinet can hold," Jeannette says, "and it matches our dining room perfectly."
5. Cuisinart SmartPower Premier Stainless Blender -- "This blender is great at crushing ice and making margaritas, even milkshakes," Jeannette says. "It's going to come in so handy this summer for our backyard barbecues."
6. Krups Pump Espresso Maker --
"Not to sound cliche, but we're from Seattle," Jeannette says. "We drink coffee...a lot of coffee. And, really, drip coffee doesn't always cut it."
7. iRobot Roomba 560 Vacuum Robot -- "I can't even begin to say how much I love this," Jeannette says. "It's freed up a lot of time for us, and we don't have to flip a coin to see whose turn it is to vacuum because it's always Roomba's turn!"
8. simplehuman 13-gal. Stainless Steel 2-Bin Recycler -- "I love that the recycling and the garbage can live together harmoniously in one pretty container," Jeannette says. "There's also a latch that holds up the lid so I can peel potatoes straight into the can, and the lid has a soft closing mechanism so it doesn't slam."
9. Kenmore 4-Burner Gas Grill With Side Burner -- "I really like the side burner because I can boil the brawts in beer and then immediately throw them on the grill," Jeannette says. "It's also great because it has a built-in timer and bottle opener -- two things we always seem to forget to bring down to the patio."
10. American Tourister Luggage -- "Our old luggage had been on one too many trips and was starting to get worn out, so we each got a 21" carry-on for short weekend trips and the 29" check-in bag for our long vacations."