Lauren and Cameron's Real Registry
by Justine Lorelle Blanchard
Lauren and Cameron used their wedding registry to stock up on potential heirlooms. Cameron already owned a home before the wedding, and the couple was well equipped with household basics. So they registered for a selection of pieces (like crystal and china dishware) that they might someday be able to pass on to their children.
The Couple: Lauren and Cameron Nichols
Their Wedding: June 5 in Louisville, KY
Where They Registered: Macy's, Louisville Stoneware (a local historical stoneware store)

Lauren & Cameron's Top Registry Picks:

1. Breville/Metro Marketing Blender -- "We call it Cameron's 'Tim the Tool Man' blender because it's so powerful," Lauren says. "My husband makes delicious fruit protein smoothies almost daily -- what's not to love?"
2. Delonghi America Inc. Pro Toaster -- "Besides being beautiful on the counter, it has four extra-wide slots that are great for bagels. The bagels come out perfect and even!"
3. KitchenAid Artisan 5-Qt. Stand Mixer -- "I love to bake, and it whips up dough in what seems like seconds. I swear things that are made in the mixer taste better!"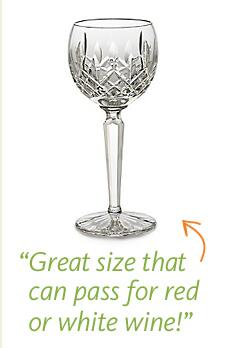 4. OXO Square Pop Container, 4 Qt. -- "We love that they're clear; you never forget the food is there, and you can see if you're running low. The airtight seal does a great job of keeping food fresh."
5. Vera Wang Wedgwood "With Love" Double Invitation Frame -- "My aunt is a very talented calligrapher who was gracious enough to design a beautiful invitation as our wedding gift. I love having such a gorgeous frame to show off her work."
6. Vera Wang "Champagne Duchesse" 5-Piece Place Setting -- "The Vera Wang set is very practical -- it's fine bone china that's dishwasher-safe so we can enjoy our guests instead of having to wash the dishes."
7. Lenox "Tuscany Classics" Stemless Wine Glasses -- "We love good wine, and these are perfect to use on our deck because they're more durable without the stem."
8. Waterford "Lismore" Hock Wine Glasses -- "The 'hock' wine glass is a great in-between size that can pass for red or white. It can be very pricey to have both red and white glasses, so the hock size can really help cut down on the expense without breaking etiquette rules."
9. Hotel Collection "Microcotton" Luxury Bath Towels -- "Guests who bought these as our gifts raved about them and wanted to go buy a set themselves."
10. Everyday Dishes from Louisville Stoneware -- "We love these because they remind us of home."
The Most Untraditional Registry Gift
A few registry items revealed the couple's love of tech-y home gadgets. "We registered for an iRobot Roomba Vacuum 560 and a Simplehuman Sensor Soap Dispenser," Lauren says.