7 Reasons Asking Your Guests To Sleep In Tents Is Kind Of Awesome
by Simone Hill
You've obviously heard of a tented wedding reception — but how about hosting a wedding outdoors where all of your guests actually sleep in tents instead of hotel rooms?
Before you roll your eyes, you have to understand that we're not talking about the typical camping tents. We're talking about tents that could rival a chic five-star hotel suite — with en suite bathrooms, rugs, real frame beds and electricity. If you really need a visual, recall Matthew McConaughey and Camila Alves' wedding from 2012. (They did rented outdoor luxury tents and pitched them on their property in Texas for all their guests.) Take a look at the photos below from two of our favorite tent companies, Pop-Up Hotel and Shelter-Co., and then tell us you don't think glamping is cool.
1. There's no setting prettier than the great outdoors.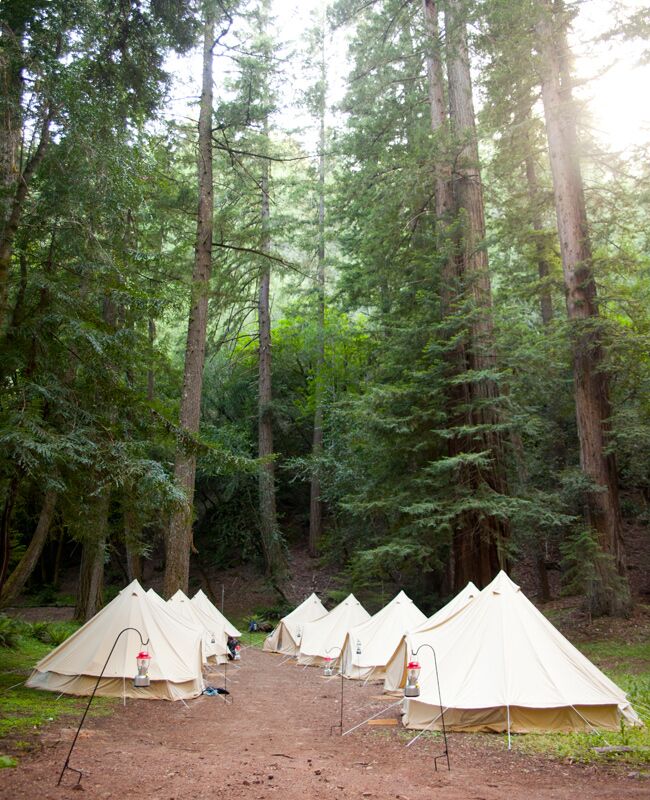 Lovebird Photography via Selter-Co.com
You really can't beat a redwood forest or mountains when it comes to romantic backdrops.
2. You get to keep all your guests in one place.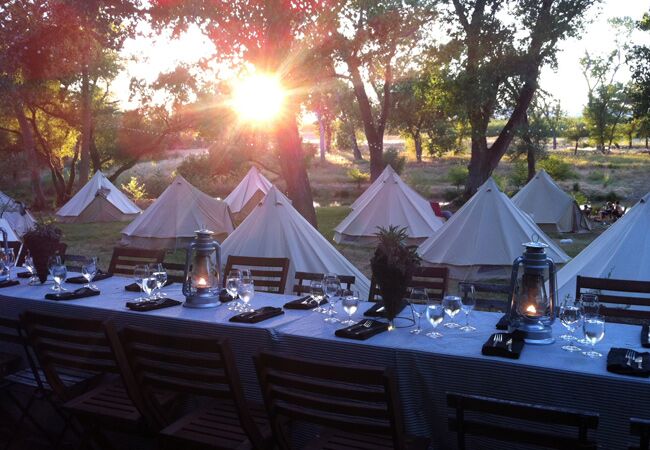 Leif Hedendal via Shelter-Co.com
It has all the perks of buying out a hotel or resort, but you get the added benefit of being in the exact location you want. Kelsey Sheofsky, founder of Shelter-Co says that having guests all stay in the same spot, "It elongates the party and lends itself to a much more easy going type of event." Not to mention you won't have to pay for shuttles to get guests home safe after a long night.
3. Your guests won't believe how chic a tent can actually be.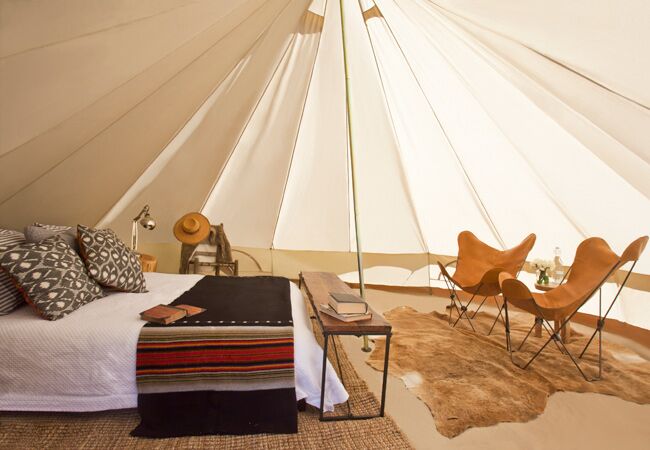 Mel Barlow via Selter-Co.com
You're not going to have to worry that grandma's aerobed might deflate in the middle of the night. "People are always surprised by the fact that they're sleeping in a real bed," says Kelsey. There's also heat and fully functioning showers. These tents are the real deal.
4. Your reception venue choices are basically unlimited.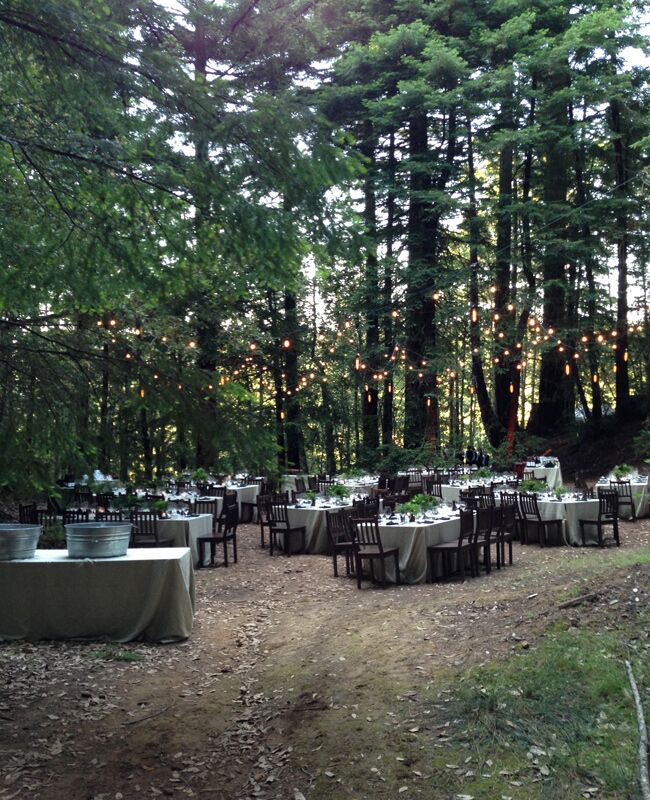 Molly Decoudreaux via Shelter-Co.com
It's pretty much the perfect solution if you've always wanted to get married in that totally off the grid, middle-of-nowhere spot with a stunning view, but your guests wouldn't exactly be thrilled to rough it. Kelsey says, "The biggest thing about it [guests sleeping in tents] is that it opens your options for a venue because you can have your wedding basically anywhere."
5. It gives everyone a chance to disconnect and really relax.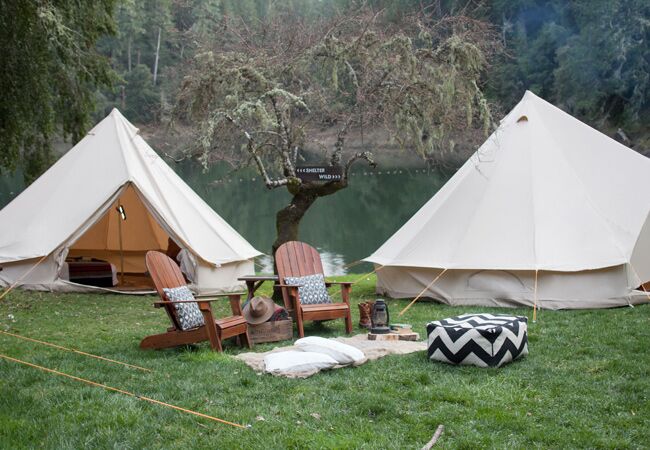 Mel Barlow via Selter-Co.com
Not to mention this might be the easiest way to enforce the "unplugged wedding" rule. Celebs take note!
6. Did we mention they make a perfect lounge space or bar area?
Gather your guests in a tent to keep warm during an outdoor celebration. Another pro tip? "You can also use them as children's tents. We'll put a table around the center poles and pillows on the floor so that the kids can play away from the adults. There's something very magical about tents for kids," says Kelsey.
7. You'll get to spend your wedding night in a tent too!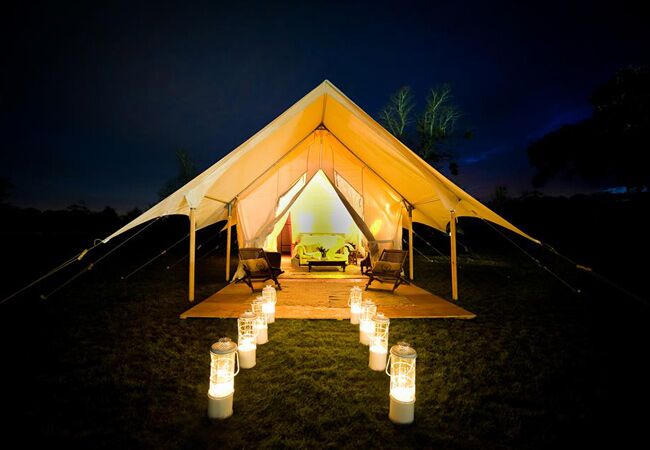 Be honest: Have you ever seen anything more romantic than this?
Want more? Of course you do!
> 5 prettiest portable bathrooms for your wedding
> 125+ rustic wedding ideas you'll love