4 Reasons Not To Gift Off the Registry (A W(h)iney Bride)
by Tea Time with Tess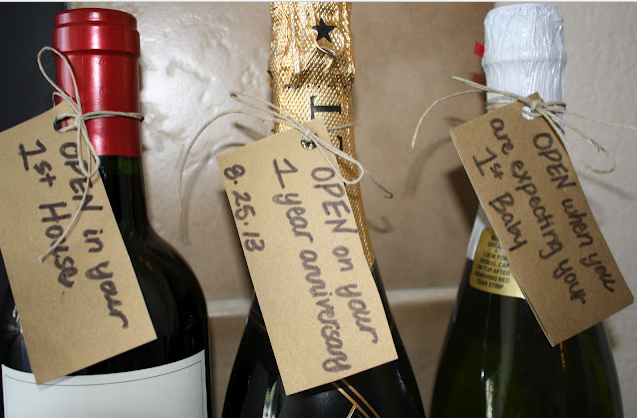 In my opinion, there are only a few justifiable reasons for not buying a gift off the registry. Here's when and why I deviate from the registry:
When I'm not invited to their wedding shower
When I'm not invited to their wedding
When I have a personal, thoughtful reason for purchasing your gift for the newly married couple
When the couple's registry is completely sold out
For my close friends who were married last weekend in Chicago, my fiancé and I decided to gift them something a little bit different. My justifications for doing so were Rule # 1 and # 4. Doubly justified!
Joel and I are huge winos (hence my blogger name) — and this particular couple appreciates their wine too. So we wanted to incorporate that into our wedding gift.
Just regular old wine bottles wouldn't cut it so we added a special touch and I'm so pleased with the way they turned out.
Each of the three bottles will be opened on a significant moment in their lives and they'll always be reminded of our friendship every time they pop a cork.
Plus, I have no fear that this will be a repeat gift!