5 After-Party Ideas Your Guests Will Love
Not sure what kind of vibe you want your after-party to have? Take a look at our five fun suggestions.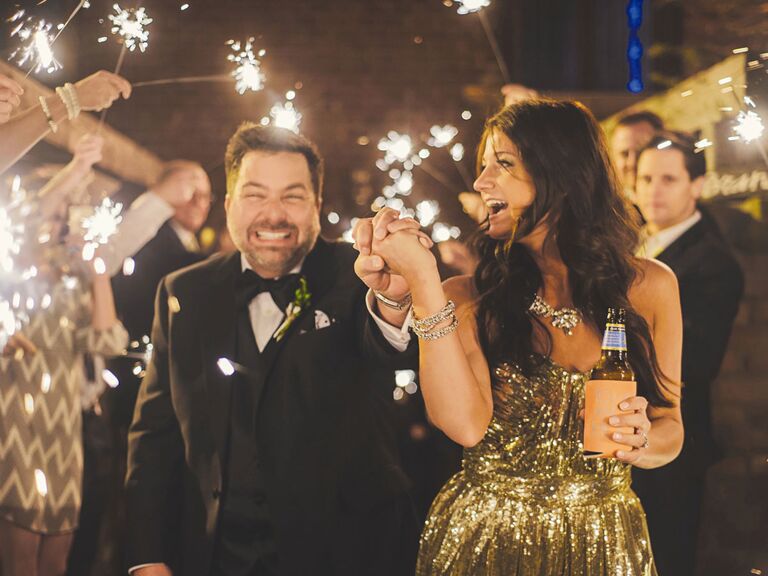 Connection Photography
Planning a wedding is no small feat, but if you have enough energy left, plan one more tiny bash—your after-party. It's a fun affair to brainstorm. And of course, if you've got too much on your plate, your maid of honor and best man can help with the major details. Choose from a variety of our ideas to keep the buzz and celebration going strong.
A Suite Bash
To cut private room costs at bars, invite your friends to stop by your suite for more drinks. This can be BYOB, or you can keep a stash of beer, wine and snacks in your suite—room service appetizers are also a good idea. And when you're ready to be alone, know that you reserve the right to kick everyone out at any time.
Marry-oke
Sing your hearts out at your local karaoke joint or swanky piano bar. There's nothing wrong with a little healthy competition between the newlyweds and both sides of the wedding party—and nothing's better than both of your parents taking a turn with the mic.
Rock-n-Bowl
Ditch your gown and stilettos for oh-so-chic bowling shoes at your local bowling alley. You and your wedding party can score with a great night of after-hours bowling and booze, ensuring there'll be little energy left to spare.
Big Spender
If your wedding is within traveling distance of a casino, rent a limo or party bus and hit the slot machines. If you prefer to stay close to home, hire a local entertainment company to set up shop in your hotel suite—roulette and blackjack tables are easiest.
Poppin' Bottles
If your friends are night owls, organize a local bar or club crawl. Spring for transportation (cabs, limo or party bus), because no one should be driving to any of these activities if drinking is in the picture. Dole out $10 to $20 a person to cover first drinks or the cover charge. If possible, make reservations at every spot you plan to hit, or else call beforehand to confirm they can accommodate your crowd.