Guests From This Region Will Spend the Most on Your Wedding Gift
Love definitely doesn't come cheap.
by The Knot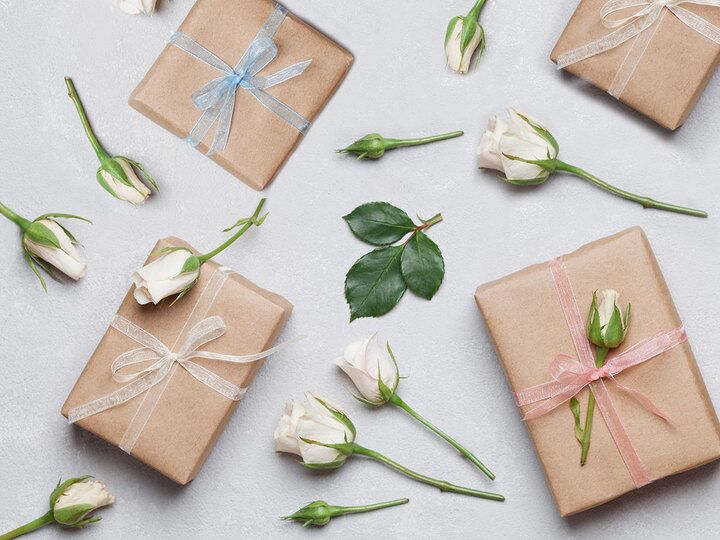 It's no secret that wedding gift-giving habits vary from guest to guest, but a new report from Bankrate.com, conducted by Princeton Survey Research Associates International, surveyed 1,000 American adults and found that gift-giving habits also tend to vary by region.
So what did they find? For starts, the Northeast is the biggest outlier of them all, with significantly higher standards for the value of a typical gift. 
Guests in the Northeast are more than twice as likely as the rest of the country to spend a large sum on a wedding gift for a close friend or family member. Thirty percent indicate their typical gift is at least $200 in value, compared with just 13 percent of everyone else. Similarly, for gifts given to colleagues, acquaintances and distant relatives, 46 percent in the Northeast spend at least $100, compared with 24 percent of the rest of the country.
As for the preferred type of gift, Northeastern and Midwestern gift-givers bring cash or a check most often, while those in the South and West are more likely to buy a physical gift off the registry. 
Gift types also vary by age. Forty-six percent of guests over the age of 72 and 33 percent of guests aged 53 to 71 indicate they prefer to give cash or a check, compared with only 20 percent of guests aged 18 to 36—aka millennials. 
For some, the added expense of attending a wedding is too much of a financial strain altogether. Twenty-one percent indicated they've declined a wedding invitation because they felt they couldn't afford to go, including 27 percent of women and 16 percent of men.
"Wedding traditions differ greatly from region to region, and so do gift-giving tendencies," says Sarah Berger, "the cashlorette" at Bankrate.com. "Invitations usually go out months before the big day, so start budgeting early. However, if you simply can't afford to go, be financially responsible and skip the event. No soiree is worth sacrificing all of your savings!"
Click here to see the entire study.