Registering For Bedding? 7 Things You Need to Know
by Alexis Jones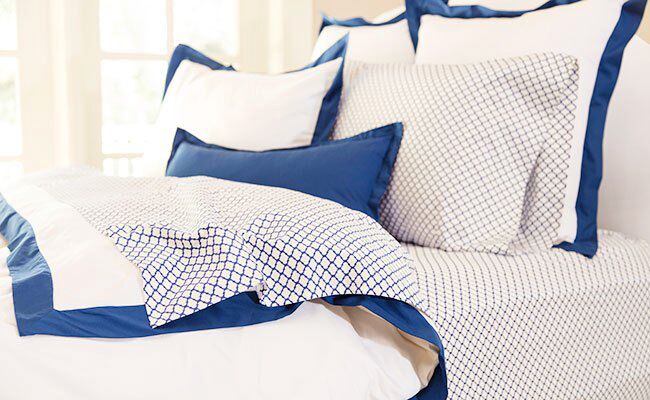 After meeting with Karin Sun and Christopher Sun, founders of bedding company Crane & Canopy, we learned a few things about bedding's little mysteries, like thread count and picking (they actually brought a tiny microscope so we could see it!). So, we had to find out more about the materials we sleep on every night. Here are seven facts you never knew about bedding so you can re-evaluate your registry if need be!
1. Thread count is a myth: Anything higher than a thread count of 430 is creative counting. Sun says, "Be wary of bedding companies who choose not to disclose thread count or claim anything higher than 430. A high-quality sheet or duvet cover that is soft, smooth and will last for years to come will usually range between 300-430 thread count. Anything higher is creative counting – either through ply or pick – or manufacturing methods like finishings, all of which do not add to a higher-quality product.
2. The quality of cotton matters: The longer the staple of cotton (meaning: fiber length), the higher the quality. Egyptian Cotton used to refer to cotton with a longer fiber length, meaning a higher quality, but that no longer applies since cotton with a long staple can be grown anywhere. "Look for bedding made from premium cotton like extra-long or long staple cotton, which is luxurious, soft and will last for years to come," says Sun.
3. The difference between sateen and percale is feel: True to its name, sateen bedding has a silky, smooth feeling. This is ideal for someone seeking for a luxe touch when hopping into bed. Percale is the laid-back version of a sheet—you could relate it to the feeling of a crisp cotton shirt.
Read the rest on TheNest.com…
More Must-Clicks:
7 Sheets for the Ultimate Under the Covers Experience
10 Signs Your Bedroom Needs to Grow Up