10 Colorful Glasses You'll Want to Add to Your Wedding Registry
Hoping to liven up your table settings? Look no further. Colored glassware is the easiest way to add a few hues into the mix. Shop our favorite tumblers now or add a set to your wedding registry.
by Erin rapp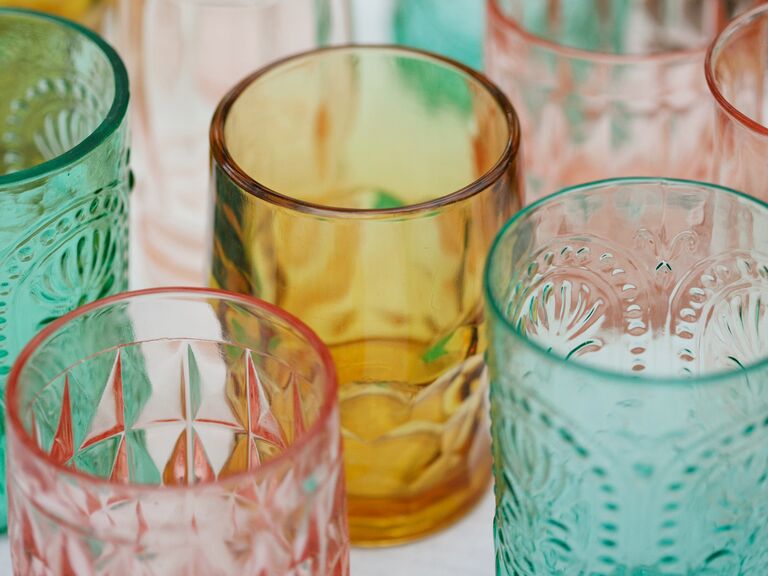 Clear glassware will always en vogue, but colored cups are a trend that's anything but boring. Whether you prefer timeless styles in a fresh hue or a quirky design in a bold color, adding color to your cabinets (and table) is a breeze. Colored glass pops against any table décor and adds definite cool points to any cocktail. Consider adding a set to your wedding registry or gift your favorite tumblers just in time for chic summer soirees.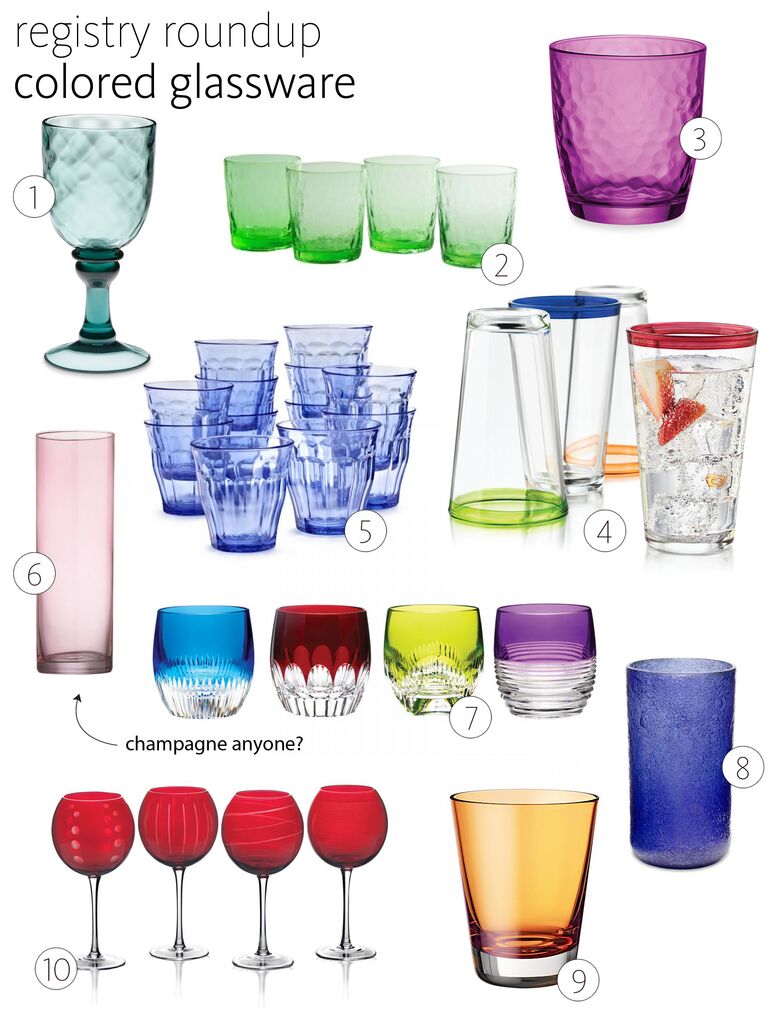 1. These teal goblets create the illusion of vintage hammered glass, but don't be fooled. These shatter-proof polymer cups are perfect for outdoor entertaining and can hold their own in the dishwasher.
Valencia Etched Tritan Goblets (Set of 6), $70, WilliamsSonoma.com

2. Green glass offers a modern update on a cocktail classic. The cheeky coloring makes these double old-fashioneds perfect for water or a stiff drink.
Artland Ripple Double Old Fashioned (Set of 4), $30, Target.com

3. Margarita on the rocks anyone? Perk up your next cocktail party with these vibrant hammered-finish rocks glasses, available in six bright hues.
Bormioli Rocco Palatina Rocks Glasses (Set of 6), $37, BedBathandBeyond.com

4. These rimmed glasses from Mexico scream fiesta, but are versatile enough for every day use. Brighten up your next dinner party or morning green juice with these inexpensive pint glasses.
Mucho Colors Cooler (Set of 4), $18, Libbey.com

5. It doesn't get more chic than these everyday French-style tumblers. The classic blue color will never go out of style—meaning you can count on these super-strong tempered glasses being in your cabinets for years to come.
Duralex Blue Picardie Tumblers (Set of 6). $24, SurlaTable.com

6. These rosy champagne flutes ooze modern glamour. The slender glass keeps sparking wines effervescent without the delicate (and easy to break) stem. Perfect for a girl's night or bridal shower, these glasses perk up any table setting.
Cylinder Pink Champagne Flute, $3, cb2.com

7. These elegant tumbler glasses aren't for every day use, but why not perk up your china cabinet with vibrant crystal ware? Each double old fashioned glass features a different crystal pattern and vivid, saturated color.
Mixology Assorted Color Tumbler (Set of 4), $350, Waterford.com

8. Paired with a simple white place setting and bright floral centerpiece these highball glasses sure to impress. The hand-blown glass, which contains telltale bubbles and a slightly uneven texture, requires hand-washing, so you may want to save these for special occasions.
Mackie Highball (Set of 4), $60, ToryBurch.com

9. These high quality crystal tumblers are perfect for celebratory cocktails. The lightweight crystal and thin rim make them easy to hold and though they might seem delicate, the manufacturer gives the dishwasher the green light.
Villeroy & Boch Color Concepts Tumbler, $40, Bloomingdales.com

10. Whimsical etched patterns pop on these ruby-hued wine glasses. The balloon glasses hold over 24 ounces, perfect for a Scandal-sized glass of vino. The bright red color is appropriate for any fete, but they'll be especially handy during the holiday season.
Cheers Ruby Balloon Glasses (Set of 8), $100, Mikasa.com