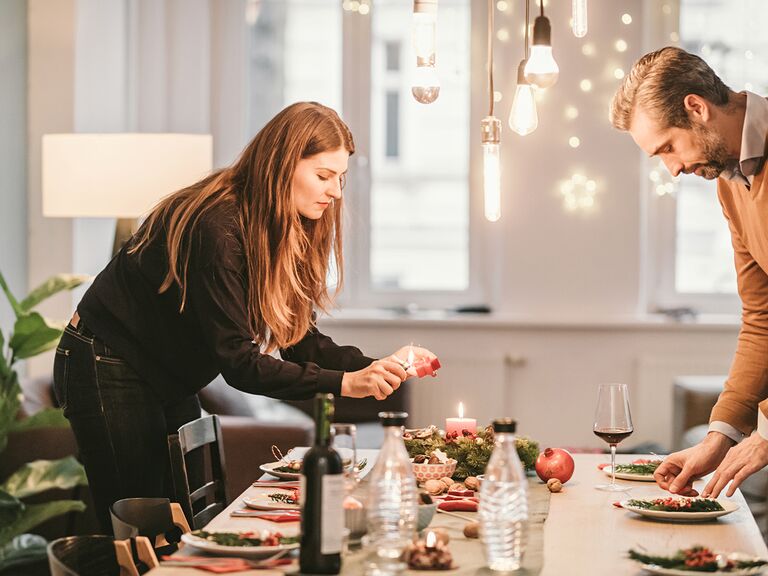 @alesha_macarosha/Twenty20
Not a super-confident cook (yet)? Not to worry. Whether you're making a special meal with your soon-to-be spouse or hosting your first real dinner party, we've got you covered. We put together a three-course menu of delicious recipes that can all be made with Cuisinart's easy-to-use countertop appliances. Add these items to your registry and you'll be prepared to whip up this impressive dinner—without breaking a sweat.
First Course: Butternut Squash Bisque
Start things off with a warm and comforting butternut squash bisque, kicked up a notch with the addition of savory bacon sage butter. A food processor will quickly take care of the prepwork; this one lets you, slice, shred, chop or mix—and it's easy to clean too. The blender whirs through tough pulverizing tasks with ease. Allow the soup to simmer on your stovetop so the flavors meld together, then strain it for that delectable velvety smooth texture. The finishing touch? A pat of butter and sprig of decorative sage.

Register for: Cuisinart Hurricane Velocity blender, $200; 14-cup food processor, $199, Cuisinart.com
Main Course: Classic Roast Chicken and Grilled Vegetable Salad 
You can't go wrong with a classic roast chicken; that's why it's a great pick for dinner parties (or really any dinner). And you don't need to have gone to culinary school to make a moist, juicy bird. This crowd-pleasing dish can be made right on your countertop with a convection toaster oven—this one even includes an air fryer feature. For a colorful side packed with flavor, try a grilled vegetable salad. Just sear the veggies on a tabletop grill and then toss them with homemade dressing, crumbly cheese and briny olives. Healthy and delicious.
 
Get the roast chicken recipe and the grilled vegetable salad recipe.
 
Register for: Cuisinart air fryer toaster oven, $200; Cuisinart Griddler Five, $100; Cuisinart.com 


Dessert: Chocolate Cream Pie 
End the meal on a sweet note with this rich chocolate cream pie (after all, what's dessert without a little chocolate?). Your handy food processor will crush up the cookies for the crust, while a hand mixer turns out fresh whipped cream that's so much better than anything you can buy in a can. The end result is impressive enough for a holiday or special occasion meal, but easy enough to make for a much-needed date night break while you're in the middle of wedding planning.  

Get the recipe. 
Register for: Cuisinart Elemental 11-cup food processor, $150; Cuisinart Power Advantage PLUS hand mixer, $80; Cuisinart.com


The Knot and Cuisinart have partnered to bring you Registry for Real Life, a sponsored series showcasing real-life tips to getting everything you want (and more!) from the registry process. To check out more awesome products, visit Cuisinart.com.