The Ultimate Registry Checklist from A-Z
Make sure you're getting the most out of your registry.
by Lauren Kay
Now's your chance to ask for just about anything. So what should be on your list? We've got the complete guide, form essentials to splurge-worthy products. 
Appliances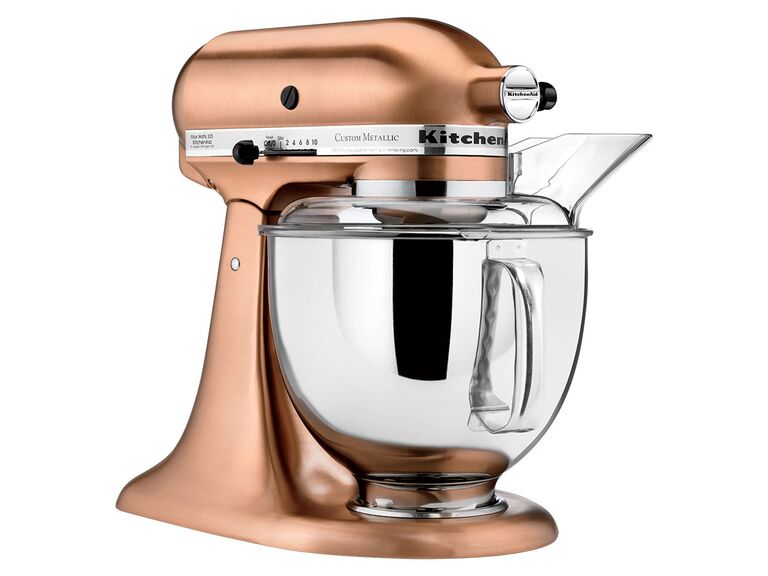 Register for that luxe stand mixer you've had your eye on, or upgrade a toaster oven or coffeemaker with a new model. After all, appliances are a cook's best friend. 
KitchenAid 5-qt. stand mixer, $650, KitchenAid.com 

Bar Cart
This ultimate entertaining accessory is clutch for serving drinks. Choose a versatile piece that can roll from living room to dining room with ease. Style with your new barware and favorite specialty sips. Don't forget fun extras like cloth cocktail napkins and swizzle sticks. 
China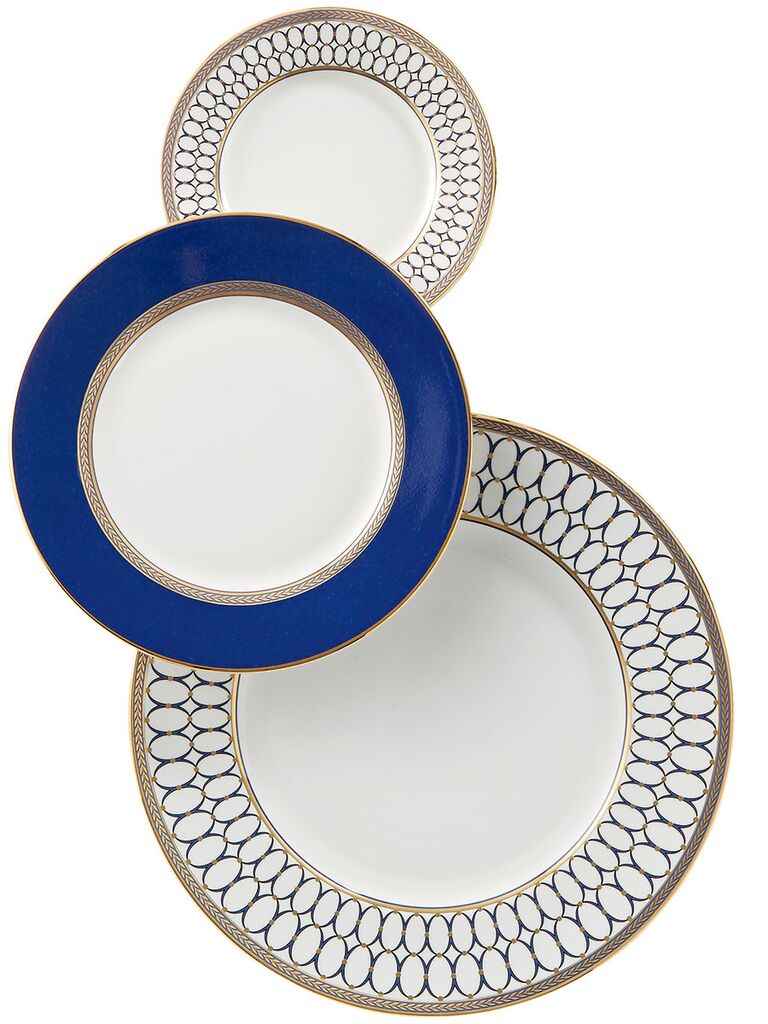 Celebrate the time-honored tradition of registering for wedding china. Older relatives will be delighted, and you'll be able to start your own collection of heirlooms. Choose a pattern that can be easily mixed and matched over time. (Hint: We love metallics.)
Wedgwood Renaissance Gold Collection, from $25, Macys.com 

Dutch Oven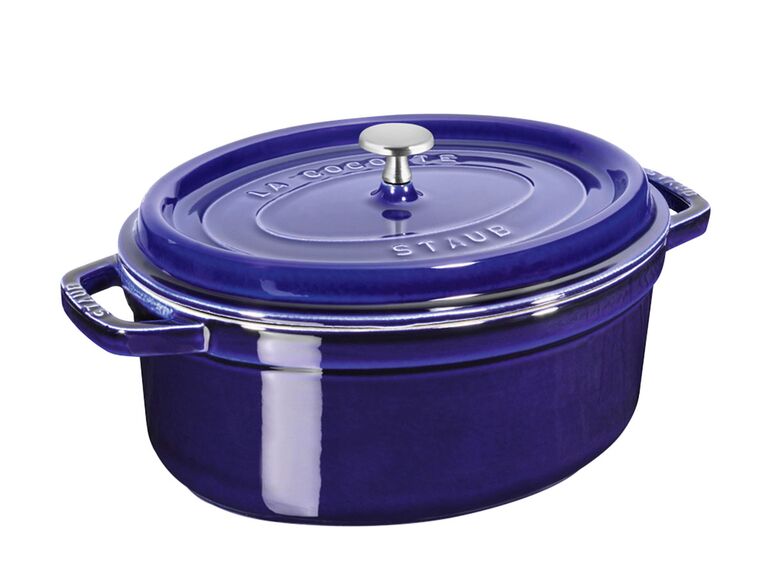 Enamel-coated cast iron retains heat and is extremely durable—you may never have to replace this lidded pot. Braise a chicken or stew chili. It even goes straight from oven to table. 
Staub Cast iron coq au vin, from $250, Williams-Sonoma.com 
Everyday Dishes
Good news: You can register for more than one set of plates. If you're adding fine china to your registry, opt for a set of casual dinnerware too. Stoneware, porcelain and bone china are all good choices—just be sure it's microwave and dishwasher safe. We recommend service for 12, so you're always party ready. Casual dinnerware is often sold "open stock," meaning you can load up on plates and skip cups and saucers, if you prefer. 
Flatware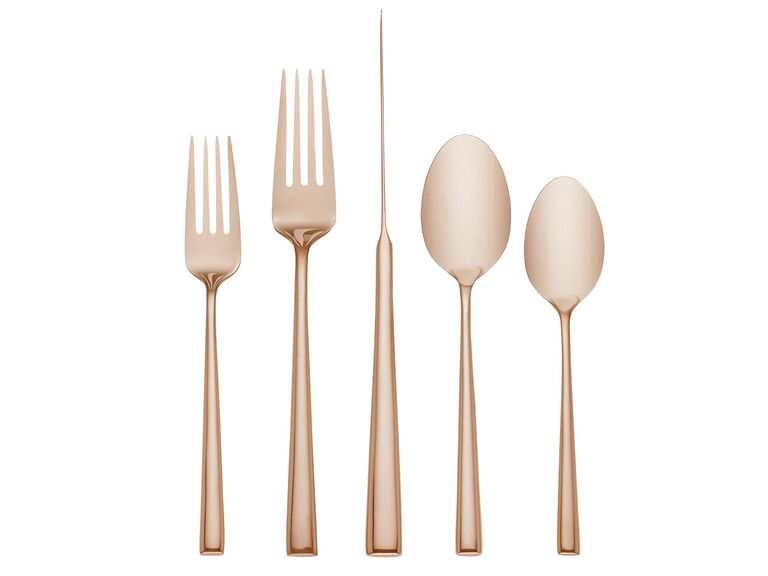 Silverware is the jewelry of your table. Invest in a set that's perfect for everyday use but can elevate place settings for a special occasion (think: your boss coming to dinner). 
Kate Spade New York Malmo rose gold, $90 for 5-piece setting, Macys.com 

Glassware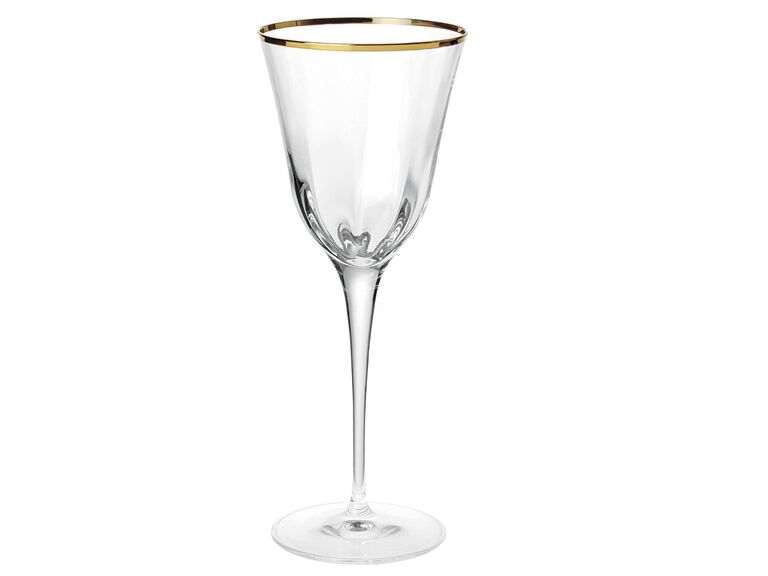 Load up on drinkware. Register for 8 to 12 of every type of glass (water, wine, cocktail). You'll be well stocked for entertaining, and if a glass breaks you'll have a backup on hand. Look for durability and versatility—you'll likely use wine glasses for both informal and formal entertaining. 
Vietri Optical gold champagne glass, $25, Vietri.com
Honeymoon Funds
Have everything you need? Nowadays it's totally acceptable to register for your honeymoon. Sites like TravelersJoy.com allow guests to contribute to your ultimate getaway wish list, including lodging and activities. A stay in a luxury tent on a safari? You got it. Couple's massage on the beach? Add that to the list too. Best of all, it's free—there are no setup fees for you or transaction charges for gift givers. 
Ice Bucket
The versatility of this registry pick makes it a total must-have. Fill it with ice for mixed drinks or use it to chill a bottle of champagne. An ice bucket can double as a large vase and is great for collecting corks from memorable bottles of wine. 
Juicer
Squeeze the goodness out of your favorite fruits and vegetables with the help of a juicer. This powerhouse electric crushes ingredients into vitamin-rich juices and smoothies. And making a pitcher of fresh margaritas has never been easier (just saying). Look for a compact model that stores well when not in use and has dishwasher-safe parts, since juicing can get messy.
Knives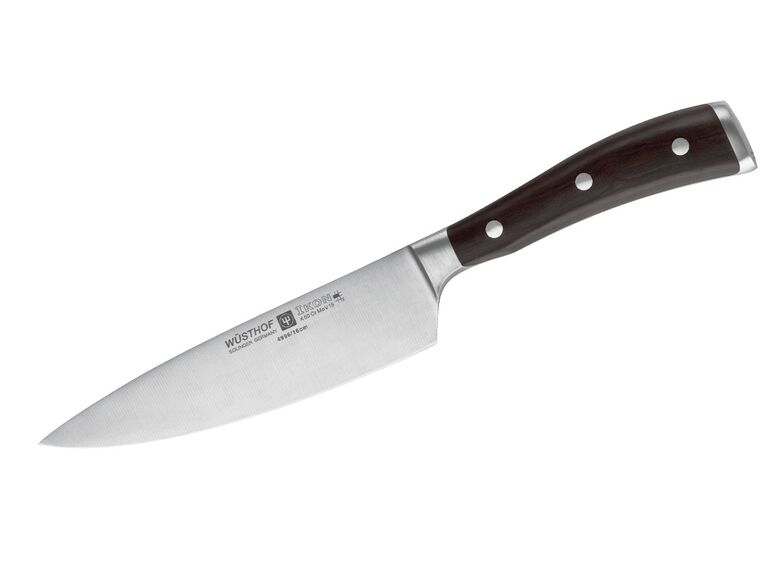 Ignore the old superstition that registering for knives is bad luck. Sharp blades are the unsung heroes of every kitchen. Test a few before adding to your registry— grip and feel are important. 
Wüsthof Ikon blackwood chef's knife, from $180, WIlliams-Sonoma.com 
Luggage

One of the best postwedding perks is the honeymoon. Use this once-in-a-lifetime trip as an opportunity to upgrade your luggage. An ultra- lightweight polycarbonate case is super durable and easy to hoist into an overhead bin. Register for two carry-ons, a garment bag and a large suitcase for longer journeys. 
Away Travel Luggage, from $225, AwayTravel.com 
Mixing Bowls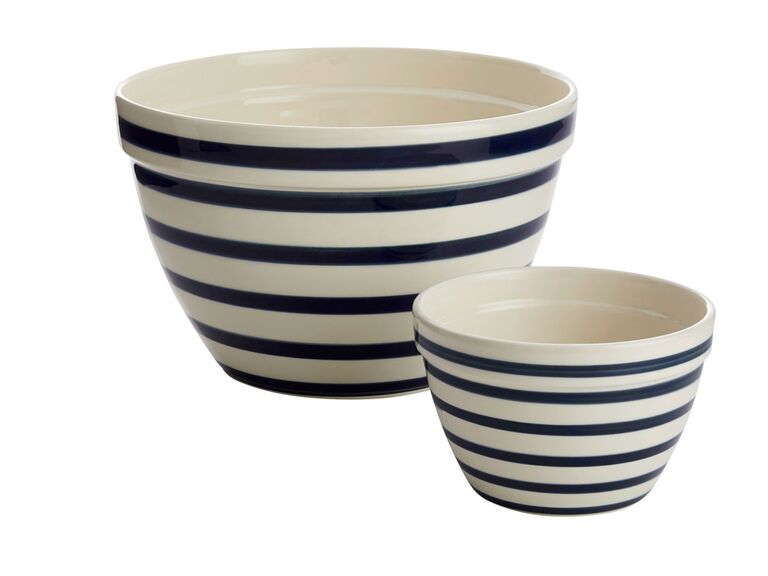 Even non-bakers can benefit from a set of mixing bowls. They're perfect for cook prep and can double as serving dishes. Look for a set that nests to save on cabinet space. 
Crate & Barrel Striped mixing bowls, from $6, CrateandBarrel.com  

Nonstick Bakeware
Stock up on essentials, like sheet (great for roasting), square, loaf, cake and pie pans. These oven-safe pieces will come in handy beyond just baking. 
Outdoor Grill
If you have a backyard, add a grill to your list. Choose from charcoal, propane or electric models. And don't forget to register for accessories, like a nonstick grill fry pan, durable tools and cleaning essentials. Bonus: This splurge makes a perfect group gift—your friends will be inviting themselves over for a barbecue even before you say "I do." 
Pots and Pans

Invest in good cookware. Some pots and pans can last a lifetime with proper care. Choose a prepackaged set or just the essentials like a stockpot, medium-size sauce pan, and large and small pans for frying and sautéing. 
Mauviel M'Tradition Bain Marie, $325, Bloomingdales.com 
Quilts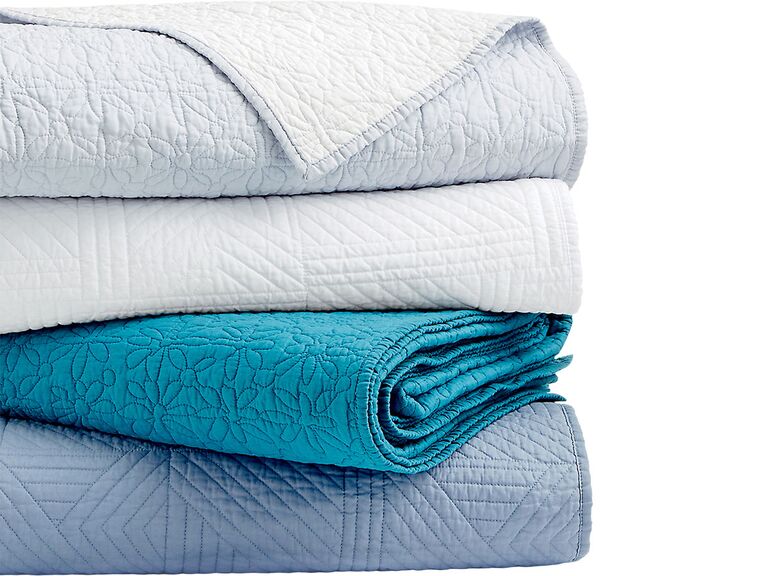 Load up on layering pieces for your bed. A lightweight quilt is perfect for shoulder seasons. And don't forget to register for a few throw blankets too—they look great draped over a sofa or arm chair. 
Bluebellgray Coverlets, from $70, Macys.com
Roasting Pan
Maybe you don't have plans to host Thanksgiving dinner this year, but chances are you will someday. Roasting pans are great for other meats like rib roast and chicken too. And their deep-dish proportions make them perfect for lasagna. Be sure to register for a rack—it will allow your meat to sit above the drippings and aid in plating your masterpiece. 
Sheets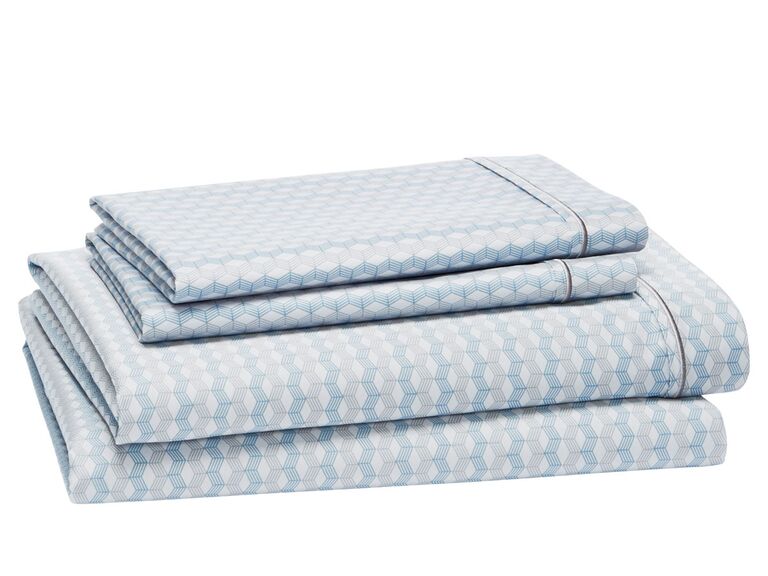 Good sheets lead to good sleep—okay, at the very least they enhance the comfort and look of your bed. Register for two sets for every bed in your home. Consider adding some cozy flannel sheets to your list too. 
Oake Cameron blue sheets, from $260, Bloomingdales.com 
Towels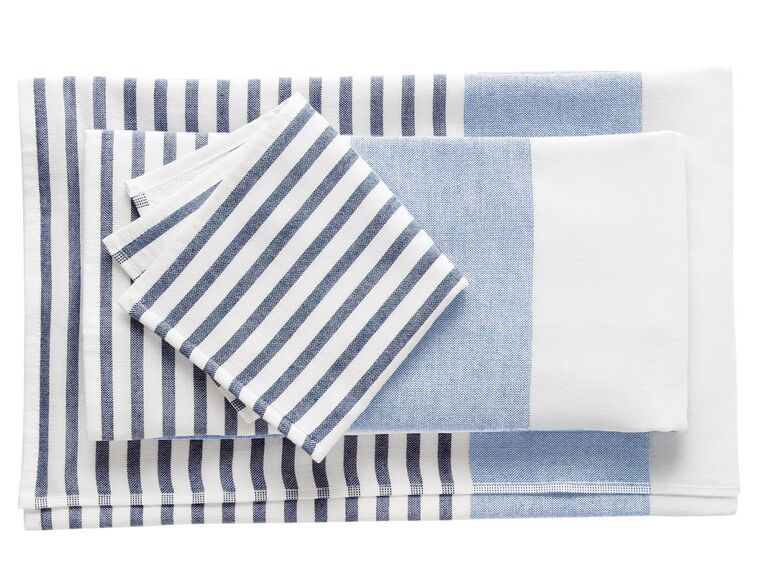 Upgrade your overused towels with some plush bath sheets—in this case, bigger is better. Figure four sets (washcloth, hand towel and bath towel) for every bathroom. Don't forget extras like kitchen and beach towels. 
Fouta Bath towels, from $8, SerenaandLily.com 
Utensils

Request a set of matching kitchen utensils—you'll never be stuck mid-recipe searching for a slotted spoon again. Not to mention, a coordinating set looks fab corralled in a marble cylinder on your countertop. 
Crate & Barrel whisk, $10, CrateandBarrel.com 
Vacuum
Housekeeping is way more tolerable with efficient (and stylish) supplies. Invest in a good vacuum that can be used to clean floors and upholstery like your sofa or drapery. Some models even minimize allergens, while others are great for combating pet dander. 
Wine Fridge
This splurge-worthy pick is a need for any oenophile. Look for a dual temperature fridge that will keep your whites and reds chilled at optimal degrees. Newer models are energy efficient and compact, allowing your collection of pinot to age well, even in your apartment. 
XOXO
Keep the hugs and kisses coming—register for dates! A gift certificate to your favorite restaurant, a membership to a museum or season tickets to a local sports team will make the first year of your marriage memorable (and romantic). 
Yours, Mine and Ours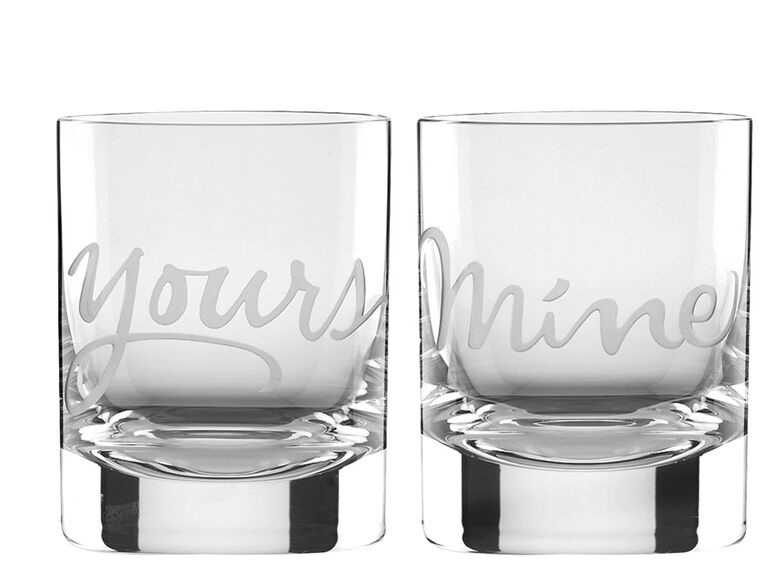 Share everything, while still claiming "yours" and "mine." Festive drinkware looks great on a bar cart and is perfect for toasting milestones in your future. 
Kate Spade New York Two of a Kind drinkware, from $50, BathandBeyond.com 

Zester
Want a kitchen gadget that packs a punch? Register for a Microplane zester grater (trust us). This slender tool adds instant flavor to any dish. It zests citrus, makes garlic paste, shaves chocolate and even grates Parmesan cheese to top your spaghetti and meatballs. Best of all, it's dishwasher safe.