12 Adorable Ring Bearer Signs
Caution: Cuteness overload ahead.
Being a ring bearer is no easy task for the smallest guy in your wedding party. It's a long walk down the aisle, especially since he's responsible for carrying your wedding bands to the altar. (If you're reasonably apprehensive about trusting a rambunctious 7-year-old with your wedding bands, either swap them with a fake pair or give him a personalized sign to carry as a cute alternative.) From simple flags to handmade banners, these sweet signs guarantee your ring bearer will make an unforgettable ceremony entrance.
1. Two-Man Crew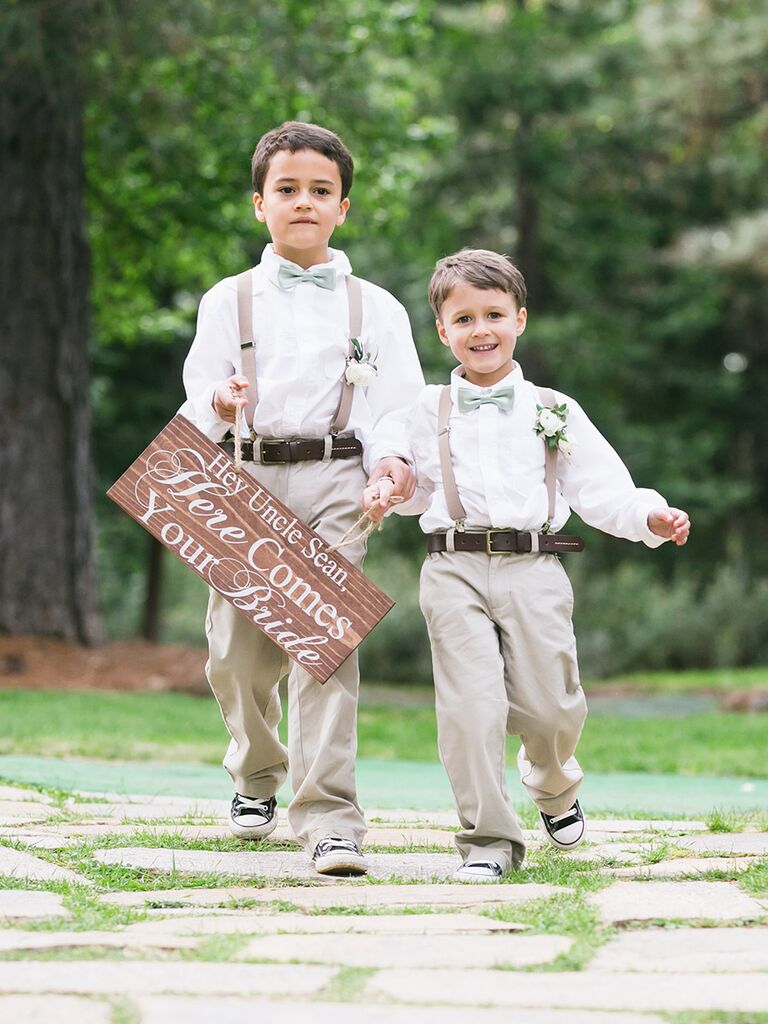 There's nothing cuter than a pair of little ones tag-teaming their ring bearer duties. Ask the older of the two to help the youngest carry your personalized sign. They'll both love taking part in your wedding day, and the pictures will be so cute!
From: A Natural, Rustic Wedding at Forest House Lodge in Foresthill, California
2. Sign of Laughter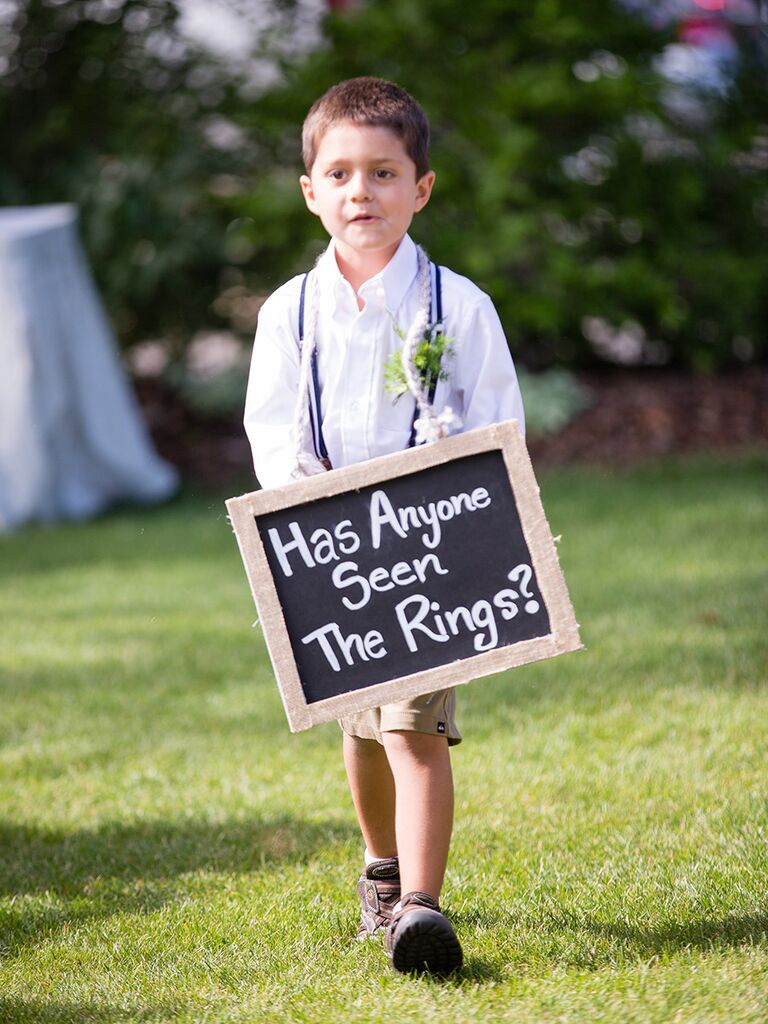 Include an inside joke or witty phrase on your sign to give your guests a chuckle before your big entrance.
From: A Whimsical Woodland Wedding at The Boulder Country Club in Boulder, Colorado
3. It Takes Two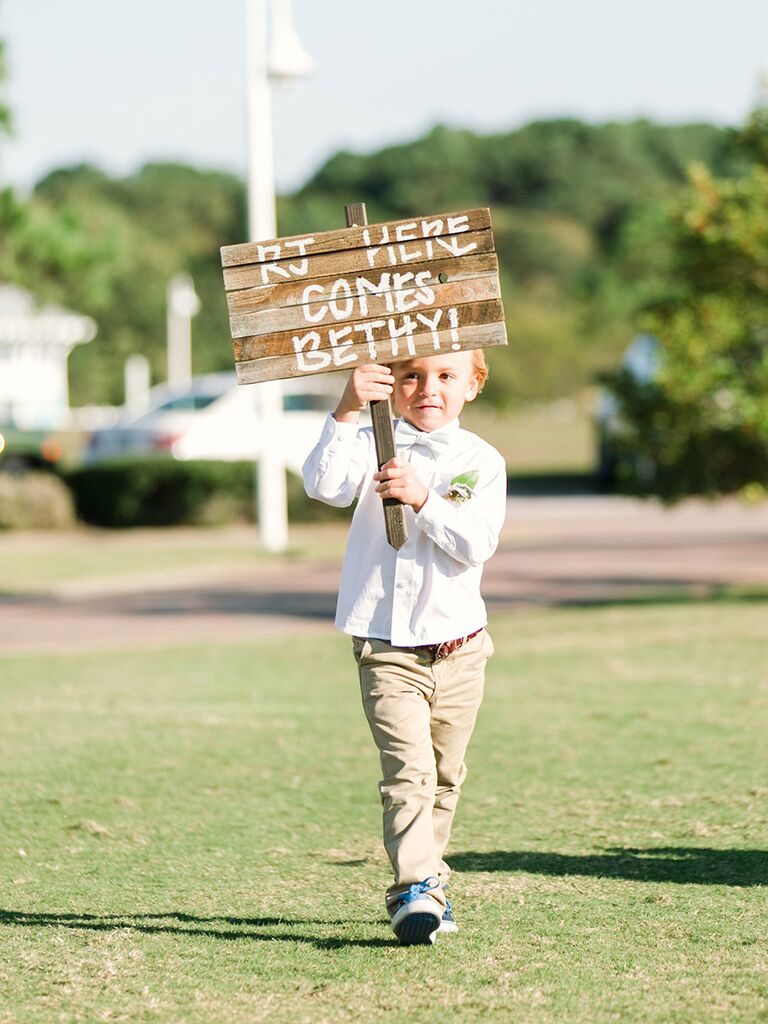 Having more than one youngster on the job? Give each of them different responsibilities. Have one helper lead the way with a personalized sign and the other follow with the rings.
From: A Kings Creek Resort & Marina Wedding in Cape Charles, Virginia
4. Tiny Teaser
Let your partner know what's coming with a homemade sign.
From: A Rustic Mountain Wedding at Restaurant 415 in Fort Collins, Colorado
5. Seeing Double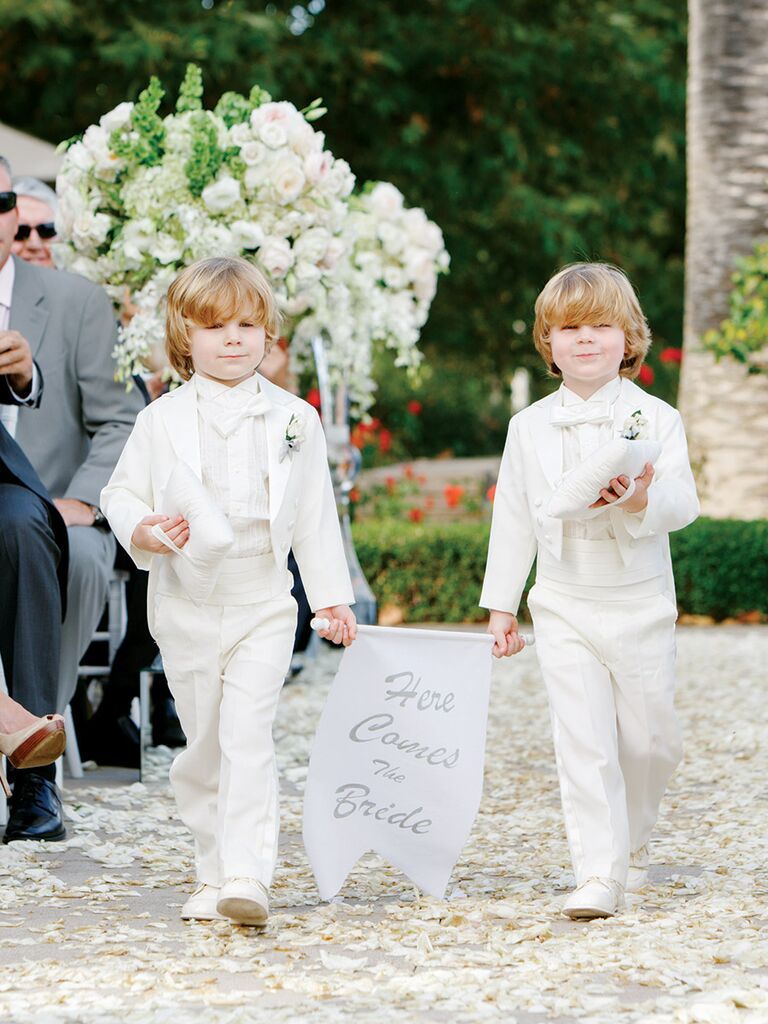 If you have more than one ring bearer for your procession, consider a sign that requires two pairs of hands to handle.
From: A Fairy Tale Wedding in Irvine, California
6. Flag Bearer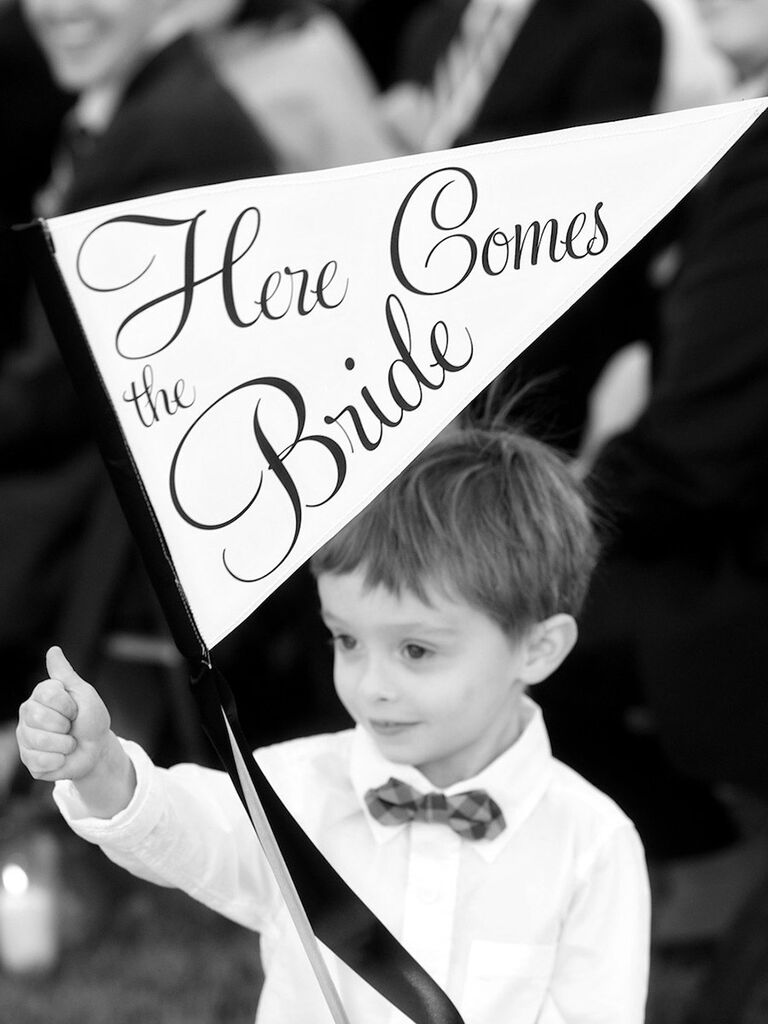 A simple flag with a classic message adds a cute note to a vintage wedding. Plus, your ring bearer will love an easy, waveable sign to carry for the walk down the aisle.
From: An Outdoor Ranch Wedding at in Austin, Texas
7. Party Starter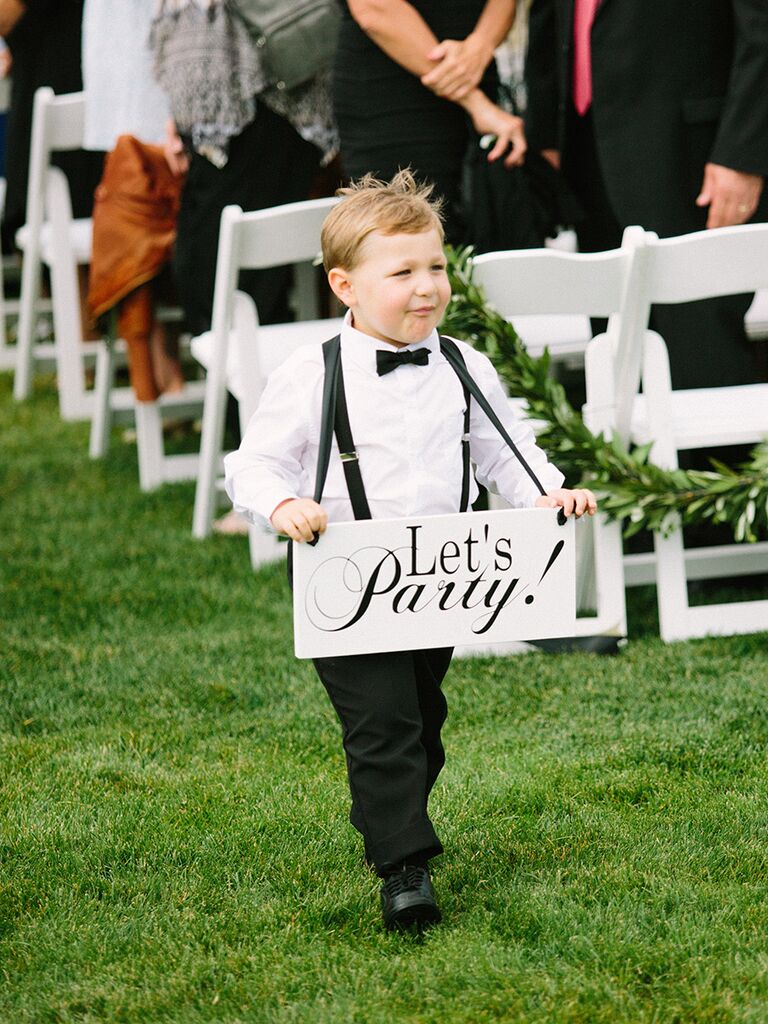 Get your guests in the mood with a festive message written on the ring bearer sign.
From: An Elegant Lakefront Wedding at Stafford's Perry Hotel in Petoskey, Michigan
8. Simple Signs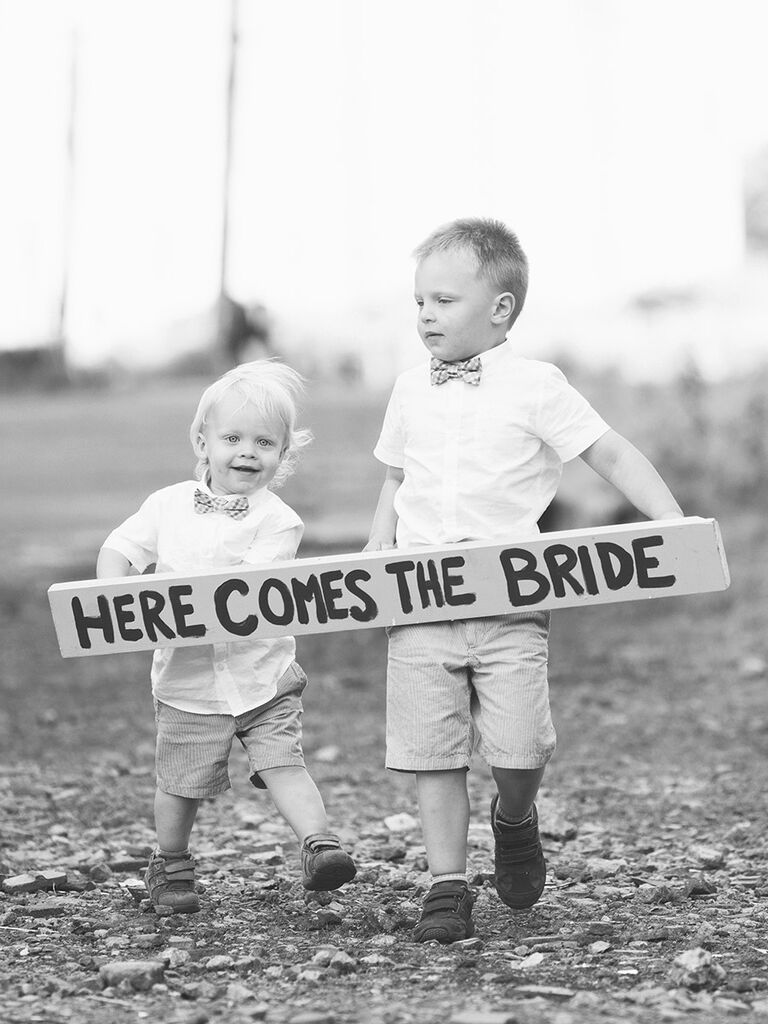 This is a great time to show off your DIY skills. A homemade sign will look fabulous at a rustic venue, and you'll save a few extra bucks to spend on something else, like a thoughtful gift for your cuties.
From: An Industrial-Chic Wedding Full of Local Pride at Silo City in Buffalo, New York
9. Double-Sided Sign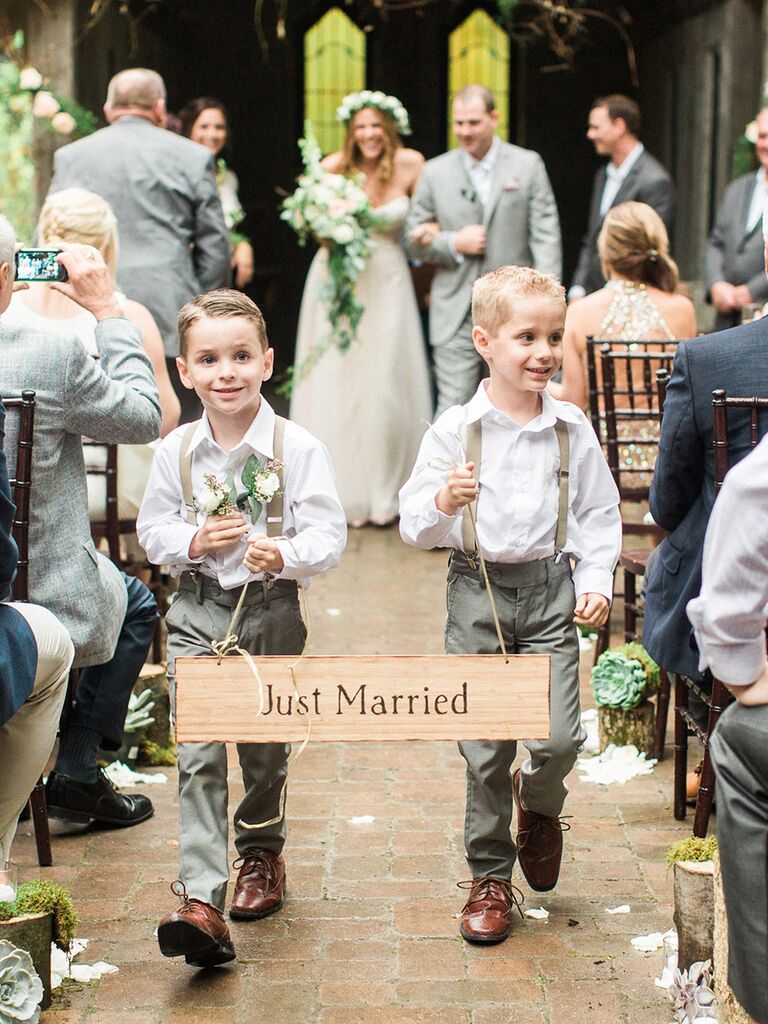 Consider a reversible sign for your ring bearers to carry: one message for their walk down the aisle and one for their exit. And your little guys will love a second moment to shine.
From: A Natural Wedding at Inner Circle Estate in Deckerville, Michigan
10. Chalk and Walk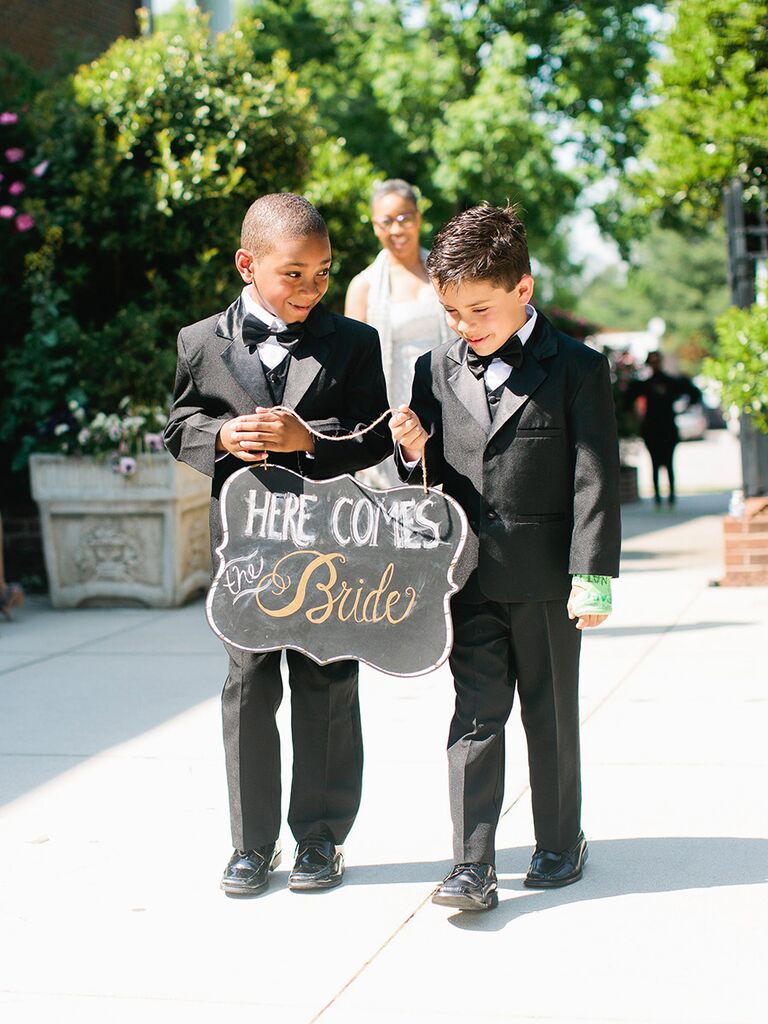 Chalkboard signs are the perfect touch on your wedding, whether it's rustic and low-key or formal black-tie.
From: A Traditional Garden-Inspired Wedding at the Garden on Millbrook in Raleigh, North Carolina
11. Handheld Signs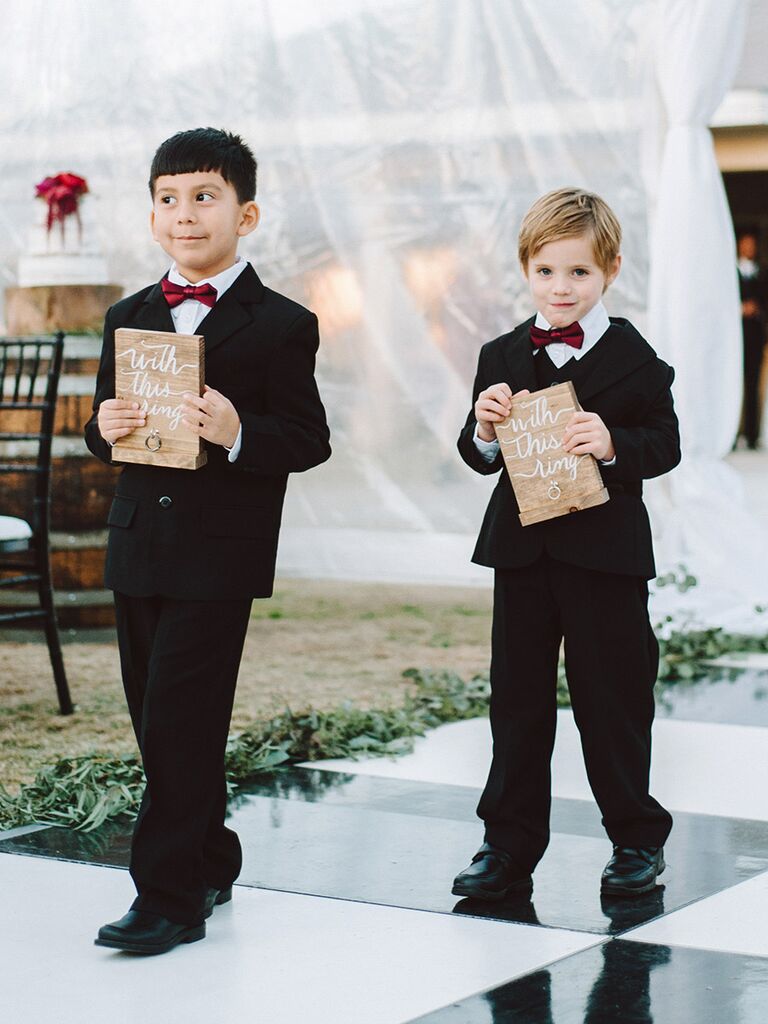 Ditch the traditional pillow and give your ring bearers mini, handheld signs.
12. Chick Magnet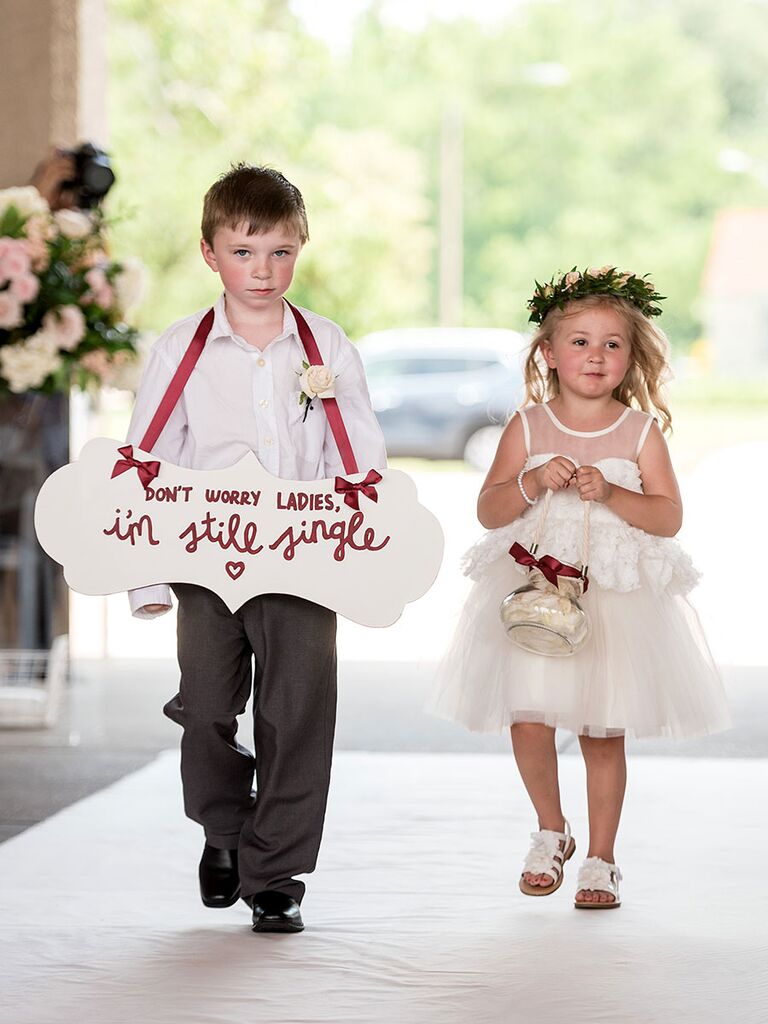 Show off the youngest bachelor of your wedding party with a playful sign. This humorous message is always a hit!
From: A Sophisticated Glam Wedding at The Grand Hall at Union Station in St. Louis, Missouri