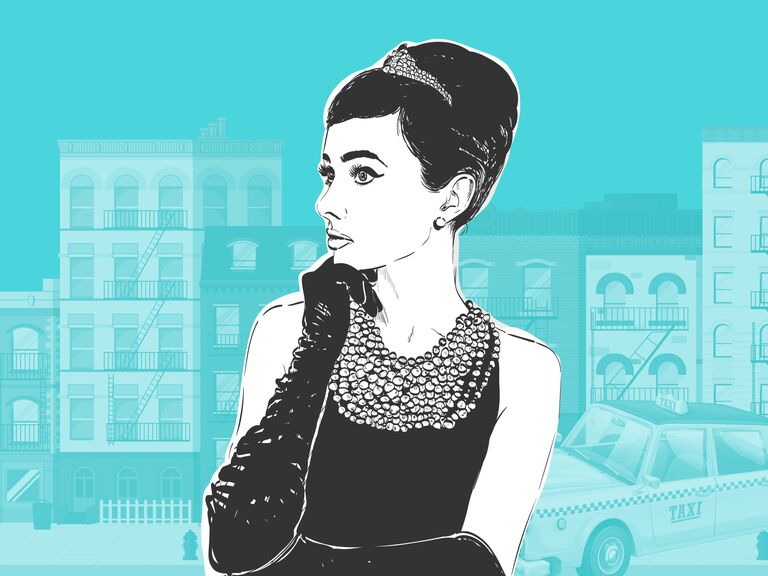 There's nothing like a good love story. In the midst of wedding planning, it can be nice to take a well-deserved break and settle in with a romantic movie to help remember the real reason behind all your hard work. But these iconic films aren't just great for binge-watching; they can also serve up some serious style inspiration. If you're having a hard time pinning down your preferences, why not take a cue from some of filmdom's greatest moments? For a little registry inspo, we paired our favorite silver-screen romances with Lenox dinnerware. The results are nothing less than a match made in Hollywood heaven.
The Notebook (2004)

 "If you're a bird, I'm a bird." Take a little inspiration from Noah's meme-worthy response to Allie with this whimsical place setting. The watercolor details and charming bird motif are as sweet as the couple's lifelong love for each other.
Lenox Simply Fine Chirp 4-piece place setting, $143
Titanic (1997)
The tale of Rose and Jack's whirlwind romance is as timeless as the traditional style of these dishes. Stark-white bone china with a delicate platinum band evokes the early 20th-century elegance of the ill-fated ship, but with a simplicity that can fit in any era.
Lenox Belle Haven 5-piece place setting, $186
Sleepless in Seattle (1993)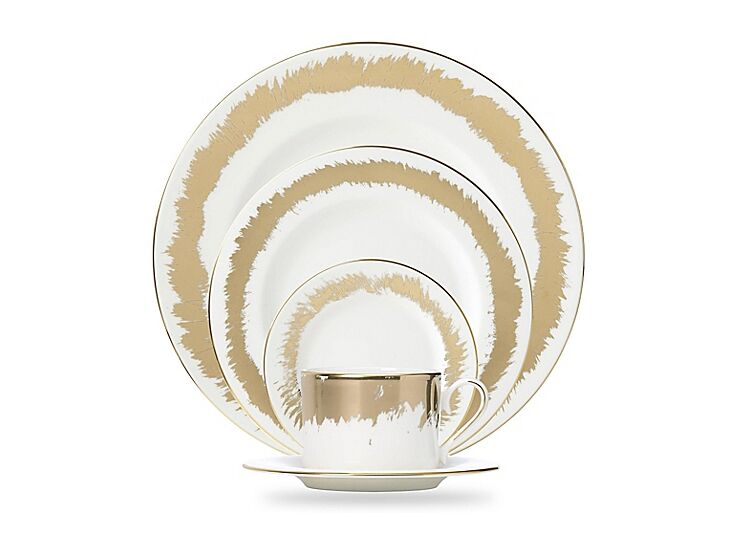 This '90s rom-com centers around a reference to another celebrated romance: 1957's An Affair to Remember. Luckily, at the end of this version, the couple does eventually meet up at the top of the Empire State Building. Like the movie, these dishes put a modern spin on a classic design, with a painterly gold rim that's far from old-fashioned.
Lenox Casual Radiance 5-piece place setting, $200
Dirty Dancing (1987)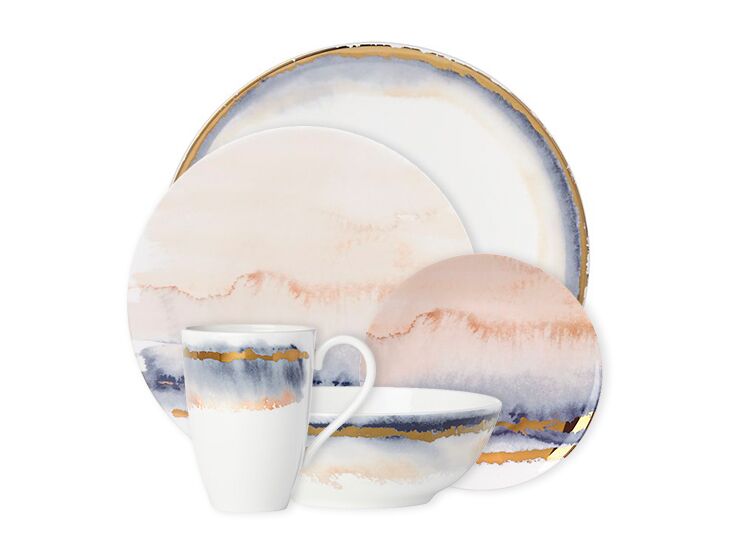 The ultimate summer romance between Baby and Johnny had us all wishing we could learn the mambo in the middle of a lake. But even if you and your partner have two (four?) left feet, you can channel the sexy swagger of that final number with this dinnerware inspired by a sunset over the water.
Lenox Radiance Summer 4-piece place setting, $230
La La Land (2016)

In this homage to following your dreams, Sebastian and Mia aspire to one day see their names in lights. While it's not exactly a theater (or jazz club) marquee, these monogram accent pieces will certainly make a personalized statement on your dinner table.  
Lenox Federal Gold monogram salad plate, $19

The Princess Bride (1987)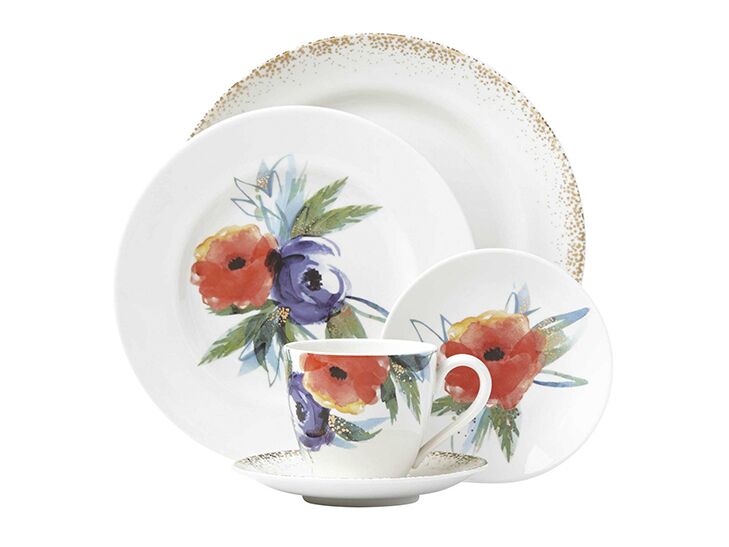 There's something about a great fairy tale that sticks with you long after you've grown up. Harken back to this whimsical tale of a princess and her pirate with equally fantastical china, complete with a regal rim of speckled gold.
Lenox Passion Bloom 5-piece place setting, $143
Casablanca (1942)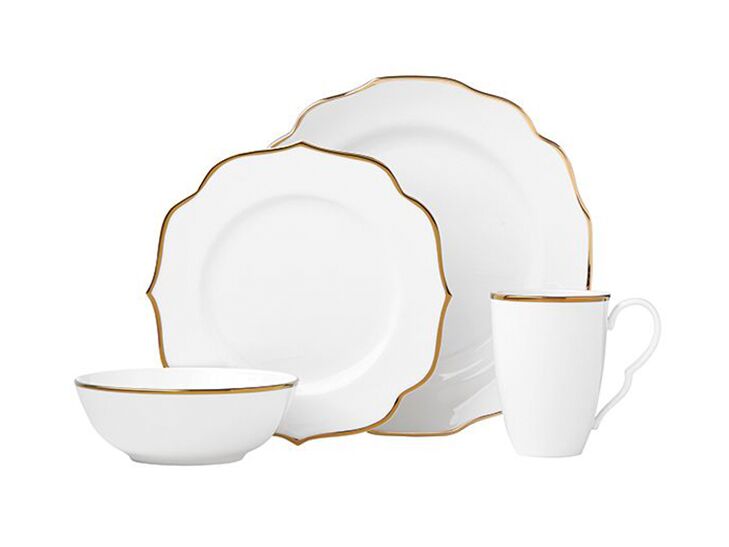 Somehow a romance in a far away land feels that much more exciting thanks to the exotic change of scenery. The simple elegance of this white china with gold quatrefoil edging calls to mind both the architecture of Morocco and the chemistry between Bogart and Bergman.

Lenox Contempo Luxe 4-piece place setting, $143
Love Actually (2003)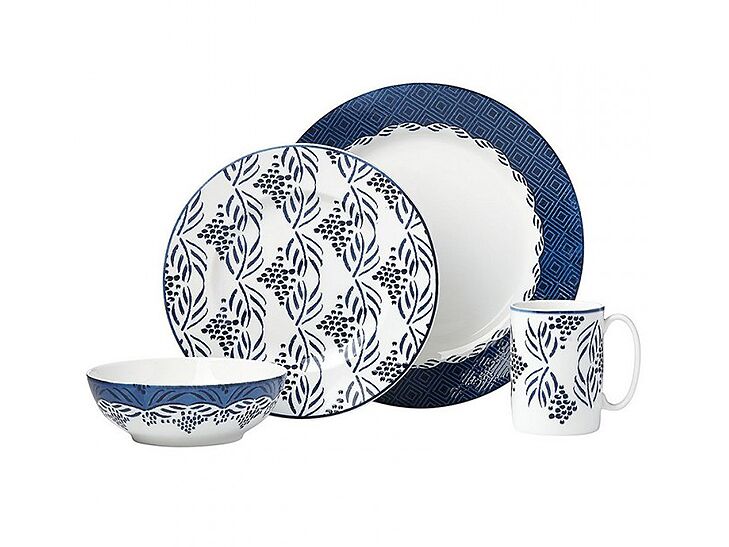 This quirky compendium of interconnected love stories is best represented with bright and cheery dishware you'll use every day. The colorful stripes on the accent pieces here are fun and contemporary, while the dinner plates are neutral enough to go with any décor.
Lenox Blue Pointe Berry 4-piece place setting, $72

Breakfast at Tiffany's (1961)

Holly Golightly's iconic style in this film is the perfect blend of everlasting elegance and fashion-forward thinking. We know she'd be just crazy about this dinnerware with a subtle fluted edge and dainty gold dots.
Lenox Golden Waterfall 5-piece place setting, $215
All items available at Lenox.com
The Knot and Lenox present A Place at The Table, a sponsored series featuring tips and ideas to help brides become the ultimate entertainers. Visit Lenox.com to see the latest dinnerware collections.