Rustic Wedding Cake Ideas for Any Season
Tips and inspiration for your dream rustic wedding cake.
by Andrea Fowler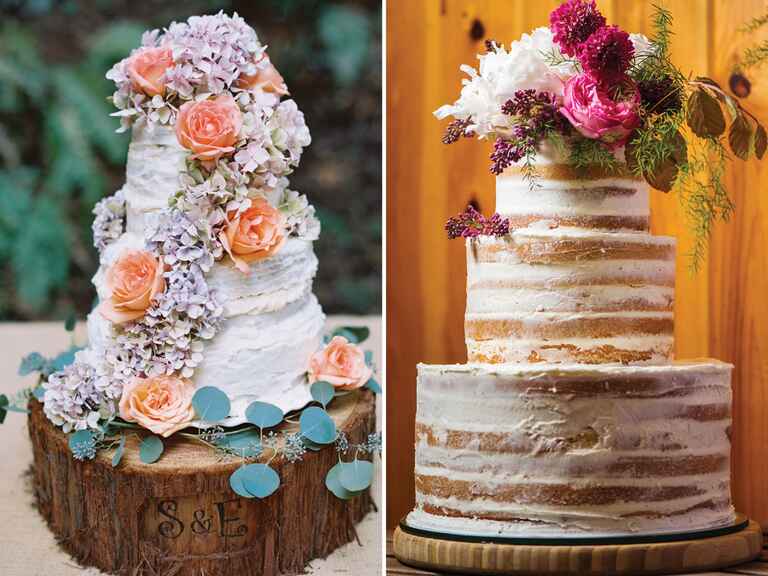 If you're getting married in a barn, at a lakeside camp resort or on a ranch, it sounds like you need a rustic wedding cake to round out your reception. The basics of any good rustic wedding cake is to keep the overall design looking natural. That means no bold frosting colors that aren't found in nature and no glamorous details like rhinestone bands. Instead, stick to natural greenery, florals and berries for garnishes.
Don't forget about the presentation. A wood cake stand, wreath of eucalyptus around the base and some twinkle-light backlighting or candles can transform the dessert table into a scene of pure charm. If you want to opt for a smaller cake, think about supplementing the dessert table with fun alternatives like s'mores, mini pies or bundt cakes. 
photo by

Blair Nicole Photography

Mountainscape Frosting Design

photo by

Mollie Tobias Photography

Naked Cake With Floral Topper

photo by

Justin + Mary- The Weddings

Sugar-Dusted Fruit Garnishes

photo by

Sheradee Hurst Photography

photo by

Katelyn James Photography

Seeded Eucalyptus Decorations

photo by

With Love & Embers

Naked Chocolate Cake With Berries

Rustic Buttercream Texture

Wood, Moss and Fern Designs

photo by

Chudleigh Weddings

photo by

Kismet Visuals & Co.