27 Rustic Wedding Cakes That Are Almost Too Pretty to Eat
Send these ideas to your baker ASAP.
We have included third party products to help you navigate and enjoy life's biggest moments. Purchases made through links on this page may earn us a commission.
While it might not be one of the first planning tasks you tackle, designing your wedding cake will be one of the most exciting to-dos on your list. If your heart is set on a rustic wedding, your cake can be a seamless extension of the theme. Rustic wedding cakes are all about natural textures and muted colors. The rustic aesthetic is best known for earthy materials, like burlap, twine and wood, as well as soft colors like pastels, neutrals and the occasional deep maroon or red. Narrowing down the best rustic wedding cake ideas can feel overwhelming at first. Since rustic weddings are a popular style, there's no shortage of inspiration. But if you have your heart set on a rustic cake, we're here to help.
Below, we've rounded up 27 rustic wedding cake ideas to emulate on your big day. Browse our favorite photos below, and work with your baker or caterer to design a cake that fits your wedding day vision. Whether your rustic wedding will take place in a barn, on a country farm or in your own backyard, we've got plenty of cake ideas to fit any venue and season.
Semi-Naked Wedding Cake
A semi-naked wedding cake is one of the most rustic designs you can get. Exposed layers create a natural, textured finish, which will complement any wood or burlap accents throughout your wedding venue. For additional pops of color, accent your naked wedding cake with fresh flowers, greenery or fruit, and set it on a cake stand so it can be admired from all angles.
Pastel Peonies
If you're getting married during peony season (which spans from late spring to early summer), this romantic floral is a must. Bring your rustic wedding cake vision to life with clusters of peonies in dreamy pastel shades.
Wildflower Accents
You can't go wrong with wildflower accents. If you're picturing a country wedding cake for your big day, work with your baker and florist to identify in-season blooms that'll give your confection a cottagecore vibe. We love how this couple paired clusters of wildflowers with grassy palms and sprigs of greenery to create a rustic boho feel.
Whimsical Greenery Backdrop
A lavish greenery arch above your dessert table will draw everyone's eyes to your wedding cake. Not only would this make for an Instagram-worthy floral moment, it's a great installation for a rustic woodland wedding theme. Add accents like candles, bouquets and a wood cake stand to make your dessert table one to remember.
Glam Wedding Cake Topper
When it comes to rustic cakes, you aren't confined to a neutral color palette and natural accents. Try combining two wedding themes, like rustic and glam, for a memorable dessert. This couple upgraded their rustic semi-naked wedding cake with a chic gold topper, creating a design that fuses the best of both styles.
Cascading Flowers
We've got all the heart eyes for this rustic wedding cake, which has whimsical wildflowers cascading around four layers of buttercream tiers. If you're not afraid to experiment with color, decorate your sweet treat with a variety of floral hues for a fun, playful look.
Custom Initials
While it's essential to pay attention to details like the flavor and icing color, additional accents like the topper and cake stand are just as important. This custom tree trunk cake stand is a romantic choice for a woodland or barn wedding thanks to the initials etched in the center. Guests will be impressed by your careful attention to detail.
Eucalyptus Leaves
Perhaps wedding cake flowers aren't your thing. For a casual rustic look, replace florals with garlands of greenery, like eucalyptus. The simple strand of deep green leaves pops against white tiers, making it a good choice for couples who want to serve a simple rustic wedding cake.
Tree Trunk Cake Stand
If over-the-top decorations aren't for you, keep it casual with a tree trunk as your cake stand. Wood slices are a key element of rustic wedding decor, and they're an easy way to weave your theme throughout your venue.
Naked Wedding Cake
How about a naked cake? You're allowed to skip the icing if you want to. These exposed layers put the focus on the couple's vanilla and chocolate cake. Pair your naked confection with fresh fruit or flowers (or both) so that it feels intentionally designed to fit your rustic-themed wedding.
Tiered Cheese Cake
If you prefer savory over sweet, try swapping traditional wedding cake for a cheese cake instead. (Yes, cheese spreads at weddings are definitely a thing.) Wheels of cheese have a naturally rustic texture—take this multi-color "cake" for proof. Stack your favorite variations on top of each other for a genius wedding cake hack that'll be the talk of the night.
String Light Accents
What's a rustic wedding without string lights? Whether you're saying "I do" in a barn, on a farm or in your backyard, string lights are an easy (and affordable) way to give your space a romantic makeover. Upgrade your dessert table with small fairy lights wrapped around your cake stand. This DIY design hack will put the focus on your rustic wedding cake.
Succulent Decorations
It's hard to overlook succulents when searching for rustic wedding cake ideas. Clusters of spiky succulents will add depth and dimension to your rustic cake. We recommend leaving the icing simple as to not distract from the leafy arrangements.
Textured Layers
The rustic aesthetic is all about mismatched textures, and this four-tier wedding cake has it all: naked layers, a unique topper, multiple flavors and extra-sweet toppings like cookie crumbles and popcorn. If you're looking for rustic cake ideas that'll stand out, consider modeling yours after this creation.
Single-Tier Cutting Cake
Single-tier cakes are perfect for minimonies or elopements, but they're also great for couples looking to serve a variety of desserts. Instead of spending your entire dessert budget on a large cake, consider getting a one-tier confection to slice. Then, offer guests additional sweets like cupcakes, cookies, ice cream or donuts to give them plenty of choices.
Chocolate Ganache Drizzle
Who can resist a chocolate drizzle? This mouth-watering detail is an aesthetically-pleasing way to enhance your rustic wedding cake. Guests will be counting down the seconds until they can dig in.
Apple Slices
Autumn is peak apple-picking season, so if you're looking for fall wedding cake ideas you can't go wrong with this seasonal fruit. Use apple slices from a local orchard to decorate the top layer of your cake. When paired with rustic details like a tree slice cake stand, semi-naked tiers and a neutral color palette, your cake will be a country dream come true.
Fresh Flowers
Fresh flowers are a classic wedding cake decoration. These pink cabbage roses bring a shabby chic touch to this white semi-naked rustic cake.
Birch Tree Design
Go for a full-on woodland-themed cake with a birch tree design. We particularly love the couple's initials etched within a heart on the middle tier.
Sugar Flowers
Satisfy your sweet tooth by decorating your rustic wedding cake with sugar flowers instead of real blooms. These muted pink petals pop against textured white icing, making this simple cake idea perfect for a rustic soirée.
Rustic Farmhouse Dessert Table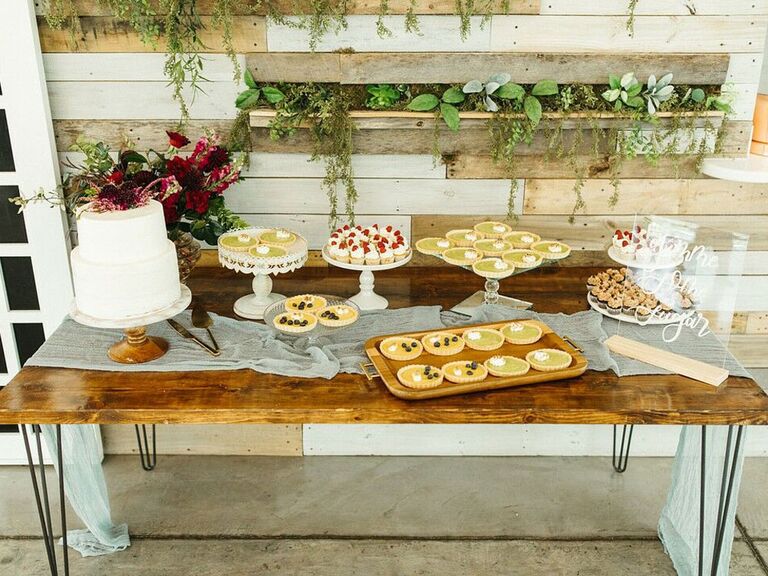 Presentation is key when it comes to your wedding cake. To really wow guests, pay attention to the table your cake will sit on. In addition to your sweets, rustic decorations will help your spread fit seamlessly into your wedding theme. Elements like burlap, twine, stained wood and artfully placed pinecones will make your dessert table a Joanna Gaines-worthy rustic oasis.
Custom Wood Cake Topper
Personal touches will make your wedding one to remember. A custom wood cake topper is an easy way to make your rustic wedding cake feel tailored to you and your S.O.
Bold Color Palette
We love this rustic cake idea for a winter wedding. If your wedding colors include deep, moody hues, incorporate them on your cake too. We love how this crimson floral centerpiece pops against a rustic white base.
Mismatched Tiers
Memorable wedding cakes aren't all about colorful frosting or lush flower arrangements. Small details like varying tier heights can create an optical illusion that'll make a statement. For a simple rustic wedding cake, opt for minimal decorations and let the mismatched tiers create a dramatic look.
Neon Accents
Don't feel confined to wood accents and muted colors if you're planning a rustic wedding. Incorporating the basics is key for staying on theme, but you can add a few trendy accents too. We love how this couple topped their rustic wedding cake with a neon initial sign, which fuses two styles in a cohesive way.
Fresh Berries
You can't go wrong with fresh fruit artfully arranged on your wedding cake. This rustic two-tier creation has just enough color thanks to clusters of fruit and sprigs of greenery on all levels.
Rosette Frosting
Airy frosting details like rosette flowers will elevate any rustic cake. This pastel yellow shade pairs well with a wire rose gold cake topper and clusters of green succulents.