6 Most Commonly Asked Same-Sex Proposal Questions
Love Inc.'s founder and editor-in-chief shares helpful tips on same-sex proposal protocol.
by Brittny Drye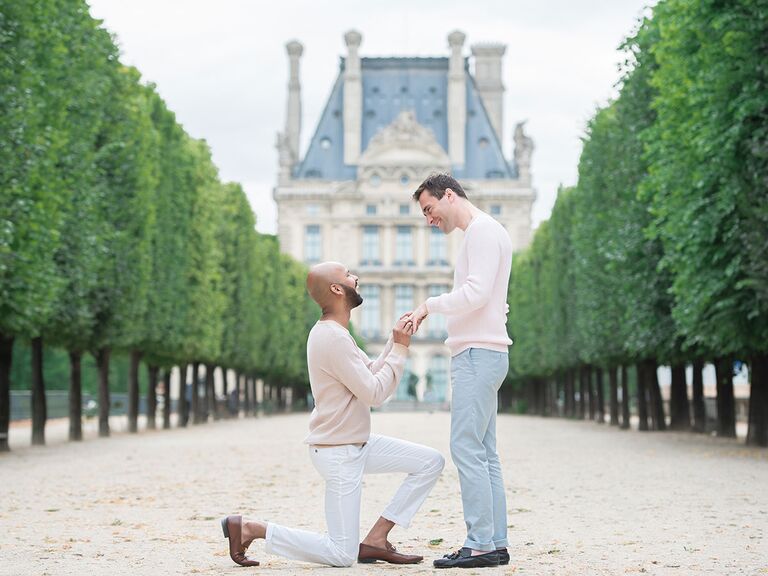 What comes to mind when you think of a marriage proposal? Probably some version of a man kneeling in front of his girlfriend, preceded by an elaborate, romantic and nerve-wracking period of planning. But in today's beautifully diverse and modern world of love, the structure and protocol of proposals has become anything but typical—which naturally leads to questions. Here are answers to some of the questions most often asked about same-sex proposal etiquette, protocol and logistics.
1. Who proposes?
In general, people tend to fall into two camps: the romantics (one partner wants to surprise the other with a grand gesture) and the planners (those who discuss their engagement together in a thoughtful conversation). Regardless of where you fall on this spectrum, there are no defined rules about who should do the proposing, or whether there even has to be an official proposal at all. Particularly for same-sex couples who've been together for a long time, it can be as simple as making a decision together over a great bottle of wine, then diving straight into the party planning. If the uncertainty is causing you anxiety, simply ask your partner how they envision a proposal playing out.
2. Do both partners have to propose?
This is completely up to you and what feels right in your relationship. Some couples choose to propose to each other at the same time. Sometimes only one partner proposes, while other times one proposes and the other follows suit shortly after. Go with whatever feels comfortable, meaningful and personal to you both.
3. Do I propose with a ring?
Whether you're in a same-sex relationship or not, if your partner isn't the ring-wearing type, don't feel pressure to get them one just because it's the norm. Luxury watches are a popular alternative for LGBTQ couples. We've also seen couples make the decision to put that money toward their life together, whether it's in savings, buying a home or traveling.
4. Do both partners get a ring?
Whether or not you have two proposals, couples often both choose to wear engagement rings, which can double as wedding bands too. But again, do what feels right for you.
5. How do I know what to purchase and when?
Communication is key for this one. Every couple is different—some want everything to be a surprise while others want to pick out their ring(s) together, and sometimes that means the shopping happens after popping the question. If your relationship is headed toward forever, look for clues to what your partner might love (maybe they've dropped a hint). And if it's not obvious, discuss it if you're short on ideas.
6. Do our bands have to match or coordinate?
Definitely not—although they can, if you want! Feel free to let your wedding jewelry reflect your individual style.
Brittny Drye is the founder and editor-in-chief of Love Inc., an equality-minded wedding blog that celebrates both straight and same-sex love, equally.