19 Beautiful Photos of Same-Sex Weddings That Happened on June 26
Some were planned and some were spontaneous, but all of the same-sex weddings that took place on June 26, 2015, had one common theme: lots and lots of love.
by Ivy Jacobson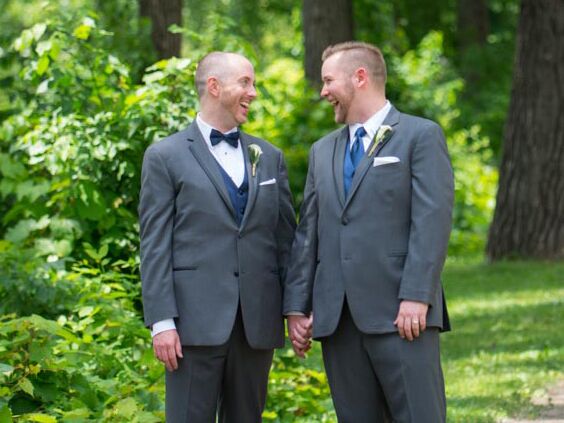 When the US Supreme Court legalized same-sex marriage on Friday, June 26, the momentous news prompted some couples to have spontaneous weddings, and made other planned weddings that much sweeter. The Knot couldn't be happier for all of the couples that can now legally say "I do," so what better way to celebrate than looking at photos from three couples' weddings that happened last Friday?
Cath & Laura: Atlanta, Georgia
Cindy and Sharon, Same Sex Wedding Photographers



"Cath and Laura met on Match.com about 15 months ago," Cindy Brown of Cindy and Sharon, Same Sex Wedding Photographers tells The Knot. "Cath was about ready to give up on online dating services, but hadn't given up yet. Their first date was a 9 a.m. yoga class on a Sunday morning. After class they had lunch together and talked for two or three hours."
Their wedding was spontaneous, but was full of pure happiness. Laura was listening to the radio when she heard about the Supreme Court decision and called Cath to tell her about it.
"The two had been tossing around the idea of marriage, but had made no plans," Brown says. "When Cath heard that there was going to be a mass wedding in downtown Atlanta that day, she asked Laura if she wanted to get married that day. So the proposal took place over the phone. Laura was hesitant at first, because she wanted her whole family to be able to share in the joy. So Cath told Laura to call her parents to see if they could make it. When they found out Laura's parents, Sylbia and Jorge Rivera, were willing to drive from Conyers, Georgia, to come, Cath and Laura decided to head to the courthouse. They also called and invited a few friends and co-workers. Everything happened so quickly, they didn't have time to buy rings, so they borrowed rings from their friends Hilary and Katie."
After getting married by a judge during the mass wedding, they headed to the courthouse steps where they were married by Unitarian Universalist minister Anthony Makar.
"The vibe was pure joy from the time they stood on the courthouse steps getting ready to go into the probate court to get their marriage license, until Cath picked Laura up off the ground after the ceremony," Brown says.
Cindy and Sharon, Same Sex Wedding Photographers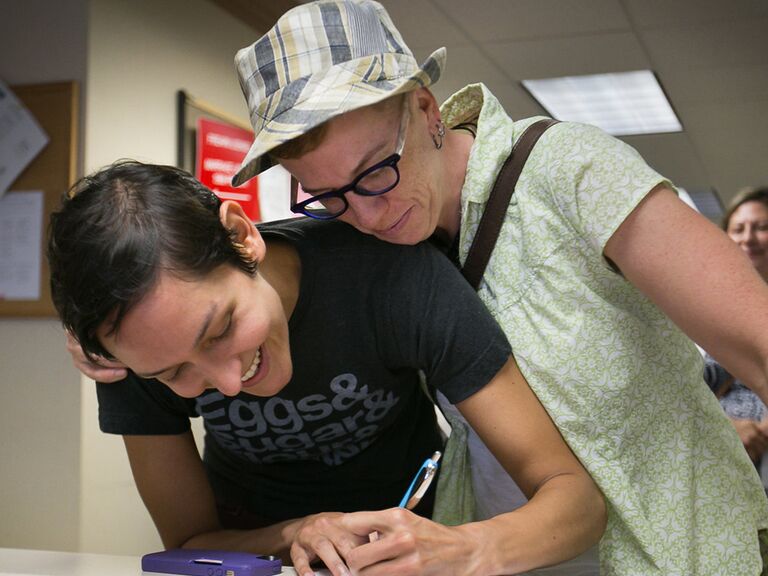 Cindy and Sharon, Same Sex Wedding Photographers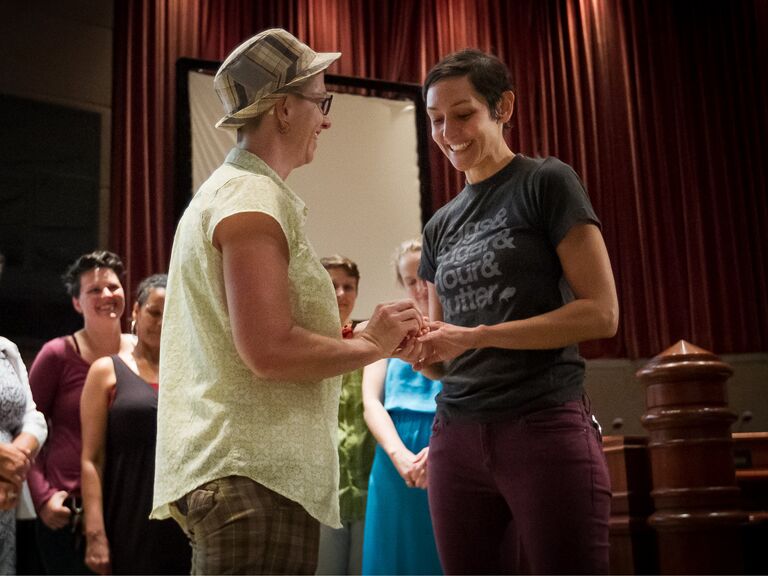 Cindy and Sharon, Same Sex Wedding Photographers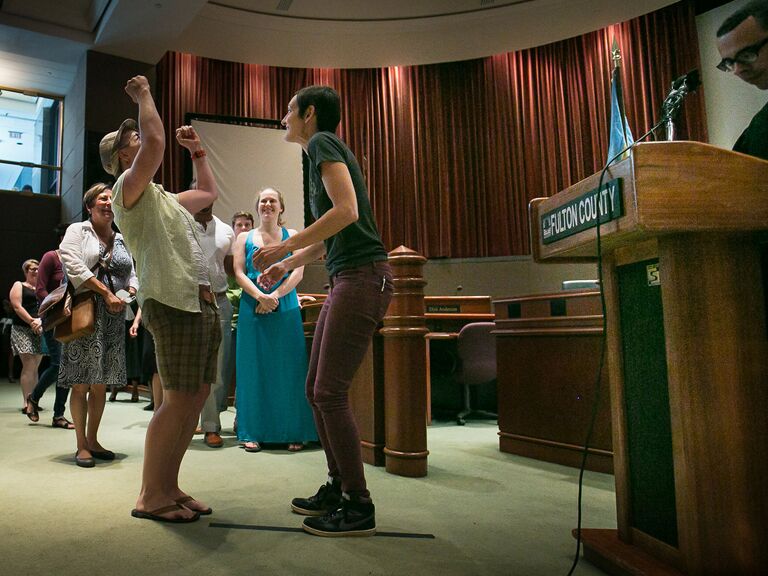 Cindy and Sharon, Same Sex Wedding Photographers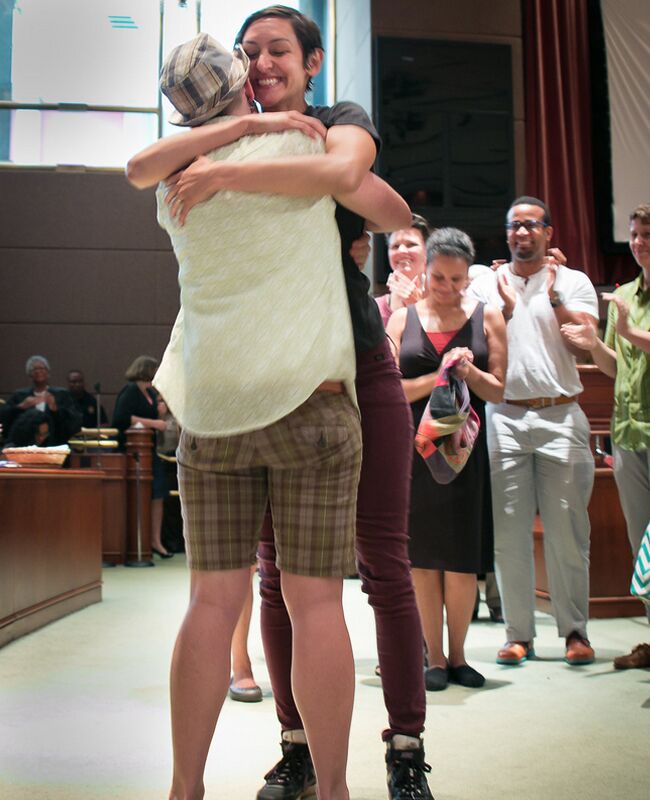 Cindy and Sharon, Same Sex Wedding Photographers


Travis & Nicholas: Minneapolis, Minnesota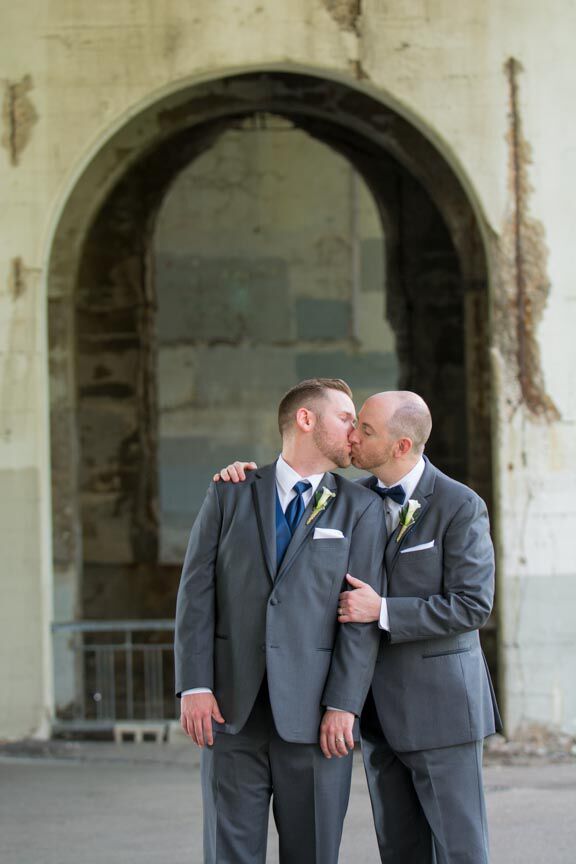 Travis and Nicholas went on their first date in February of 2014, their first trip together to New York City in May of 2014, and by August 3, 2014, they got engaged in Minneapolis's Gold Medal Park near the Mississippi River and Stone Arch Bridge.
"With a lot of laughs, tears, and a little shock, this became a defining moment for us as a couple," their wedding website states. "As we plan for our special day with friends and family on June 26, we continue to look forward to many more defining moments not only between the two of us, but all of you as well."

And as luck -- and love -- would have it, gay marriage became legalized on their wedding day, June 26.
"Marriage equality came to our home state of Minnesota on August 1, 2013," Travis and Nicholas tell The Knot. "We were reminded of that powerful night — weddings began at 12:01 a.m. that day — on June 26, when the US Supreme Court extended that right to all 50 states. Our wedding also took place on June 26, giving us the opportunity to celebrate our relationship with the people we love. What an amazing day! Our officiant was Dr. Thomas Schierholz, coordinator was Nicolle Sellers, photos by Coppersmith Photography, and thank you to The Grand Hotel and Jill Galera in Minneapolis for hosting our day. Flowers were by Richfield Flowers and the cake beautifully made by Terry John Zila."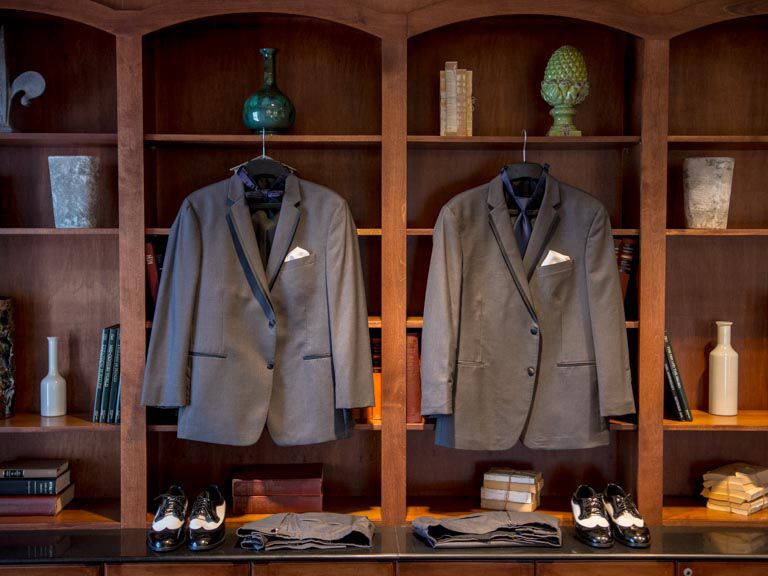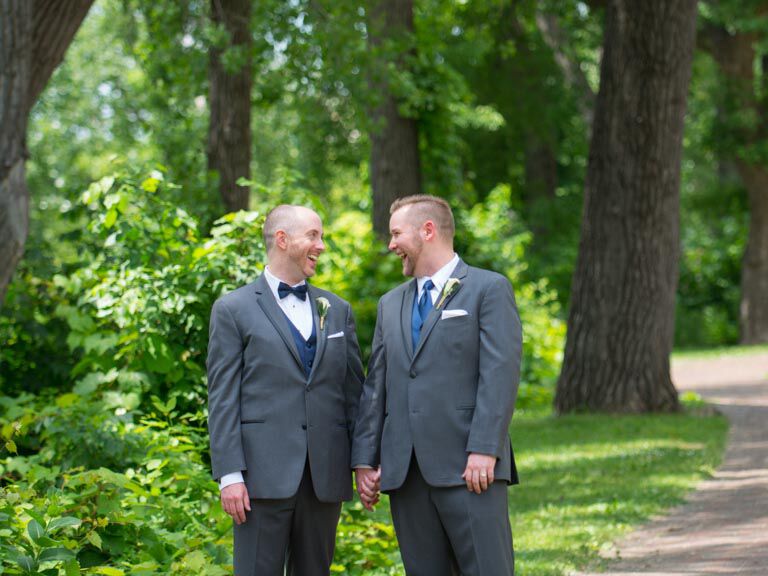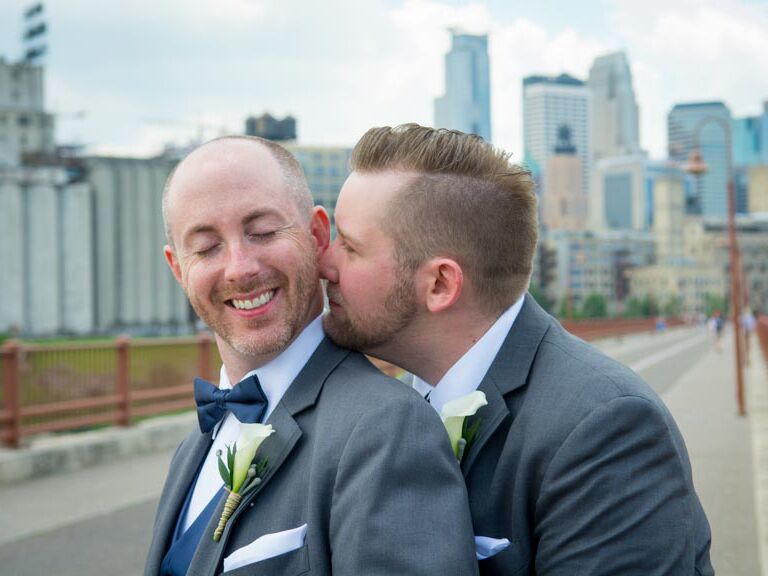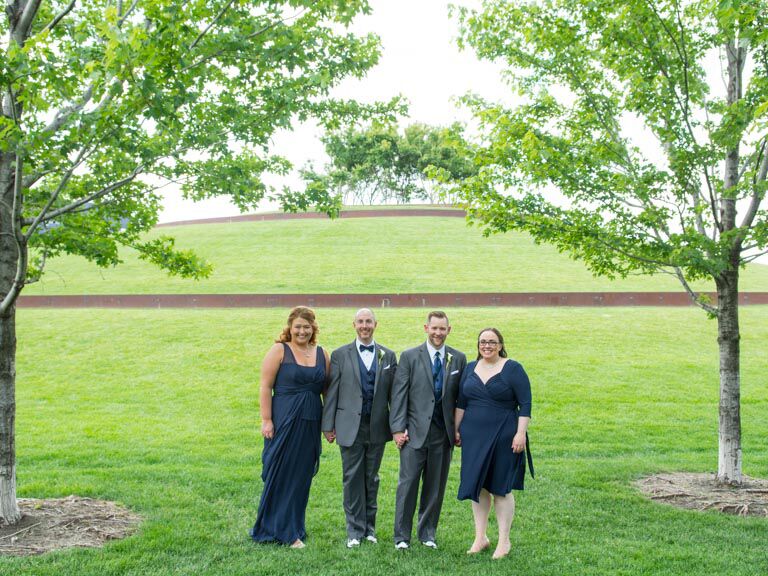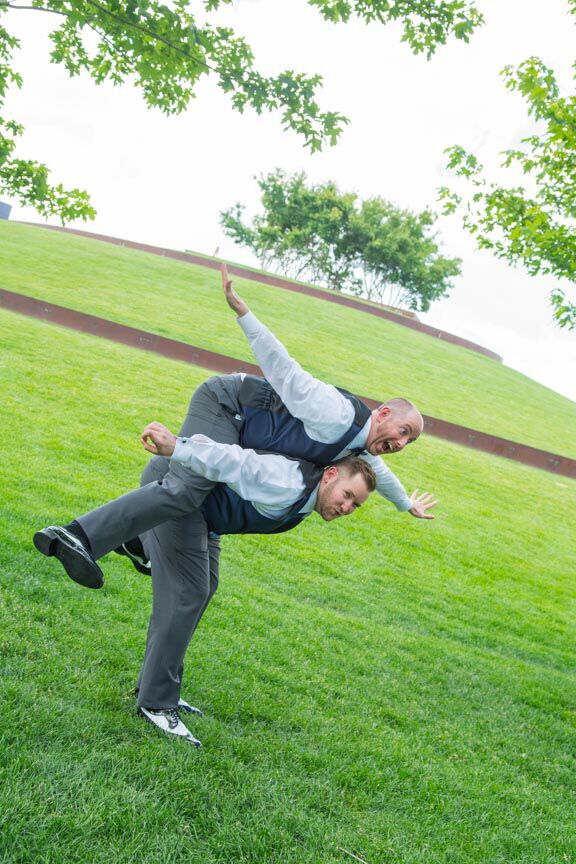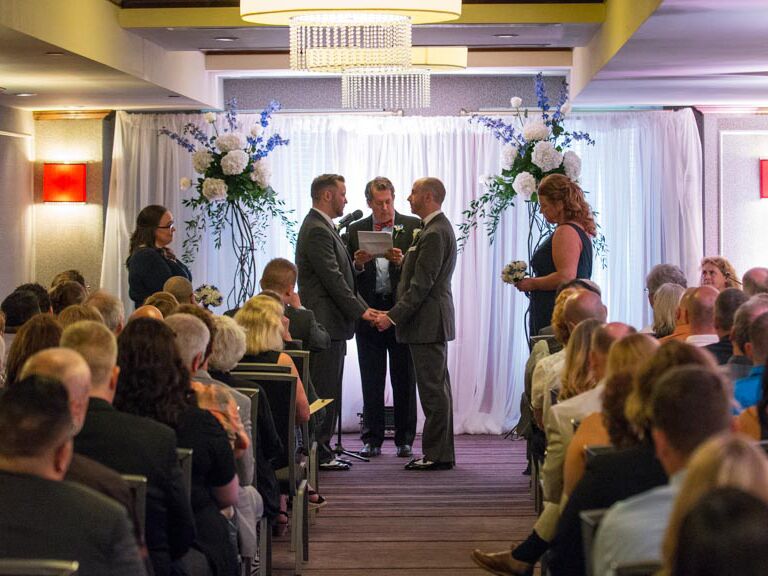 Lisa & Anny: Haverhill, Massachusetts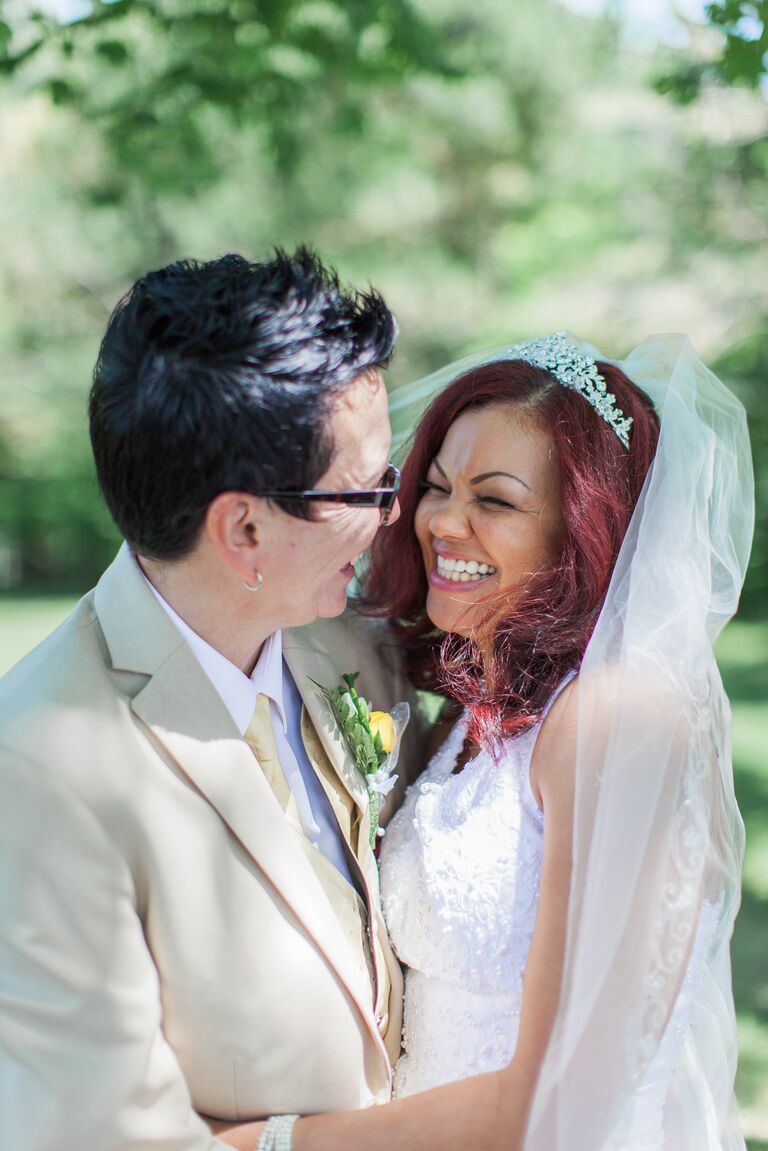 Kelly Burgess Photography
Lisa and Anny met online on Plenty of Fish in September of 2011, and after dating for almost a year, moved in together in July of 2012.
"Anny is the mom to a soon-to-be 18-year-old young man and I am the mom of a now 12-year-old girl; we created a blended family," Lisa tells The Knot. "On December 30, 2013, I proposed marriage to Anny in Central Square, New York, during a New Year's visit to her family that live there. We would have married sometime in 2014, however, Anny became sick and needed a surgery that still to this day she is healing from. January 2015 is when we seriously started talking about what we wanted for 'our day.' So, we agreed that we wanted a summer wedding for photos outside. We planned for June 26, 2015. We both like the numbers 2 & 6 and 8 (when added). Anny's sister married at City Hall in New York City in 2014 and had such a positive, frugal experience that we thought we would do the same. We had a tight budget and focused on what was most important to us. That included an 'official' ceremony done at City Hall, only our closest family and a professional photographer for those important keepsakes."
And for a sweet surprise, Lisa actually hired their wedding photographer as a surprise for Anny.
"They had not originally budgeted for a photographer, but Lisa knew how important it was to Anny and wanted to surprise her," Kelly Burgess of Kelly Burgess Photography tells The Knot. "Lisa ended up telling Anny beforehand, and they were both thrilled that they would have professional photos of their day. They wanted an intimate and quick ceremony at the City Hall in Haverhill, Massachusetts, where they live. They invited their two children and their closest family on both sides. They were married by a justice of the peace in a room overlooking the river. Everyone was so moved, I had to bring out my emergency tissues. After the ceremony, we all headed to Kenoza Lake for photos and then back to Anny and Lisa's house to celebrate. It was perfectly intimate with no fuss or frills, and truly about nothing but their love for each other."

Lisa and Anny's wedding planning happened in the midst of the Supreme Court working on their same-sex marriage ruling, and planned to announce a decision sometime in June or July.
"Lo and behold, they rendered their decision to legalize same sex marriage in the US on our previously-decided wedding day!" Lisa says. "All the more reason that our wedding day was meant to be."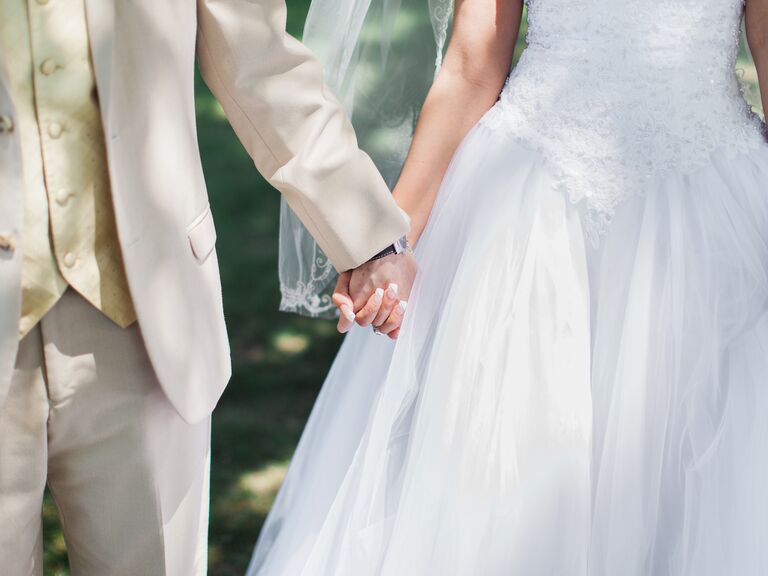 Kelly Burgess Photography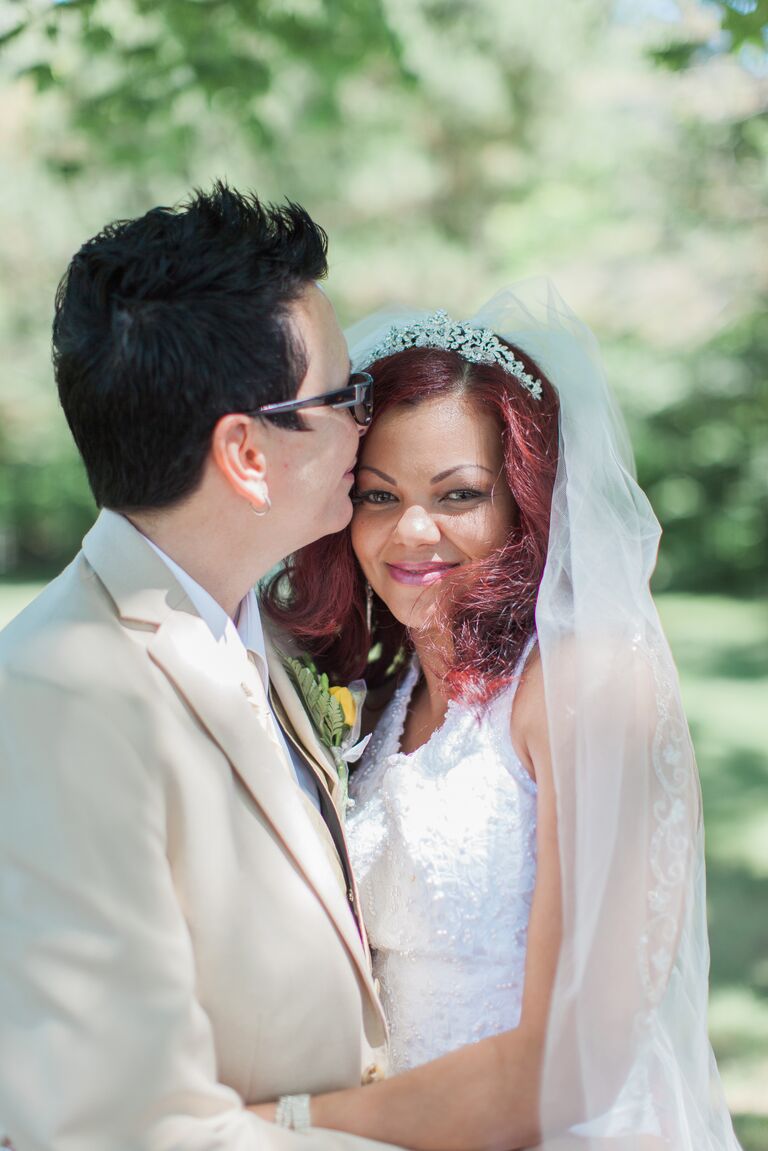 Kelly Burgess Photography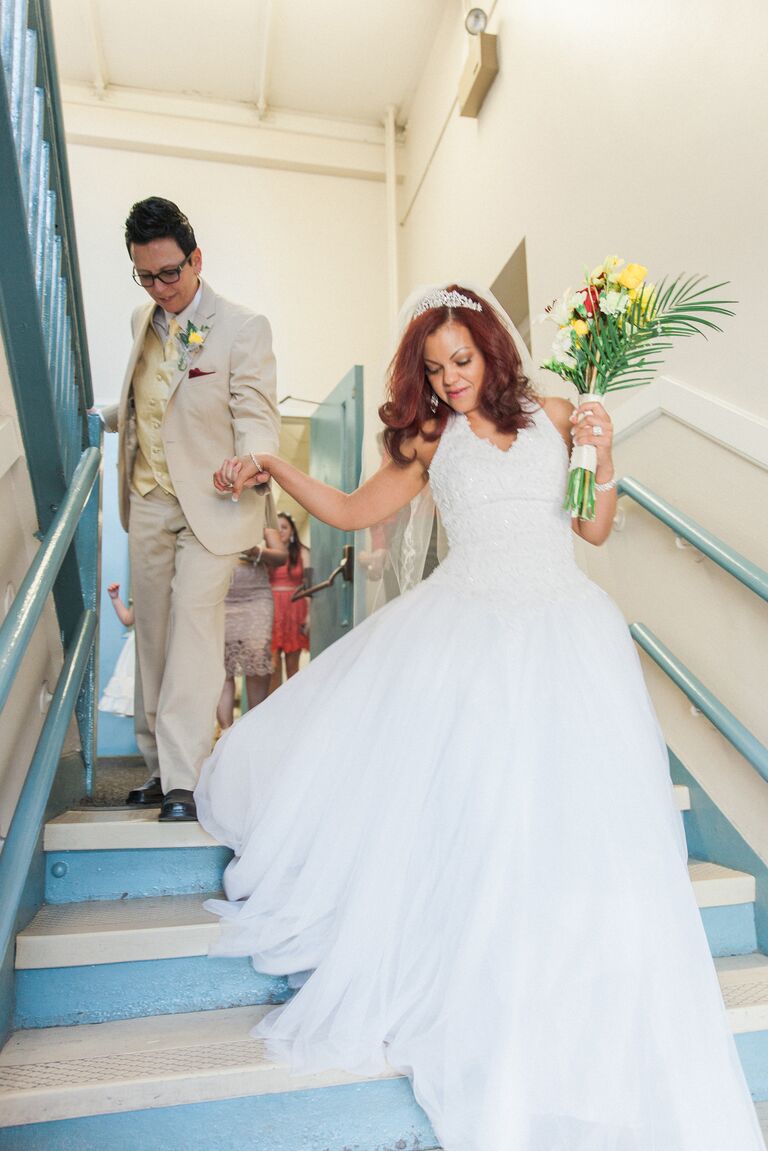 Kelly Burgess Photography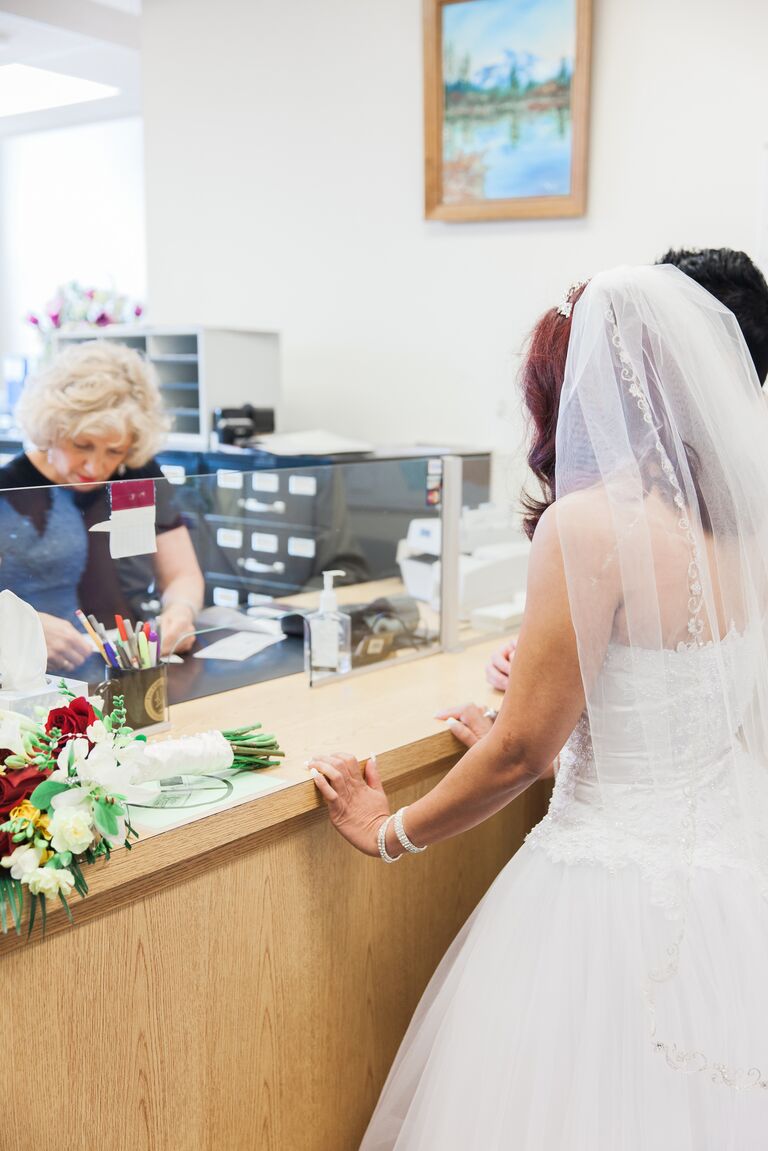 Kelly Burgess Photography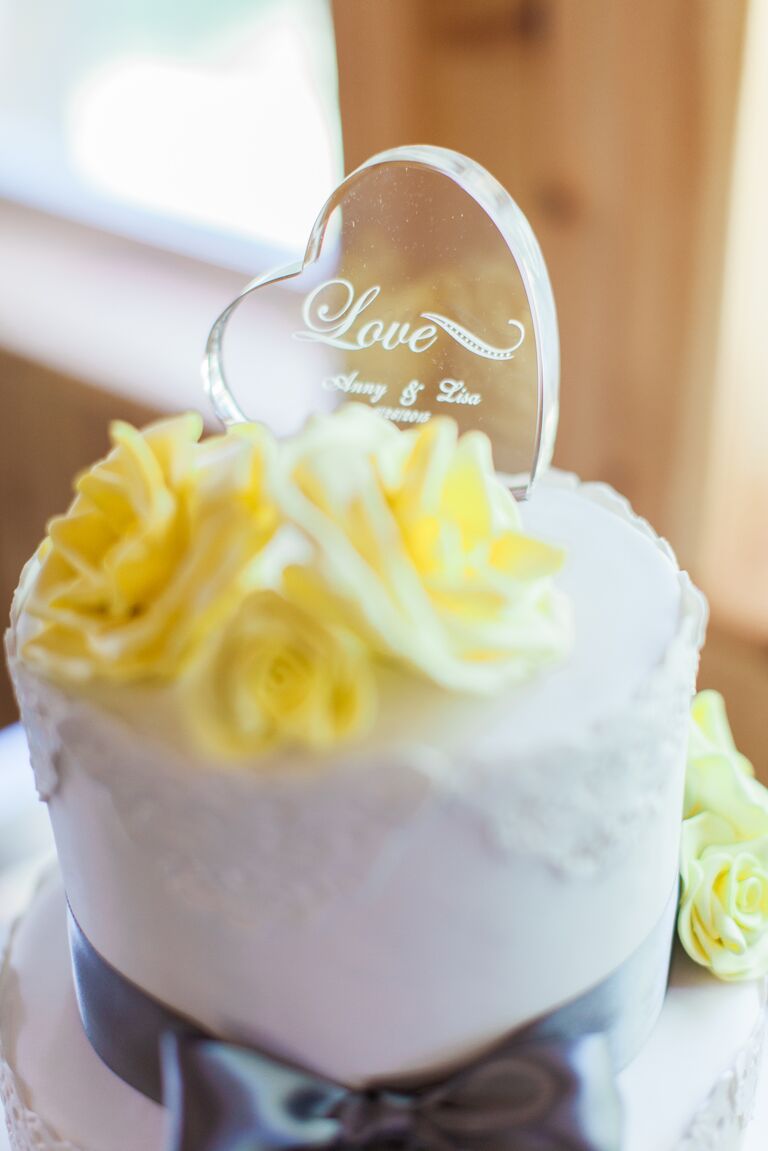 Kelly Burgess Photography
Congratulations to all of these newlywed couples who showed that #LoveWins!