Celebrate Sunny SoCal at These 16 Stunning San Diego Wedding Venues
San Diego is always a good idea—especially when it comes to your big day.
Here's the scoop on San Diego wedding venues and why this sunny locale needs to be on your radar. The southernmost city in Southern California, San Diego is beloved by locals and travelers alike. And with popular locales including Gaslamp Quarter, La Jolla, Coronado, Balboa Park, Downtown San Diego and Mission Bay—just to name a few—it's no wonder. California's second-largest city boasts 70 miles of beaches, many famous attractions and a favorable Mediterranean climate, all of which bring new visitors and seasoned tourists to town year-round. But it's not all beachfront and bayside here: San Diego also has farmland, mountains, vineyards, rugged terrain and deserts.
With so much going on in San Diego, of course it's a wonderful wedding destination for both local and destination weddings. But the vast amount of San Diego venue options may leave you more overwhelmed than excited about deciding where to say "I do." That's probably what led you here, and we're glad to have you because we're ready to help. In this guide, we've sourced 16 of the best wedding venues in San Diego for you to peruse that are perfect for every couple and wedding style. Outside and indoors, coast to hotel to vineyard, and even all-inclusive wedding venues, San Diego has it all. We're confident these ceremony and reception wedding venues in San Diego will satisfy your special day requirements. And if you want to dive even deeper into the venue and vendor offerings available in SD, you can mosey on over to The Knot Vendor Marketplace.
Luce Loft in San Diego, California
First up, we have Downtown San Diego's Luce Loft. Located in the city's East Village neighborhood, the vintage loft can accommodate your wedding weekend festivities, from your rehearsal dinner to your wedding reception. The boho-meets-hipster event space is located in a historic warehouse, and its features (a high arched ceiling, concrete walls and floors, barn doors) match its aesthetic. And with an open floor plan and vendor policy, Luce Loft makes wedding planning a breeze and can be the perfect location for you, your spouse and 148 of your closest friends and family members to celebrate your marriage.
Hilton San Diego Bayfront in San Diego, California
Hilton San Diego Bayfront is a picturesque AAA Four Diamond Award-winning hotel and event venue overlooking the San Diego Bay. With over 100,000 square feet of event space here, your options are endless. The palm tree-lined Promenade Plaza is a beautiful bayside ceremony and reception space for 50 to 200 guests; say "I do" at your outdoor wedding, and celebrate with panoramic views of the water. Alternatively, you have several interior options: the Indigo Ballroom and Terrace, Indigo 202 and 204, the Aqua Salon, the Sapphire Ballroom and Terrace, and the 30th floor's Elevation Room. Each interior space offers water views, too, so you're not missing anything by heading indoors.
Leoness Cellars in Temecula, California
Head to Temecula Valley's Wine Country, and you'll find Leoness Cellars, a romantic, French countryside-inspired winery—and just maybe your dream San Diego wedding venue. The natural beauty of this venue is undeniable: Host your wedding ceremony amid acres of vineyards and mountain vistas. Then, have your reception take place in a large, one-of-a-kind barrel room illuminated by chandeliers. The setting may be enough to convince you to host your big day here, but if you're looking for more, Leoness Cellars also provides couples with access to award-winning chefs and preferred vendors to ensure you have the best wedding possible.
Harbor View Loft in San Diego, California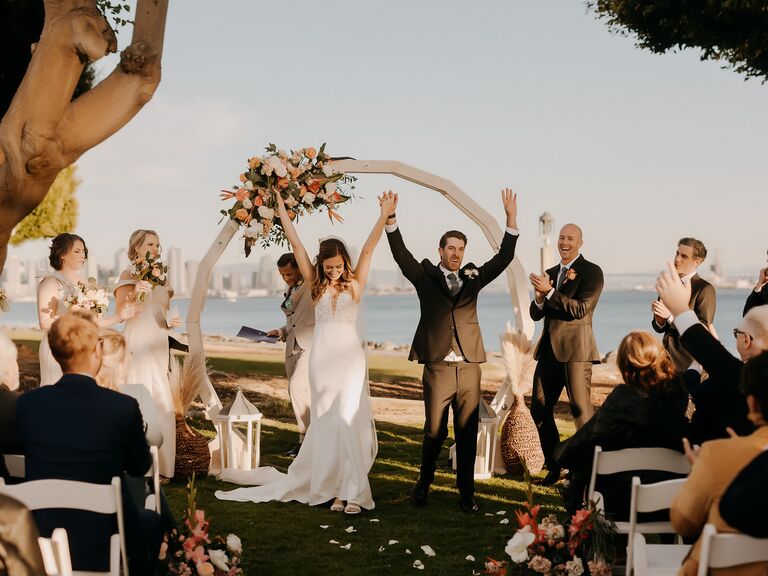 Harbor View Loft is all about panoramic views—of city lights, the San Diego harbor and marina and the Coronado Bridge. This full-service Harbor Island event venue is great because it will work with you on pricing. After hearing your budget and vision, the team will present you with all-inclusive packages and options that fit your needs. Getting back to the views, Harbor View Loft's outdoor spaces include a wraparound balcony and a patio for your wedding ceremony and cocktail hour. Not only will you delight in your surroundings; your wedding photographer will also be able to snap Insta-worthy waterfront photos.
Villa de Amore in Temecula, California
Villa de Amore is another Temecula Valley Wine Country event venue, but this stunning estate is deserving of its own recognition. Having your wedding day here means you'll have exclusive access to all 10 acres of Villa de Amore vineyards and gardens. Choose from three ceremony sites: Vineyard Views overlooking—you guessed it—miles and miles of vineyards; the Courtyard, surrounded by manicured lawns and gardens, water fixtures and twinkling lights; or the Ballroom, an interior space that brings the outdoors inside via massive doors. This sprawling estate, built for weddings, is an amazing option for your big day.
The Ultimate Skybox in San Diego, California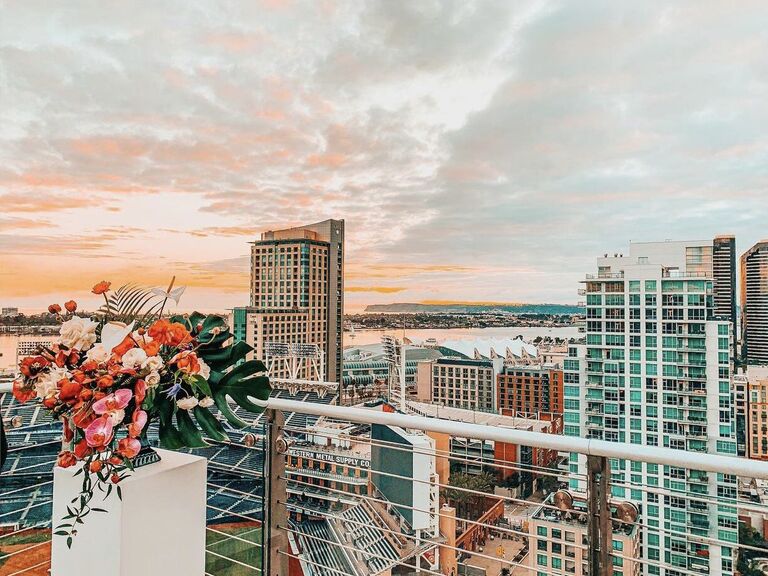 Weddings are exciting. City life is exciting. Combine the two, and you get The Skybox—a Downtown San Diego event venue soaring high atop the DiamondView Tower. The Skybox offers 4,500 square feet of indoor and outdoor event space and amenities including a 100-foot outdoor patio with views of Petco Park and the San Diego skyline, a 15-foot outdoor fireplace, floor-to-ceiling bay windows and five flatscreen TVs. The venue is also BYOB, with no corkage fees. Whether you're local or hosting a destination wedding, the Ultimate Skybox is a wedding experience that can only be had in America's Finest City.
Leo Carrillo Ranch Weddings & Special Events in Carlsbad, California
Leo Carrillo Ranch Weddings & Special Events, named after actor, preservationist and conservationist Leo Carrillo, is a historical ranch dating back to 1939. North of San Diego, in Carlsbad, the 27-acre ranch describes itself as a space for destination weddings, even if you're a local. Full of old-world charm, the event venue makes for the perfect rustic outdoor wedding. Another benefit of booking here is the all-inclusive wedding package, covering everything from wedding party dressing rooms and a day-of coordinator to a full buffet, linens and napkins, china, flatware, glassware and more.
Grand Tradition Estate & Gardens in Fallbrook, California
There's so much to love about Fallbrook's Grand Tradition Estate & Gardens. For starters, the 30-acre property is home to two venues—Arbor Terrace and the Beverly Mansion. Arbor Terrace is made up of lush tropical gardens, waterfalls and palm trees. (It's really dreamy.) At the ceremony site, you can get married in front of a cascading waterfall. Afterward, enter the tented Arbor Terrace Pavilion, outfitted with satin drapery, a stone and granite bar, and a waterfall above the dance floor. The different-but-equally-pretty Beverly Mansion is also a wonderful option, offering you the choice of a lakefront or waterfall ceremony site, manicured lawns and, inside, Swarovski crystal chandeliers and a Victorian-style pub bar.
Cuvier Club in La Jolla, California
La Jolla's Cuvier Club is a coastal event venue with Pacific Ocean views—and it is one of San Diego's best wedding venues. As a Cuvier Club couple, you have multiple ceremony sites to choose from, but the most popular is Cuvier Park. Also known as the Wedding Bowl, Cuvier Park is located on a small cliffside peninsula, ideal for small and midsize weddings, overlooking the Pacific Ocean. Head from the park back to the club for your reception, managed by Abbey Catering & Event Design Co. A highlight here is the bougainvillea garden available to you during your special event.
The Prado At Balboa Park in San Diego, California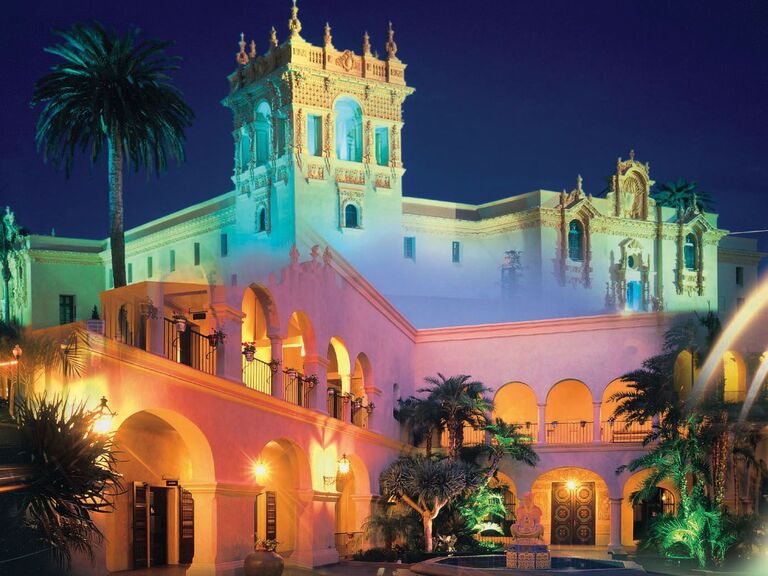 Fit for a fairytale, the Prado At Balboa Park is a palatial Spanish Revivalist-style property. The backstory of the historical Prado At Balboa Park starts in the 1910s, when it was constructed for the Panama-California Exposition. A three-year restoration beginning in 2000 made the property what it is today—an illustrious San Diego wedding venue that is both old-world and modern, and a delight to all couples who choose to host their weddings here. What's so special about this event space are the many intricate details you'll be immersed in as soon as you enter the vicinity: palm trees, a tower, the Casa Del Rey Moro Gardens, a flower-draped gate, candelabras, chandeliers and much more.
L'Auberge Del Mar in Del Mar, California
The team at L'Auberge Del Mar is ready to make your big-day dreams come true, whether that means a full-blown extravaganza or an intimate affair. There are many outdoor spaces at L'Auberge, and they'll all provide you with swoon-worthy ocean views. First, steps from the resort, is Seagrove Park; get married on the grass with up to 200 loved ones. Next up is the Pacific Terrace, a rooftop venue. Third, there is the Sunset Terrace, which is located in the resort's oceanview courtyard. Finally, there's the Ocean Terrace that, at 352 square feet, is the most intimate space. The entire resort is #WeddingGoals, so much so that you're encouraged to stay post-wedding for your honeymoon—no extra traveling required.
Flora in San Diego, California
Downtown San Diego's Flora is uniquely gorgeous and within walking distance of Gaslamp Quarters. Constructed in 1922, the building's character has been maintained via the original exposed beams that remain present today. Flora's all-inclusive package hits on three main areas: furnishings, equipment and services. Plus, as the name hints at, flowers and greenery are ever-present within the facility—from the botanical-lined path upon entry to a 70-foot-long living wall to hanging garden chandeliers and over 130 plants. Other great amenities include ambient lighting, lounge decor, movable partitions and colored LED lighting. Flora is anything but a blank canvas, and it's perfect that way.
Mt Woodson Castle in San Diego, California
Who wouldn't want to get married inside a castle? At Ramona's Mt Woodson Castle, your childhood fantasies can come true. The exterior structure may not instantly scream palatial, but a trip indoors will quickly change your mind. The castle is 12,000 square feet and has 27 rooms, a Great Hall with 16-foot ceilings, a pantry, four fireplaces, a dumb waiter, an intercom system and a windmill. The historical site's all-inclusive wedding package will have you feeling like royalty on your big day, covering your day-of coordinator, decor, catering needs, rentals, appetizers, champagne toast, linens and napkins, china, flatware, glassware and more.
The Westgate Hotel in San Diego, California
If your goal is to have a romantic, elegant wedding, the Westgate Hotel is likely what you're looking for. Why? Because the decor was inspired by the Palace of Versailles, and it doesn't miss the mark. Blocks away from Gaslamp Quarters, the Westgate can best be described as swanky. Put simply: Your wedding here will be the opposite of an overdone hotel wedding. There are multiple ceremony and reception rooms (and a secluded terrace). We won't list them all, but you can trust that each is opulent, sophisticated, classic—and quite possibly everything you're looking for on your wedding day. If you want to make a weekend out of it, the Westgate can also accommodate your rehearsal dinner and farewell brunch.
Ethereal Gardens in Escondido, California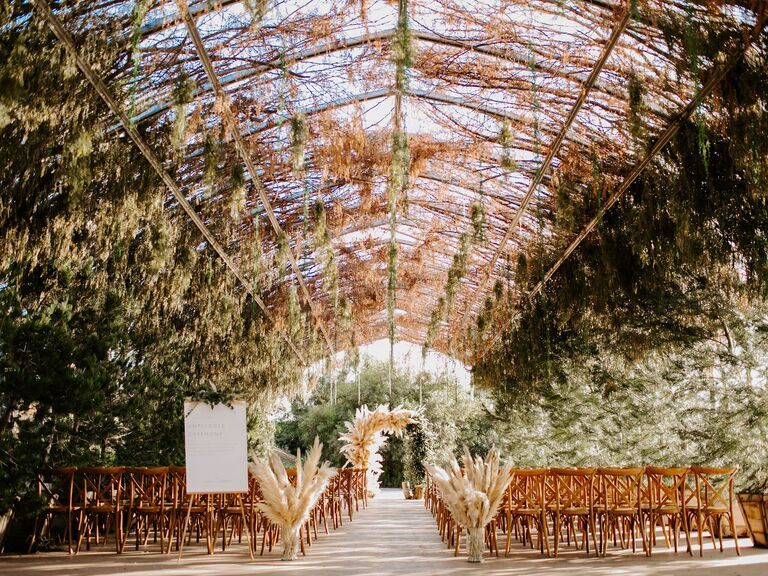 Ethereal Gardens in Escondido is situated on 40 acres of edible gardens, orchards and 100 acres of organic herb and vegetable farms. Say "I do" to Ethereal Gardens, and you'll get 11 and a half hours of access to the private estate and be treated to a delectable menu of farm-to-table cuisine. Start your day in the Ivy Villa bridal parlor and the men's Distillery lounge. Your ceremony will take place at one of six locations, the Orchard Barn, the Passion Vine Greenhouse, the Brick and Timber Chapel, the Starry Night Meadow, the Ethereal Garden Pergola, or the Ethereal Open Air Pavillion. Natural beauty abounds, so you can't go wrong.
Park Hyatt Aviara Resort, Golf and Spa in Carlsbad, California
The event venues at Park Hyatt Aviara Resort, Golf and Spa cover a whopping 78,000 square feet. Want to have a country club wedding? Book the Golf Clubhouse, and exchange vows a short distance from the golf course. Alternatively, the centrally located Gardens venue is adorned with palm trees and will be attractive to both your wedding photographer and guests. The Avalon is a different vibe, featuring French doors and a terrace with a mosaic fountain. While the outdoor venues are spectacular, there is also much to enjoy inside, including the Grand Ballroom and the Aviara Salon.
Hannah Nowack contributed to the reporting of this story.