Sarah Jessica Parker Talks Her SJP Bridal Shoe Launch
We sat down with the fashion icon and designer to discuss the addition of bridal heels to her shoe line, SJP.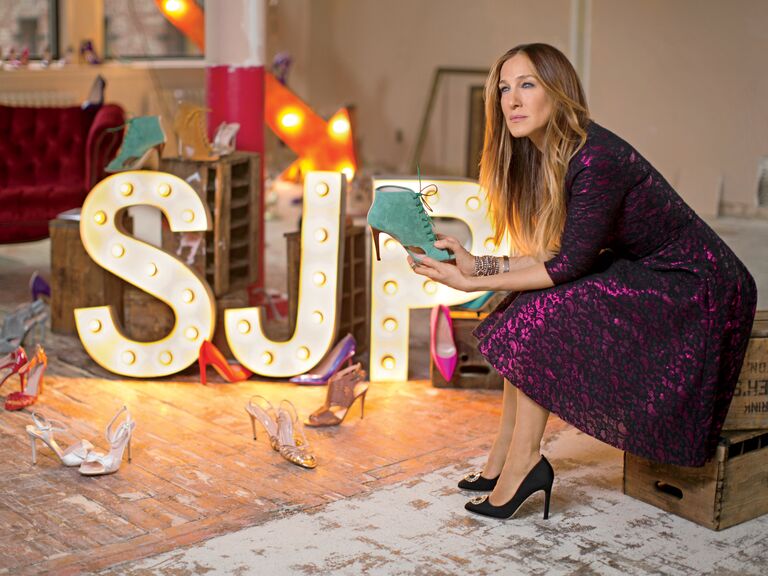 Cue the Carrie Bradshaw shoe quotes. Sex and the City star and shoe maven Sarah Jessica Parker is expanding her SJP collection to include bridal shoes, and we couldn't be more excited. Parker's foray into wedding shoes is exactly what we'd expect from the actress-turned-designer: elegant lines, luxe fabrics and just the right amount of whimsical detail. We sat down with the fashion icon to get the scoop on what makes a good bridal shoe, her own wedding style and her take on the bridal sneaker trend.
What made you want to design bridal shoes?
"Well, to be honest, I didn't know I did. When we launched the original collection just over a year ago, much to our surprise we kept hearing from our customers that they were using our shoes for their wedding. And I assumed at first they were talking about bridal parties, but people started sending us photos of themselves walking down the aisle wearing our shoes, and I sort of gleaned that there was this space for the unconventional bridal shoe. Either these brides were looking for shoes that didn't fit the traditional idea of a wedding shoe, or they had just come upon one of ours and it excited them."
How would you describe the line?
"Slightly unconventional, with color playing an important role. We've taken classic silhouettes and presented them in a new way—but they still remain timeless. We want these to be shoes they'll wear again."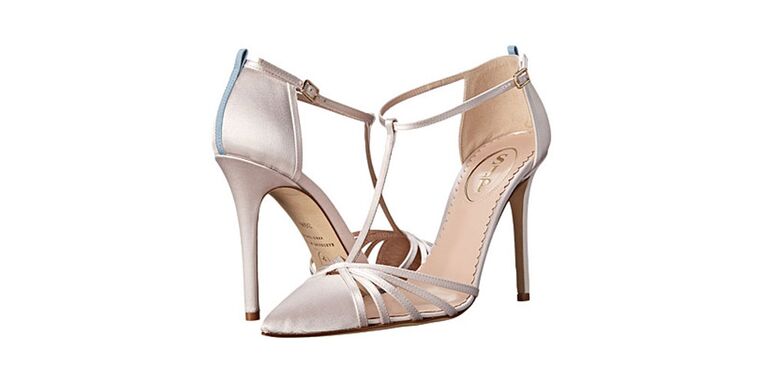 SJP by Sarah Jessica Parker Carrie heels, $355, ZapposCouture.com
Which pair in your new bridal line can you not help but swoon over?
"I'm very poor at picking favorites, but there are some I think are really exciting. One of those in the Carrie in Moonstone—it's just glorious. The color really blows my mind. It's in a satin that's iridescent. The shoes encompass this huge amount of color but feel really neutral and sort of fairy-tale like."
We heard each shoe includes a "something blue."
Every single pair of shoes has a pale-blue grosgrain ribbon up the back, so the bride always has a "something blue."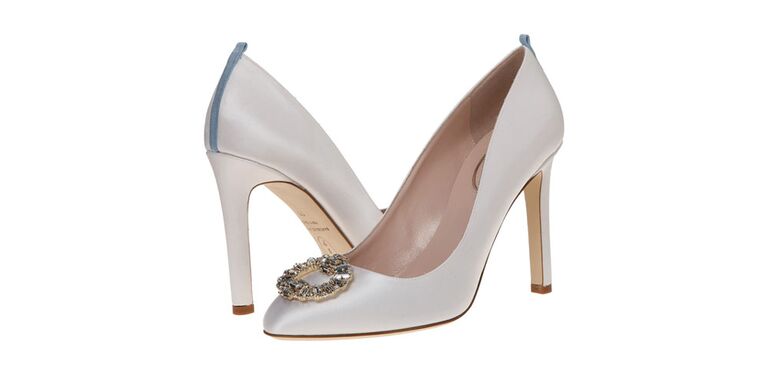 SJP by Sarah Jessica Parker Angelica heels, $545, ZapposCouture.com
What do you think makes a good bridal shoe?
"I feel like it's such a personal thing. I think a good bridal shoe is a shoe that makes a bridal feel like the best version of herself on a day that's one of the most important days of her life."
What shoes did you wear at your own wedding?
"I wore a pair of teal, velvet, round-toe heels—maybe a 70- or a 90-millimeter heel. I think they were Robert Clergerie for Barneys."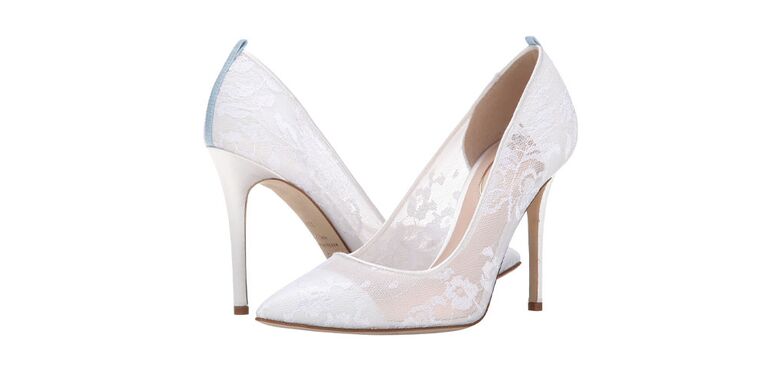 SJP by Sarah Jessica Parker Fawn heels, $365, ZapposCouture.com
How do you feel about the bridal sneaker trend?
"It's wonderful. A bride should feel like however she wants to feel like on that day, whether it's funny or silly, whimsical or feminine, or, beautiful. People should just wear what they want to wear. I think all options are thrilling—and I welcome them."
Want more wedding shoe inspiration? Find it here!