Olympic Figure Skater Sasha Cohen Is Engaged! (You've Got to See Her Gorgeous Ring)
Cohen's boyfriend Tom May proposed at sunset on the beach with a beautiful oval-shaped diamond engagement ring. Can you say perfect?
by Julia Naftulin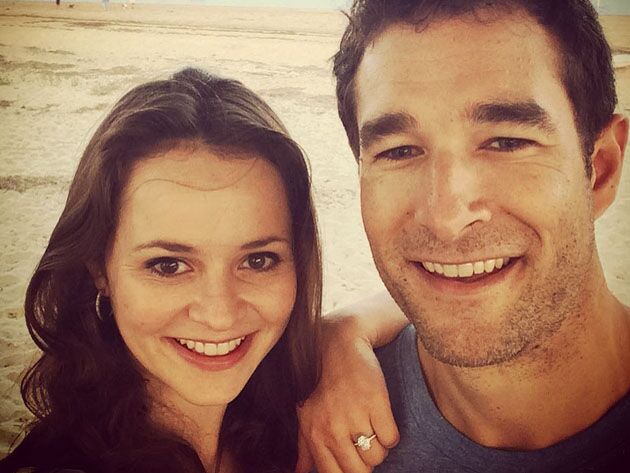 Instagram.com/sashacohennyc
Olympic figure skater Sasha Cohen is engaged! Her boyfriend, hedge fund manager Tom May, proposed in Provincetown, Massachusetts, during their two-month travel trip. The silver medalist, who competed in the 2006 Winter Olympics, shared the happy news on Instagram on June 6, posting a picture with her new fiancé and stunning rose gold sparkler. "Engaged to the most amazing man...I've never been so happy," Cohen wrote.
The two started dating last October after meeting at a Harvard Business School party and have been together ever since. It was on their fourth or fifth date that she knew May was the one, Cohen told People. "From then on, I absolutely knew that this was the man I wanted to spend my life with and things moved quickly... Basically, no matter how much time I spend with Tom, it's never enough. Even when we spend a long day driving in traffic together, it ends up being an amazing day. I think when you find someone that makes the most ordinary moments amazing, you never let them go." Preach, girlfriend.
Cohen's rep says the couple will begin planning their wedding when they return from their travel expedition. We can't wait to see all the details!
After getting engaged, Cohen and May celebrated in style: waterfront with champagne.
See more cute Instagram photos of the couple below: