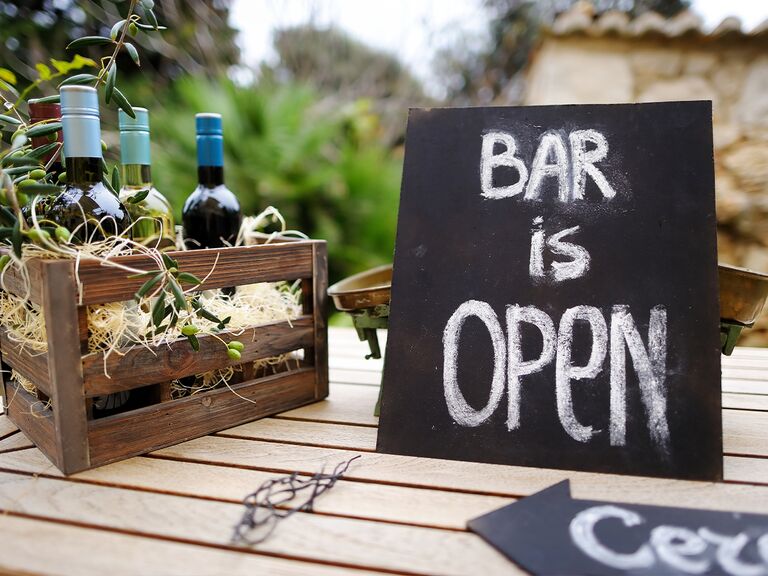 If you love wine (or even just enthusiastically like it), you probably care about what will be served on your wedding day. But the cost of supplying your entire guest list with quality vino can be especially sobering. You want to serve good wine—the kind your guests will ask the bartender about or that you'll want to drink on your anniversary—but you also don't want to suffer a bar tab that costs more than the rest of your reception. Luckily, there are plenty of things you can do to stock your bar with good wine for not a lot of money. Read on for our top tips to help you put a cork in your wine budget. 


1. Ask your venue or caterer about their policies.
You'll likely get the best value by choosing a venue or caterer that allows you to bring in your own bottles. But if you go this route, make sure to ask about corkage fees (charged either per bottle or as a flat fee), which can get costly. The upside, though, is you might only need to pay for what you use. "If you purchase wine from the venue you do not have the ability to take home any unopened wine, however, when you pay a corkage fee you do," says Mary Giuliani, caterer to the stars. So if you brought in six cases and have one left at the end of the night, you can bring it home for future celebrations or possibly return it for a refund. Be sure you know the rules and do the math to see what makes the most sense for you and your budget.


2. Don't judge a wine by its price tag.
"Fancy does not need to be expensive," Giuliani says. "Take time tasting wines under $12 a bottle. You may be surprised by what's out there, and you'll end up with more money to spend on really good wine on your honeymoon." Look for a wine that has a bold, full-bodied taste and no one will be the wiser—it's not like the price tags will be on the bottles. Our pick for affordable options? California's Chateau Souverain specializes in four of the most popular varietals that are sure to please any palate and not bust your budget. (Bonus: You can make the bottles look extra posh with personalized wine labels—for free!)


3. Shop around for a deal. 
If you're bringing in your own bottles, where you buy the wine can make a huge difference. Look into buying directly from the winery, especially if there's a particular vineyard you love. "Anything from a retailer will be marked up by the producer, the retailer and a distributor, whereas buying direct means you're only paying for the profit margin of the producer," explains Jeffrey Schiller, author of Wine Hack. But even if going directly to the source isn't an option, you can still save at your local wineshop: Most stores will give you a 10 or 20 percent discount if you buy a full case, aka 12 bottles. (For reference, Schiller says you'd need about five cases for a 150-guest wedding.) Wholesale liquor stores are a good option as well and, depending on the store's policy, might even allow you to return unopened bottles for a refund. 
4. Stick to one red and one white.
Your guests aren't expecting to run through a full wine tasting in the middle of your reception, so keep things simple (and costs down) with one red and one white option. "Limiting it to just two wines allows you to really benefit from that case discount," says Tiffany Haines, Brand Manager of Chateau Souverain Wines. Plus, it minimizes waste. "With multiple varietals, the staff ends up opening too many bottles at once, potentially leaving many unfinished. With just one red and one white, you don't have to open a new bottle until the other is finished," Haines says.
So how do you figure out the right red-to-white ratio? First, consider the time of year and if your wedding is inside or outside, explains Haines. (For example, a warm-weather outdoor wedding will call for more bottles of white, whereas a cool-weather indoor reception will require slightly more red.) Then, you can use that info to pick some crowd-pleasing varietals that pair well with the menu. "If you plan to serve red meats or tomato-based pasta dishes, then you'll want to consider a more robust red. If your entrees include fish or cream-based pastas, then a white wine would pair nicely," Haines says. Try Chateau Souverain Merlot or Chardonnay.
5. Be smart about the champagne toast.
Here's a hint: No one expects you to actually serve French Champagne. You can absolutely use a less expensive prosecco or other sparkling wine. (Most people won't even be able to taste the difference!) And you don't need to offer full glasses, either. A half pour is more than enough for a few sips after the toast; plus, most people don't finish it anyway. Another alternative? Skip the sparkling altogether—guests can still raise a glass of whatever they have in hand. 
6. Get the staff to help you.
Have you ever been to a wedding where your wineglass seems to magically refill every time you turn around? It might be great service, but these unprompted refills can add up if you're paying by the glass or bottle. It's a good idea to have the waitstaff ask one question before they pour: Would you like some more wine? That way, you're not wasting wine on anyone who doesn't want it. Ask your coordinator or point person to make sure the message is passed down to the staff; they should be more than happy to oblige. 


This article is sponsored by Chateau Souverain Wines. Learn more about choosing wine for all your wedding events from The Knot and get to know Chateau Souverain's varietals at Souverain.com.