Bridal Beauty Seasonal Tips & Tricks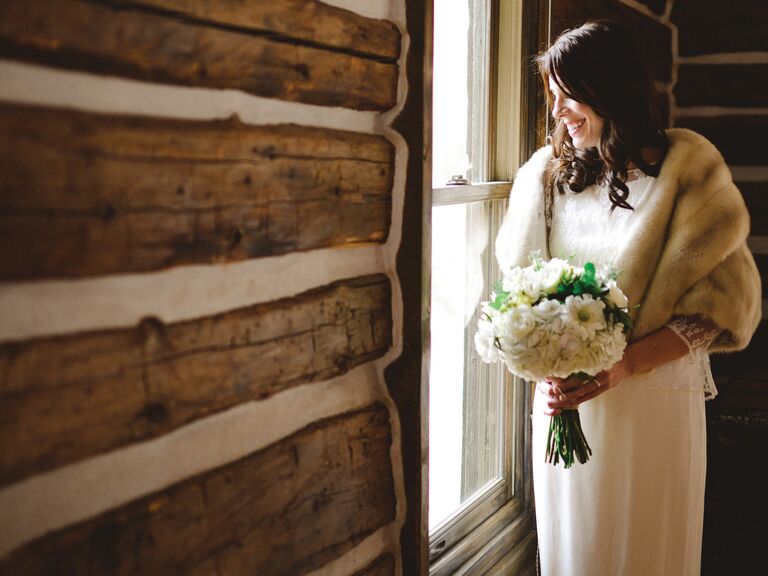 Photo by
Laura Murray Photography
Seasonality plays a role in many of the decisions you'll make for your wedding, such as where you'll have your reception (a garden in June?) or what you'll wear (a faux-fur wrap in December?). Likewise, you'll want to alter your makeup and beauty routine just a touch in accordance with the season, though it is not the time to try anything novel or tricky when it comes to making up your face.
Summer, fall, winter, spring, here are some of your options:
The Summer Bride
Longer days, sunny skies, a slower pace… no wonder so many brides choose the summer months for their nuptials. Unfortunately, summer beauty is far from carefree. In addition to the damage brought on by UV rays, heat and humidity can trigger skincare nightmares like breakouts, rashes, extremely oily skin, and makeup meltdowns. And don't think you're safe indoors, either: excessive air conditioning can dry your skin and lips.
The good news? There are ways to combat the heat. For starters, use an oil-free foundation or oil-free tinted moisturizer. You can also switch to a gel skin cleanser, powder up post-shower with talc-free body powder, and battle sun-chappedlips with an SPF-enhanced balm. When it comes to makeup, stick with waterproof formulas. Try gel-based liners, which have less of a tendency to run. And stash a packet of blotting papers in your bridal bag for quick shine-banishing fixes. If you're getting married outdoors, consider wearing your hair up and off your neck to feel cool and look elegant. And finally, for an extra dash of summer fun, paint your toes a bright happy shade, perhaps even blue.
The Spring Bride
After a long cold winter, your look may need some TLC. Head for a spa with your mother or maid of honor. Exfoliate from head to toe with a grainy scrub to shed your winter layer of skin. Start smoothing your feet with a pumice stone in the shower, and get regular pedicures. Clean out your makeup bag and invest in new products. Switch to a green scent or one-note floral. And while you should always choose the best shades for your particular skin tone, pinky beige, and rosy brown shades look extra pretty this time of year -- especially in sheer or shimmery versions. For the proverbial "glowing bride" look, dust a bronzing powder on your cheeks, forehead and nose -- anywhere the sun would naturally hit.
The Autumn Bride
Fall has become a very popular time to get married, for good reason -- you can't beat the crisp weather, changing leaves, and sense of back-to-school excitement in the air. There's no better time for a fresh start, so make an appointment at the makeup counter to try new techniques and richer lip colors in shades of burgundy and plum. Add an extra coat of mascara and make your liner a little more smoky than usual. Throw out your old foundation and invest in a new one, and experiment with bronzing powder to extend your summer color. Consider highlighting your hair to add warmth to your face, and deal with dryer skin by using richer lotions and moisturizing masks.
The Winter Bride
The best part about winter? The holidays. The worst part? The dreary light that makes dark circles look darker and puffy eyes look puffier. This is not the time, however, to use excessively dark or bright makeup shades. Instead, concentrate on warm, glowing hues. If you tend to look pale in winter, invest in a self- tanner, and check that your foundation is still a proper match with your skin tone. As far as your body goes, add moisturizing oils to your bath and use a petroleum jelly product on your nails, heels, and elbows. Devise a holiday eating strategy that prevents you from packing on pre-wedding pounds and drink lots of water.
If your wedding falls in the middle of the holiday season, consider painting a glossier mouth and playing with a touch of sparkle and shimmer in your makeup. Just don't use shimmer on more than one part of your face: Do your lips or your eyes, not both. The end result? A radiant, lit-from-within look.